Have you decided on a wedding theme? It's about time. Listed below are 23 wedding themes we love. There's something for every couple, taste, wedding venue and aesthetic!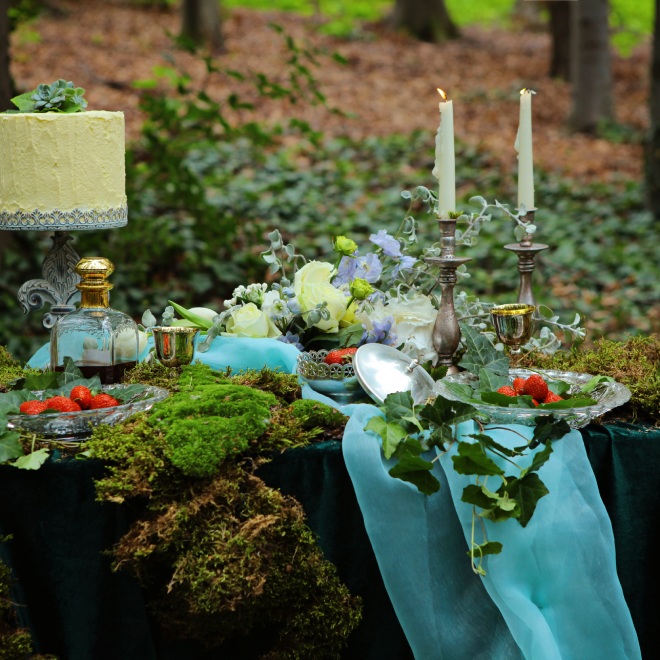 Is it necessary to have a wedding theme?
Having a theme wedding isn't mandatory, but it can help you decide on the style of your bridesmaid dresses, your wedding dress, the food you serve and photos for the website. Themeing your special day can also help you create cohesion with other pre-wedding events, like your bachelorette and bachelor party theme.
1- Formal/traditional wedding
You wanna go black-tie? If you want you and your guests to dress to the nines, you better make sure your theme matches.
When planning a wedding this grand, you'll want to put out the works and include a sit-down dinner with wine glasses, posh seating, adorable flower arrangements (including on the cake), and an exquisite head table, just to name a few.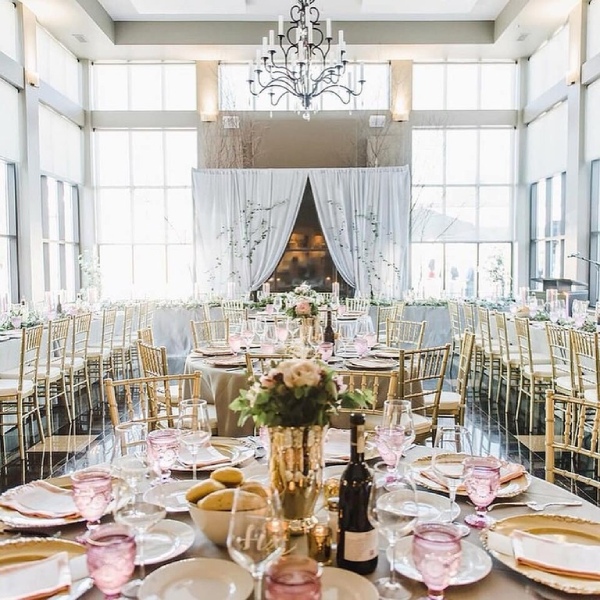 2- Fairytale wedding
Often, a fairy tale wedding is called a Cinderella wedding. A wedding with this theme will make the couple and their guests feel like royalty. It's common for this type of wedding to incorporate orchestra music, rhinestone-studded gowns, horse-drawn carriages, and more.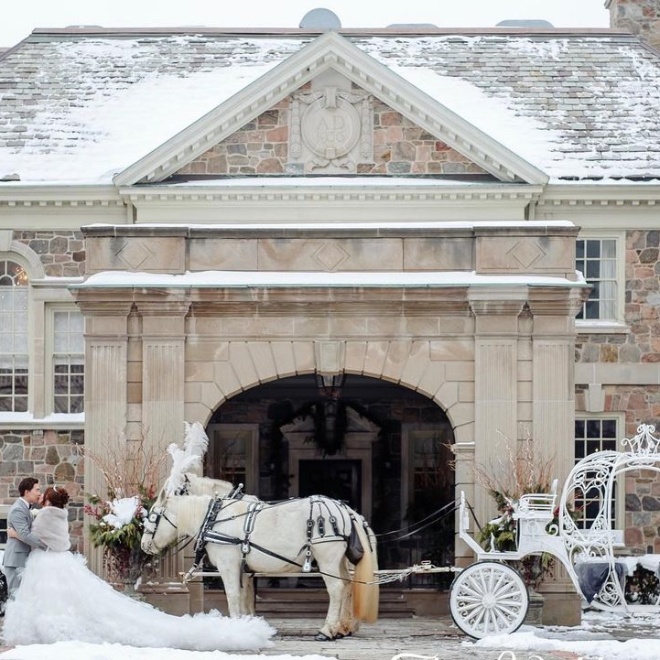 3- Industrial/modern wedding
You can't go wrong with an industrial wedding for couples who like the modern style. With clean lines, a graphic colour scheme, and a cool wedding venue, this theme works really well for modern weddings.
Choose a venue like a loft, old factory or warehouse. Use white or muted colours, metallics, and moody colours. Don't go overboard. Make your centrepieces special by using wine bottles, galvanized buckets and metal containers. Bring in a little "steampunk" vibe so the look stands out.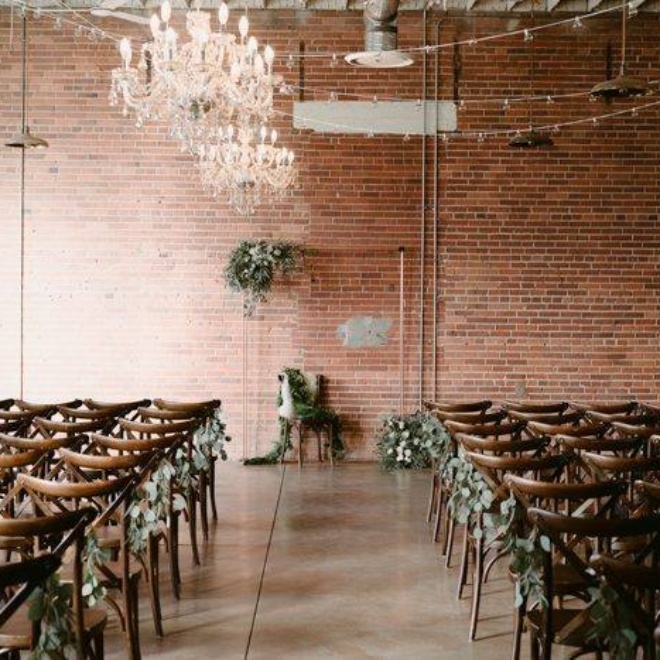 If you're thinking of an industrial wedding, here are some places to think about: 10 Stunning Loft Wedding Venues in Montreal
4- Whimsical wedding
Weddings that are whimsical are like a garden party meets a fairytale. If your wedding theme is whimsical, your invitations are the perfect place to kick it off - a quirky motif or play-on-words can hint at the fun without giving everything away.
You can add fun day-of details like thrifted china, mismatched dresses, lush greenery, and live entertainment to make everything feel more personal.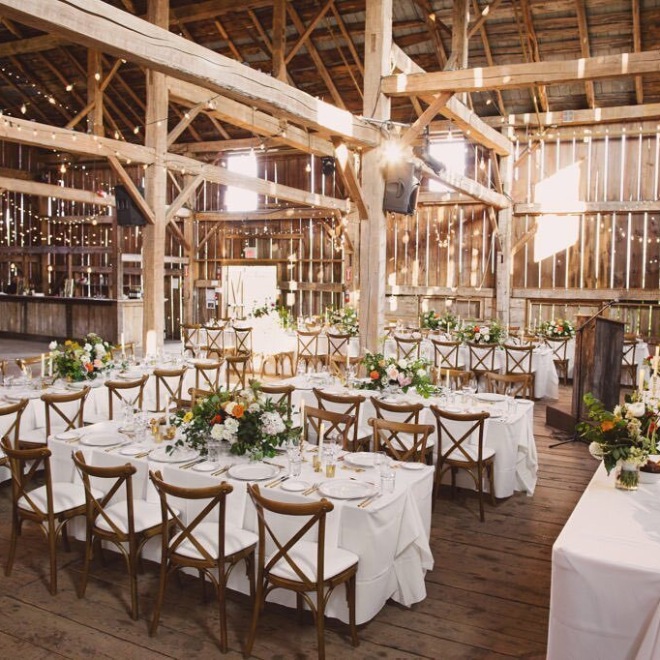 5- Vintage wedding
Having a vintage wedding may be right up your alley if you love history. Take inspiration from eras past, find vintage outfits or a historic venue. You could make it glam with a 20s wedding or make it bohemian with a 70s theme. How fun is that?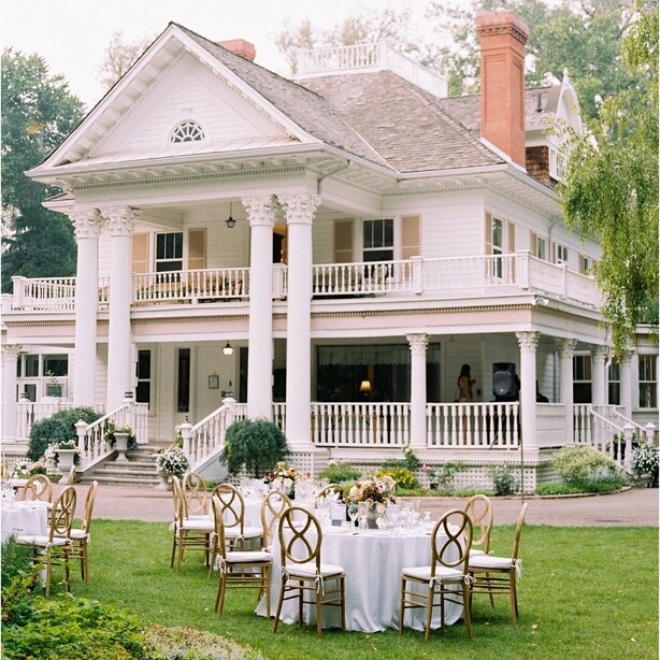 6- Rustic wedding
There's nothing like a rustic wedding theme to give you a down-to-earth vibe with good food and good friends. You can set the mood with a ranch, a real farm or a renovated barn.
You can carry this theme by using natural textures like organic paper, stone, and wood. Decorate wooden tables with low, sprawling floral arrangements. Add a hint of glitz with mismatched glassware. Utilize the natural textures of twine and burlap to create unique serviettes and placemats.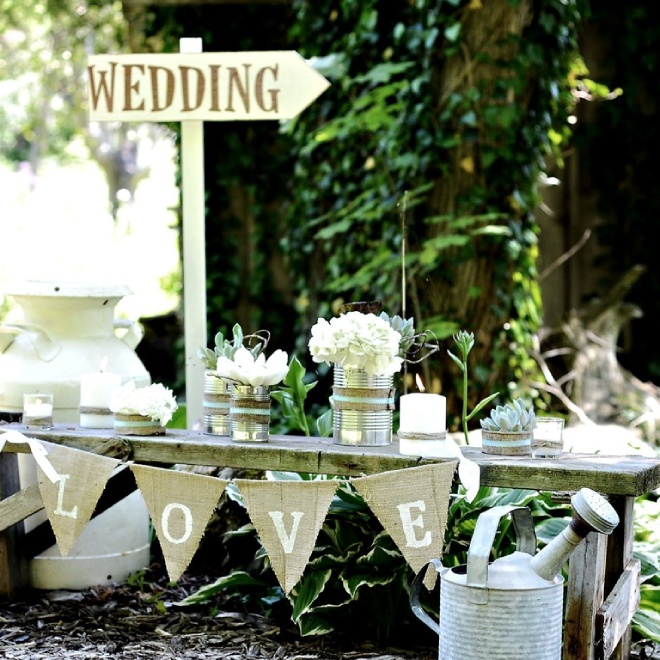 Got a rustic wedding in mind and don't know where to start? Check out this: Your Guide to Hosting a Beautiful Rustic Wedding
7-Minimalist wedding
You can keep things simple and elegant with a modern minimalist wedding. Keep the clutter on the table to a minimum, go with a neutral colour scheme, and keep the wedding decorations streamlined for this look.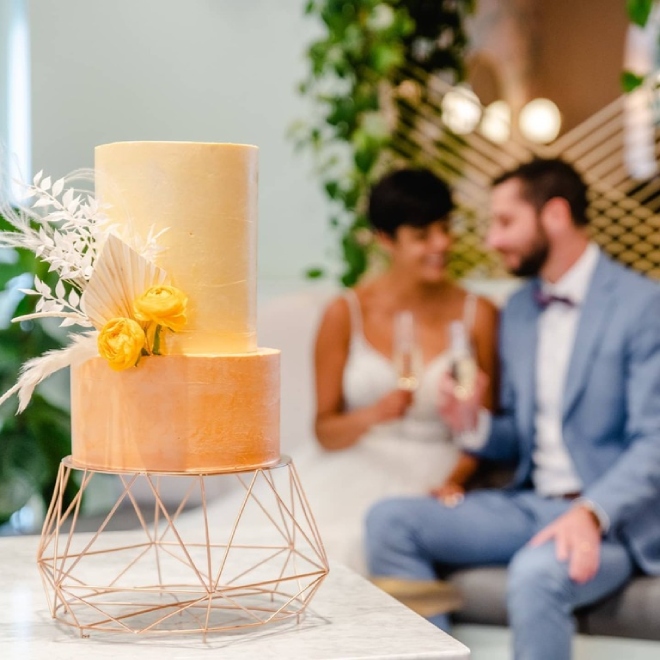 8- Nautical wedding
The nautical theme is perfect for a seaside wedding, whether you're getting hitched at your childhood lake house or planning a destination wedding. Make waves by combining blue and white colours (particularly stripes) with beach motifs such as ropes, sailboats, anchors, and shells for a nautical look.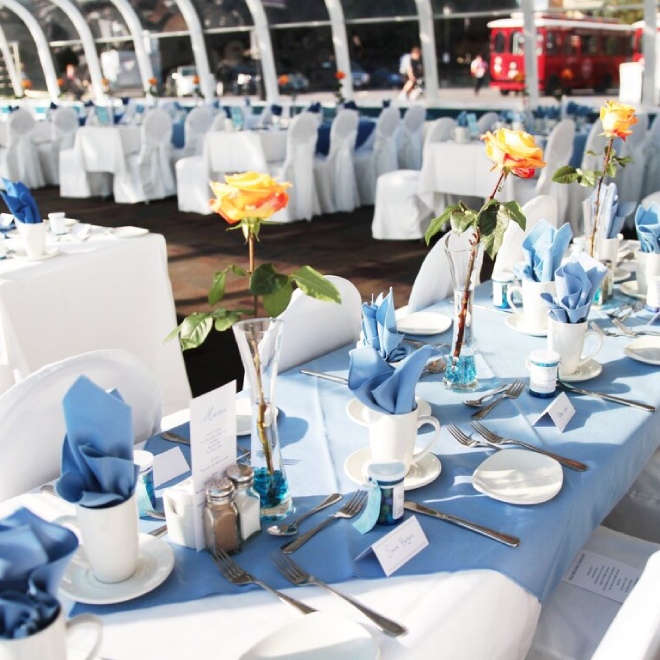 Need more nautical wedding inspiration? Take a look at this article: Beach Wedding 101: Introduction to the Perfect Wedding
9- Western/country wedding
Country weddings epitomize the American West with their flavour and charm. This style is all about celebrating where you come from, maybe with a little Americana thrown in. Those cowboy boots might make an appearance, but don't feel like you have to stick to country-themed clothes.
Consider including local flair in every aspect. You can keep a few traditional items, but give them a hometown feel (like pies from your local bakery instead of a tiered cake) and have a good exit with an old Ford pickup.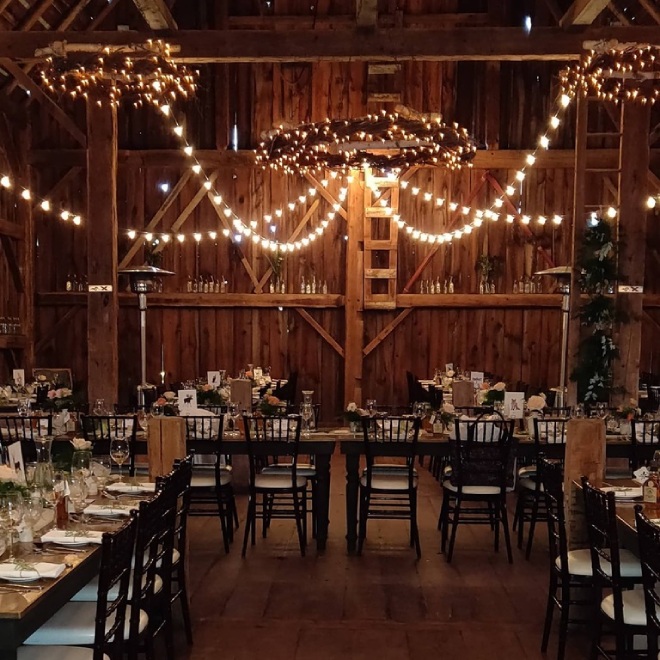 Interested in more country wedding ideas? Read this article: Country Wedding Ideas: 10 Must-Haves
10- Elegant wedding
The elegant wedding is also a formal occasion that has all the foundations of the classic and traditional wedding but has a modern twist to it. Modern touches could include non-traditional wedding dresses or venues, as well as styling, flowers, modern invites, and decorations. An elegant wedding opts for trendier styling than classic.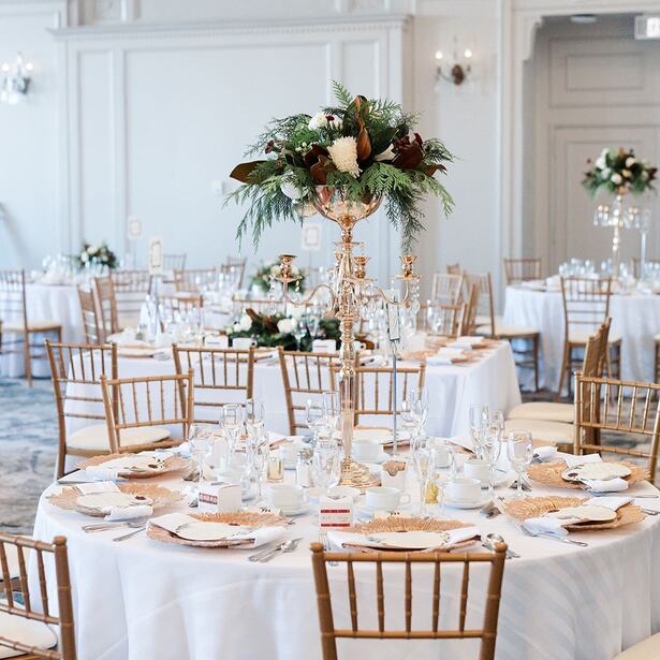 11- Art-deco wedding
This roaring 20s theme is all glitz and glam. With bold geometrics in black, gold, and other metallics, the avant-garde decor is the way to go. You can add sparkle with sequined tablecloths or runners. Combine plumes of soft white ostrich feathers to break up the strong lines.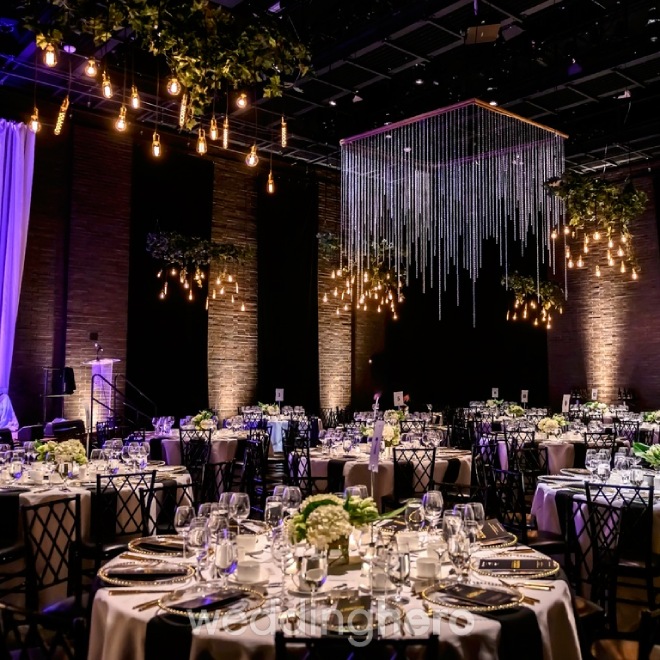 12- Bohemian wedding
The boho theme is also popular, and this theme can range from boho chic to all-out hippie. Consider big wedding flowers, macrame or crochet decor, naked cakes, and natural colour palettes.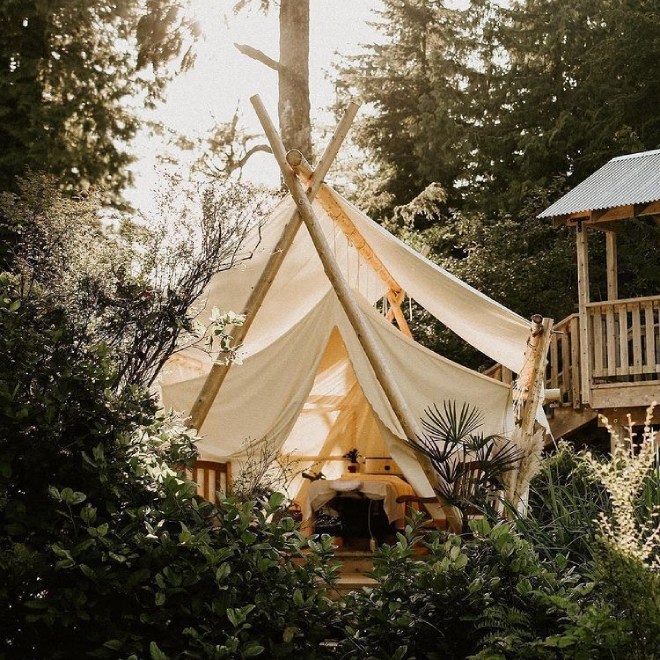 More boho wedding ideas that will raise your event to a whole new level: Boho Wedding Guide: Everything You Need To Know
13- Celestial wedding
You can celebrate the stars in the sky with a celestial wedding if your love is as bright as the stars in the galaxy. With this out-of-this-world theme, couples can draw inspiration from astronomy, stars, and outer space for decor and colour palettes.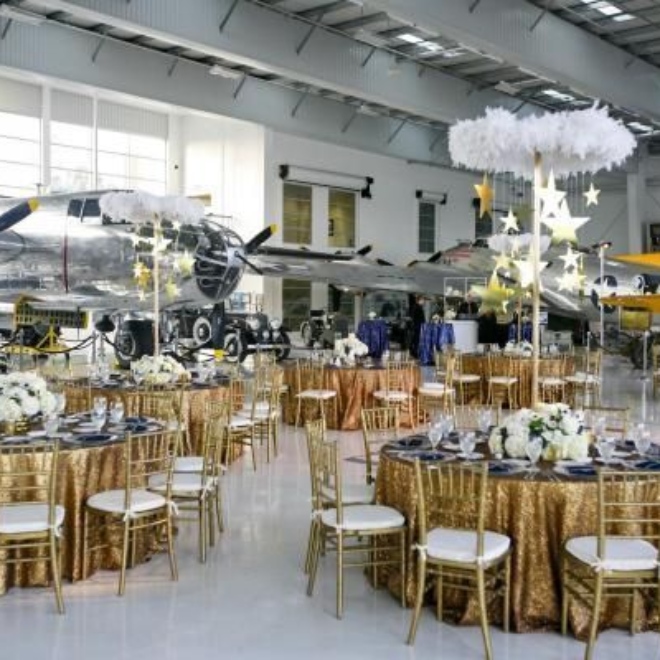 14- Christmas wedding
What's not to love about Christmas weddings? They're so romantic, festive and cozy. Plus it's a great time to celebrate and get together. You don't have to go crazy with the decorations, just embrace winter. Decorate with candlelight, baubles, mistletoe and glitter.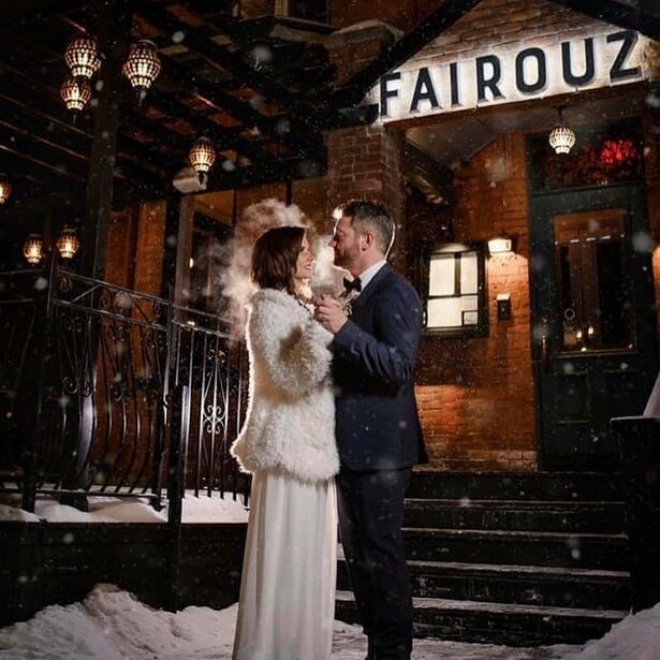 15- Sunflower wedding
You'll smile the moment you see this summer flower, and it's the perfect flower to mark your big day. This theme is perfect for spring and summer weddings. It's not a good choice for winter weddings.
Incorporate sunflowers into your arrangements but also use sunflower colours in your decor. Keep in mind that sunflowers can be tall, so big vases are best.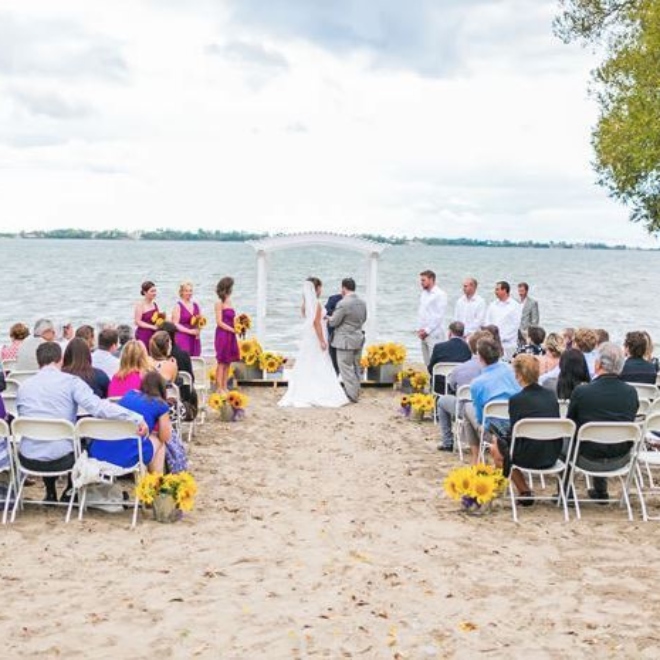 16- Halloween wedding
Get married in the fall and take advantage of the spooky season's deep colours and cool accessories like pumpkins, smoke, and crystals.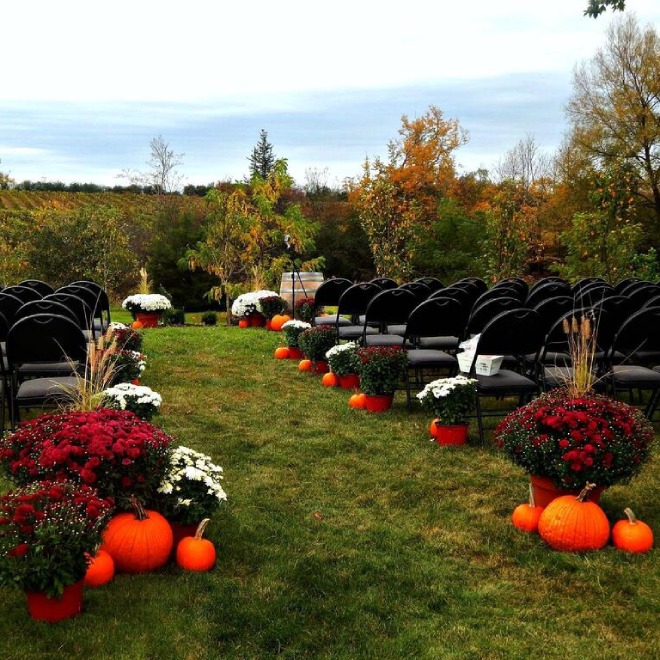 More spooky ideas for a fall wedding here: 24 Awesome Ideas To Elevate Your Fall Wedding
17- Festival wedding
In recent years, festivals have become a must-attend event for summer. They are also becoming more popular for weddings as well. Glastonbury-inspired weddings, complete with camping, live music, wristbands, and even glitter make-up bars. Be bold, or be square with this wedding theme.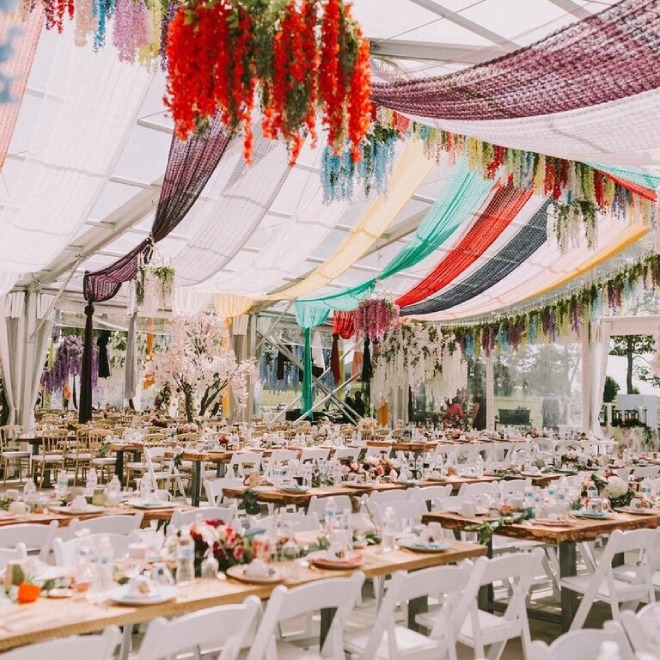 18- Goth wedding
For a Gothic affair, a castle-like venue is the right setting. Make the wedding more sinister by ditching the white gown and lighting lots of candelabras.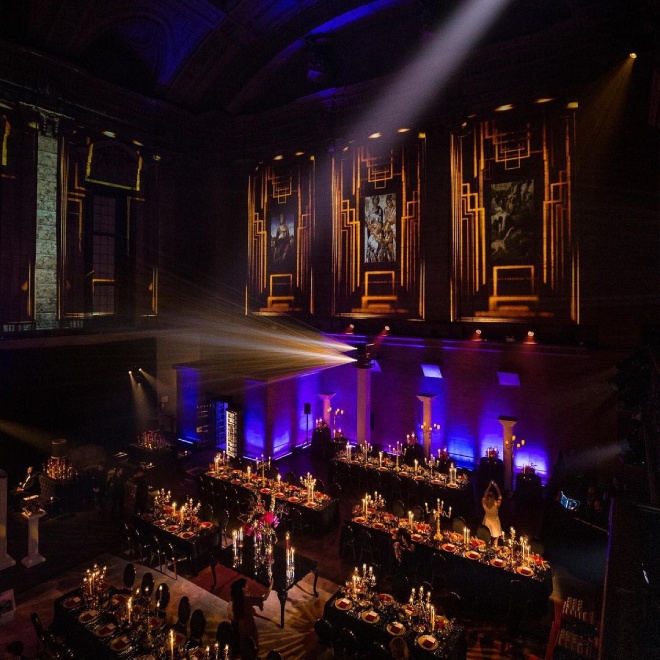 You could have a sinister Gothic celebration at these castles: 11 Magical Ontario Castles You Can Get Married In
19- Woodland wedding
Get a little closer to nature with a woodland-themed wedding. Outdoor lovers, campers, and adventurers will love this theme. You could set up light fabrics, lanterns, flower arrangements and candles in an actual forest. Put stumps, branches and leaves all over the room if you're moving the reception inside a wedding canopy, cabin, or tent.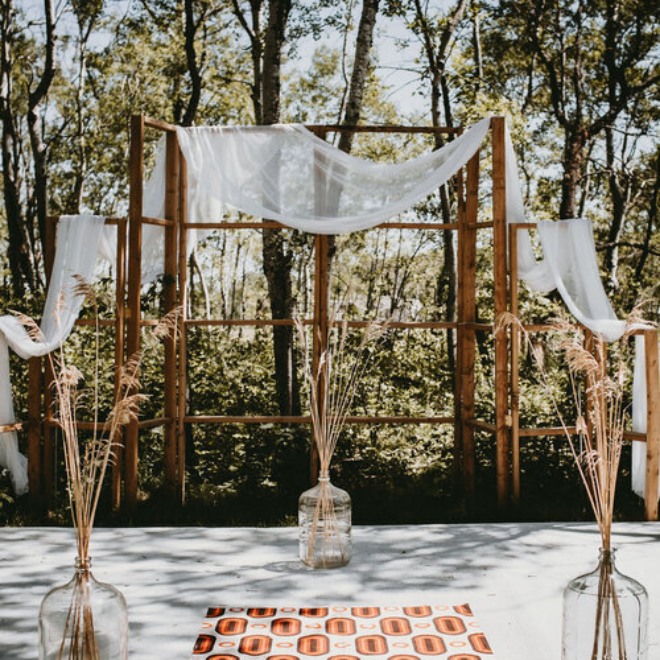 Looking for ideas to elevate your woodland wedding? We've got them here: 10 Ways To Plan A Beautiful Forest Wedding
Thinking about having a tent reception? Here's what you need to know: The Ultimate Guide to Planning a Tent Wedding
20-Mountain wedding
Why not plan a hike-themed wedding if you're a morning person and if you love being outdoors? A celebratory brunch reception can play up the hiking theme after a mountainside ceremony.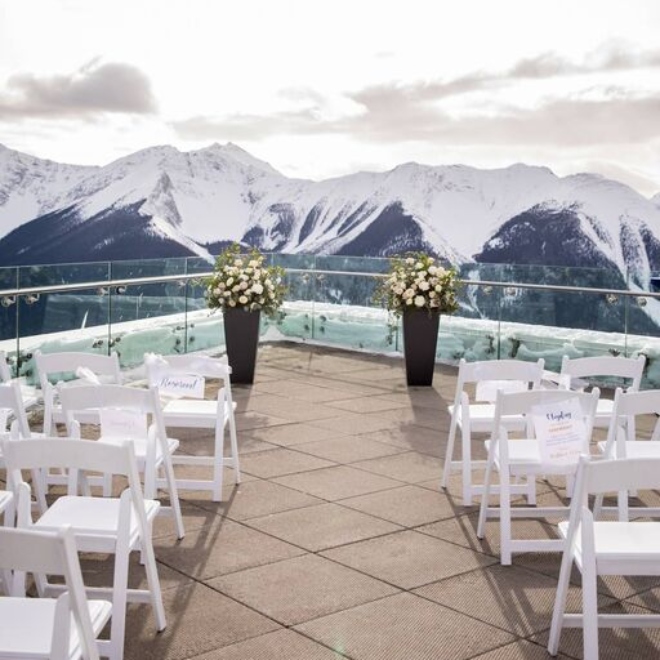 21- Tropical wedding
It's popular to have tropical themes at beach weddings and destination weddings, but you can do it anywhere. Add summer cocktails, brightly coloured flowers, lush details and palm trees to your event.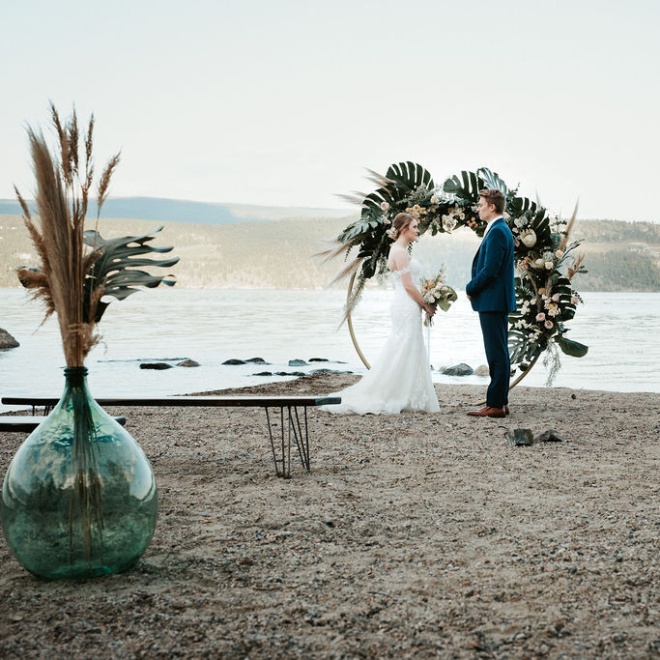 22- Winter wonderland wedding
Get the ultimate cute wedding theme by putting fake snow on the ground, putting fake Northern Lights on the ceilings, and having blue-lit nighttime trees. As soon as they walk into your venue, your guests will feel like they're in Narnia. Those pictures look good, but wait until you see them on your special day!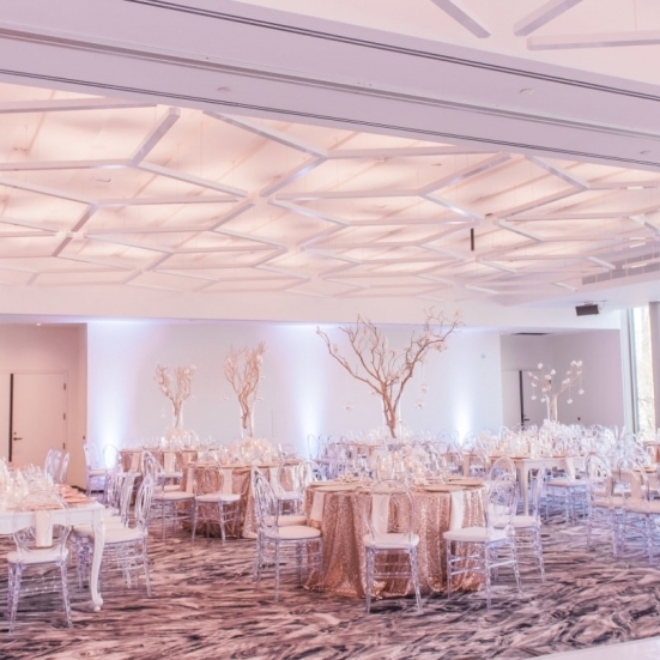 Dreaming of a winter wonderland wedding? Get more info here: Say Yes To A Winter Wedding With This Guide
23- Medieval-themed wedding
Whether you met at the Renaissance Faire or you just like stories about knights, dragons, and magic, think about having a medieval-themed wedding. Your guests will love the ambience of a festive celebration, and you can choose options that let you show off your creativity.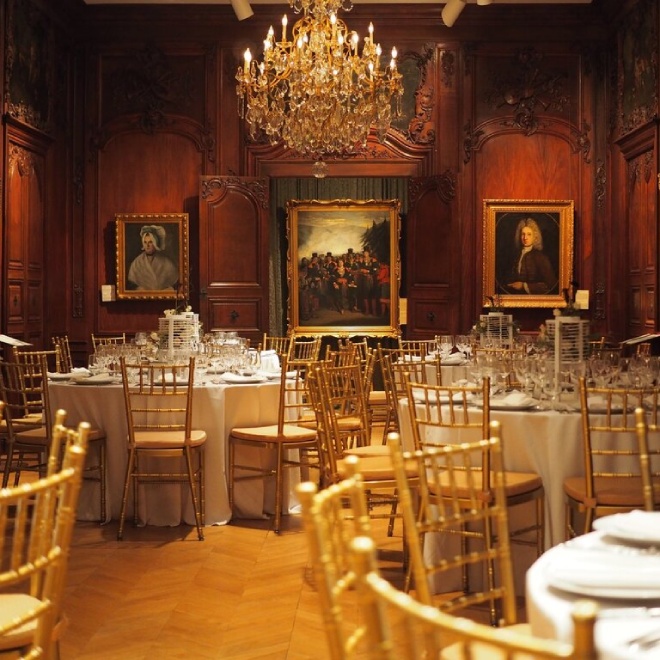 Now that you know nearly all wedding themes, it's time to pick the right one. Then, pick your dream venue from our list of the best wedding venues in your city and hire your wedding vendors. Happy hunting!