Do you want to feel like kings and queens on your special day? Why not tie the knot in a castle? These picture-perfect castle wedding venues in Ontario are worthy of a fairytale!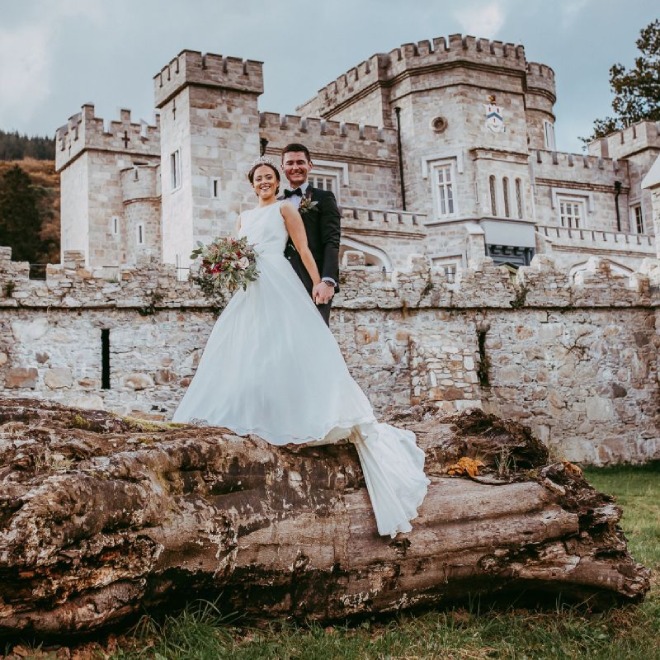 1- Casa Loma
Located in Toronto, Casa Loma is a magical venue with its castle-inspired architecture and details. It can host up to 1500 guests and is perfect for large weddings, and it has several facilities to choose from according to your needs and wishes.
If you book Casa Loma for your big day, you will gain full access to the whole property so, fantastic wedding photos are guaranteed! Complimentary bridal suite, experienced event coordinator and top-notch in-house catering services are among the other fantastic services you can get!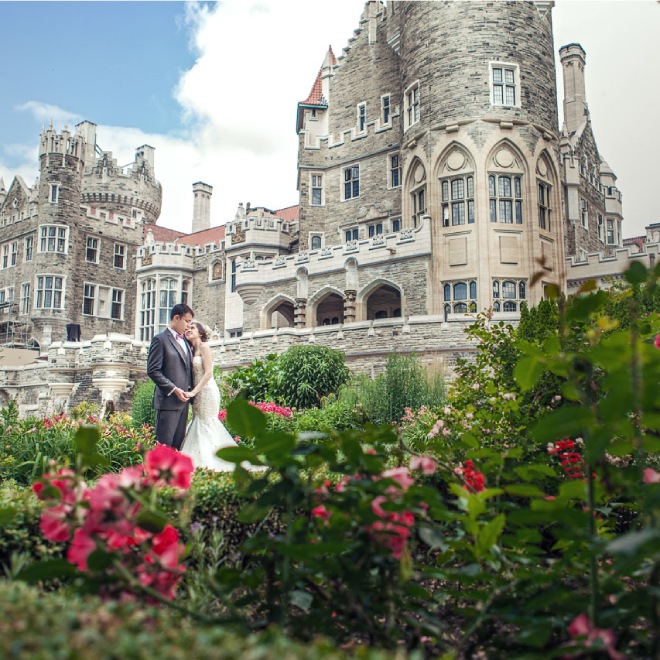 2- Catana Estate
Located in Kitchener, Catana Estate looks straight out of a fairytale with its castle-like structure. With its majestic stone tower and huge doors, you'll definitely feel like royalty on your big day!
Catana Estate can accommodate up to 750 guests, ensuring that you'll get to invite all your loved ones. You won't have to worry about the weather as well since the venue has a tented reception area. It offers free parking on-site, a bridal suite for you to get ready with your wedding party, audiovisual equipment and many more you can add!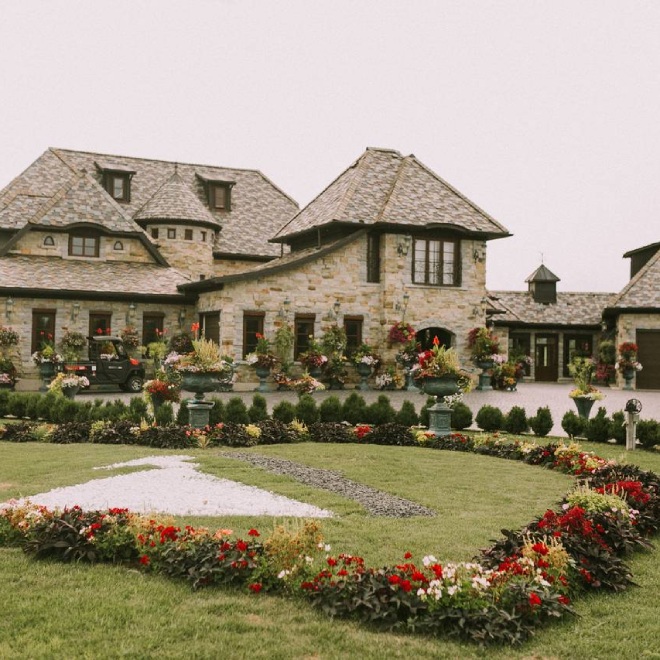 3- The Old Court House
Want a historic fairytale wedding in London? If yes, The Old Court House is the place! Looking just like Malahide Castle in Dublin, this venue is a real castle built-in 1827. You can host both your wedding ceremony and reception at this venue, and your guests won't even have to travel far since it is located at the heart of Downtown London!
The Old Court House can accommodate up to 225 seated guests. Large round or long wooden tables, gold Chiavari chairs, silk napkins, crystal glassware, and many other details will make your guests feel like they are feasting in King Arthur's dining room!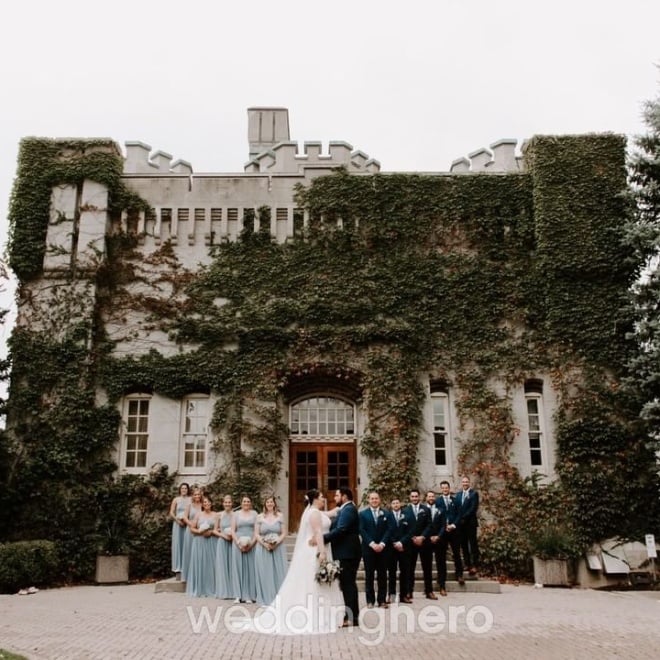 4- Graydon Hall Manor
Graydon Hall Manor is another Toronto-based venue that specializes in elegant wedding receptions. It offers a luxurious and elegant setting for a princess-styled wedding, just like in the famous TV series Bridgerton!
Graydon Hall Manor can accommodate up to 250 guests. Lined bay windows, majestic chandeliers, silk linens and other details scream royalty! Top-notch in-house catering, a big parking lot, private preparation rooms and complimentary DJ performance are some of the services offered by this gorgeous venue!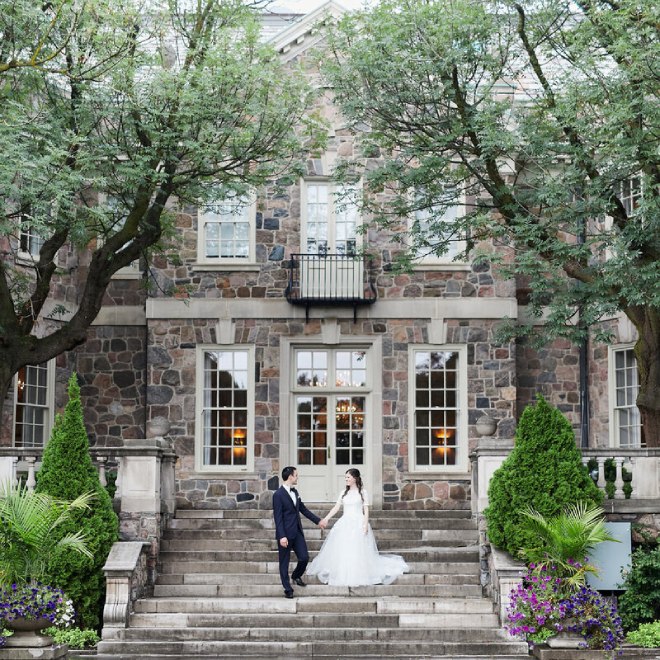 5- Dundurn National Historic Site
Located in Hamilton, the Dundurn National Historic Site was built in the 1870s and has been showing its beauty and elegance ever since! The venue is ideal for history lovers and fully equipped with everything you need for your wedding.
Dundurn National Historic Site can cater to up to 120 guests and have different indoor and outdoor facilities you can choose from. It offers a stunning backdrop for your wedding photos, free parking for your guests, many activities you can attend with your wedding party on-site and many others!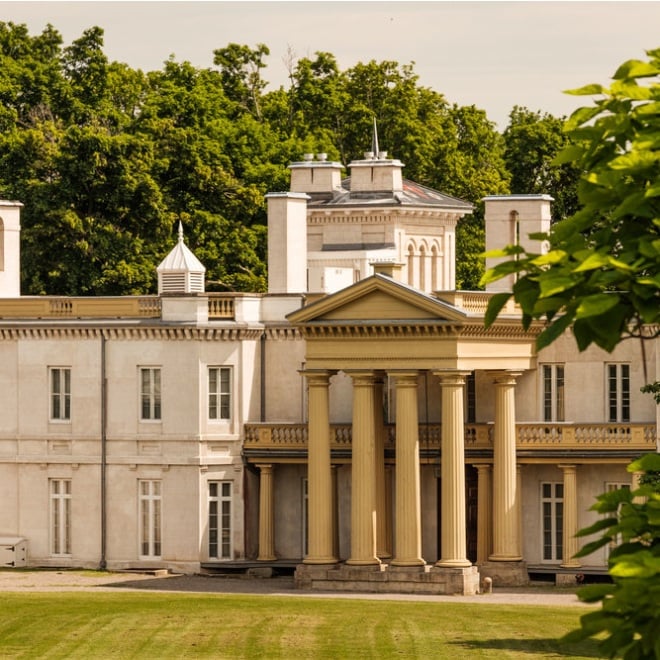 6- Chateau Le Jardin
If you want to host a stylish grand wedding in Vaughan, you can consider Chateau Le Jardin for your big day. They provide excellent customer service, ensuring that your every need and request has been met!
You can choose from many facilities, including indoor banquet halls, covered and uncovered outdoor spaces. Chateau Le Jardin can cater to up to 1300 guests. It has French Chateau decor, with its high ceilings providing abundant light. They also offer tent services and accessories for your outdoor celebration!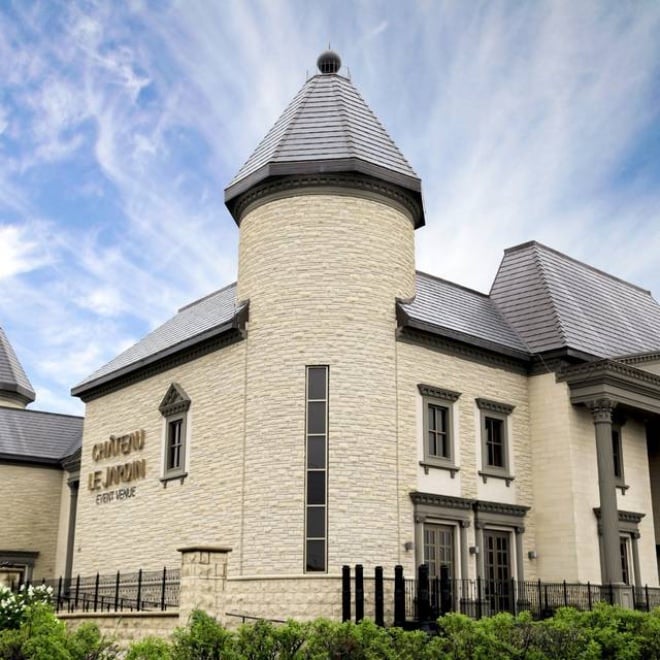 7- Liberty Grand Entertainment Complex
If you're searching for a venue that exemplifies elegance and luxury in Toronto, you can host your most special day at Liberty Grand Entertainment Complex. This waterfront venue dates back early 20th century and offers various facilities, both for large and small weddings.
Liberty Grand Entertainment Complex can accommodate up to 300 guests. Half-round European-style windows, majestic chandeliers, stunning French doors, and lofty ceiling with dark brown wood are some of the details that make this venue fantastic!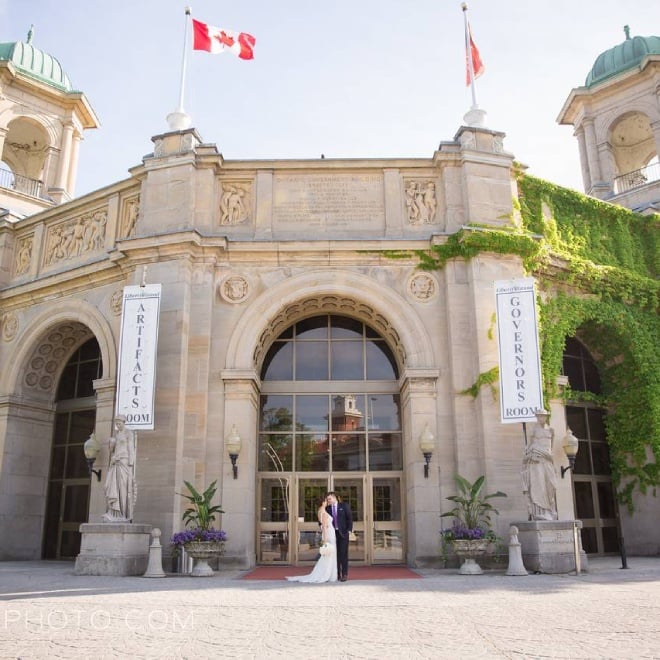 8- Paletta Mansion
Located in Burlington, Paletta Mansion is a fantastic lake-front venue offering a scenic setting to tie the knot. If you're looking for privacy and relaxation on your wedding day, this venue is perfect for you. Hardwood floors, romantic fireplaces and manicured grounds are some of the features that make this place so attractive!
Paletta Mansion has many facilities to choose from according to your needs, and it can cater to up to 130 guests. If you choose this venue, you'll have full access to 14-acre grounds, work with friendly and experienced staff, benefit from the on-site bar and catering services and many more!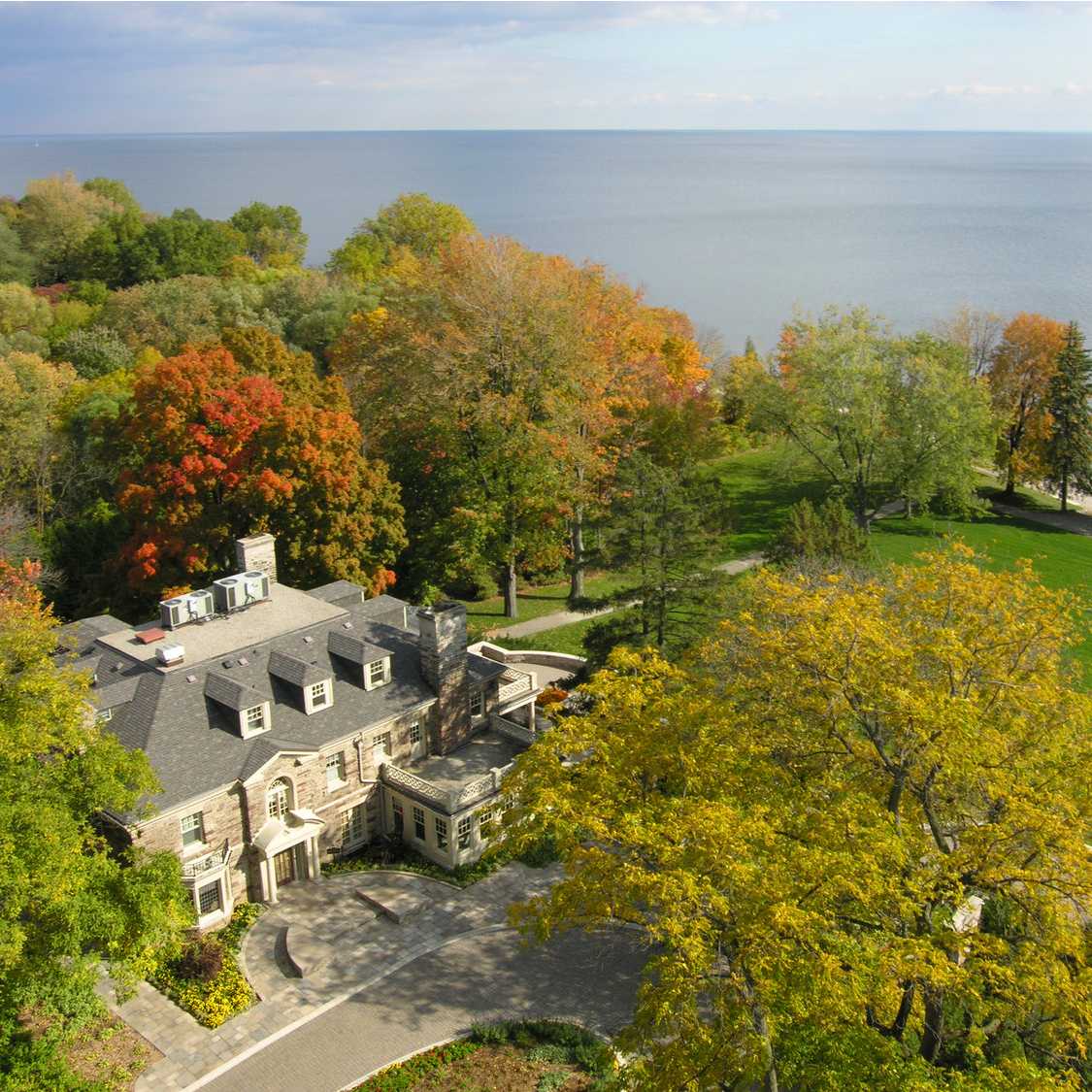 9- Langdon Hall Country House Hotel and Spa
Located in Kitchener, the Langdon Hall Country House Hotel and Spa is a beautiful venue specializing in rustic and country-themed weddings. It was constructed in 1898, and it has 4 event spaces for you to choose from: indoor and outdoor!
Langdon Hall Country House Hotel and Spa can accommodate up to 120 guests, and it has floor-to-ceiling windows overlooking the beautiful garden. It offers flexible wedding packages you can customize according to your needs, an event coordinator to assist you, a historic wine cellar and many others!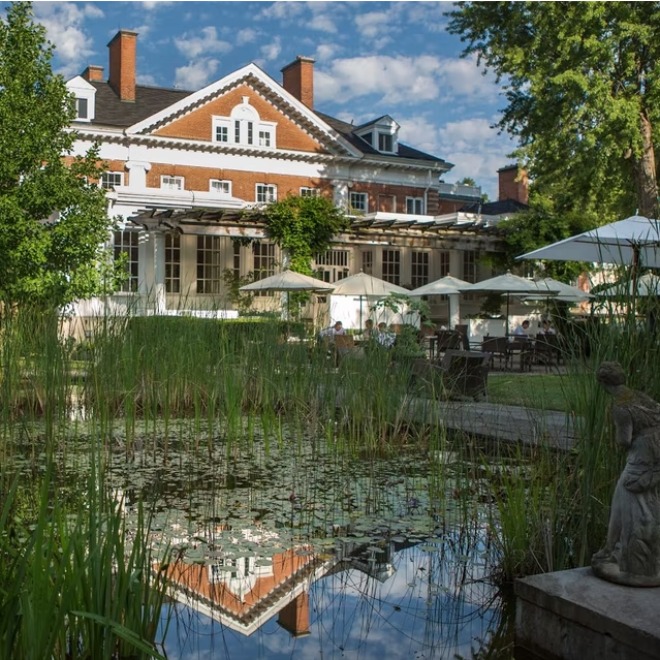 10- Château Le Parc
Another Vaughan-based venue Château Le Parc is not like one of the historical places like the other venues mentioned above. Still, it sure does make you feel like royalty with its interior and exterior.
Château Le Parc provides elegant, luxurious and modern settings for 21st-century princesses. It can cater to up to 550 guests and offer many services, including free parking lot, decoration, top-class chefs, lighting and sound systems, and many more!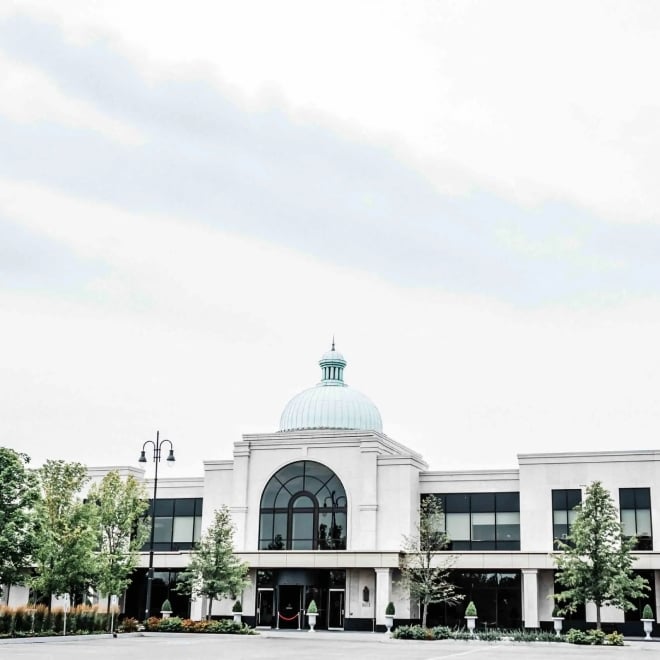 11- St. Paul's Evangelical Lutheran Church
If you want to host a religious wedding in Niagara Falls, St. Pauls's Evangelical Lutheran Church is the best place to choose! It is the oldest, a traditional stoned church in the city with stained windows and gorgeous glass.
For your wedding ceremony, you can seat 400 guests as you walk down the aisle at St. Paul's Evangelical Lutheran Church. The venue also has a wedding hall where you can celebrate your reception with the best food made with local produce at the on-site kitchen!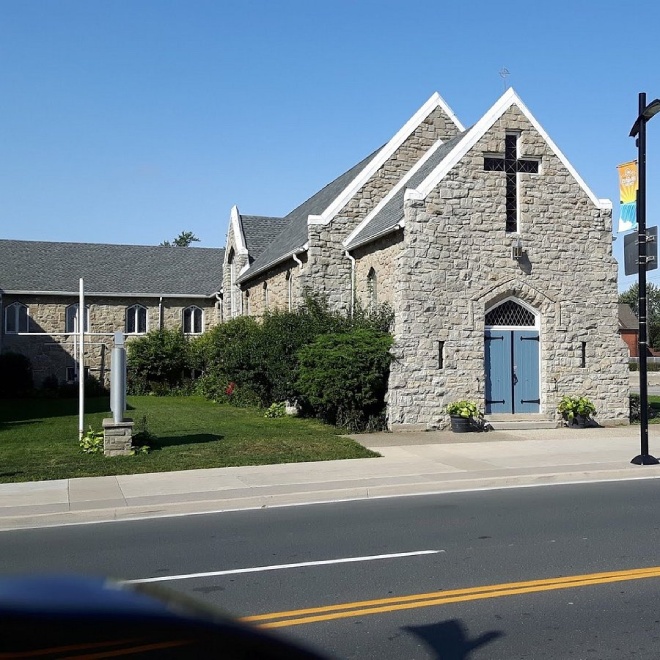 We have come to the end of our article in which we've talked about the magnificent Ontario castles where you can have a magical wedding. For more fantastic wedding venues in Ontario, you can click the link and request pricing for free from your favourites!