So you want to have a forest wedding, but you're not sure where to start. We're here to help! Here's everything you need to know, from forest wedding venues to decorations. You've come to the right place if you want a wedding as magical as your love story!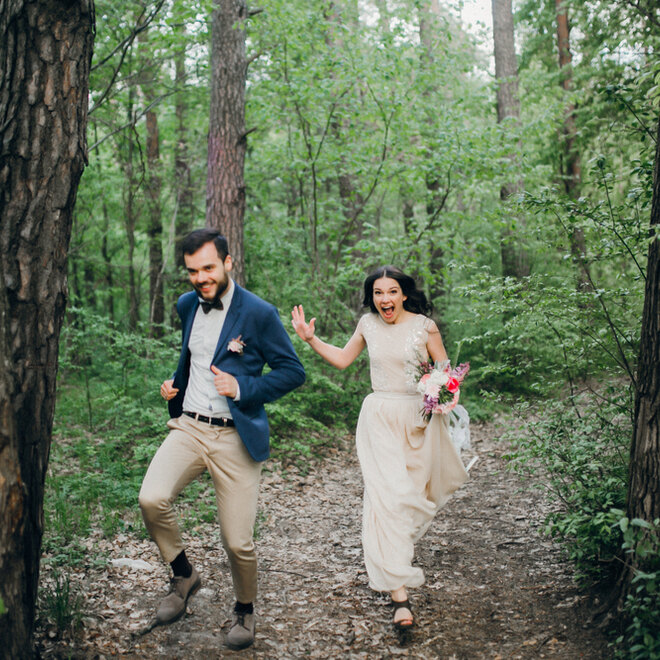 1. Find A Beautiful Forest Wedding Venue
For a magnificent forest wedding, the first you'll need is to find a beautiful forest venue. You're lucky since Canada has some of the world's most amazing parks, resorts, farms and barns. These venues offer spectacular woodland settings for your reception and ceremony.
Consider transportation if you want to get married far from the city center or if you're into the water, mountains, and forest all at once! You can also protect yourself from bad weather with a tent. Finally, make sure to check out what packages the venues have to offer!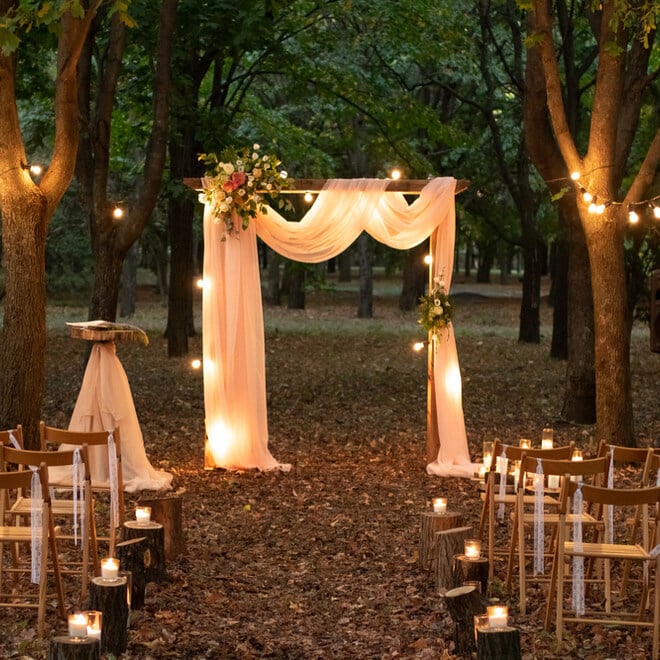 Wedding Venues Discounts
Thinking about a tent wedding? We've got an article for you: The Ultimate Guide to Planning a Tent Wedding
Ontario offers forest wedding venues that will suit the type of couples who loves the outdoors, lots of greenery, and want something low-key but romantic. Lakeside cottages, lush green mountain venues, resorts and spas are just a few of them!
There are many forest wedding venues in British Columbia: Beautiful forests with an infinite number of trails, provincial parks, country-style farms, beautiful valleys – the list goes on! British Columbia's magnificent scenery has everything you need for an enchanting wedding!
If you're planning an Alberta forest wedding, you'll encounter spectacular venues with waterfront views, mountain ranges and gorgeous regional parks. We're sure you'll feel the romance and charm throughout the day in this magical state!
2. Select Forest-themed Wedding Invitations
You'll want your wedding invitations to match the vibe of your celebration. You can add your invitations to nature-inspired elements such as trees, wildflowers or greenery. You can also adorn your stationery with rustic elements like lace or create a custom wedding monogram with your initials.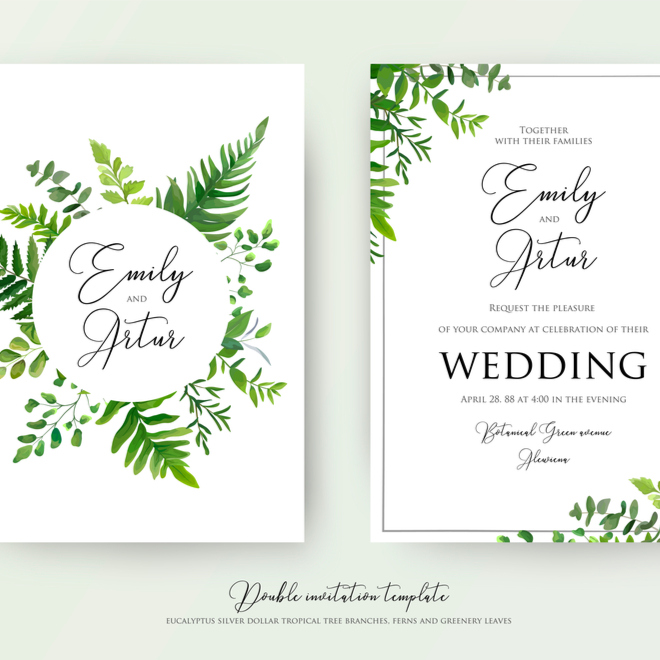 Are you curious about rustic weddings? Here's what you need to know: Your Guide to Hosting a Beautiful Rustic Wedding
3. Choose A Bohemian Forest Wedding Dress
Bohemian wedding dresses are one of the most important elements of forest weddings. With their laid-back natures, these celebrations ask for a more unstructured outfit that embodies a carefree spirit rather than the traditional, structured ball gowns or dresses.
For a timeless bohemian look, lace, loose-fitting silhouettes, and delicate flutter sleeves are the three main features that will never disappoint you. Off-the-shoulder trimmed gowns, bow shoulders beaded dresses, floral gowns and flutter-sleeved lace dresses are among the recent trends among bohemian brides.
You can pair your look with a statement-making clutch, delicate drop earrings, floral crown or strap hat for a perfect bohemian look.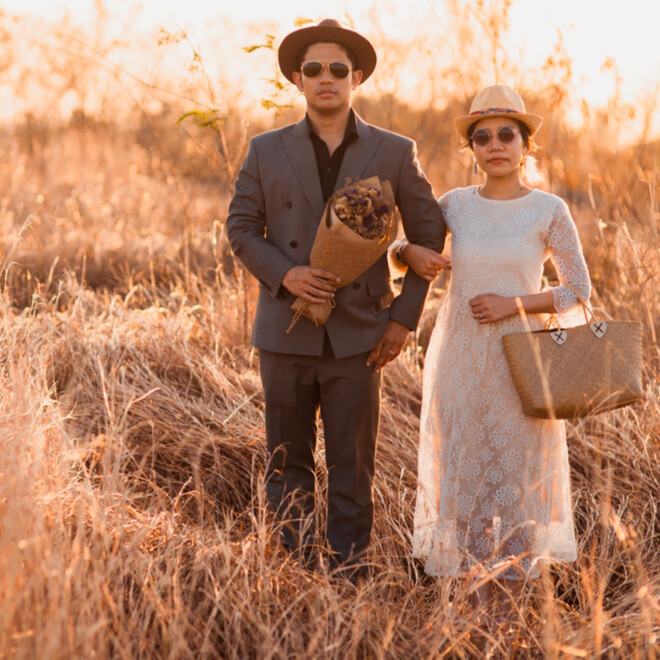 Love boho weddings? Get more ideas here: Boho Wedding Guide: Everything You Need To Know
Want to impress everyone with your style? Don't forget to check out this year's trends: These Wedding Dresses Will Be The Biggest Bridal Trends in 2022!
4. Wear Comfortable Forest Wedding Shoes
You'll need wedding shoes that don't dig into the ground if you want to be as comfortable as possible on your most special day. We recommend staying away from anything with thin and pointy heels. Laidback wedges, chunky heels and simple strappy sandals can complement your seamlessly effortless style easily!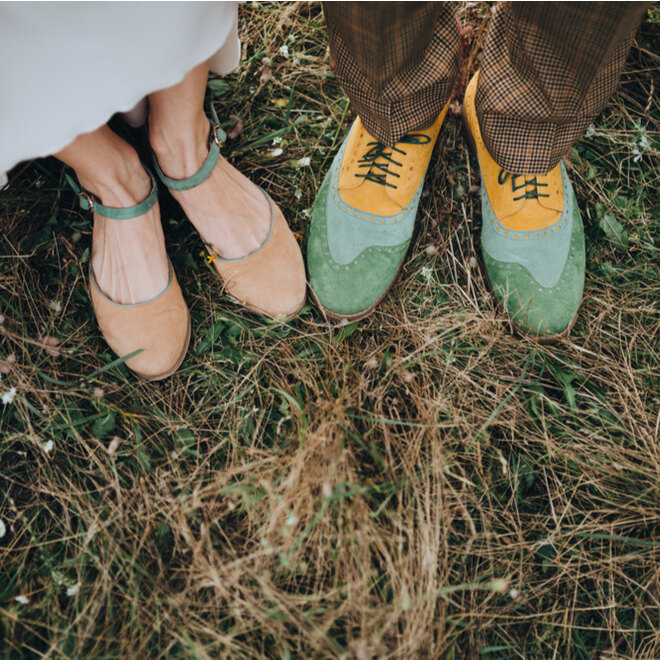 5. Choose A Loosely Tied Wedding Bouquet
We recommend skipping ultra-structured bridal bouquets and going with something unstructured consisting of seasonal wildflowers and brightly coloured flora. Ivy, mint, You can consider a bouquet with magnolia leaf, rosemary and dusty miller that are all being used in new and unusual fashion in recent years. You can also combine various succulents!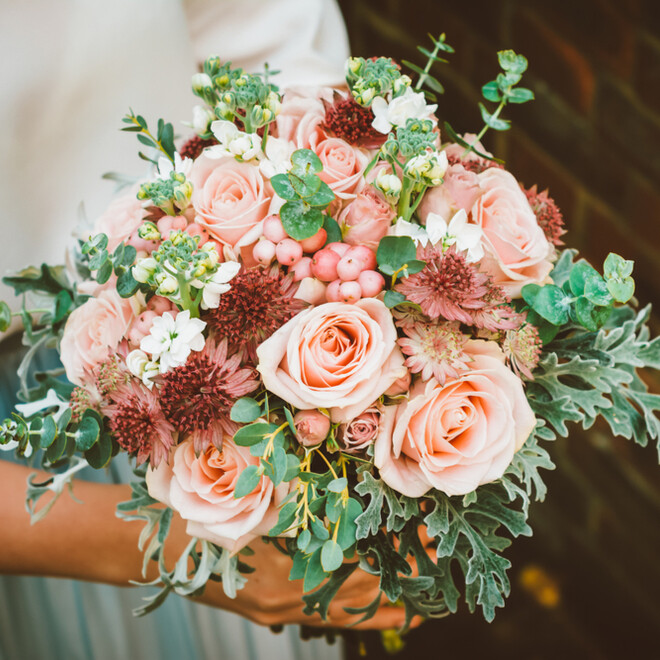 6. Apply Rustic Style To Your Wedding Cake
No forest wedding is complete without a romantic, rustic wedding cake. Wouldn't it be nice to apply the beautiful elements of nature, like berries and blossoms, just as effortlessly as your love for your dessert?
Crawling vines, twigs and twine, stunning flora, and fake icing designs are just a few of the woodland accents and natural touches that you can choose to add to your simple delight. Don't be surprised if you see your guests scrambling to score a slice.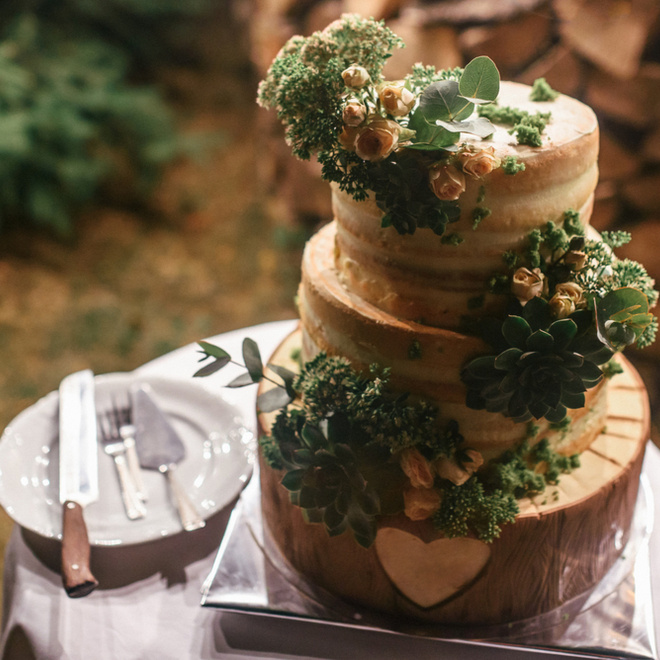 7. Take Advantage Of Beautiful Nature For Amazing Wedding Photos
Many couples need to travel to a nearby park to take the outside wedding pictures they so desperately want to include in their album. On the other hand, forest wedding couples are already celebrating in the sun, surrounded by lush trees, dazzling lakes, and beautiful flora. All you have to do is turn and smile to create a picture-perfect moment!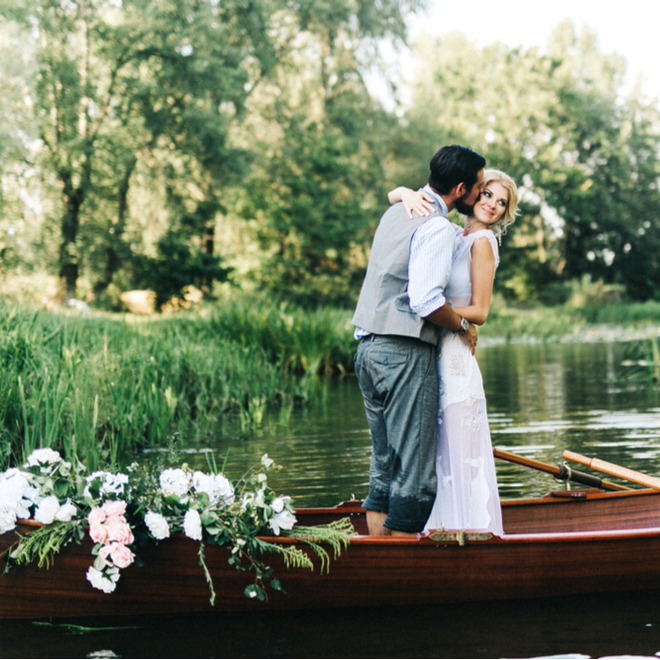 8. Stick To A More Casual Menu
Feel free to plan what you will serve at your wedding with a relaxed and low-key forest venue setting. BBQ wedding catering is a great option for a woodland wedding. Skip a formal 4-course meal, set up a delicious buffet and invite your guests to mingle as they eat.
If you want to keep things even more simple, ask your guests to bring a potluck item instead of a gift, and then sample all of the delicious dishes prepared with love.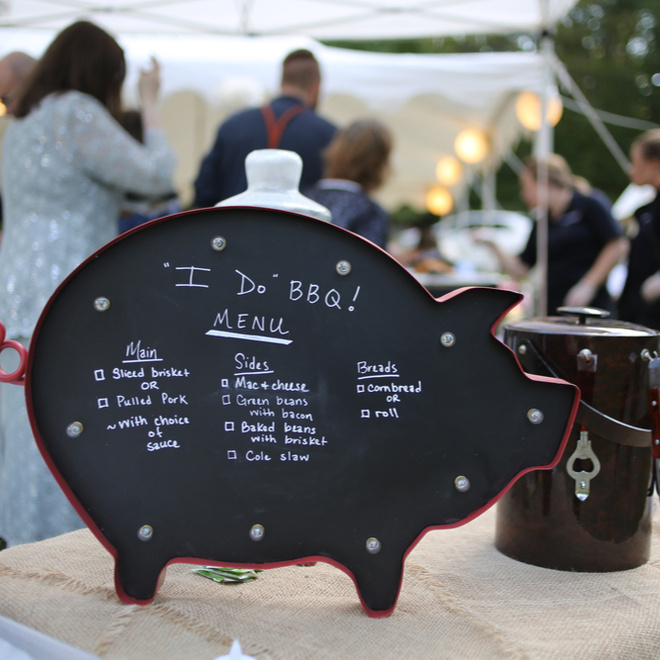 9. Have Fun Around The Bonfire
Everyone enjoys a nice bonfire, especially if there are s'mores involved. With comfortable blankets and an acoustic guitar, give your guests a visit back to their happy childhood. Is there something more romantic than singing heartfelt songs with your loved ones around a gently burning fire on your most special day?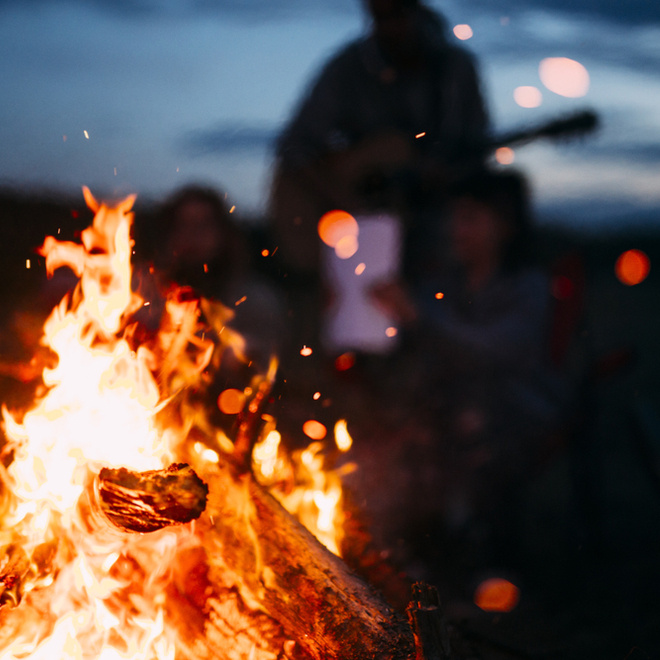 10. Be Creative With Your Forest Wedding Decorations
Even though you don't need much decorating for nature provides the most magical backdrop, why not make it even more spectacular? Romantic string lights, lanterns, floral chair covers – the list goes on when it's come to wedding decorations for a forest event. Here are some ideas we are crazy about to make your woodsy celebration absolutely enchanting:
Moss Decor
Do you have some worries about the weather but still want to celebrate with a woodsy ambience? How about we say you can have a beautiful indoor forest-themed wedding by adding moss to your decor? You can use little pieces here and there and bring a bit of the outside to the indoors.
Tree Ornaments
You'll probably be surrounded by big trees if you plan to have your wedding in a forest. Even though they are completely magnificent on their own, you can easily dress them up for your wedding with several ornaments such as dangling hearts and beautiful baubles. You can also use them as your backdrop for hanging family photos.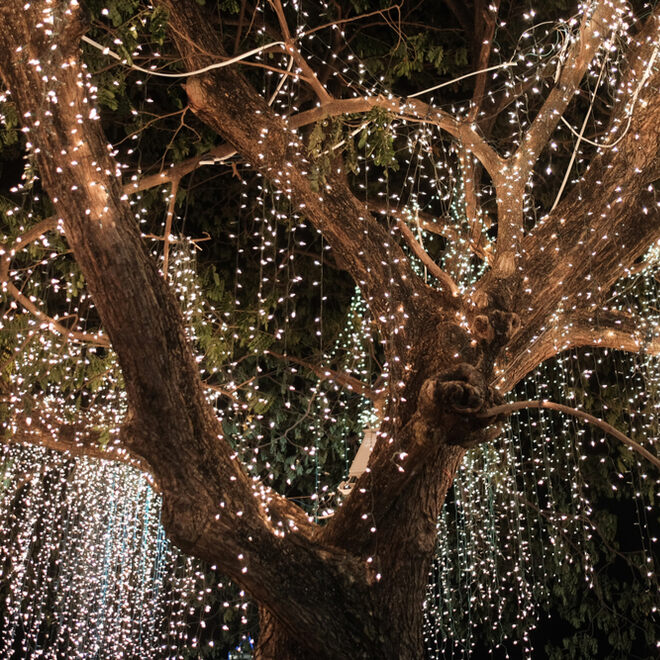 Tree Stump Seating
Instead of folding chairs, go au naturel and seat your guests on tree stumps for your wedding. It'll transform your celebration into a magical and intimate fairy party.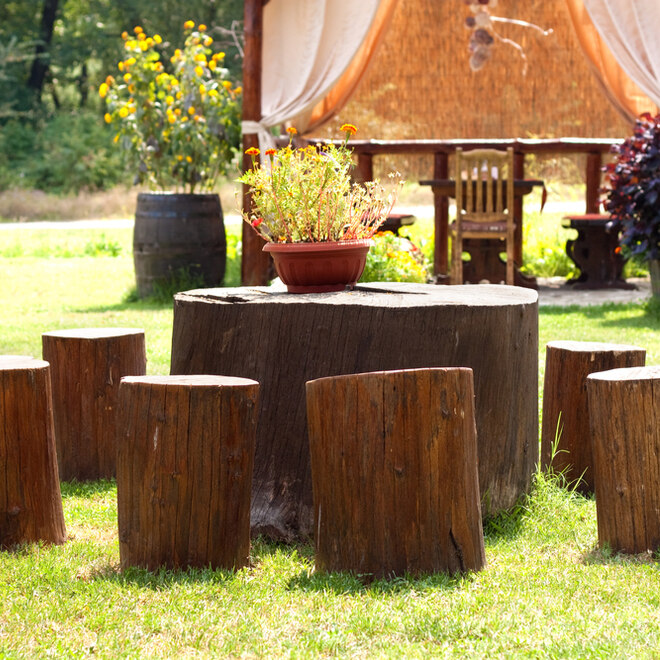 Rustic Wedding Arch
You can also set up a beautiful rustic wedding arch as you can tie the knot in front of a big stunning tree. You can adorn your structure with wildflowers, greenery and bright flora. You can also drape it with white fabric for the ultimate timeless look.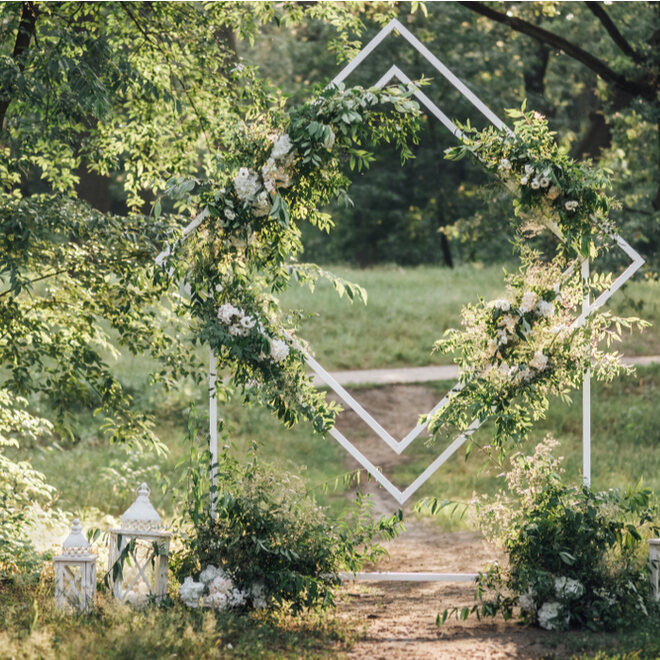 Plant Wedding Favours
Instead of giving traditional wedding favours that do not have any practical use, why not give plants that your guests will enjoy taking care of? Don't get us wrong when we say plants; we mean cute little ones like various succulents!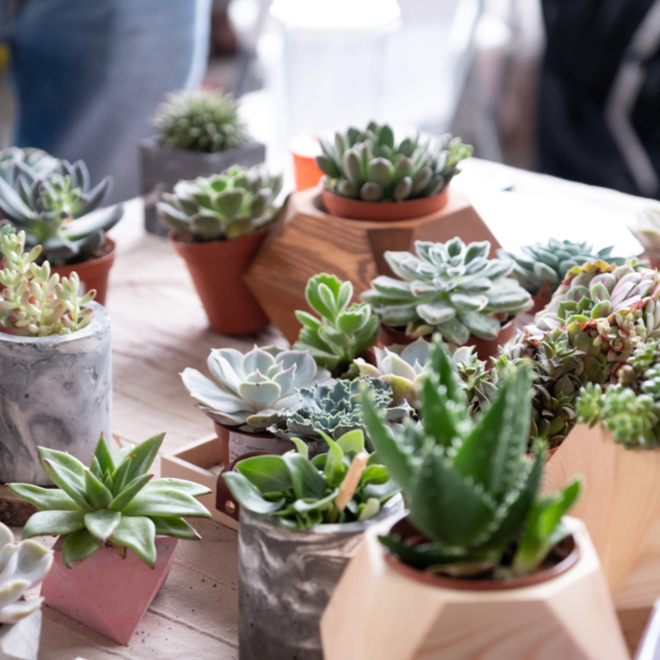 Simple Tablescapes
You probably won't need a fancy table set up, as mother nature is the most beautiful decor with its enchanting magnificence. Skip the tablecloths and runners, use beautiful flowers, maybe in old bottles and mason jars.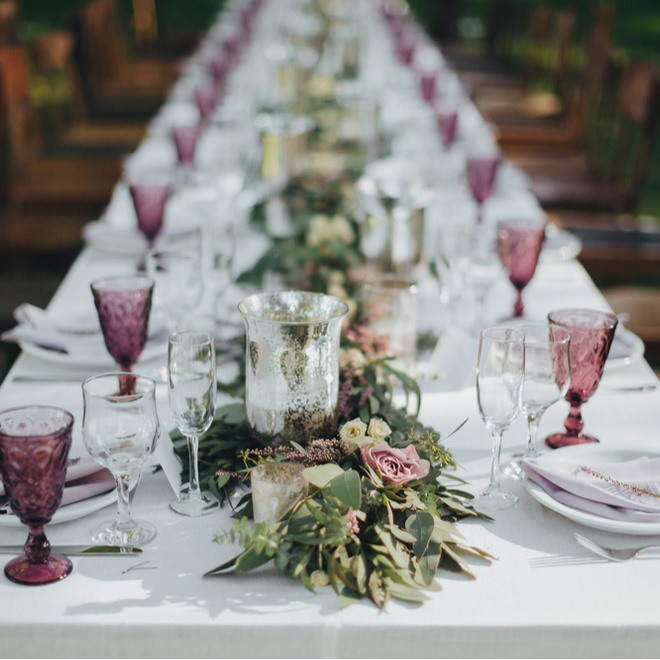 Cozy Lounge Area
Make a lovely and cozy outdoor wedding lounge with fairy lights, sofas, and all the luxuries of home so your guests can mingle in comfort between dinner and dancing.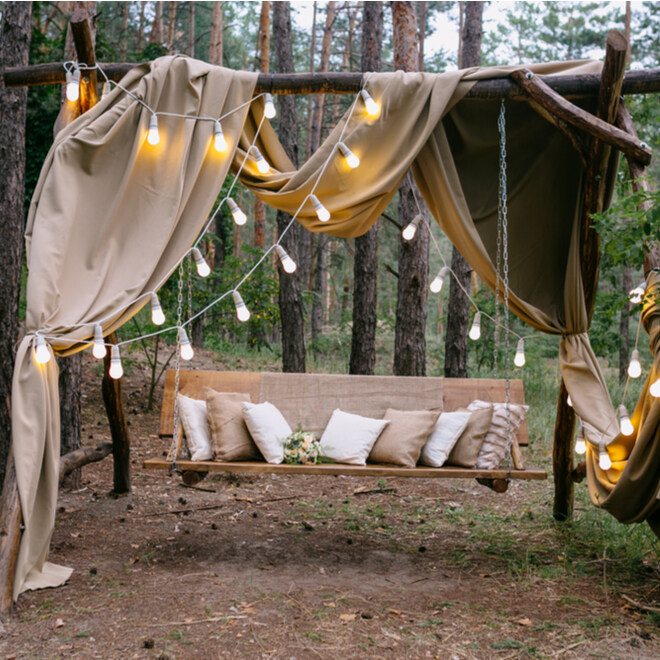 Here's the end of our article. Hope you found everything you wanted. Don't forget, WeddingHero is there for you throughout this stressful process. Plan your special day right now, starting with the wedding venue! Here's to an enchanting forest wedding!