Let's not kid ourselves: we love summer weddings, but an elegant winter wedding has its own advantages, and we're game! Find all the inspiration for your big day, from winter wedding venues and dresses to what to wear as a guest and tons of winter wedding ideas!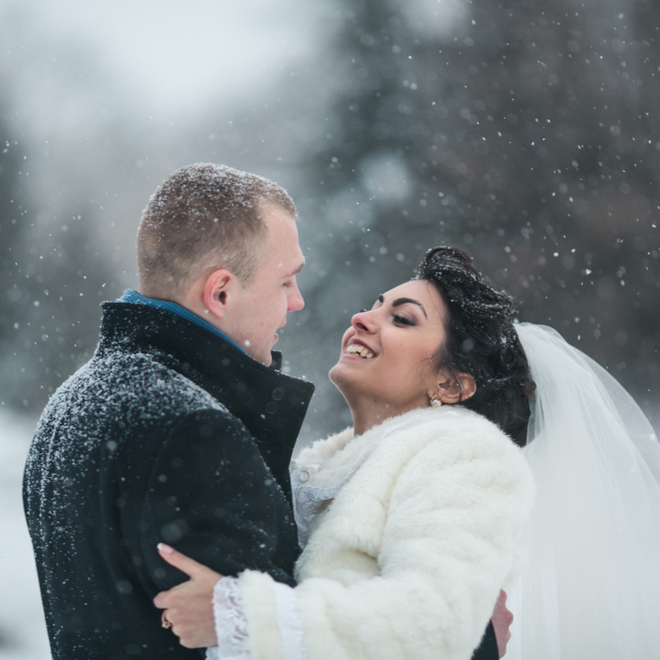 1- Winter Wedding Venues
You might not find a better place to get married than Canada if you're a fan of winter weddings! You can have your winter ceremony anywhere. From city to city, coast to coast.
There are plenty of options for a winter wedding, whether you want an outdoor ceremony and an outdoor couple shoot or a completely indoor ceremony and an outdoor couple shoot.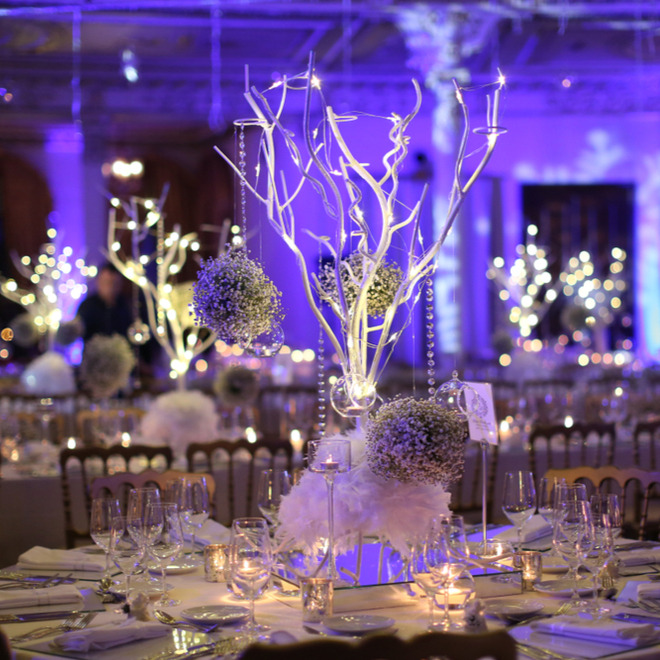 2- Why Choose a Winter Wedding
Winter weddings are becoming more popular day by day, and you read it here first. While summer weddings are pretty and joyous, a winter wedding comes with some serious perks.
First of all, with a busy schedule of other summer weddings, many guests will be inclined to accept invitations to your cozy winter wedding celebration. The truth is, it is less likely to have too many weddings going on during that time.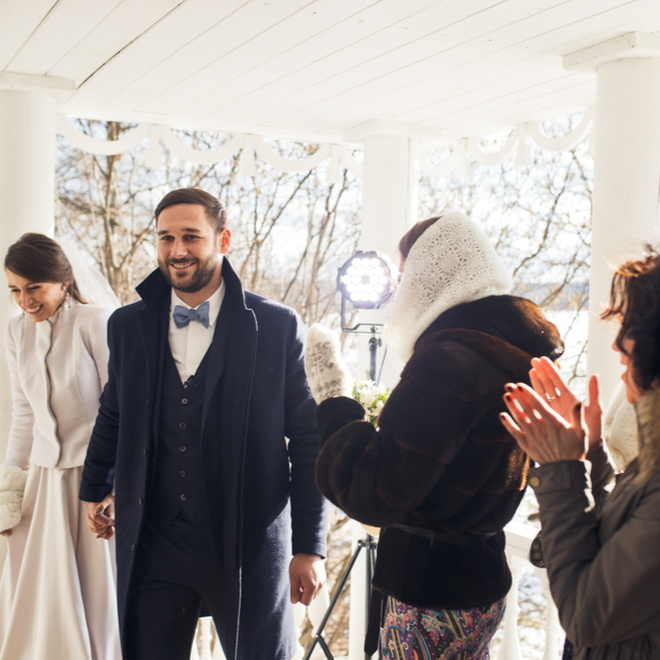 Some additional reasons to have a winter-themed wedding is because winter wedding venues are usually geared to having inside weddings, meaning you don't have to worry about the outside temperature or humidity like you would on a summer wedding date.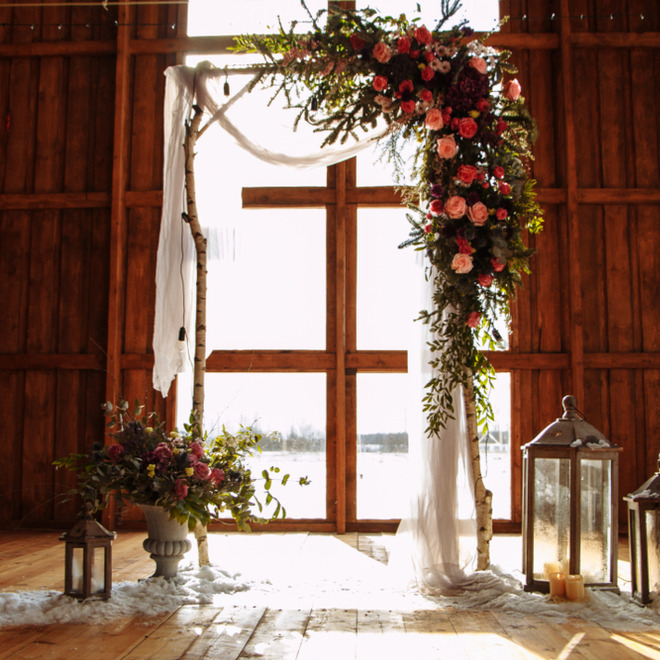 In addition, having a winter wedding is usually less costly, meaning you will easily find cheap winter wedding venues and be nearly limitless in selecting the wedding date.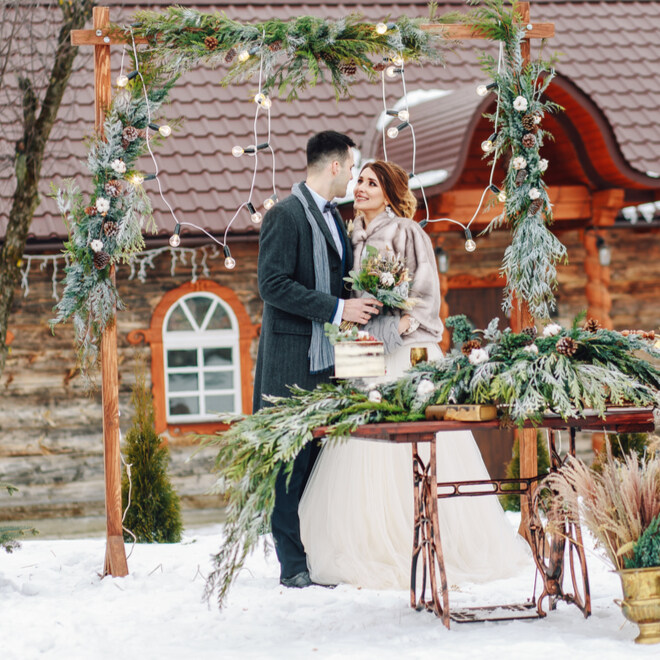 Check out this article for more tips on finding affordable wedding venues: How To Find Cheap and Unique Wedding Venues
Travel and Accommodation Costs
During the winter, travel costs are cheaper for long-distance family members. So it wouldn't matter if you were looking for winter wedding venues in Ontario, winter wedding venues in the GTA, or winter wedding venues in Toronto. You can have your celebration anywhere!
Flight and accommodation prices will be at an all-time low, which will benefit all guests regardless of which cozy winter wedding venues you're choosing from or where the venue is located in Canada.
We've listed the top-rated GTA wedding venues here: The Best 37 GTA Wedding Venues to Make Your Special Day Extraordinary
A few other perks are that you'll be able to have a stunning winter couple shoot without being hot and sweaty for the entirety of the shoot!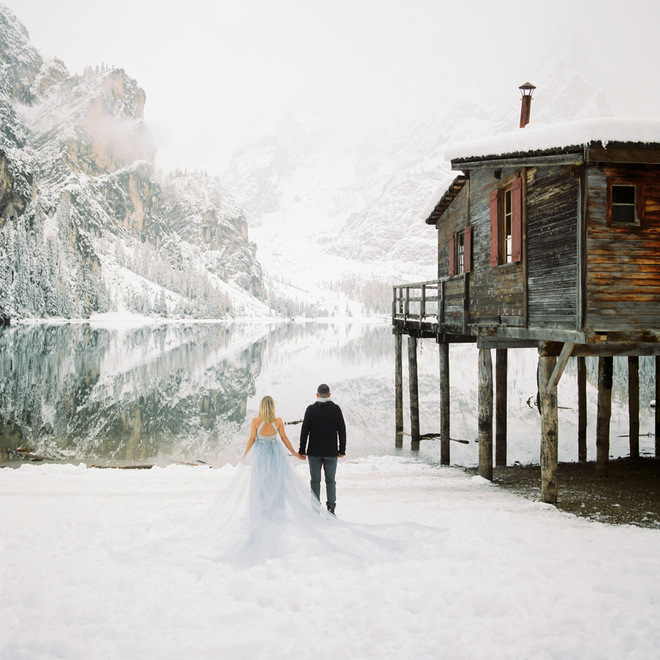 3- Winter Wedding Holidays
Although winter weddings usually have tons of dates available in terms of when to host your big day, there are some holidays we thought you might want to keep in mind to make sure all your guests will be able to attend! 
Hanukkah – December 
Kwanzaa – December 
Christmas – December 25 
New Year's Eve – December 31 
New Year's Day – January 1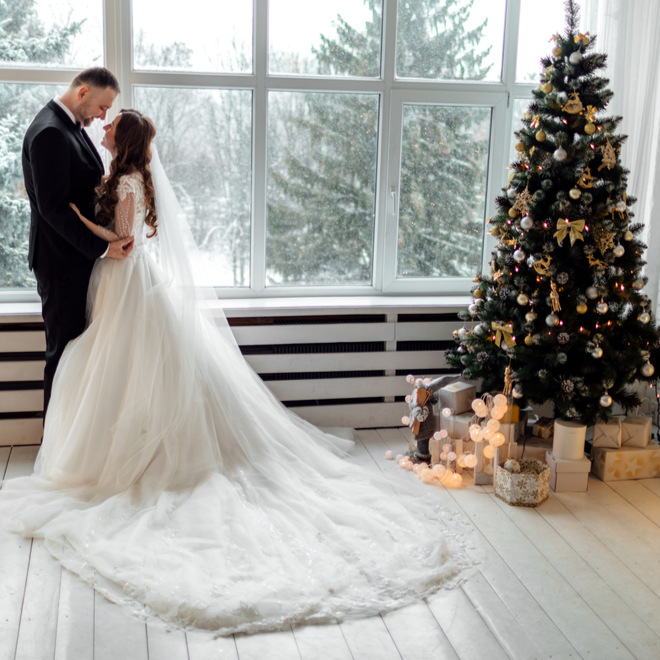 4- Winter Wedding Ideas
A Location That's Easy To Get To
When planning a winter wedding, it's best to choose a place that's easy to get to. Snow offers fantastic photo opportunities, yet to stay ahead, choosing an easily accessible venue can help everything run smoothly on your big day!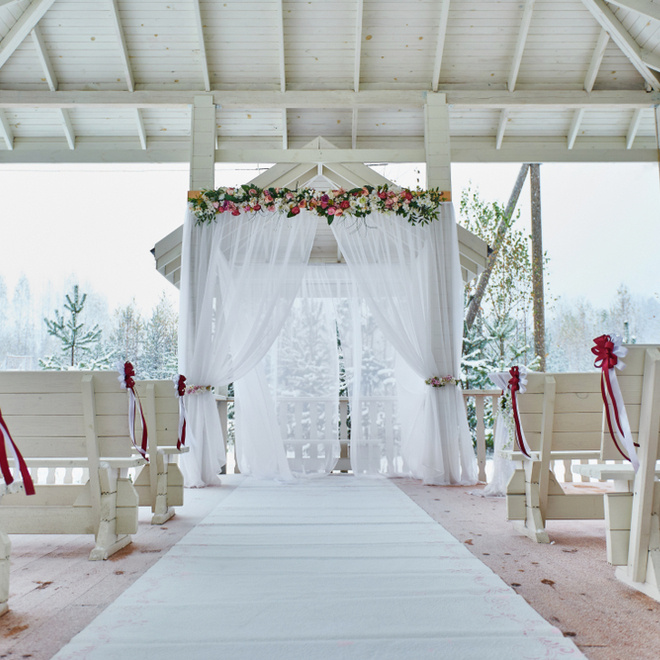 As soon as your guests arrive at your wedding ceremony, take care of them. A warm drink will help to help get everyone in the mood and warmed up on a colder day. Organize for your ushers to greet guests with mulled wine or hot chocolate as they arrive at your ceremony.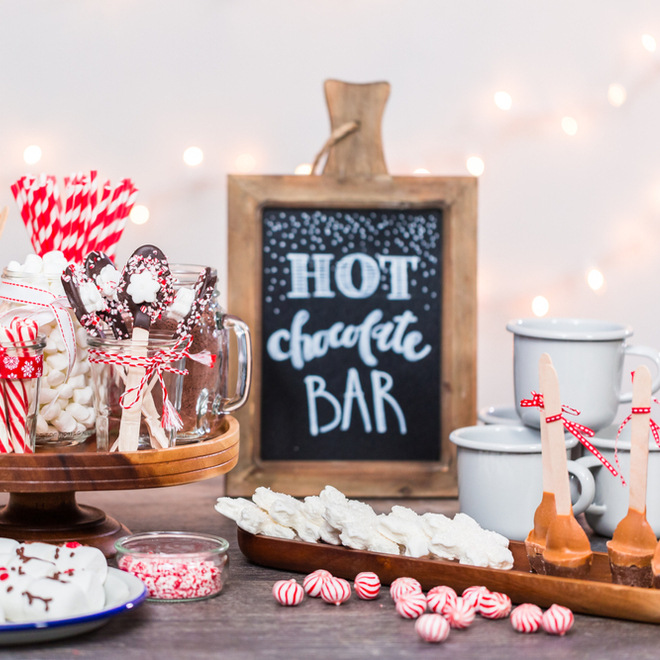 You can find more wedding ceremony ideas here: Everything You Need to Know About a Wedding Ceremony
Small gestures show your visitors that you appreciate their presence and get everyone excited for a day of celebration. Serving your guest with a seasonal treat also does the trick. Think of things within your theme, such as cinnamon, candied apples, or anything related to your winter wedding style!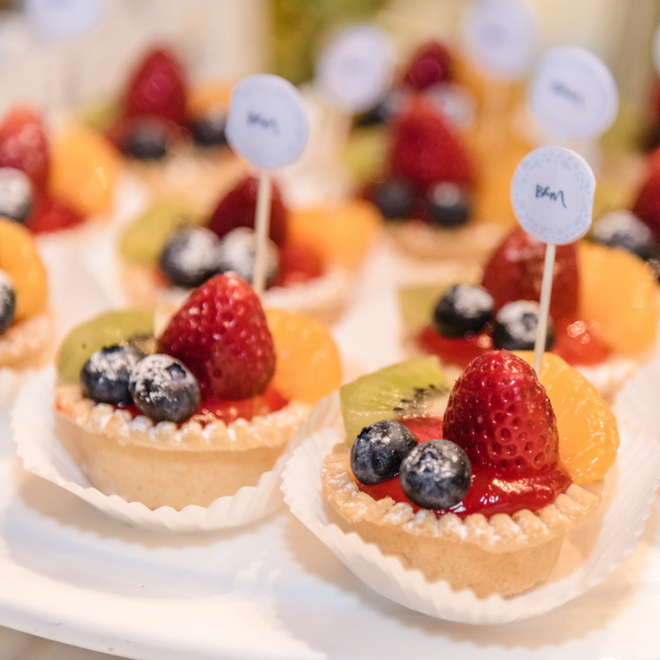 Warm blankets could be purchased or rented and made available to guests on the wedding day. Guests would be grateful for an extra layer to cover themselves and keep cozy in. If necessary, and within your winter wedding budget, you could arrange for guest transportation to their cars after your wedding reception.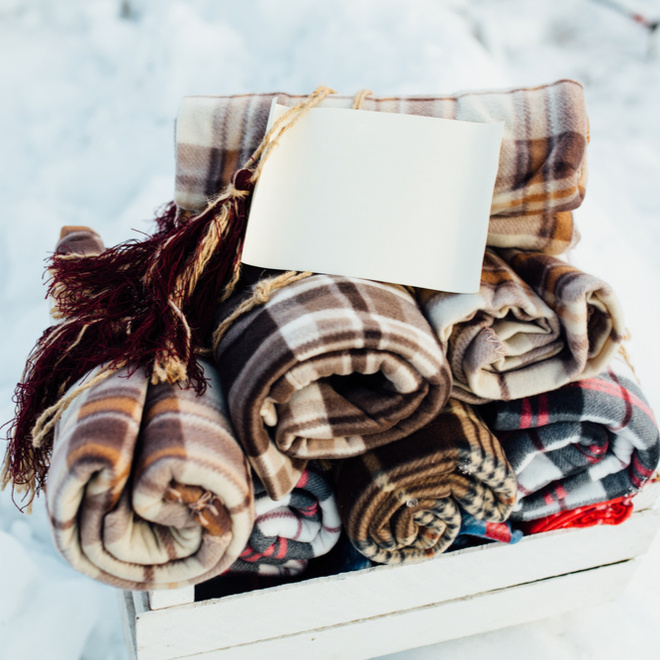 5- Winter Wedding Themes
Adding a theme to your wedding is fun and creative, especially if it's a winter wedding. You'll be coherent when it comes to your wedding decorations if you choose the right theme! Luckily, there are so many winter wedding themes we figured we'd give you a few ideas!
Winter Wonderland: A classic, but in our opinion should never be forgotten, is having a classic winter wonderland wedding ceremony. This theme is usually coupled with snowflake decorations and icy accents in every corner.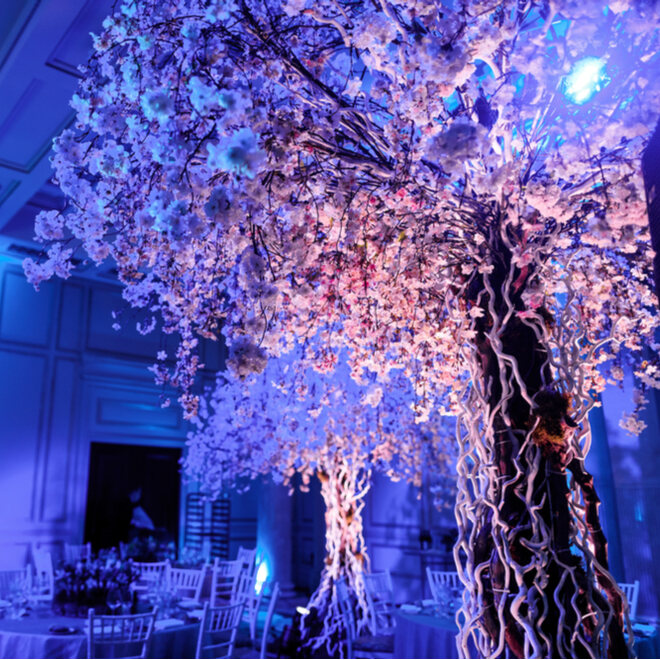 Holiday Cheer: Considering winter weddings are usually around the holiday period, why not highlight and hold onto that cozy feeling and incorporate it into your wedding day. This theme entails the red+green colour scheme, involves tons of greenery and ornaments.
Icy Blue: The icy blue winter-themed wedding includes tones like blue and silver with tons of glossy details involved. It also entails crystal accents that add tons of glamour to this timeless theme.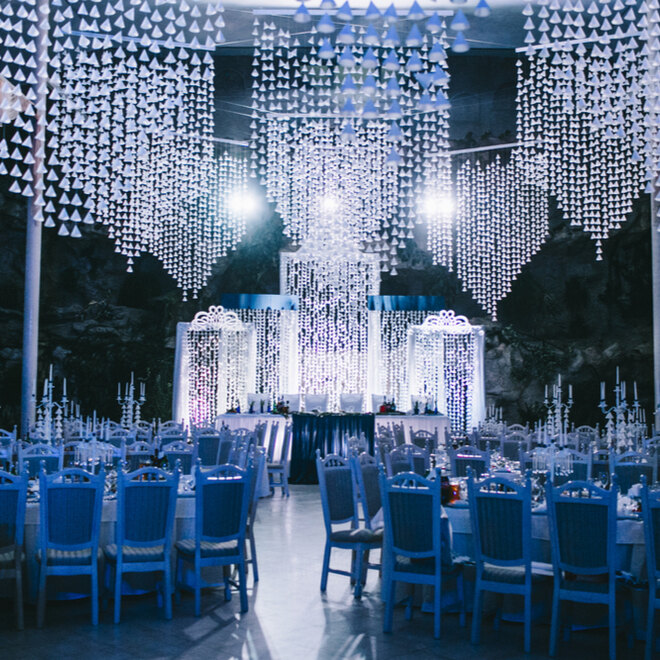 Winter Sport: If you're an athletic couple or just happen to love winter sport, you can also choose to host a ski-themed wedding. Think of traditional ski-lodges in the mountains, where you could serve your guests gluhwein upon their arrival, followed by an overnight stay and perhaps a few days of winter sport.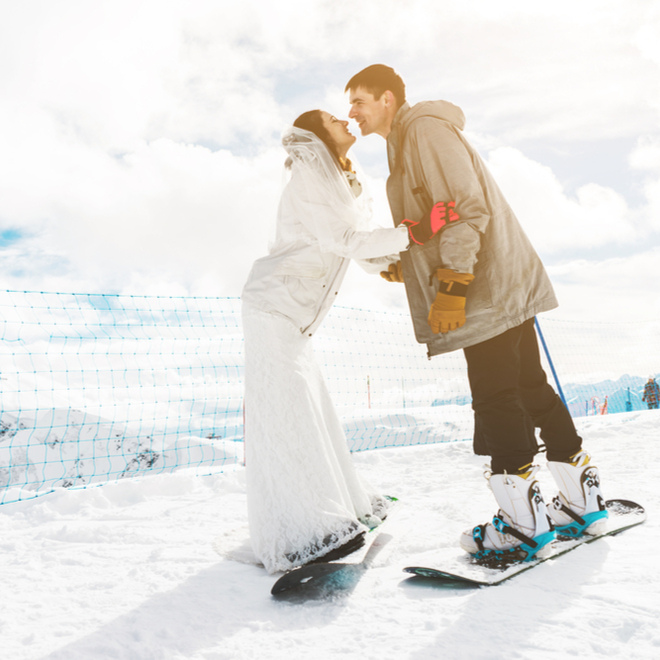 Hopefully, some of these suggestions sparked your imagination. This shows that winter wedding themes are technically endless and are not limited, although they are usually inside weddings. You can get as creative as you'd like; after all, all that matters is that you and your partner enjoy your big day to the fullest!
We have a list of the most popular themes here: These 23 Wedding Themes Will Suit Any Style
6- Winter Wedding Decorations
There are tons of options for winter wedding decorations. Whether you're on a budget or going all out, there's something for everyone in this theme.
You can decorate any venue for a winter wedding, whether you're throwing a backyard celebration or something more extravagant like a winter mountain wedding.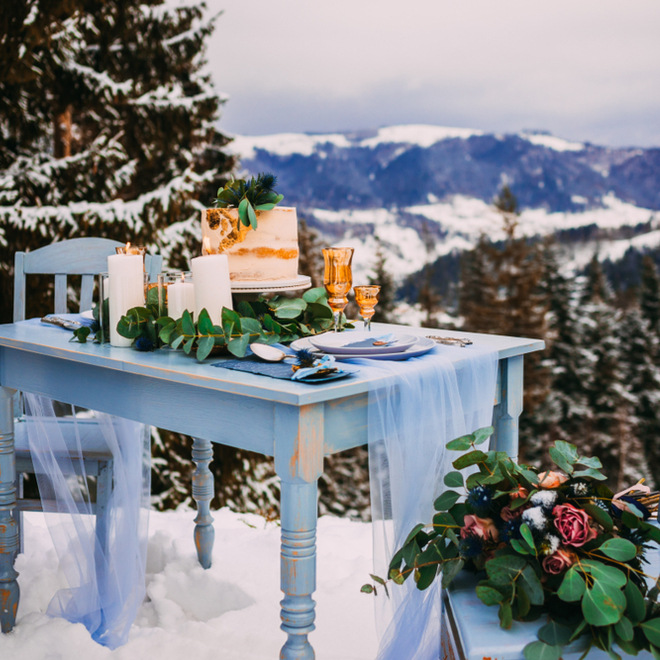 Our suggestions for the best winter wedding ideas include utilizing out-of-the-box colours, experimenting with lighting design, experimenting with florals, choosing new textures, and building off the setting of your wedding venue. 
Some other suggestions to decorate for your winter wedding, whether we're talking about rustic wedding ideas for the winter, intimate winter wedding ideas, or classic winter wedding options, include blooming branches, icy blue tones, hanging lights, simplified colour palettes, or green tones!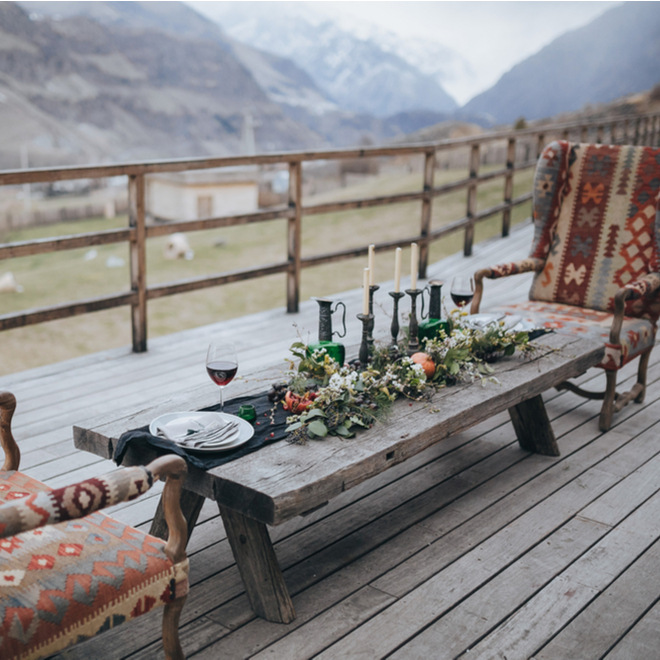 You can choose the best colour palette for your winter celebration by checking out this article: 19 Wedding Colour Schemes You'll Never Get Tired Of
Thinking about a rustic winter wedding? Take a look at this article: Your Guide to Hosting a Beautiful Rustic Wedding
7- Winter Wedding Dresses
There are different kinds of winter wedding dresses. It's all about the style of your wedding, your tastes and the venue. You can go for a long-sleeve crepe gown with an open back or high neck if you want to keep it classy and minimal.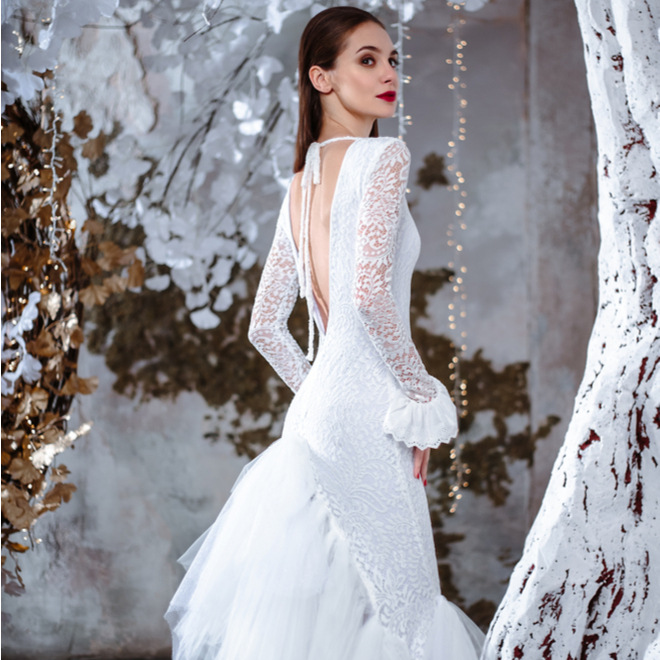 Tulle layers, lace, and beading are always stunning for more traditional brides. Crochet lace, tiers of ruffles, and needlework are great accents for bohemian tastes, especially with airy fabrics.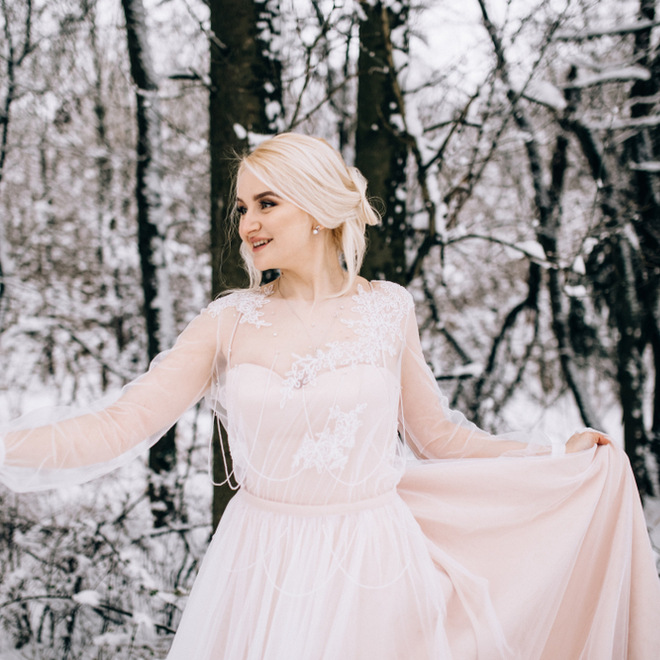 A retro-inspired style like a tea-length dress is simply chic for a cozier and intimate winter wedding. You can also consider a black wedding dress that goes perfectly with the white background. At the same time, ultra-luxe accents like metallic materials, feathers and rhinestones are perfect for a holiday-themed evening celebration.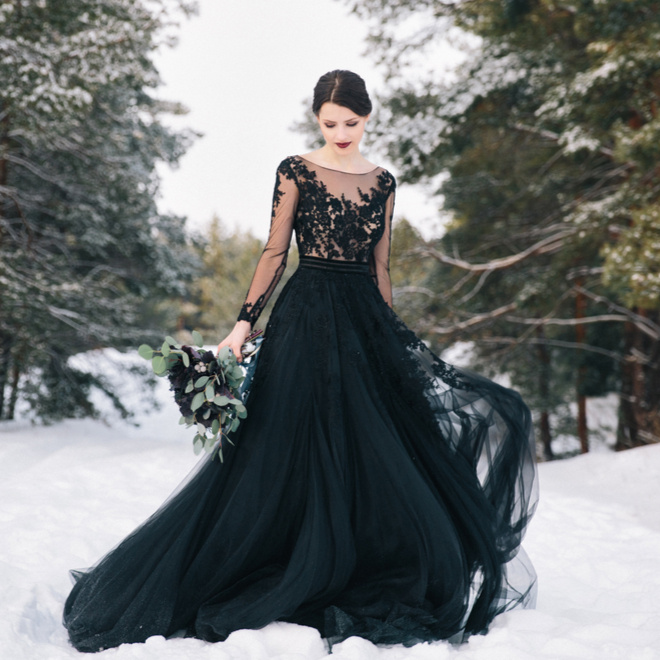 Here are this year's wedding dress trends to wow your guests: These Wedding Dresses Will Be The Biggest Bridal Trends in 2022!
Winter Bridesmaid Dresses 
If you're planning a winter wedding, you'll need to think about winter bridesmaid dresses in addition to warm colour palettes, unusual floral arrangements, and gorgeous venues. 
Your winter bridesmaid gowns may benefit from a sleeker silhouette. Consider an architectural floor-length gown with off-the-shoulder cutout sleeves or a sequin-dusted structure mermaid. 
While you would believe that a winter wedding necessitates long sleeves, this is not the case. Fabric is another critical factor, and you may want to go with thicker options like taffeta, crepe, or tool.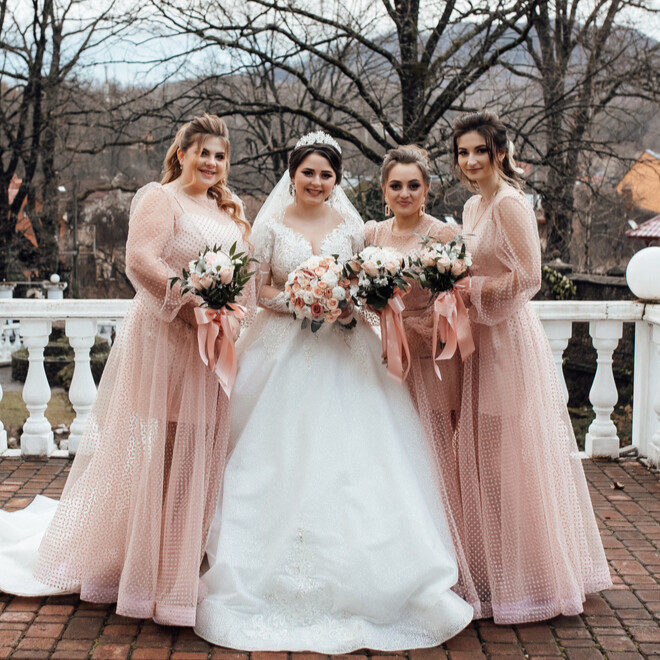 8- Winter Wedding Groom's Attire
After all, what sets a winter wedding groom apart from those in other seasons? I'm glad you asked! Mixing textures, patterns, and materials, in more cold-weather colour palettes is the key— think satins, woven fabrics, matte, rich burgundy, velvets, and slate blue (not to mention the ever-formal, ever-bold white).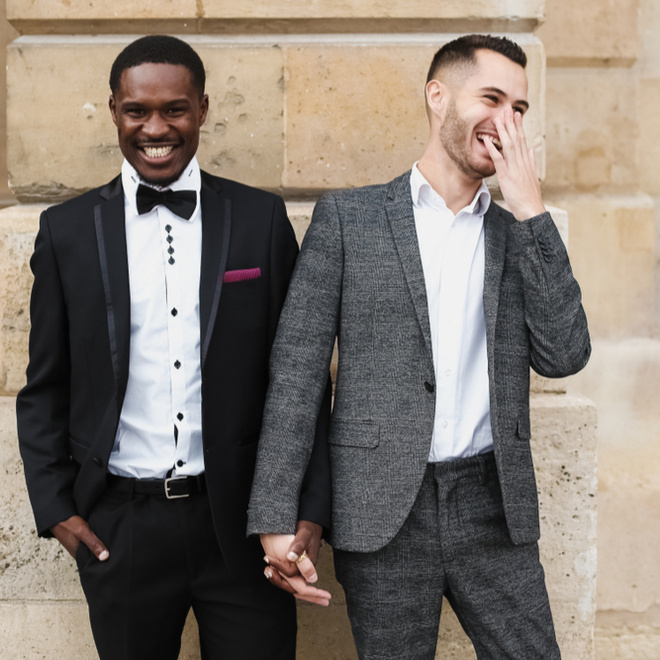 9- Winter Wedding Shoes
As a winter bride, you'll have more options when it comes to wedding shoes: classic pumps come in not only silks and satins but also crisp patent leathers and suedes too. Even a pair of bridal boots can work for the occasion, especially if they're embellished with ostrich feathers and velvet. 
The use of rhinestones and jewels nods to the holiday season. Meanwhile, for a winter bride, basic leather slip-on loafers or pointed-toe boots are understatedly beautiful and timeless. You'll have an endless selection of winter wedding shoes to pick from, whether you prefer something traditional or something a little more daring.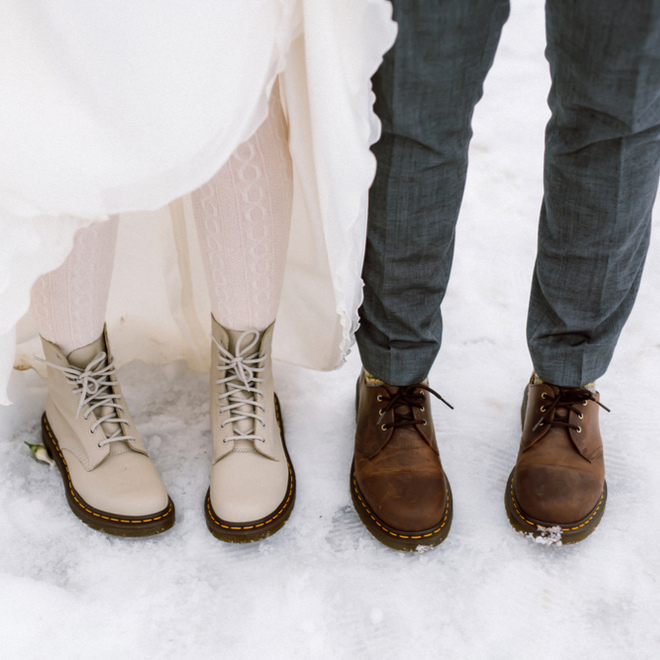 10- Winter Wedding Guest Dresses
When choosing what to wear as a winter wedding attire, you should first consider the dress code and venue of the event. This is one of the simplest ways to figure out if your outdoor winter wedding guest attire will work or not. 
A long veil or gown paired with a shawl for the evening is a good example of a winter wedding outfit. Some other outfits to consider are long sleeve dresses, classy jumpsuits, chic suits, velvet fabrics, statement coats, etc.
Include info on good outdoor winter wedding guest attire in your invitations. You could put a section like "winter wedding guest style" or "suggested winter wedding attire".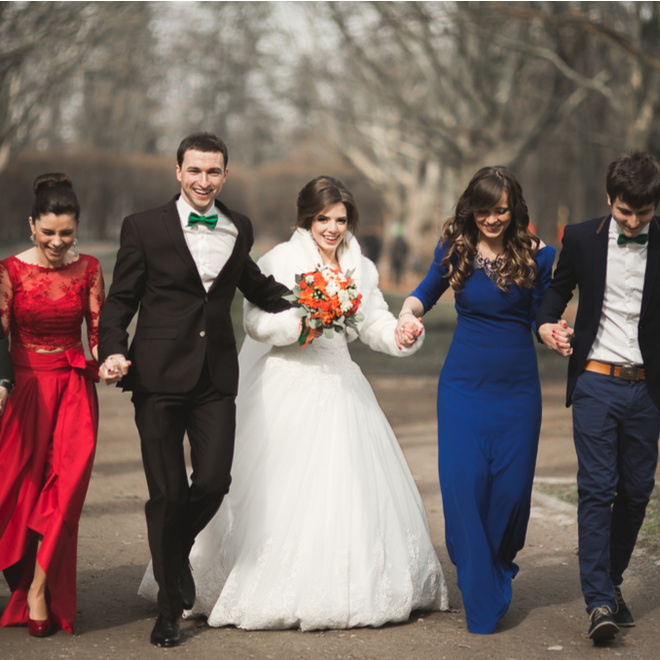 We've covered everything you need to know before you start planning your winter wedding. It's time to find your winter wedding venue with WeddingHero and figure out everything from wedding photography to music!