Ever dreamed of getting married on a beach? You're in the right place. Here are a few tips on planning the perfect beach wedding! How to pick a beach wedding venue and dress, hair and makeup tips, decorations and more!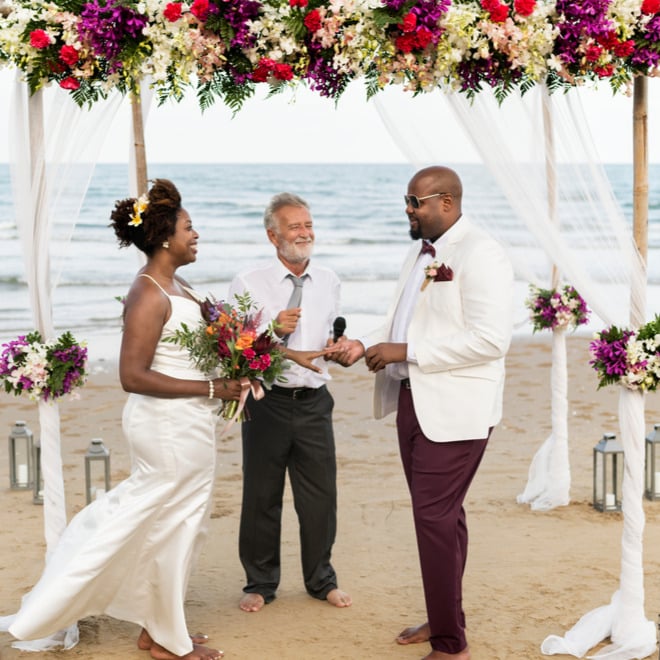 Beach Weddings
Beach weddings are quickly gaining popularity as a romantic way to spice up your big day. The combination of bright white sands, turquoise oceans, and spectacular sunsets is a recipe for perfection, which is exactly what every happy couple desires on their big day.
There is a lot of planning that goes into a wedding, just like any other event. Though it might be difficult at times, getting appropriate guidance will help you get married without any hardship.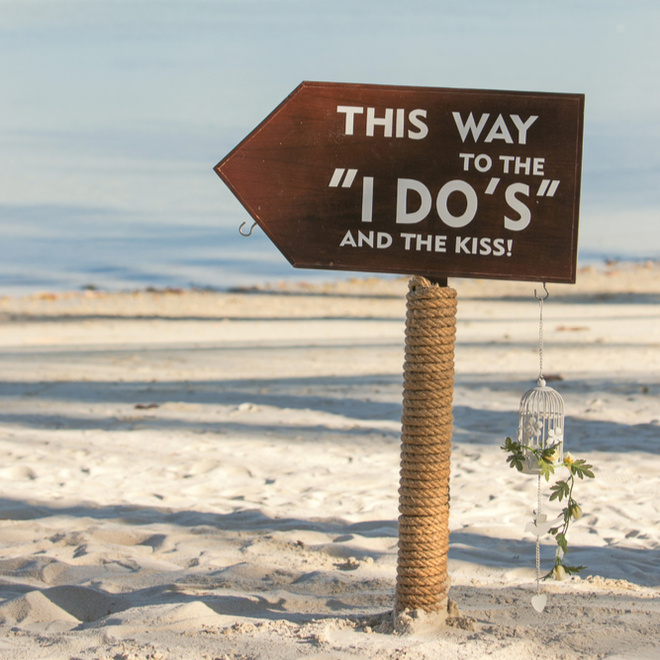 Wedding Venues Discounts
Is a Beach Wedding Free?
Beach weddings can be considerably cheaper or more expensive than traditional weddings, depending on the location of the beach and who owns it, as well as all the extras like decor, food and drink, the dress, and the size of the wedding party!
In Canada, the majority of beach wedding locations are free. If they aren't, the permit fee is usually small, ranging between $30 to $500.
How Much Do Beach Weddings Usually Cost?
When it comes to planning and financing their wedding, many busy couples today are pressed for time and money. Beach weddings are a cost-effective and elegant alternative to the stress and expense that some couples associate with typical weddings. A beach wedding is usually less expensive and easier to organize.
A beach wedding, including both ceremony and reception, usually costs around $15K for couples. However, you can lower your expenses with some tips, such as having your wedding mid-week and bringing your own alcohol.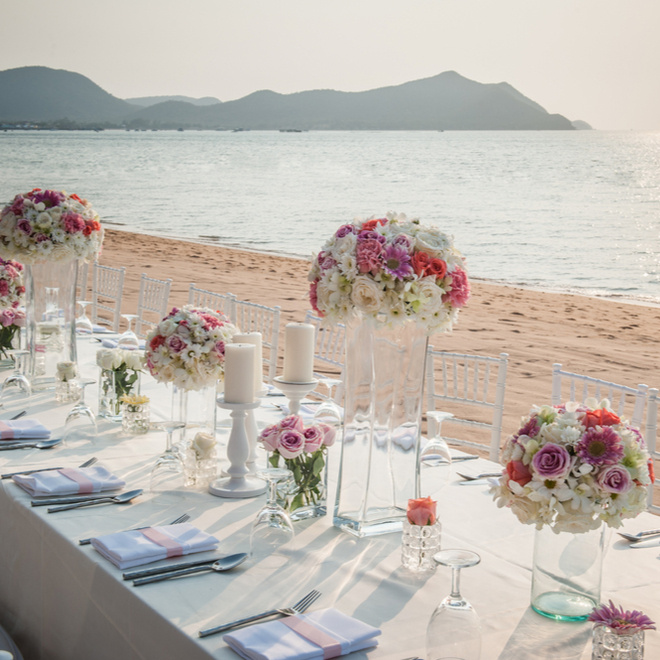 If you're on a budget, check out these tips: How To Find Cheap and Unique Wedding Venues
Canada's Top 10 Beaches for a Wedding
Ingonish Beach, Cape Breton Island, Nova Scotia
Parlee Beach, New Brunswick
Brady's Beach, British Columbia
Singing Sands, PEI
Sandbanks, Ontario
Grand Beach Provincial Park, Manitoba
Wasaga Beach, Ontario
Martinique Beach, Nova Scotia
Havre-Aubert Beach (Sandy Hook), Quebec
Long Beach, Tofino, British Columbia
Beach Wedding Ideas
There are many beach wedding ideas that you can incorporate into your event that will sound thematic, whether you're marrying only a few steps away from the ocean. With styles ranging from boho to sophisticated, tropical theme to minimal, laid-back to downright trendy, the aesthetic lends itself to a wide range of options.
Beach Wedding Seating Chart
We understand that preparing your wedding seating chart isn't the most enjoyable or thrilling aspect of the process, but it doesn't have to be torturous. From a seating chart painted on an elegant door or window to a subway map, we've seen it all. Take a look at these innovative material ideas you can use for your seating chart for some inspiration.
Wooden Crate
Chalkboard
Frames
Mirror
Ladder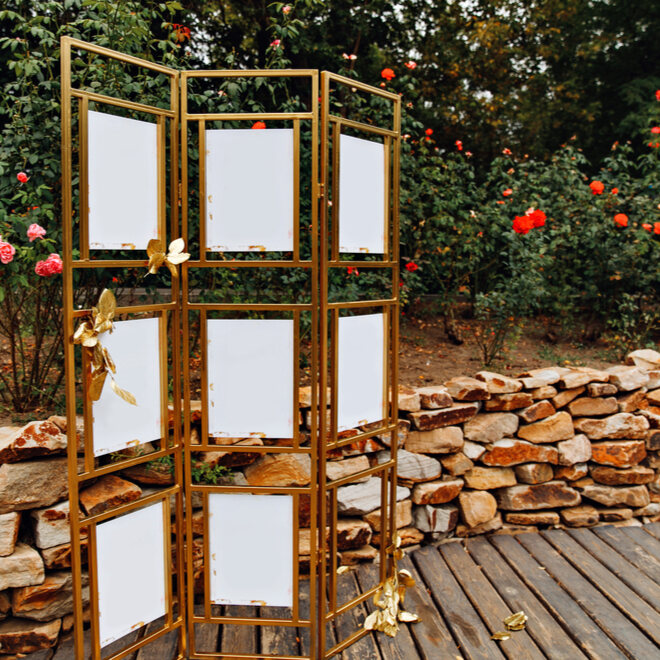 Creating a seating plan is super easy with our wedding seating chart tool!
Beach Wedding Cakes
It would be great to consider having your wedding cake compliment the seaside settings by basing design inspiration on the ocean. The treasures of the sea - ivory and coral combined with edible shells, sea glass, and starfish - might all come together to create the ideal beach wedding cake.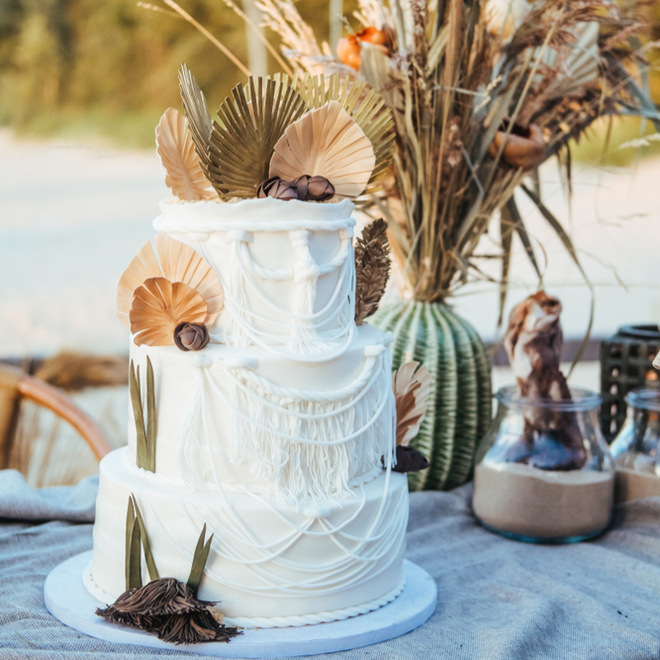 Beach Wedding Invitations
To give guests the first glimpse of your beach theme wedding, seal and deliver beach wedding invitations. You can incorporate nautical elements such as starfishes, oysters, and shells, or you can deliver your invitations in transparent little bottles by throwing beach sand and a couple of shells.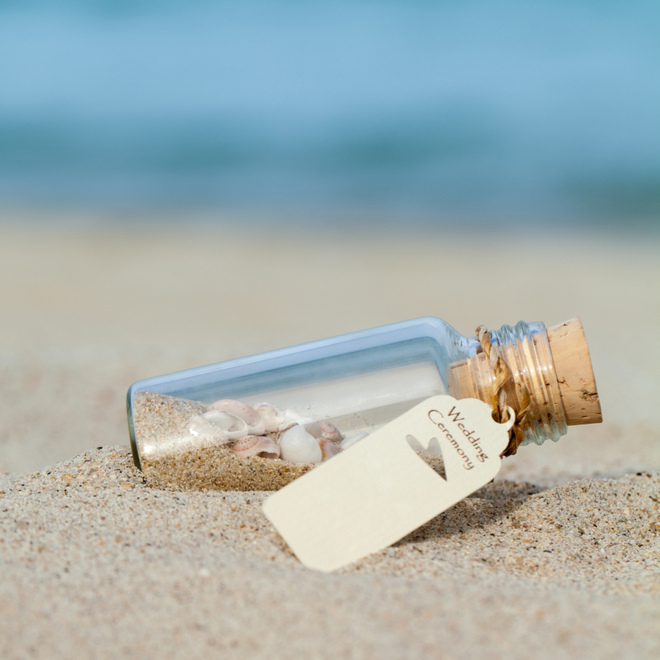 Beach Wedding Decorations
You'll need more than just exotic flowers and an assortment of colourful textiles to elevate the overall theme of your beach wedding. We've gathered some valuable advice and tips from wedding specialists on how to turn your beach wedding venue into the most desired party of the year—yet natural affair. Here are ten beach wedding decoration ideas we love that you can incorporate into your beach wedding 
Choose decor that complements rather than competes with the charm of the beach setting, such as soft, airy florals and ghost chairs.

Say 'I do' under a greenery arch on your beach wedding ceremony.

Use woven seagrass baskets and fresh fruit as aisle decorations.

Create a shoe station for your guests to leave their shoes and move comfortably.

Give out boho folding fans and colourful handkerchiefs as a wedding favour to your guests.

Create areas of comfort for your cocktail hour with cushions, pillows and beanbag chairs

For your beach wedding reception, create a modern tablescape with leaf table numbers.

Incorporate a custom beach bar and serve signature cocktails.

Use wooden wedding signs to help your guests navigate easily.

Instead of hanging your lights, use a wood canopy with elevated lanterns.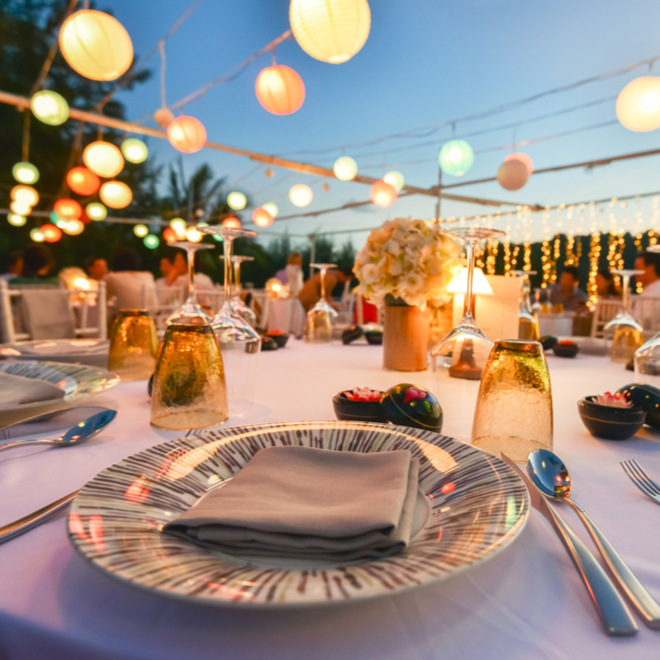 Beach Wedding Dresses
When selecting your beach wedding dress, keep in mind that you want one that looks like it belongs at the beach. Instead of a satin mermaid gown or a beaded ball gown, opt for light, airy, simple, and casual wedding dresses.
Short and backless beach wedding dresses are growing more popular than ever since brides still look chic while mingling and dancing with their loved ones comfortably. Chiffon wedding dresses make brides look like a fairy with a gentle breeze, and boho wedding dresses with lace elements sparking a sense of wonder and whimsy.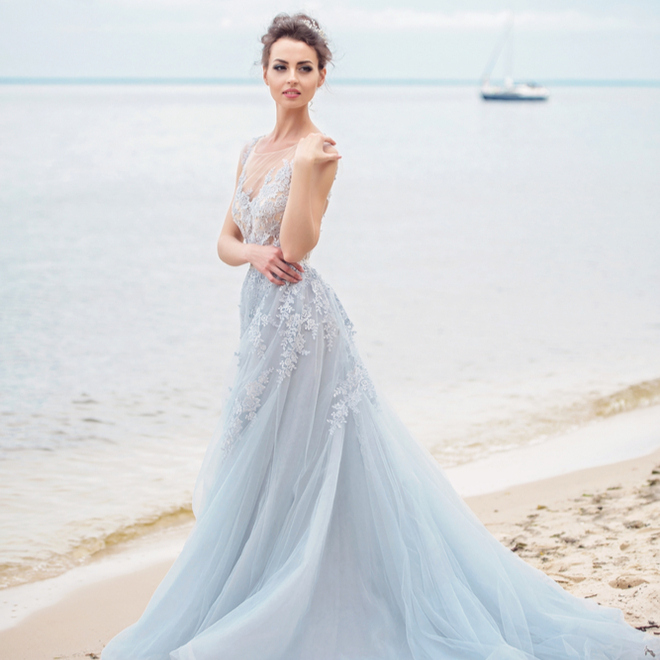 Beach Elopement Dress
Finding the right beach elopement dress might feel like looking for a needle in a haystack! But don't worry, you can choose anything as long as it's simple yet chic. You can choose a boho wedding dress and combine it with boots or a leather jacket.
Colourful elopement dresses are highly sought after as well. You can choose a colour that looks good at your location and consider a dress made with tulle or chiffon that moves with the sea breeze.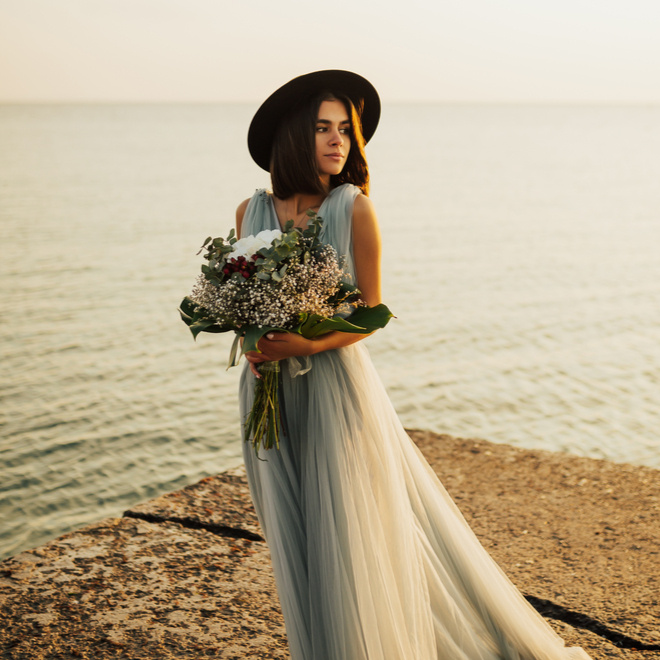 Here's what you need to plan the perfect elopement: How to Elope: Step-by-Step Guide
Beach Wedding Guest Dresses
Beach weddings have a variety of dress codes. The first one of beach wedding attire is beach casual, and for this type of style, a plain sundress would be perfect. Beach formal is the other one where an elegant chiffon gown or a maxi dress with accessories may be the best look.
The final one is the beach chic. It usually takes place in luxury resorts and five-star hotels by the sea, where a long rayon or chiffon gown or maxi dress with accessories may be the ideal beach wedding attire for female guests.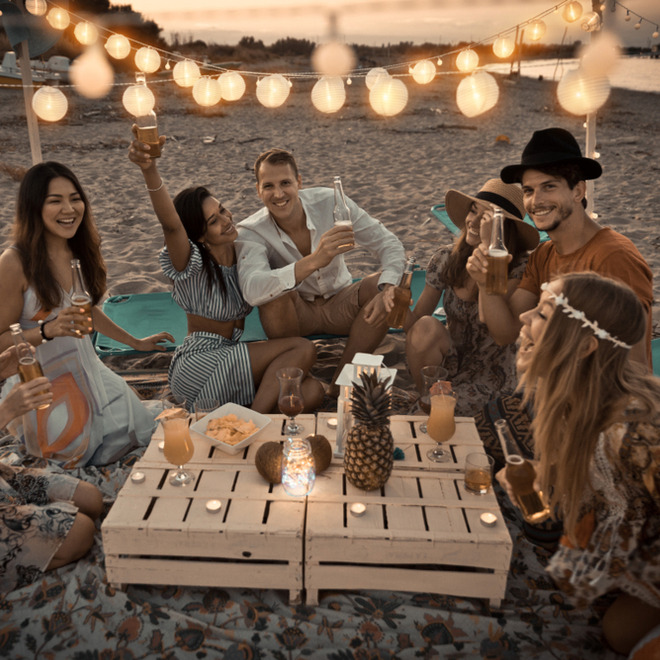 Beach Wedding Bridesmaid Dresses
Short, curvy, tall, apple-shaped, skinny, pear-shaped, and so on. How are you going to choose a dress that would suit all of your all bridesmaids? The best option is to decide on a colour and fabric. After selecting a colour and fabric, you can let your friends choose their bridesmaids' dresses according to their body types.
The best fabrics are those that are breathable and airy. Spaghetti straps, halters, and off-the-shoulder designs would be considered breezy and comfortable.
Your safest choice is to choose short/A-length dresses. If you want to opt for long dresses, make sure the fabric is tulle or chiffon-like to avoid being caught in the sand.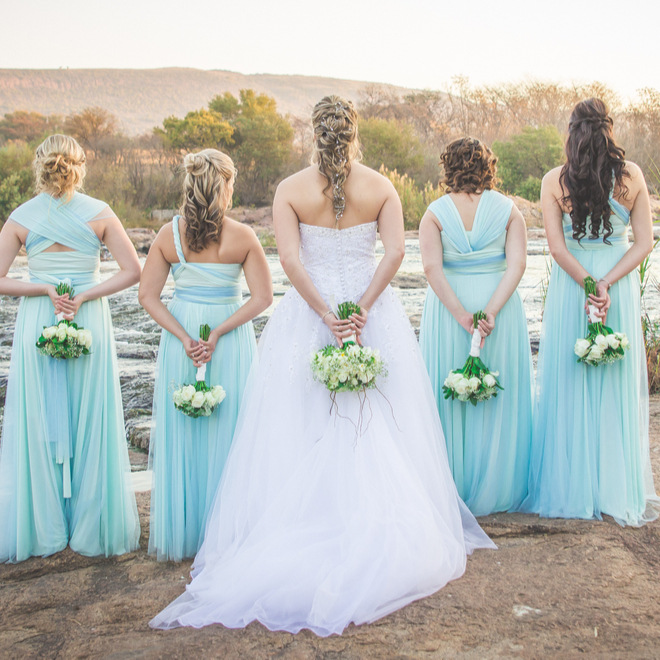 Beach Wedding Groom Attire
Beach wedding attire for the groom usually consists of lighter colours like cream, off-white, light brown, plain white, and tan – they won't have you feeling hot, and they will look very beachy-like. Consider a casual style with a mismatched blazer and trousers for a more laid-back look. 
If you're going with a more formal option, don't forget to choose a beach wedding suit made with breathable fabric. You can also consider wearing shorts and a white shirt if you plan to have your wedding in very hot weather.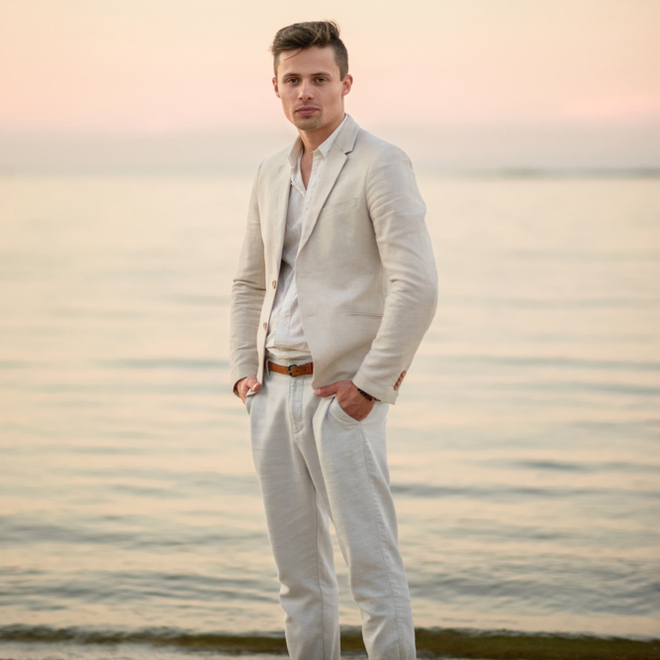 Beach Wedding Attire for Men Guests
For a beach wedding ceremony and reception, chinos or slacks, a button-down tie, blazer, or a suit jacket with a summer-ready fabric like linen are the most popular beach wedding outfits for male guests. You can also opt for a pocket square instead of a tie for a more laid-back yet chick look.
Beach Wedding Shoes
You don't want to spoil your perfectly arranged beach wedding venue, dress, florals, or hairstyle by wearing the wrong pair. Shoes that are uncomfortable to wear aren't necessarily the right option for a beach wedding. It would be best if you also do not choose anything with a pointed or high heel.
The best beach wedding bridal shoe options include flats, wedges, slides, loafers, mules, and sandals. For grooms, depending on the formality of your beach wedding, you might choose to wear formal pairs. You can also wear derbies, loafers, boat shoes, and sandals if your event has a casual dress code.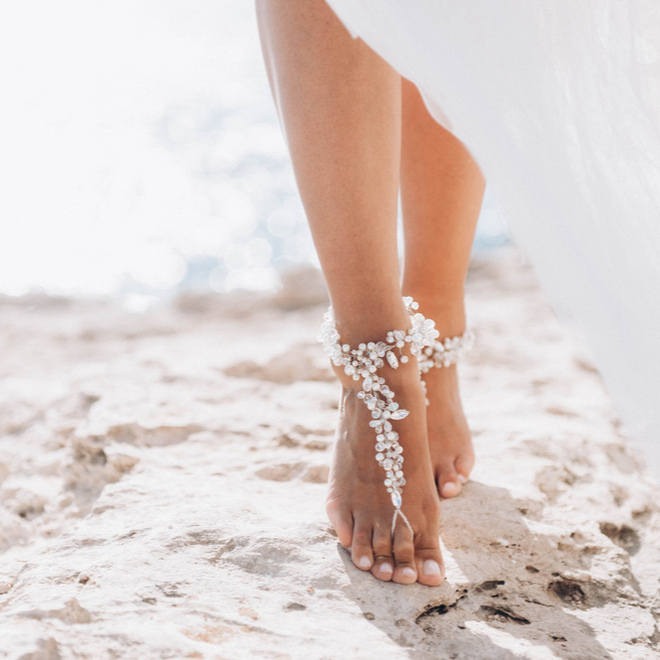 Beach Wedding Hair & Makeup Tips
Some of the most important aspects of your wedding day are your hair and makeup for wedding pictures, so you should look the very best on your most special day. Here are few suggestions for stunning hair and flawless makeup that will look stunning on wedding photos:
Avoid applying dark lipstick since it can overshadow your appearance. The popular colours are neutral pinks and pastels, which give off a beautiful, radiant glow.
Try adding several coats of varying shades to your blush on your big day. Start with a bronze powder add a bright pop of colour on your apple cheeks so that your skin will seem more colourful and contoured in photographs.
Consider using waterproof and long-lasting mascara. Also, don't forget to apply a highlighter since it will draw attention to the parts of your face where you want the camera to focus.
Make sure that you don't dye your hair the day before the wedding. Hair colouring is a multi-step process that requires several salon visits to achieve the desired hue. Also, you might not like the colour after.
Do not wash your hair on the day of your wedding. Experts suggest washing your hair the day before the wedding and having an extensive hair care treatment that will bring brightness and volume to your hair.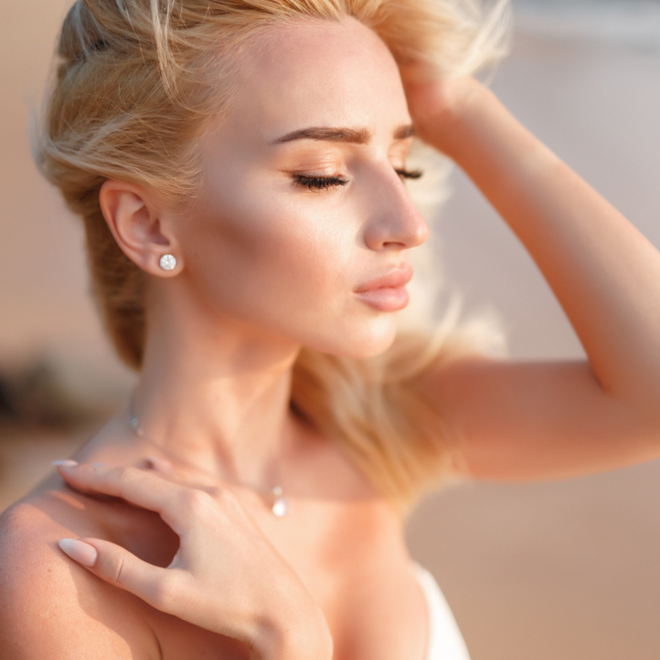 How to Take Cool Beach Wedding Photos
Your beach wedding is amongst the most important photoshoots you'll ever have since you'll have these photos to look back on for the rest of your life, so they should be fantastic. To get magical beach wedding shots, look at the tips below:
Research When the Sunset Will Be: The quality of your photos is determined by the lighting you use. As a result, it's important to find out what the sun forecast is on the day of your wedding and schedule your photoshoot accordingly.
Have Fun: Don't stress over getting the "best shots" because that will happen naturally. Simply keep your partner close to you, pay attention to your photographer, and savour every moment.
Scope out the Scene Ahead of Time: You've already looked at your wedding venue before, but don't forget to consider the beach scene and figure out where you'd like to take your beach wedding pictures.
Carry the Right Tools with You to Keep Your Look Together: If you plan to wear stiletto heels, invest in shoe "stoppers" to save you from sinking into the sand. Also, carry a hairspray with you since it could be windy.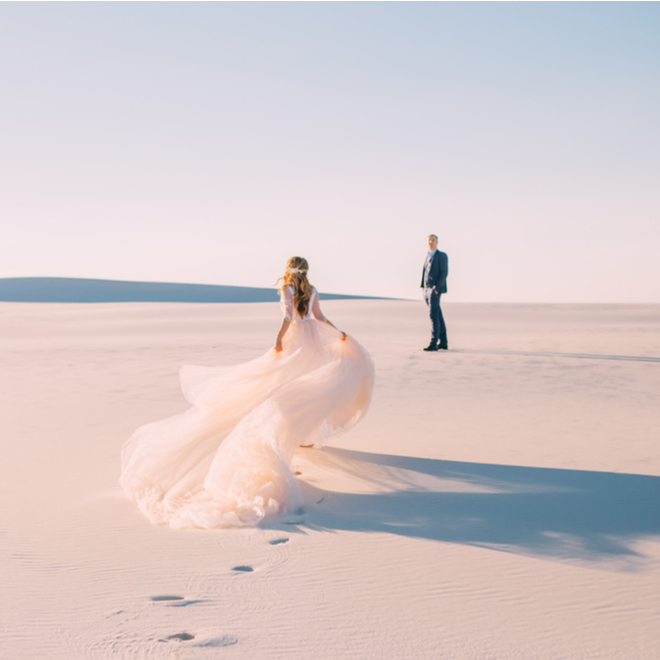 How to Select the Perfect Beach Wedding Venue
Beach weddings are more common than ever, with a growing number of couples inviting loved ones to join them in paradise to celebrate their most special day.
Consider returning to the location of a memorable holiday, selecting a site where relatives live, or selecting a location that has unique significance to your family when booking your beach wedding venue.
If you want to have an elegant wedding with many guests coming from afar, you can check out the hotel and resort wedding venues located by the sea. Since these venues have a lot of experience in the wedding industry, we can guarantee that you will receive the best service in nearly everything from catering to decorations. Wouldn't it be nice to have a destination wedding combined with a small holiday?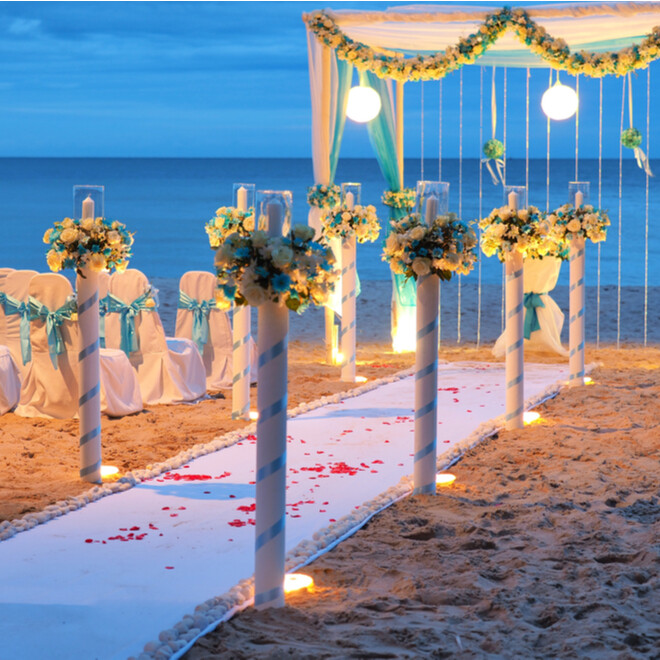 One of the other options might be to book a magnificent seaside mansion venue. With these types of settings, you can have the full privacy you are looking for, along with the fantastic beach wedding photos with beautiful features, such as elaborate staircases, columns and balconies.
For couples who plan to have a small and intimate wedding, one of the cute beachside restaurant venues might be a perfect option. You can say your "I do"s under a wedding arch adorned with colourful flowers during sunset. Can it get more romantic than that?
Lastly, there are many other options you can choose from. Whatever your choice is, take the weather conditions into mind using a reliable weather forecaster.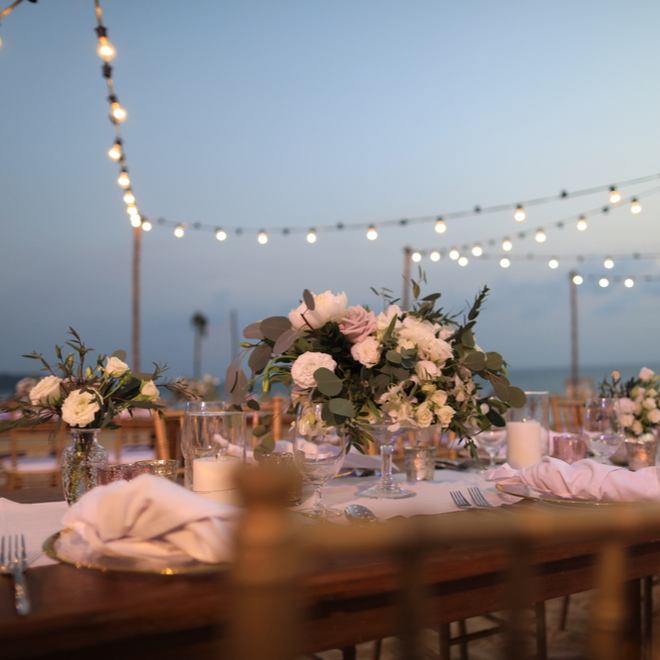 Do you want more info on throwing an intimate wedding? Here's how: The Ultimate Guide To Small Weddings
Make sure to take the right precautions before your special day with our weather tool!
Beach Weddings Victoria
Many people might think they need to be at Los Cabos beaches in Mexico in order to have a nice beach wedding. However, Victoria, the capital of British Columbia, is known for its climate and beautiful outdoor setting and can offer you a similar beautiful experience. There are many beaches in the city which include ocean and mountain views, where you can host your special day. We've listed the 5 best beaches in Victoria where you can have a magical beach wedding:
Gonzales Beach
Cordova Bay Beach
Willows Beach
Gyro Beach at Cadboro Bay
Ross Bay Pebbles Beach
Beach Wedding East Coast
The four easternmost provinces of Canada have something truly extraordinary to offer. From rugged cliff faces and sandy beaches to vibrant towns with distinct personalities. New Brunswick, Prince Edward Island, Newfoundland, and Nova Scotia are often lumped together as one, and each has its spectacular coastlines and beach wedding venues.
Here's how to throw a beach wedding. Comment if you have any questions. WeddingHero features dozens of wedding venues and vendors to help you plan the beach wedding you've always wanted. Wishing you a beach wedding as sweet as your love story!