Thinking about having a tent wedding? Got questions? Find out how to plan a tented wedding, types of wedding tents to choose from, find the best tent wedding venues and creative wedding tent ideas. Here we go!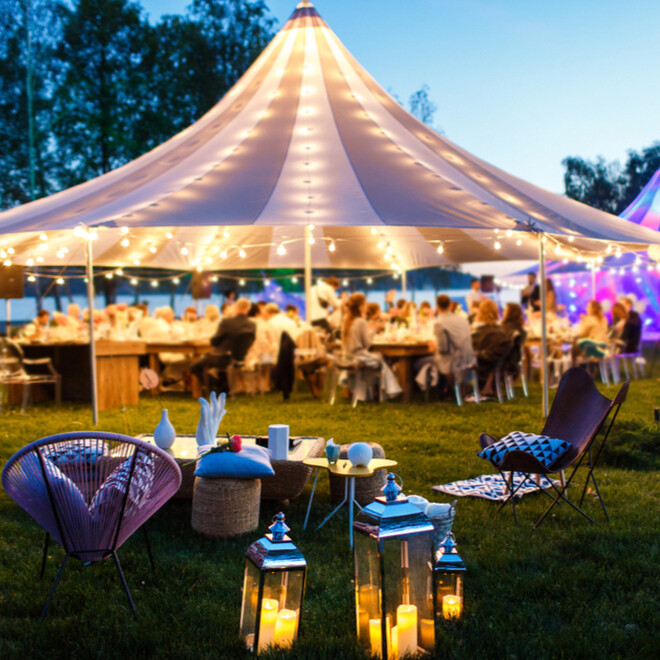 What does a tent wedding entail?
Tent weddings are growing more and more popular among couples. The biggest reason is that these structures tend to protect your most special days against unfavourable weather conditions. If plane plastic flaps or white interiors come to mind when you think of a wedding tent, know it is way more than that; you can include any style or theme into a tented wedding.
The idea of wedding tents has changed so much over the past years, especially with the couples putting more emphasis on tent design and guest experience. They are much more than pure white structures with interior design and decorations.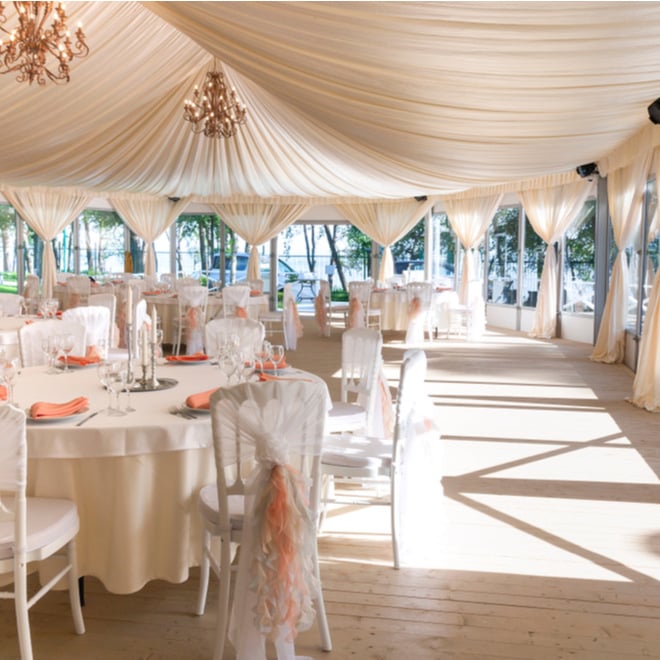 Trying to come up with a theme for your tent wedding? We've got a few ideas: These 23 Wedding Themes Will Suit Any Style
Outdoor Tent Wedding
If you're planning an outdoor wedding in your chosen venue, you can talk to your venue about the idea of tent rentals. Ask if they have any rules, suggestions or insights.
If your venue allows, hire a tent rental vendor and find the best option that meets your needs and expectations on pricing, size, and style. After these steps, talk to your florist, event planner and decorator to transform the look of your wedding tent.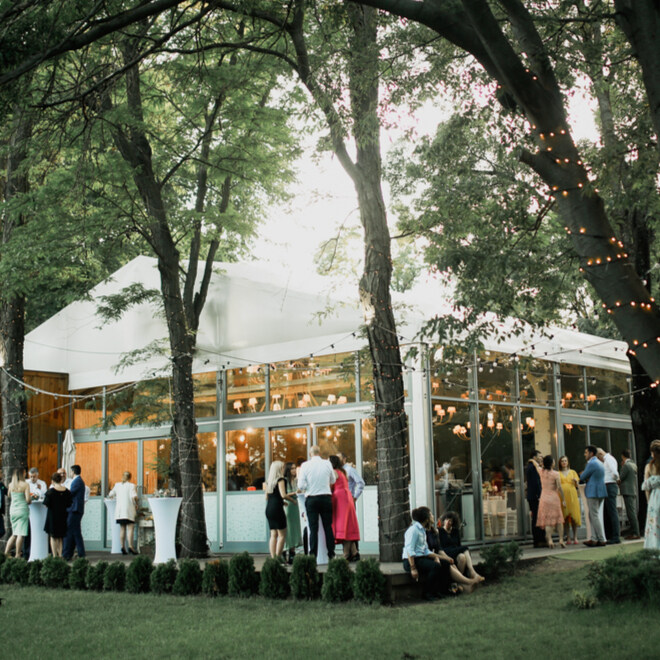 Backyard Tent Wedding
Backyard weddings are very popular among couples who prioritize intimacy, convenience, and budget. Since sunny weather is not always the case, most couples want to be mentally prepared for any weather conditions by having a tented area planned.
Hire a professional team of vendors to help you set up the wedding tent and turn it into the most romantic setting with little string lights, colourful tones, beautiful centrepieces and more.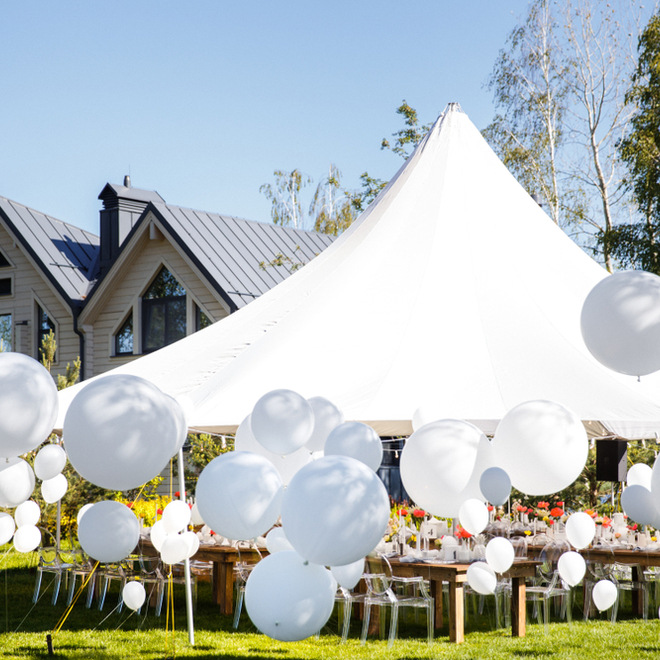 Planning a backyard tent wedding? Here's what you need to know: Backyard Weddings: Tips for a Beautiful Event
How can you find a tented wedding venue?
Similar to finding an outdoor venue or choosing your backyard to incorporate a wedding tent by hiring vendors, you can also find many tent wedding venues near you that come with readily available structures. From them, you can find the one that can accommodate your guests and the theme you have in mind.
Most of these venues have several facilities where you can have different events related to your wedding. You can exchange your vows in a historic statement and continue your reception under a canopy. Or, you can say your "I do's" in a tipi and dance the night away in a large banquet hall.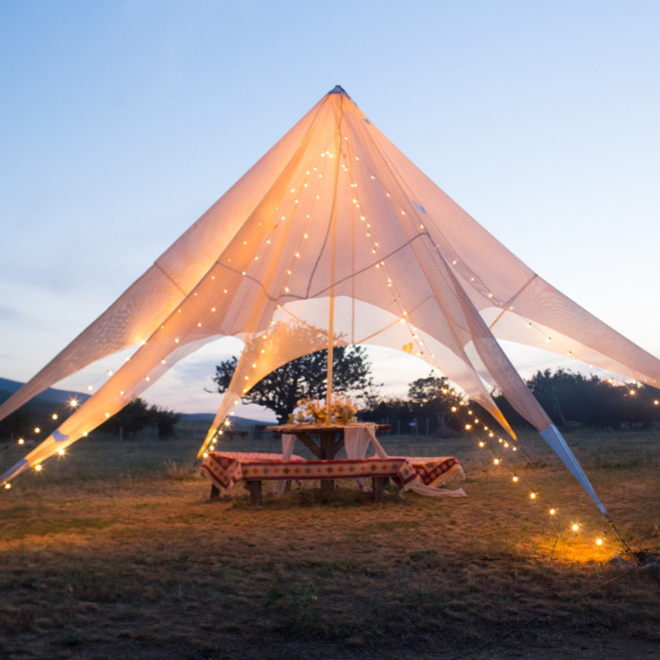 What types of wedding tents are available?
After you've decided to have a tent wedding, you need to choose between the types of wedding tents. To do that, you'll need to take your venue, aesthetic, decor, space and, of course, your budget into account. Let's look at the three types that you can choose from for your beautiful outdoor tent wedding:
Pole Tent
One of the most popular types of wedding tents is the pole tent. Pole tents are simple, elegant structures with an easy and quick setup. They are mostly installed in the grassy setting along with the asphalt areas.
The poles that support this wedding tent build a special peaked effect on the tent's ceiling. Though you need to consider the poles while sorting out the seating arrangement, these poles can also be used for decorative purposes. For example, you can adorn them with greenery and flowers.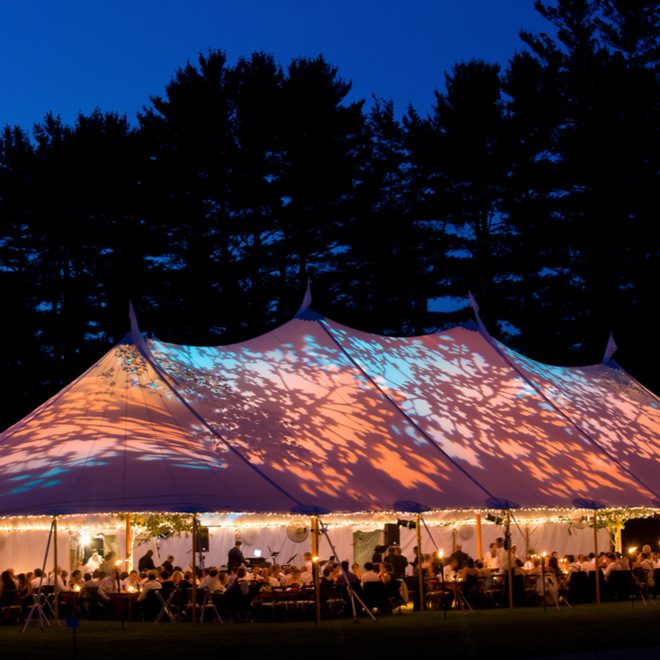 Frame Tent
The main distinction between pole and frame tents is that the former is staked into the surface, while the latter is not. These tents optimize the size of interior space you can have and are ideal for long-term use since they don't rely on the ground underneath them for support.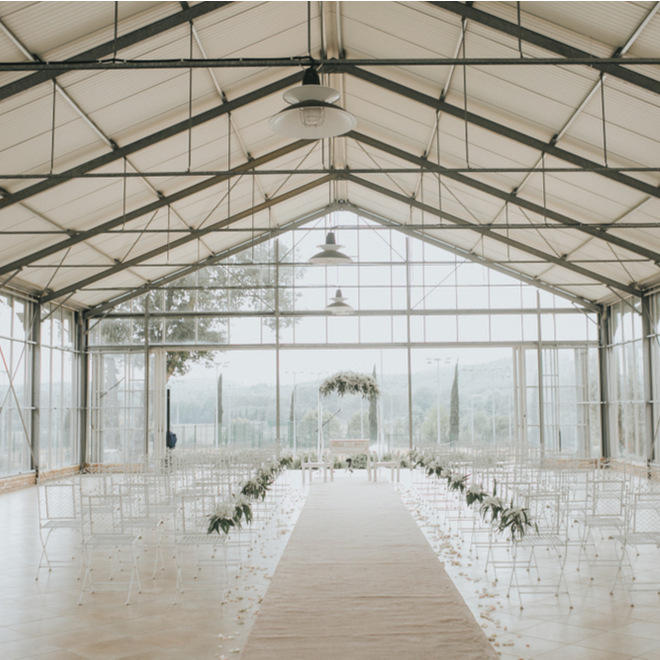 Marquee Tent
Marquee tents are smaller than pole and frame tents, so they are ideal for more intimate weddings. It is similar to the pole tent since it also has a peaked ceiling, but there are no centre poles. Its structure also resembles the frame tent since it can be used on both soft and hard surfaces.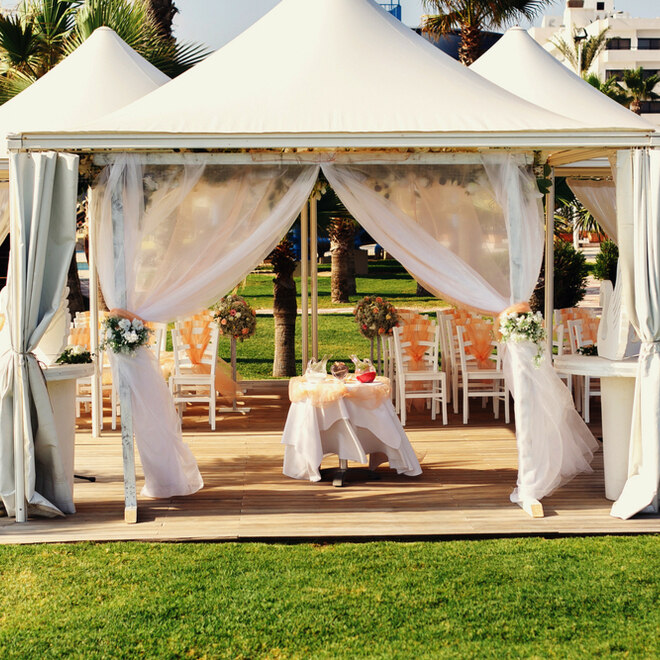 You can get more ideas on intimate weddings here: The Ultimate Guide To Small Weddings
How much does a wedding tent cost?
The cost of a wedding tent might range from $500 to $20,000 or even more. It all relies on the style, quality, and size of your wedding tent. A basic 20x20 wedding tent will cost you around $650.
Before you can determine how much a wedding tent will cost, you should first determine exactly what your requirements are. What is the number of guests you need to accommodate? What kind of surface are you going to put up on? Will you use  tents only for guests and dinner? Or are you planning to use tents for other reasons, such as covering your dance floor or storing wedding gifts?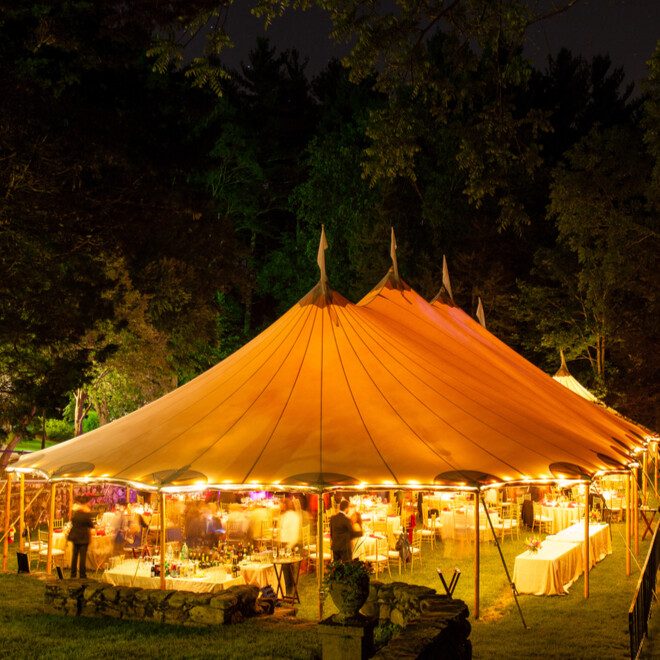 Follow these tips if you're on a tight budget: How To Find Cheap and Unique Wedding Venues
8 Factors You Need to Consider Before Planning a Tent Wedding
It would help if you thought about all the aspects of a tent wedding when planning one. Luckily, we've listed them here:
Weather
If your wedding is in the summer, you will need to rent a tent with air conditioning. A decent tent would be able to endure a variety of weather conditions. Rent a wedding tent that can accommodate the guests while still standing up while also facing the weather.
You will not be able to forecast the weather on your wedding day one hundred percent, but you will be prepared by getting the right tent and using our weather tool.
Budget
Your dream wedding will come to life with the perfect wedding tent, but having a tent wedding is much more than renting a structure. A wedding tent is basically a blank canvas that you need to decorate, from tables and chairs to flowers and food.
Be sure you take every aspect into account by using our wedding budget tool. Since it is less expensive, work with a tent rental company experienced in tent weddings and has everything you need. You can contribute to your budget by renting several products from the same vendor.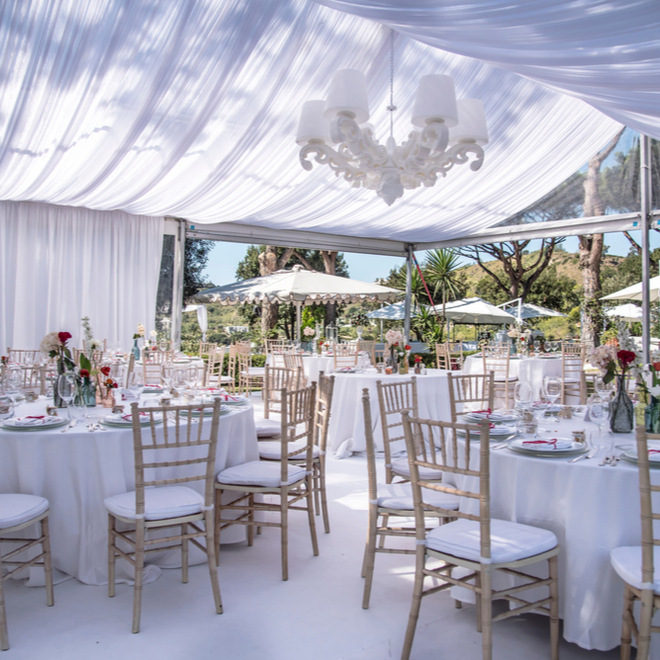 Size
Tents for weddings come in a wide range of sizes. The size you need is determined by the following factors: the number of guests, the arrangement of your interior, your furniture and equipment, and the events that you want to accommodate.
Decor
A wedding tent can accommodate every style, theme and decor you have in mind, from elegant black-tie events filled with glamour to rustic country-inspired weddings. All you need is to have a clear picture in mind, and don't forget to talk about your vision with your planner and tent rental company before taking your big steps!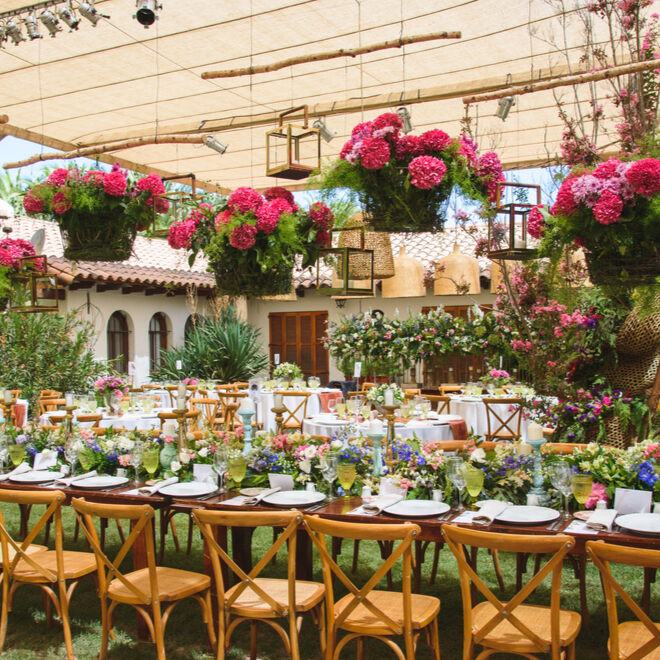 Our rustic wedding ideas will inspire you: Your Guide to Hosting a Beautiful Rustic Wedding
Want a relaxed celebration in an idyllic setting? Go country: Country Wedding Ideas: 10 Must-Haves
Tent Venue Rules
Check the terms and regulations of your preferred venue before signing the contract. Is it possible to set up the tent a few days ahead of time to ensure that the ground is in good condition if it rains two or three days before your big day?
Ask if there are any noise restrictions and a certain hour you need to stop playing music? And lastly, if you desire, make sure that there is an additional area for the caterers to install a kitchen.
Draping
You can drape your tent with beautiful fabric for an elegant atmosphere. Some of the highly sought-after materials for draping are voile, organza, chiffon, and poly fabrics. To decide on the best style for draping, talk with the event planner, rental company and wedding florist.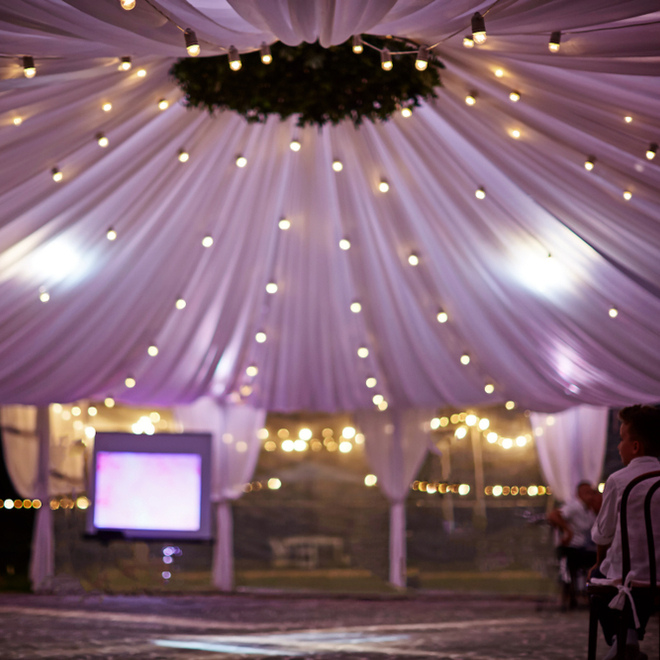 Logistics
Delivering and building the wedding tent take several days, usually 3 to 4; therefore, make sure that your wedding tent rental company will deliver it in time. For your guests, add walkways that they can use when going to the other tents or restrooms. Finally, choose a venue that they can reach easily.
Utilities
Even though you feel like you're having an outdoor wedding, your wedding tent will also require some utilities that you need indoors. The first and probably the most important one is electricity. Don't forget to include generator expenses in your budget. With electricity, you might need an air conditioner as well for heating or cooling.
If you plan to have a dinner reception, you can create an additional tent where your guest can choose what to eat buffet-style. Finally, if you're having a large wedding, don't forget to add restroom places so that your guests won't have to wait.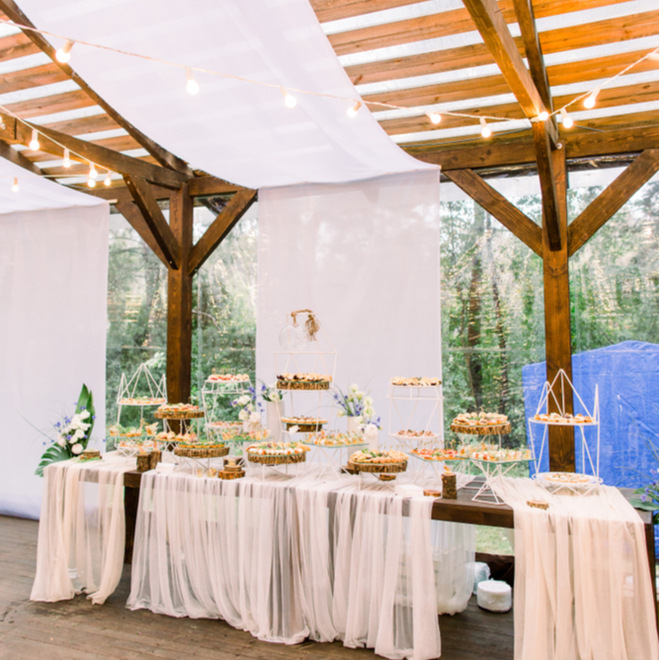 4 Wedding Tent Ideas You Can't-Miss
Whether you have an outdoor tent wedding in a venue or a backyard tent wedding in your house, these ideas can give you some inspiration for your decorations on your big day:
Make your wedding tent more fun with colourful draped ribbons

Hang lanterns over the dance floor

Adorn your chandeliers with greenery

Create a cozy seating area for guests to mingle and relax
Now that we've covered tent weddings with some ideas and things to remember, it's time to wrap it up. Right here at WeddingHero, you can find tent wedding venues and get free quotes. Make sure you check out the other wedding vendors too!