Have you fallen in love with rustic weddings and want to find answers to your questions? From rustic wedding venues and decor to wedding cakes and creative ideas, there are tons to discuss. So let's get started!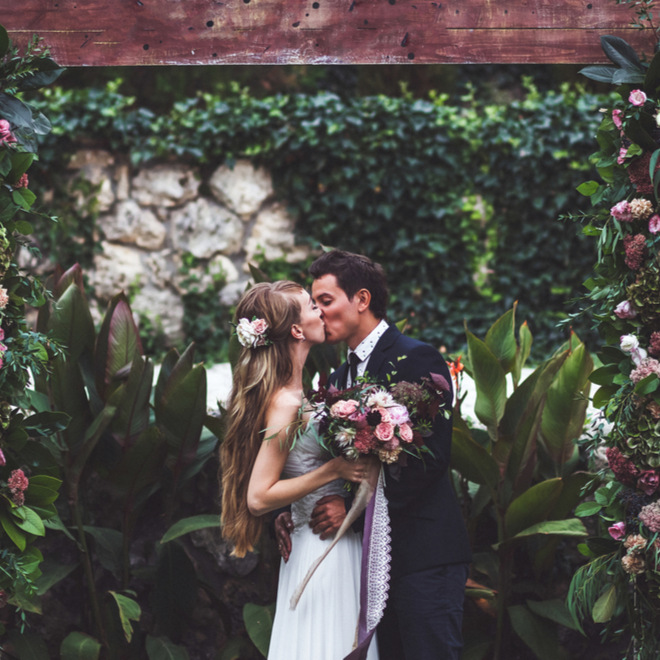 1- Understand The Term "Rustic"
Even though the concept of a rustic wedding has gained popularity in recent years, the truth is that classic wedding styles have been more common. A rustic wedding theme is influenced by the countryside, combining rustic elements such as wood and metal, and is typically based on the outdoors.
If the idea of a casual celebration in the country makes you feel excited, then a rustic wedding could be the right choice for you. Let's continue with places where you can have a perfect rustic wedding!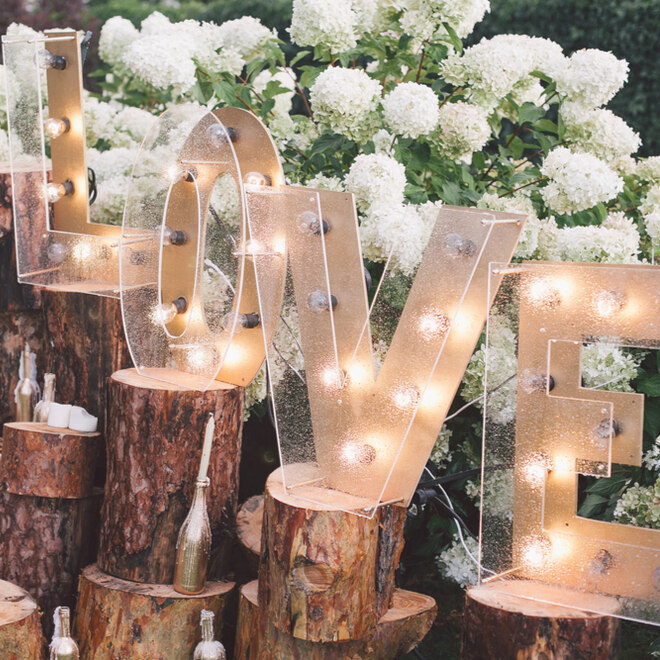 Wedding Venues Discounts
For more wedding theme ideas, check out this article: These 23 Wedding Themes Will Suit Any Style
2-Do You Prefer Rustic Outdoor Wedding Venues or Indoor Venues?
Unique crafted elements, and tablescapes with beautiful timber backdrop features characterize a rustic affair, a good mix of country and vintage wedding styles. If you want to host your own rustic event and don't know where and how? You might want to check out the advantages and disadvantages of outdoor and indoor settings
Make your fall wedding stand out with these ideas: 24 Awesome Ideas To Elevate Your Fall Wedding
As we already know, a rustic wedding has references to beautiful outdoors with natural elements. Most couples choose to have their rustic-themed celebrations in the fall, easily creating a rich colour palette. Gardens, backyards, barns and farms are perfect settings to realize your vision.
If you have some questions regarding the weather conditions in your mind, you can add a wedding tent by talking with a rental company. These structures both protect you from unpredictable weather and create a cozy atmosphere.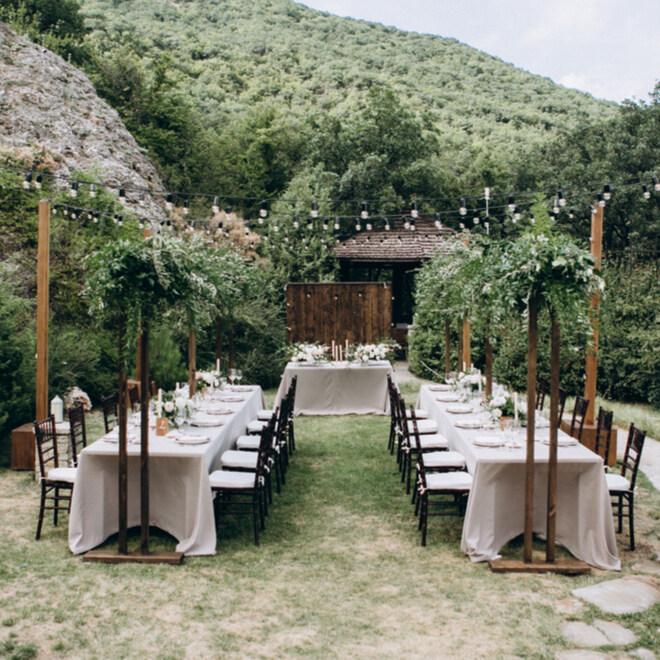 Do you want to have a tent wedding and don't know where to start? This article might be perfect for you: The Ultimate Guide to Planning a Tent Wedding
If outdoor wedding venues seem out of reach, make your experience cozy and warm by booking an indoor setting. It is calming and comforting to have your special day in a closed-up space. You don't have to worry about selecting an indoor wedding venue, explore your options!
You can also look at country-style celebrations for more inspiration, both for outdoor and indoor settings: Country Wedding Ideas: 10 Must-Haves
3- Discovering Rustic Wedding Venues
Now, let's find the ideal rustic venue for you. Barn and farm wedding venues are a sub-group of rustic wedding themes that are becoming more popular as they are budget-friendly and exciting.
A barn wedding will effortlessly match any celebration, whether you're imagining a special day rooted in rustic elegance or adopting a more contemporary twist.
One of the other popular outdoor setting winery venues. You can tie the knot in picturesque vineyards and drink world-renowned wines with delicious foods in cute wineries and breweries. Lucky for you because Canada has all that!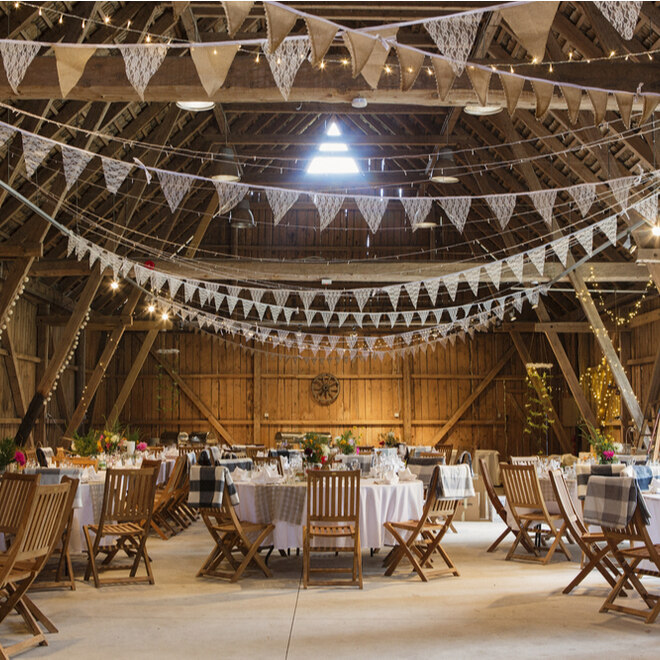 However, these are not the only settings you can have an amazing rustic wedding. Any outdoor venue where you can incorporate this style becomes an ideal location in the city centre or countryside.
With its spectacular national parks, incredible festivals and creative dishes, the capital of Alberta, rustic wedding venues of Edmonton offers fantastic rustic venues for any couple and budget. From barns to estates, you'll be sure to find the ideal one for your special day!
Ottawa is the largest and probably the most diverse city in Canada. Whether you're looking for an urban brewery or an estate to escape from the hustle and bustle of the city, Ottowa has everything you need! You should really consider the Rustic Wedding Venues of Ottawa .
Rich history, myriad attractions, unique culture and friendly vibe make Montreal the perfect place to have a rustic wedding. A wide range of estates, spectacular vineyards and elegant wineries are all waiting for you! Catch rustic wedding venues in Montreal for a magical day.
4- Design Your Rustic Wedding Cake
Whether you're getting married outside during spring, in the mountains, in the winter, or on a farm in autumn, rustic touches to your wedding cake will contribute to the overall feel of your event.
The great thing about rustic wedding cakes is just how beautiful they are with their simple looks. Everything is nice, symmetrical, and perfectly positioned; everything seems to have been handcrafted specifically for your special day. Here are the 10 rustic wedding cake designs we can't get enough of:
Naked Wedding Cake With Fresh Flowers
Berry Wedding Pie
Single-Tiered Wedding Cake With Decorative Acorns
Two-Tiered White Wedding Cake
Wedding Cake with Greenery
Wedding Cake Featuring Gold Foil Detailing
White Wedding Cake With Wood Motif
Wedding Cake Wrapped in Vines and Wildflowers
Naked Wedding Cake With Jam Filling
Buttercream Wedding Cake With Decorative Flowers and Pinecones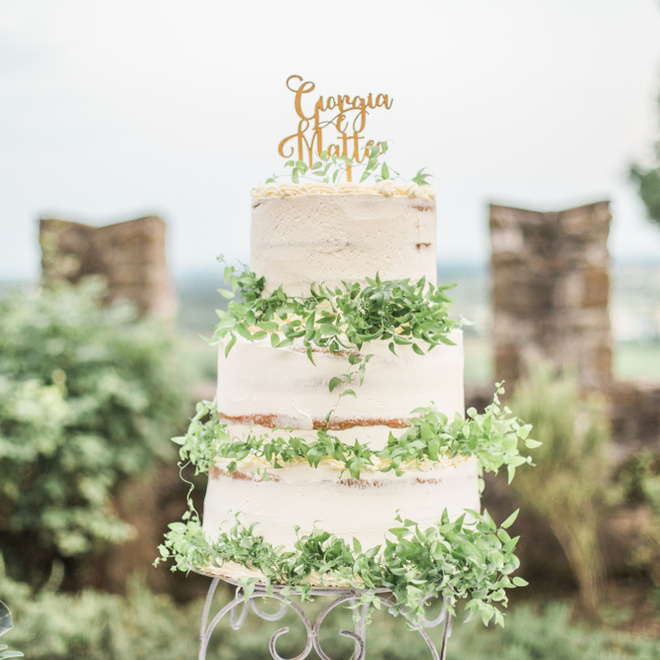 5- Discover Rustic Chic Wedding Decor Ideas
One of the biggest mistakes that couples make is thinking of a rustic wedding as a casual, laid-back one. Even though most of them prefer to have one because of the simplicity, you can still have a modern rustic wedding in a venue with lots of luxurious amenities.
From wedding centrepieces and colour schemes to sweetheart tables to card boxes, decorating your venue with a rustic theme is no easy task. It requires thorough planning and patience. Create a wedding checklist and keep track of your plans.
Rustic weddings are a lovely way to show off your fashionable tastes in a warm and inviting environment, and it requires a beautiful colour palette. Rust and green, navy blue and red, blue and yellow, burgundy and yellow, burgundy and blush, and purple and gold are only a few of the splendid rustic wedding colour combinations.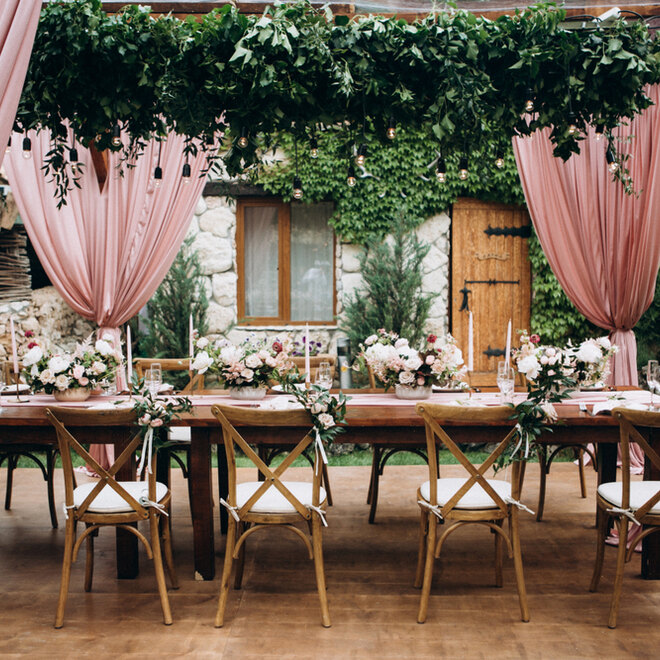 Secondly, pick out your rustic wedding centrepieces. Nothing beats a gorgeous table filled with your loved ones, to make it even better, there are many gorgeous centrepiece ideas. Opting for olive branches as a table runner has recently been one of the most popular trends.
For a rustic sweetheart table you may adapt it to your style or use it to make a bold statement – the choice is yours. You can decorate it with greenery, roses, tropical foliage, candles, crystal glassware, chandeliers and more!
As for, rustic wedding card boxes, they come in various shapes and sizes, and they aren't all boxes; you can find more interesting options. Choose whatever you want: baskets, wooden containers, barrels, milk churns, sticks, and post boxes. One of the biggest advantages of these boxes is that you can quickly repurpose or remodel an old item into a container.
6- Find Out Your Perfect Rustic Wedding Photography Style
Your wedding may come to an end, but your rustic wedding photos will last a lifetime. Because of that, you need to discover or create amazing locations for your photoshoot. The more options you have, the more unique your photo album will be.
Here are 10 perfect rustic photography ideas to help you get started:
Incorporate a fun looking vintage bike to ride on or pose with
A truck that matches your wedding decor for a perfect shot
Rent a vintage chair and pose on it, beside it and more...
Get beautiful oversized specialty balloons for a fun background
If you are hosting your wedding in a lakeside venue, take a boat ride
Drive a vintage drophead car to get that grainy vintage lense
Have fun with wedding decorations and photo prop, teepee
Use nature - everything from sunsets and lakes to woods and leaves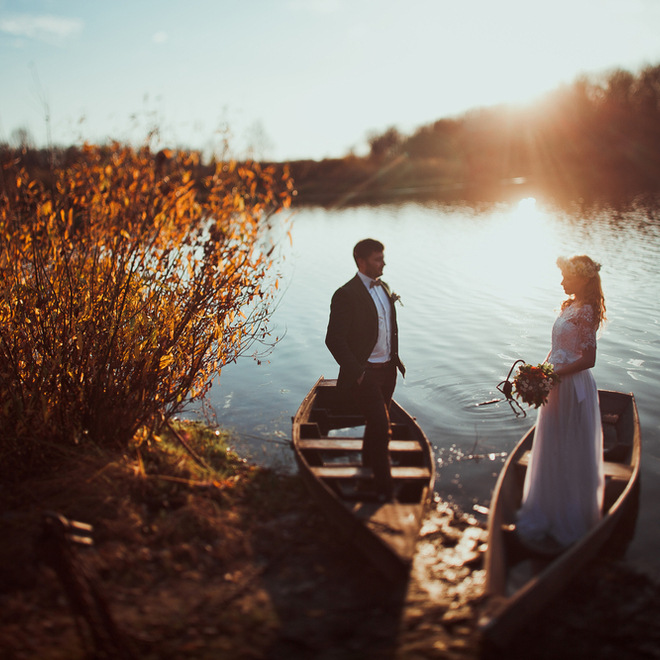 7- Your Choice Of Rustic Wedding Flowers
Wedding flowers are probably among the most popular elements that come to mind when thinking about rustic celebrations. Greenery, both lush and affordable, is taking the spotlight, and brides can't get enough of it! Magnolia leaf, mint, dusty miller, rosemary, and ivy are also used in unconventional forms.
From rustic bouquets with wildflowers and boutonnieres for the groom's suit to centrepieces and aisle decor. Let's not forget the dreamy arches adorned with beautiful unstructured flowers!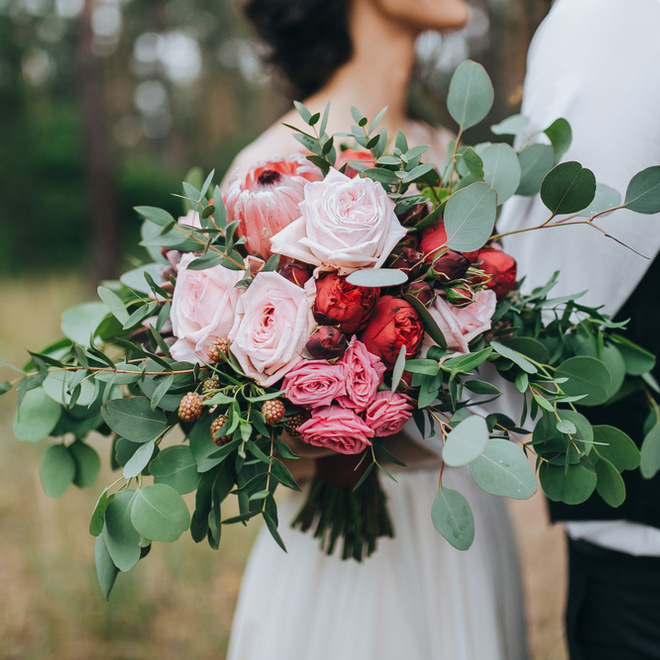 8- Choosing Your Dreamy Rustic Wedding Dresses
Unstructured gowns without stiff skirts and hoops are ideal if you're looking for a laidback look at rustic wedding venues. Layers of cascading lace, and off-the-shoulder necklines, delicate flutter sleeves are popular among brides with a bohemian sensibility.
Cotton and linen, for example, are lightweight fabrics that feel relaxed and flawless. You can combine your rustic wedding dress with straw hats, cowboy boots or tonal sandals, and minimalistic gold jewelry.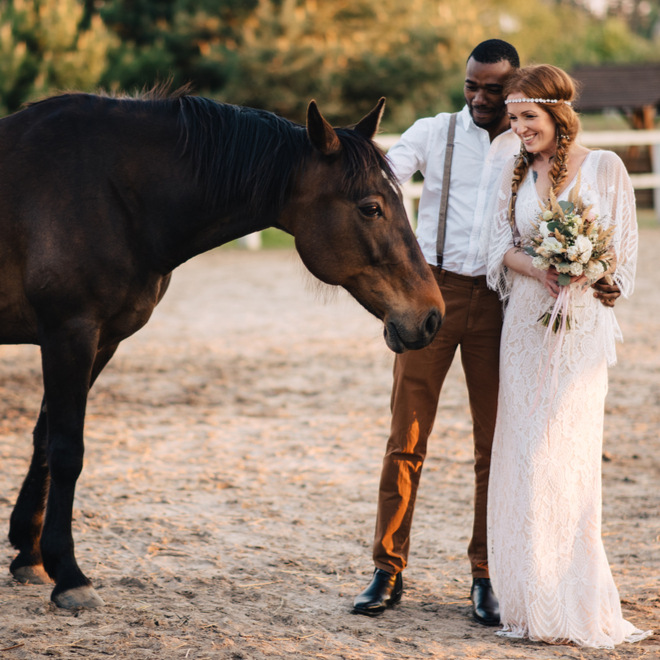 9- Choosing A Personal Rustic Bridal Hair & Makeup Style
While choosing your rustic makeup look, you should pay attention to several factors, such as your eye and hair colour. Brown eyes will be highlighted by purple and bronze, while blue eyes will be intensified by turquoise, silver, and copper.
If you have dark hair, apply natural wedding makeup or focus only your eyes with smokey tones. Choose warm tones such as gold and copper if your hair is blonde. For red-haired brides, neutral and pink tones might be just perfect. And finally, if your hair is coloured, consult your makeup artist to get the best opinion.
For a rustic wedding, the bride's hairstyle should be plain, beautiful, and soft. Hairstyles that are light, somewhat messy, and not perfect are ideal. You can use flowers and leaves to create a beautiful look and add more romance to cozy country-style gatherings.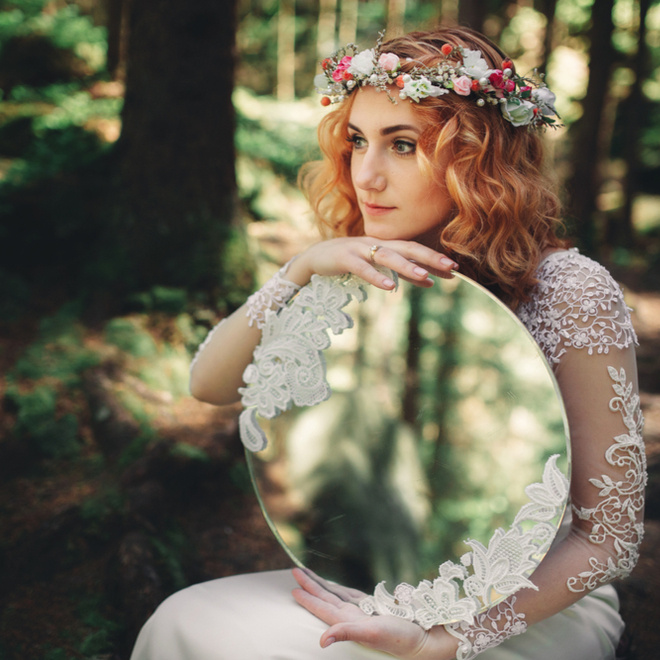 10- Picking The Rustic Dress Code
"What should a guest wear to a rustic wedding?" is one of the common questions we get asked. Although attending a rustic wedding is less formal than attending a semi-formal or black-tie evening wedding, it does not mean that you don't need to dress up. At a rustic wedding, pretty casual dresses fit in wonderfully.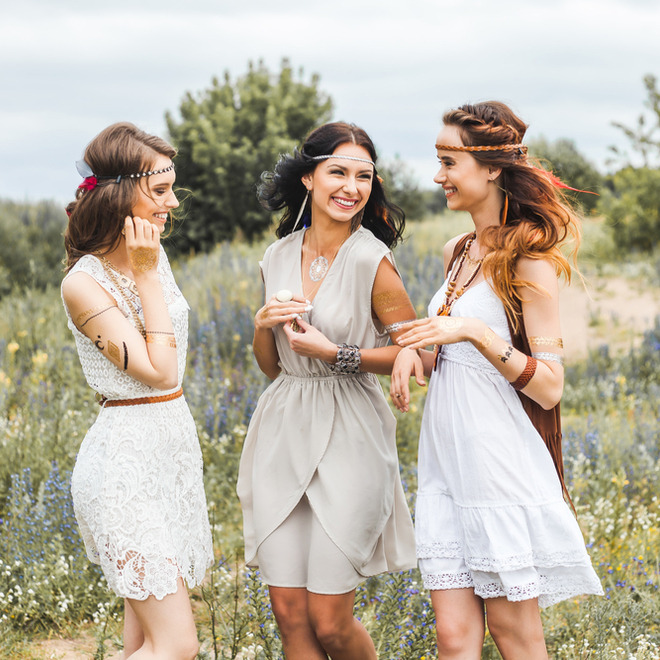 It's a good idea to wear nice shoes that won't get stuck in the grass or on the barn floor. So that your heels don't sink into the grass, look for wedges and block heels. You might also want to bring a sweater or jacket because rural wedding venues like barns or gorgeous meadows can be unpredictable in terms of weather.
For a rustic wedding, men's wear can range from cowboy boots, suits, jeans, and casual hats to vests and coats. Just what you'd wear to any other outdoor wedding! Medium-coloured linen, cotton, or tweed jackets or suits in greys, tans, browns and blues are an excellent choice.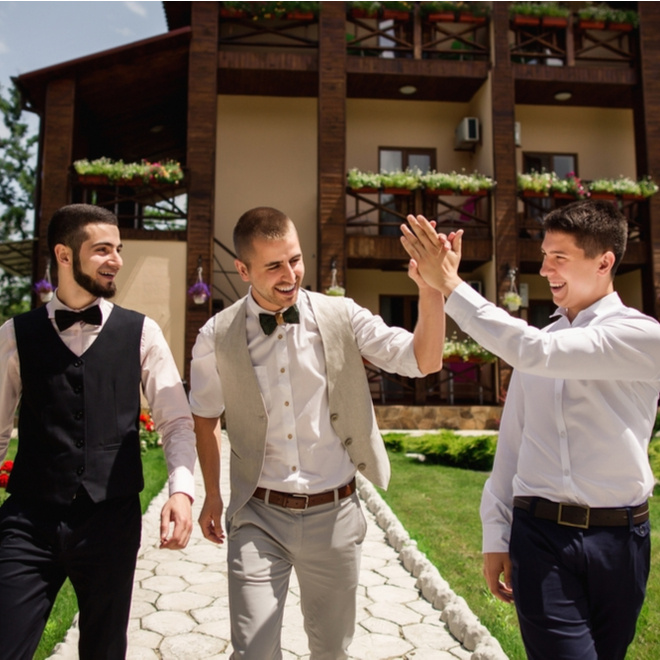 11- Customising Rustic Wedding Invitations
Your wedding invitations should absolutely support your rustic wedding theme. With its classy fonts, simple colour designs and woody aesthetics. Customize the wedding invitations to your liking and your rustic wedding.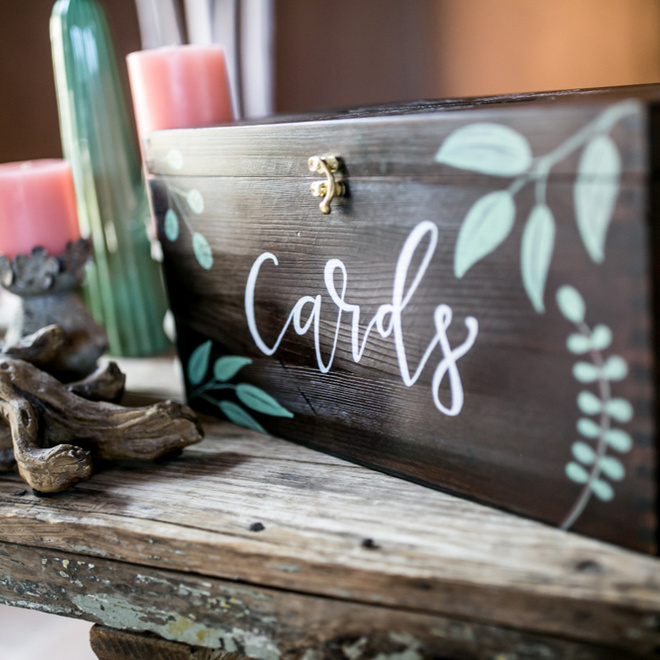 12- Find A Wedding Planner To Ease Your Stress
If you have the budget for it, a wedding planner for your rustic wedding will make your stress less. Wedding planners will communicate with you on a daily bases and create your perfect rustic wedding with your approval, at every step of the journey. Book one now!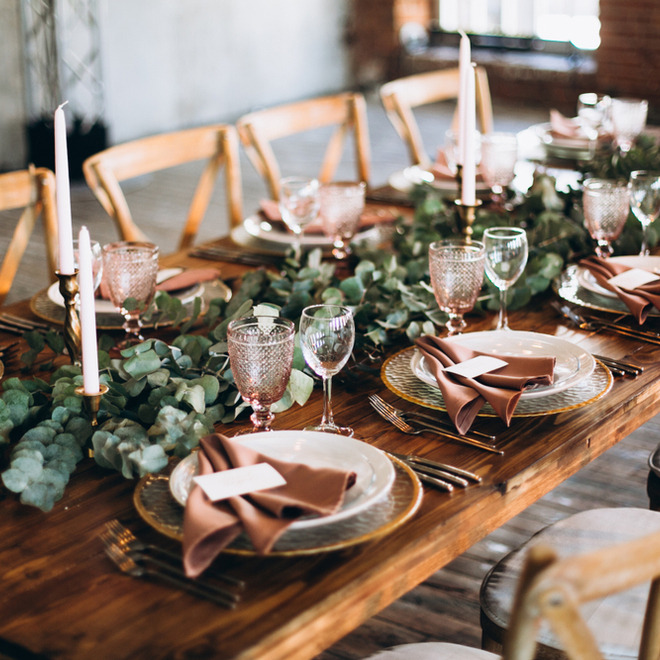 We hope we've given you plenty of ideas to bring your dream rustic-style event to life from the wedding venues to the bridal gowns and suits, to the hair, makeup, and cake. Don't wait to plan your rustic wedding if the concept of cozy and romantic appeals to you!