From beginning to end, wedding planning can be a lot of work. Searching for wedding venues, creating seating charts, scripts, songs and decorations... the list goes on—but don't worry, it's all easy. Here's everything you need to make sure your big day's a blast!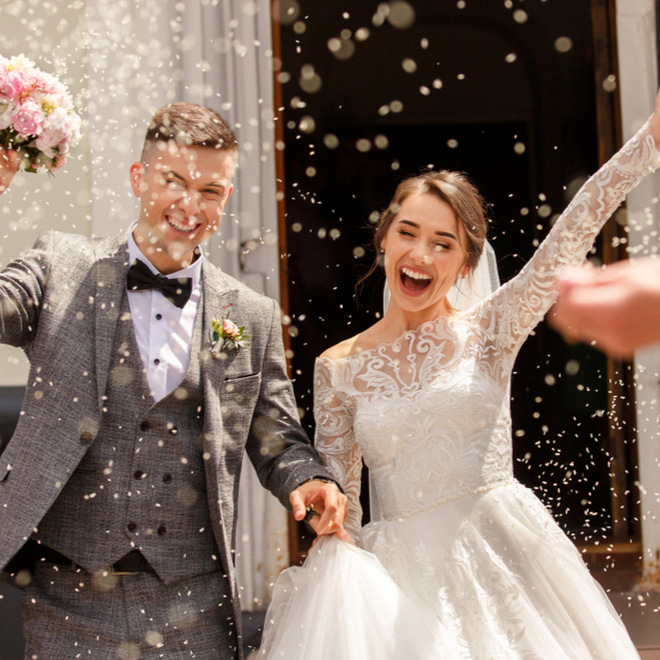 Selecting the Perfect Wedding Ceremony Venue
The first item on your wedding ceremony planning guide should be choosing a ceremony venue. The most popular questions we get asked by couples are "where to have my wedding ceremony?" and "where can I have a wedding ceremony near me?" This depends on your vows and wedding ceremony type.
If you opt for a religious ceremony, you can get married in a stunning historic church, cathedral, or chapel by incorporating your faith into your marriage. There are wedding venues made for this type of ceremony, so if you plan to have a reception afterward, you should search for a place nearby.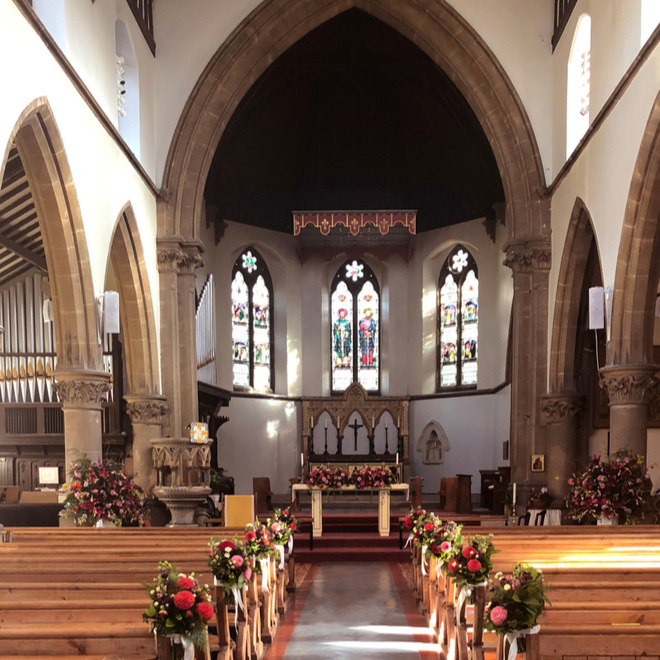 Wedding Venues Discounts
If you plan to have a civil ceremony, you could look into options such as getting married in a courthouse, town hall, or registry office. These locations are generally ideal for couples seeking an affordable, fast and easy wedding ceremony. In this case, licensed venues might be another option.
For a humanist ceremony, the sky's the limit. Hotels and banquet halls are the most popular options. Suppose you plan to have a summer, spring, or fall wedding ceremony in warm weather. In that case, you can look into options such as ceremonies on the beach, in a garden, or a country venue.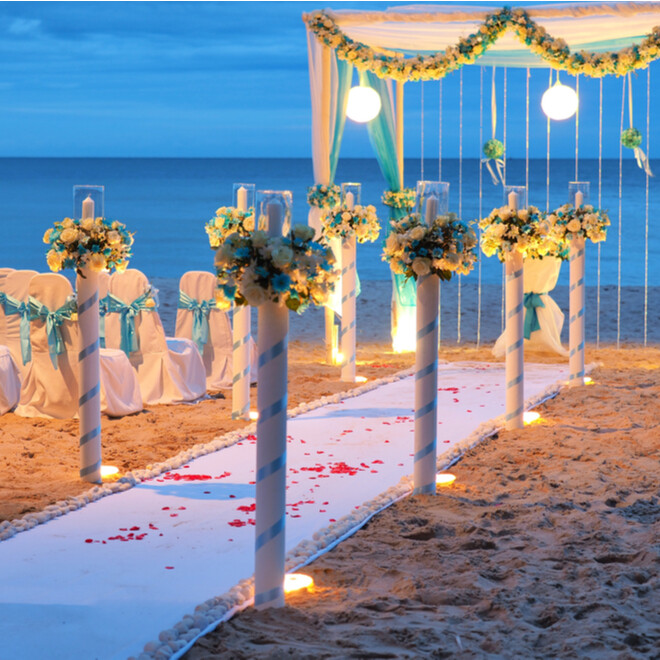 If you are dreaming of a fairy-tale wedding next to the deep blue waters, you can take a look at this article: Beach Wedding 101: Introduction to the Perfect Wedding
Here are some ideas to make your fall wedding stand out: 24 Awesome Ideas To Elevate Your Fall Wedding
Dreaming of a country wedding? This article might help: Country Wedding Ideas: 10 Must-Haves
What is the Traditional Order of a Wedding Ceremony Program?
Once you've found your venue, it's time to create a basic wedding ceremony outline by taking the logistics of the space and timing into mind. As we've mentioned earlier, religious gatherings have a set order, while you can customize nearly everything in non-religious marriage ceremonies.
You can have a dinner or cocktail hour before the wedding ceremony, or you can skip some parts of the layout and come up with creative activities. However, don't forget that the average length of the wedding ceremony is about 30 minutes. Here's the traditional order:
Processional:The processional usually starts with bridesmaids and groomsmen heading down the aisle together. After that, the maid of honour and best man walk down. Then, the rings will be carried to the altar by the ring bearer, accompanied by the flower girl. The bride is walked down the aisle by her father in a traditional Christian processional, while the groom stands at the altar.

Welcome: When you and your partner are at the altar, the officiant will greet you and start the ceremony. Before the ceremony, talk to the officiant about what you like or desire. There might be fixed opening remarks if it's a religious ceremony.
Song or a Reading: In traditional ceremonies, a song or hymn is sung at this point. However, you can replace it with reading if you want.
The Marriage Ceremony: The charge to you, is in which the officiant tells you of the obligations and purpose of the vows they are about to take, is the first part of the formal wedding ceremony. After that, you will exchange vows. There are some declarations and contracting terms you must say to make your marriage valid legally. The remainder of your vows, though, is entirely up to you.
Exchange of Rings: Although exchanging wedding rings is not required by law, many couples choose to do so. The rings will be given to the officiant by the best man, and the couple will then put the rings on each other's fingers. At this point, as a couple, you still have the option to mention anything you would still like to say to each other.
Declaration of Marriage/First Kiss:The officiant will declare you as husband and wife. Then the famous phrase "you may now kiss the bride" takes place.
Optional Address, Song, Reading and Prayers: In a traditional ceremony at this stage, a sermon from the vicar, prayers, and bible readings are heard. This is an ideal time for a reading or a song to be sung in a non-traditional ceremony.
Signing of the Register: Signing the marriage certificate is the last step in making the marriage legal. The officiant and two witnesses you have picked ahead of time must sign the license.
Ending of the Service: Closing remarks, congratulations and well wishes take place at this moment.
Recessional and Exit: At this final stage, you will walk down the aisle, followed by your wedding party. Music, confetti, bubbles, and more will be a part of this celebration.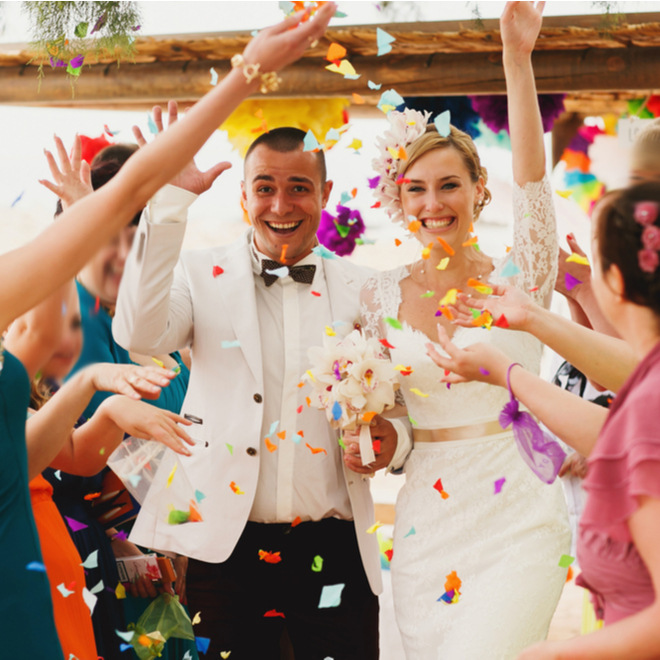 Alternative Unity Ceremony Inspiration
The joining of lives, families, and cultures is symbolized by a unification ritual, which is normally part of the wedding ceremony itself. Most notably, it highlights your distinct background, values, and imagination. Here are some creative unity ceremony ideas we love:
Sand Ceremony: The philosophy behind the sand ritual is that as the grains of sand are poured together, they mix together and are difficult to separate. The sand ceremony will take several forms, including using coloured sand, sand from meaningful places or holiday destinations, and so on.

Candle Lighting Ceremony: Two individual taper candles lit by parents before the ceremony, and then you light a single candle by using the taper candles lit before. It symbolizes the unity between you as a couple and your two families.
Plant Ceremony: Sometimes called the tree ceremony. The plant ceremony is one of the best ways to unite your lives by giving back to nature. We know that not everyone has a green thumb, so you can prefer flowers instead. The best plant for a wedding ceremony might be succulents since they are manageable easily.
Handfasting Ceremony: Also called the tying hands wedding ceremony. The handfasting ceremony originates from the Celtic tradition. Braided strings are tied around the couple's hands or covered in a large garland of flowers or a fabric shawl.
Ribbon Ceremony: If you want to make a modern twist to the handfasting ritual, you can use colourful ribbons instead, known as a ribbon ceremony.
Blanket Ceremony: Stemming from Native American tradition, the bride and groom are covered in blankets separately at first in this ceremony. The officiant blesses the couple, and then, they're wrapped in a single blanket, symbolizing becoming one.
(Bonus) Smudging Ceremony: Although it's not a unity ceremony, you can add a little extra to your event by incorporating a smudge ceremony in which you purge the negative energy by smouldering an herb or sage thought to have cleansing properties. This ceremony is tied to many indigenous cultures.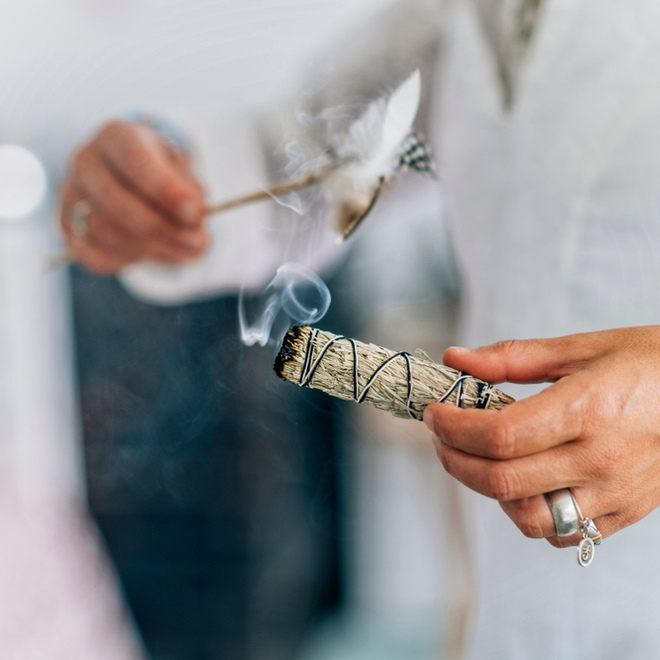 What Should You Pay Attention to When Creating Your Wedding Ceremony Script?
Not only does your wedding ceremony script help to set the tone for your wedding day, but it also helps to set the tone for your wedding day. It's a chance for both of you to express your affection and devotion in a manner that feels natural to you.
Since you want to feel profoundly attached to the things you say and the promises you make, many couples want to customize some parts or all of their ceremony wording. We can see that this is the case, especially in humanist wedding ceremony scripts. Whatever you choose, don't forget that you need to include both an announcement and declaration of intent to your wedding ceremony official.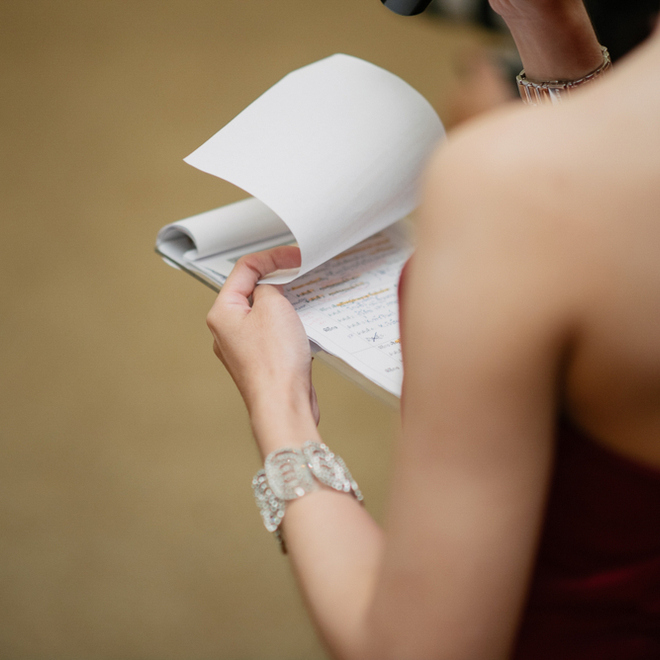 How to Select Meaningful Wedding Poems and Readings for your Ceremony
Wedding readings are a brilliant opportunity to personalize the ceremony and add a strong dose of love and commitment-inspired sentiment to the upcoming parts of your ceremony. No matter what kind of wedding atmosphere you're looking for, here are some ideas on how to pick your wedding ceremony readings:
Decide Whether You Want a Religious or Secular Ceremony: If you opt for a religious ceremony, you'll probably pick a passage or verse from a holy book, a religious poem or a blessing. A poem, book fragment, lyrics, or even lines from a movie or television program can all be used in a secular reading.

Check With Your Officiant Beforehand: Your officiant will be able to tell you how many readings you'll need, at which point you'll need them, and all other procedural information.
Determine the Number: Experts suggest limiting your readings or poems to one or two since more than that may make your guests feel a little bit bored.
Take Your Readers Into Account: If you've chosen a child guest, it might be appropriate to select an excerpt from a child book. If your reader is a classical literature lover, it might be ideal for incorporating a passage from Shakespeare.
Be Careful About the Length: A poem might be too short and leave the audience flat, while a text may be too long and may bore the audience! We suggest keeping it around two minutes, three the most.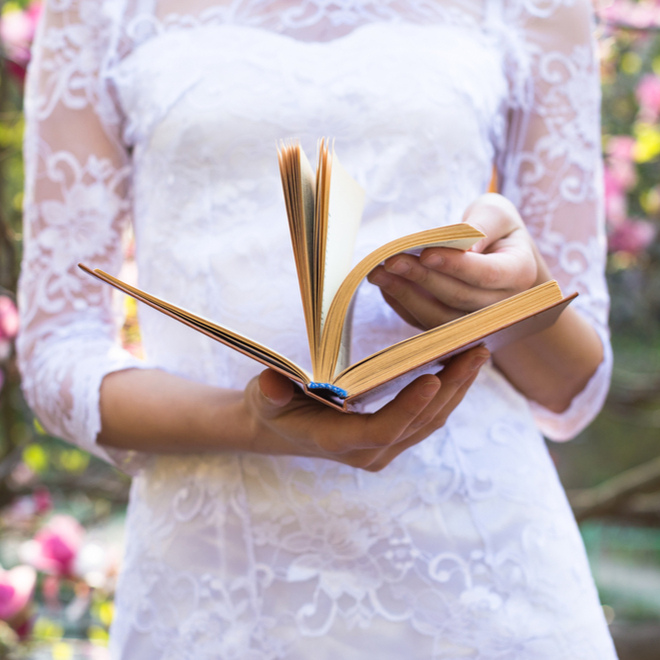 Wedding Ceremony Decorations Ideas
Your walk down the aisle will be one of the most significant moments of your life, and it will also be one of the most photographed as well. Therefore, we've compiled a list of brilliant wedding decoration tips to make yours stand out, whether you're having an indoor or outdoor ceremony.
Ceremony Arch
The wedding arch you choose is crucial since it will set the tone of your whole ceremony. Couples have used everything from beautiful rose-covered altars to natural tree-inspired styles as altars at several breathtaking locations. It all comes down to having the perfect match between you and your partner.
Floral-covered chuppahs, tropical white curtains, statement trees garnished with ornaments and minimalistic geometric shapes are among the ever-popular wedding arches. You can also use drapes, wooden pergolas and candles with greenery and many more you can imagine!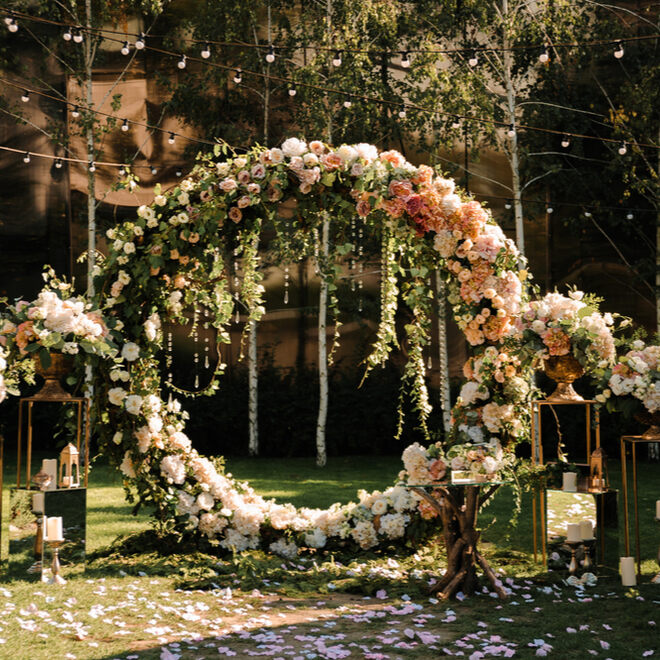 Wedding Ceremony Aisle
For a beautifully decorated aisle to walk down to, you'll need a few finishing touches such as candles, flowers, or lanterns. You can incorporate a tree-lined aisle to bring outdoors to indoor or use pampas grass and colourful flowers to transparent vases and place them next to the chairs.
Scattering petals, putting signs with romantic quotes, and candelabras are among the other trends. You can buy or hire cool props such as big clocks as well. Whatever you choose, make sure that it matches the ambience of your wedding ceremony venue.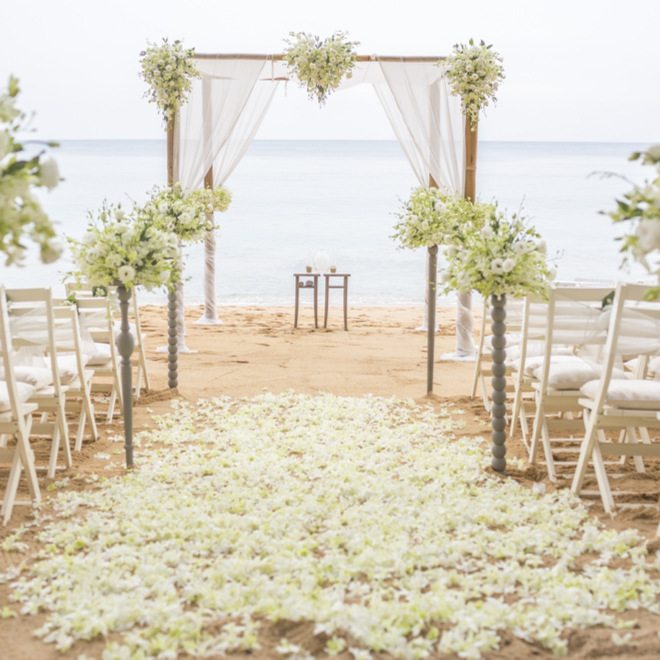 Wedding Ceremony Table Set Up
You can choose a tall and round cocktail table for your signing table so you can stand on it, or you can use a cute buffet table. A small round wooden table with a vase with a few flowers and a pen with elegant feathers might be a cute idea, or you can go with a more creative idea such as a vintage singer sewing machine table.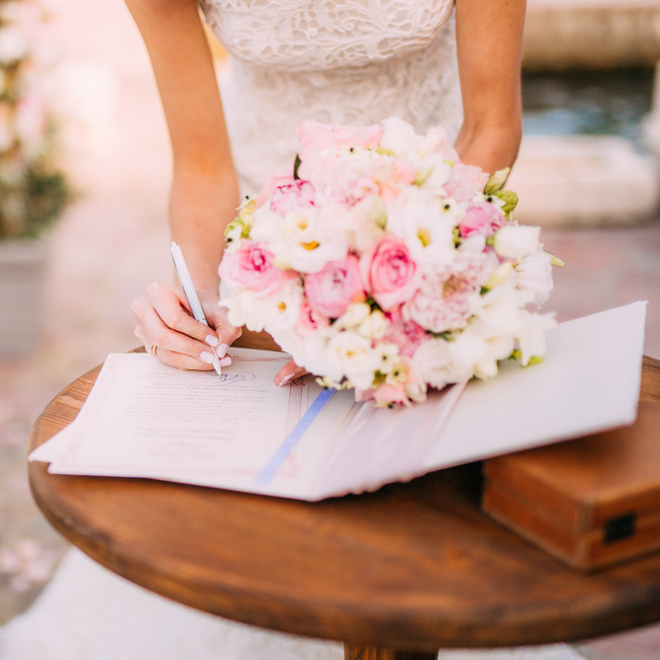 Chairs
You can place wooden signs with your prefixes on the backs of your chairs if your wedding happens to have a more antique or rustic feel. Are you planning a spring or summer get-together? Garlands of greenery and vibrant ceremony flowers can be draped over your chairs. Choose transparent acrylic ghost chairs with gold laser-cut signs for a more sleek look.
We've listed the hottest wedding decoration trends of 2022 here: 8 Wedding Decoration Trends That Will Be Huge in 2022!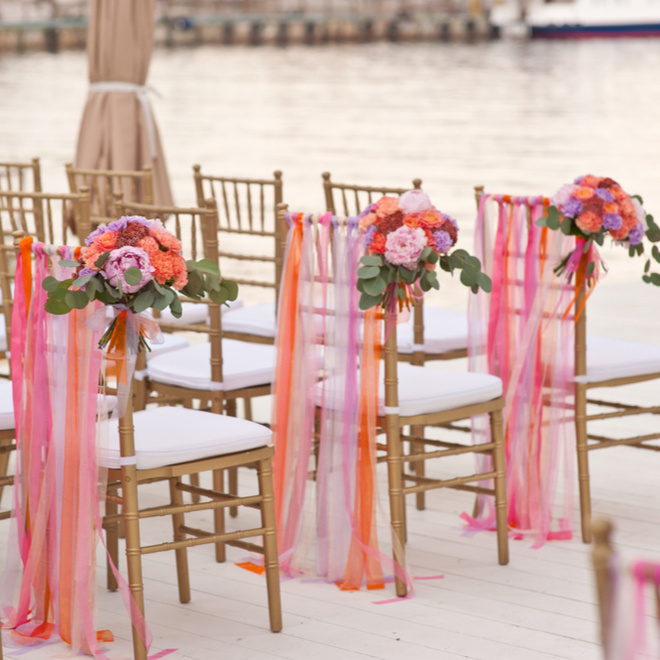 10 Wedding Ceremony Ideas You Don't Want to Miss!
The wedding would best reflect the couple and be unforgettable for their guests if it is more intimate, emotional, and creative. To encourage you to think outside the box, we've gathered the best wedding ceremony ideas together:
Host cocktails before the ceremony
Tease your guests' taste buds with a snack
Plan pre-wedding activities with your wedding party
Walk down the aisle with your partner
Ask your best friend to officiate the ceremony
Don't wait until your reception and end the ceremony with a dance
Hire an artist to paint the important moments
Invite your guests and walk to the reception venue in a parade-style if it's close
End your wedding ceremony with a toast
Seat guests in a circle so that you can capture the excitement from all sides
Wedding Ceremony Music and Song Suggestions
When you think about the wedding ceremony music, the first thing that comes to your mind is probably the songs that you will walk down the aisle to. However, it's much more than that. 
You need to think of the bigger picture since this special union should feel like a romantic musical. You'll need a minimum of 3 types of songs which are preludes, processionals and recessionals. Here are some wedding ceremony song ideas for you:
Preludes
Prelude music is played for about 30 minutes while guests are waiting for you to make your grand entrance. It usually consists of mellow and soothing songs setting the mood. Most couples prefer instrumental country music or modern instrumental music for this stage. You can create an online pre-ceremony wedding playlist where your guests can contribute. Here are 5 top picks for inspiration:
"Yellow," by Coldplay
"Clair de Lune," by Claude Debussy
"Moonlight Sonata," by Beethoven
"Helplessly Hoping," by Crosby, Stills & Nash
"Harvest Moon," by Neil Young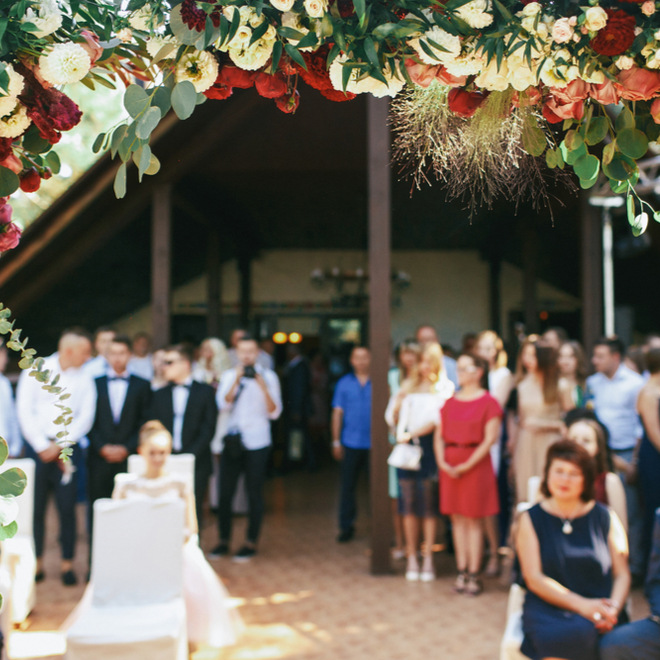 Processionals
Processional music accompanies the entrance of your extended wedding party: families, bridesmaids, groomsmen, and of course you! While the same music can be used for everyone, we love the thought of switching to a different song as the bride walks in and steals the spotlight with her grand entrance. Here are our top 5 suggestion:
"Bridal Chorus" by Wagner
"Sweet Disposition" by Temper Trap
"The Only Exception" by Paramore
"A Thousand Years" by Christina Perri
"Flightless Bird & American Mouth" by Iron & Wine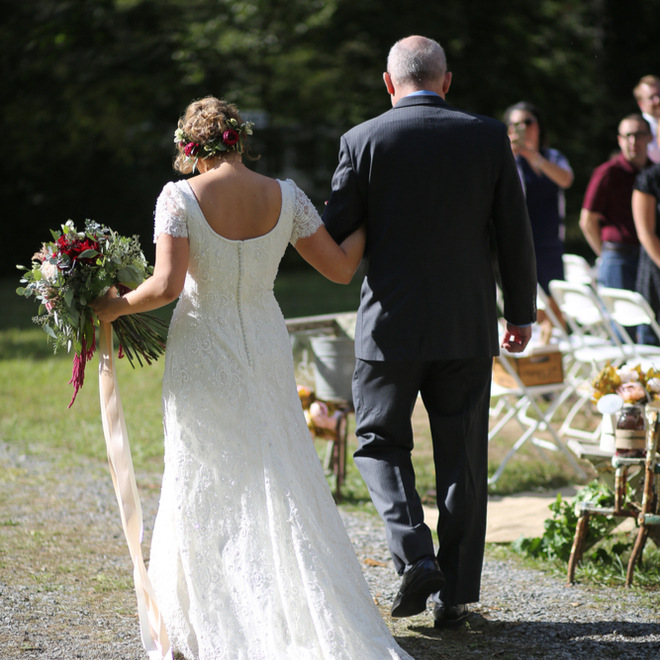 Recessionals
As the name implies, recessional music accompanies you while making your exit. It usually consists of upbeat songs that reflect your joy. The best songs to exit a wedding ceremony for us as follows:
"Love On Top" by Beyonce
"Best Day Of My Life" by American Author
"Home" by Edward Sharpe & The Magnetic Zeros
"On Top Of The World" by Imagine Dragons
"Ho Hey" by Lumineers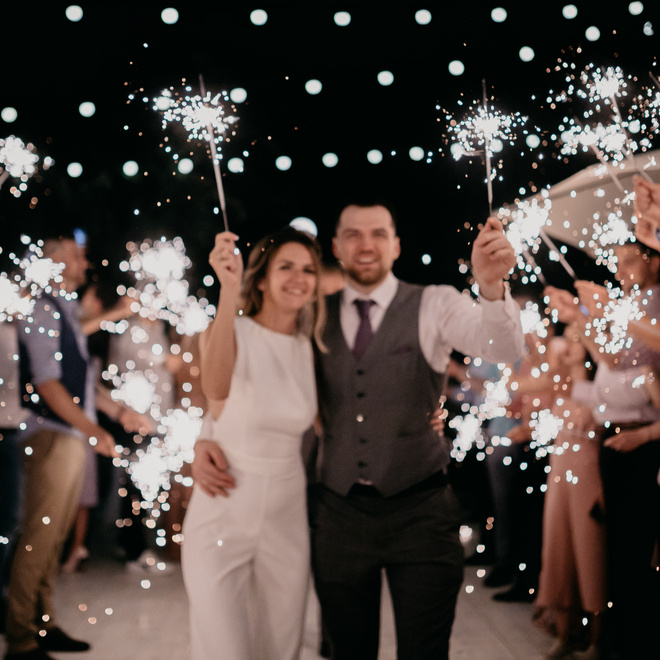 Let's hope this article calmed your wedding nerves! Let us know if you still have questions by commenting. Now that you've got all the info you need, start looking for the best wedding venues and vendors. With WeddingHero, everything is at your fingertips!