The simplification movement continues to dominate wedding dress trends, but we will see lots of romance and nostalgia in 2022! Splendour is a must! We've got the details on what's hot for wedding dresses in 2022!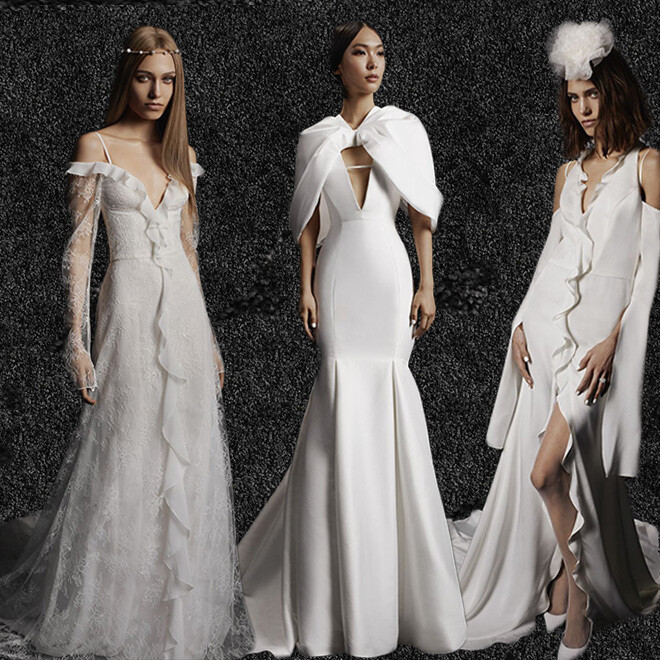 Modern and extraordinary interpretations of traditional designs stand out in 2022 wedding dress models. Plus, there are options for every style! Low shoulders, corsets, deep slits for a sexy look; modern ruffles for brides who love glam; balloon sleeves, tassels, and feathers for nostalgia buffs; slip dresses, suits, and short styles for minimalists...
This year, large bows and colourful embroidery are hot for romantic brides. Additionally, it goes without saying that removable parts make 2022 wedding dresses cooler. Here are the details:
1- Reinforce Your Elegance: Off-the-Shoulder Wedding Dresses
Wedding dresses with off-the-shoulder necklines are perfect for brides who want an elegant and sexy look. Also, we often see this collar type on the most trendy models with different skirt cuts and styles.
► For whom is it suitable?
We recommend off-the-shoulder wedding dress models to bride candidates who want to make their shoulders look wider than they are. Brides-to-be who are confident in their shoulders can also choose low shoulder designs to highlight this area.
► Which designers offer it?
Georges Hobeika
Justin Alexander Signature
Pronovias
Eva Lendel
Oscar de la Renta
Elie Saab
Tadashi Shoji
Yolan Cris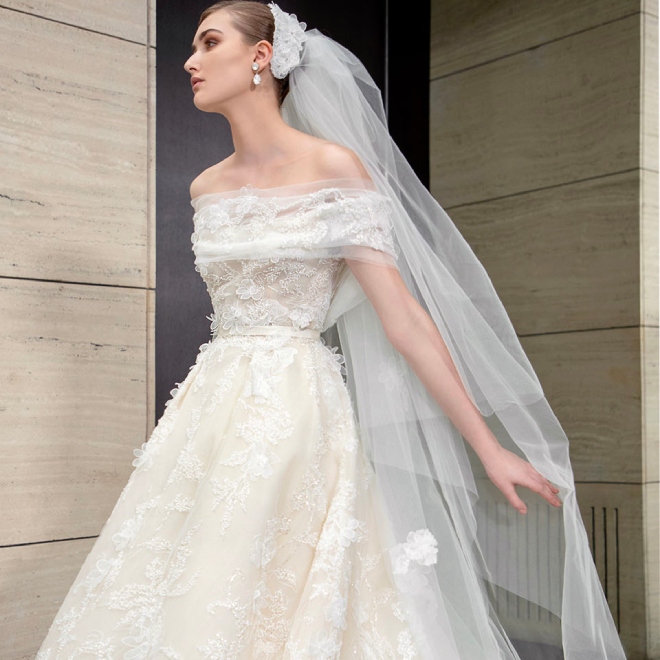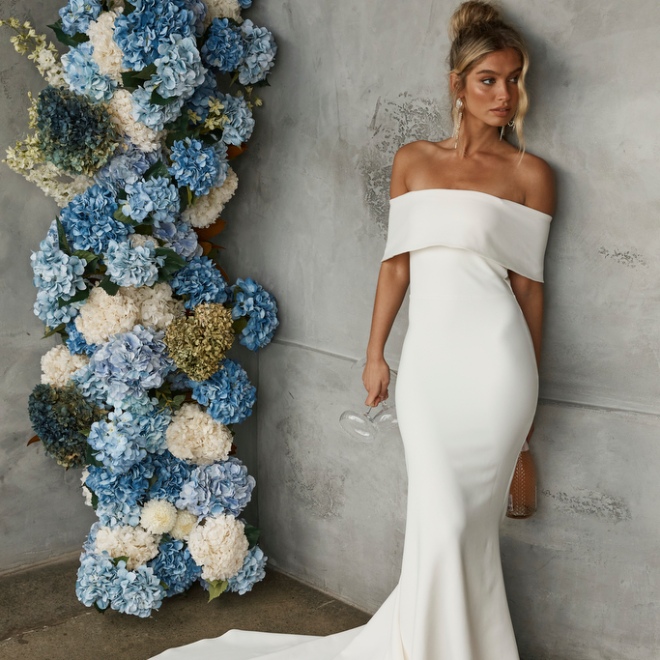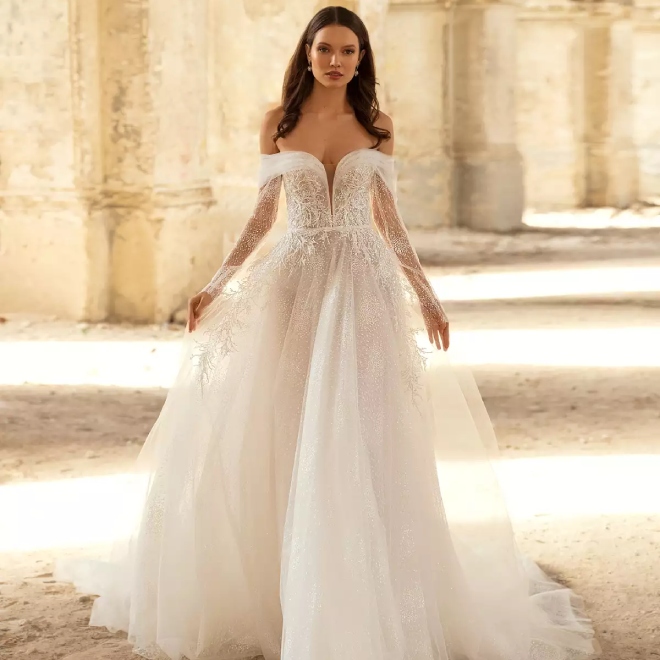 2- Highlight Your Curves: Corset Wedding Dresses
The corset trend is back! Transparent corsets with fabric or skeletons add a nostalgic and assertive vibe to wedding dresses this year. Not to mention they're super figure-flattering!
► For whom is it suitable?
Corset wedding dresses are suitable for brides with rectangular body types who want to show their waist area and curves. Brides who want to highlight their curvy waist can also choose models with transparent corsets.
► Which designers offer it?
Rosa Clara
Monique Lhuillier
Pronovias
Rita Vinieris
Saiid Kobeisy
Anne Barge
Amsale
Liz Martinez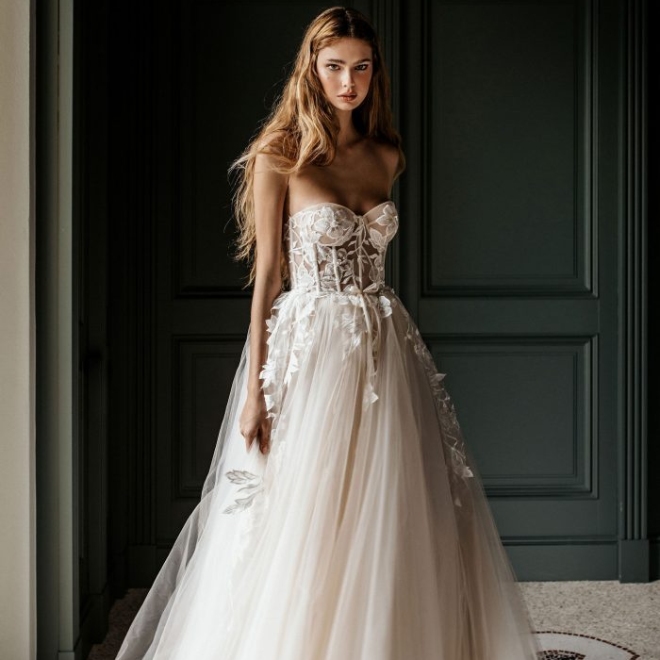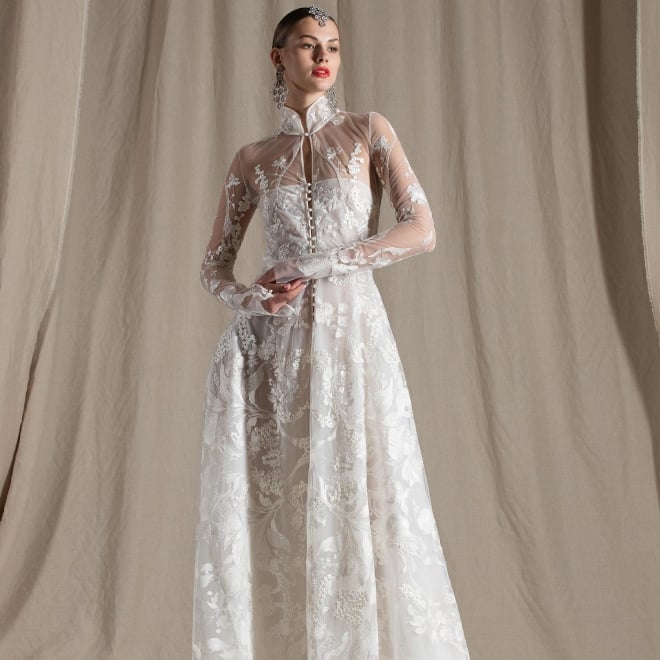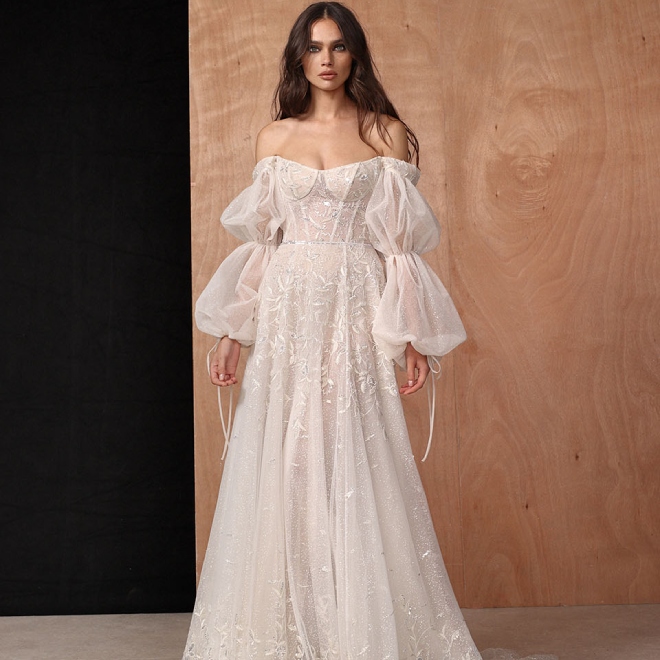 3- Express Your Assertive Style: Wedding Dresses with High Slits
Assertive designs are on-trend in 2022 wedding dresses. So are high slits. Bridal gowns with high slits provide both a feminine and elegant look.
► For whom is it suitable?
Slits are perfect for brides who want to show off their smooth and thin legs. Brides with apple body types can also choose from these models to draw attention from wide-body to thin lower body.
► Which designers offer it?
Vera Wang
Berta
Valentini Spose
Suzanne Neville
Milla Nova
Viktor & Rolf
Ines Di Santo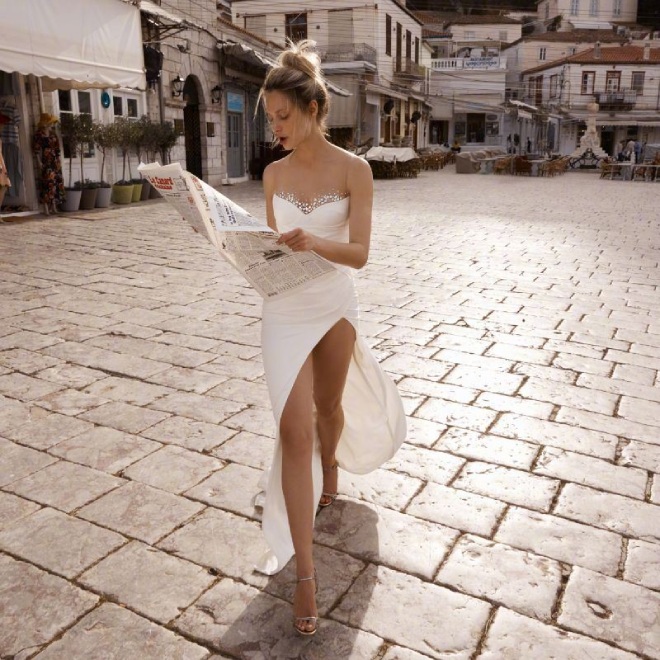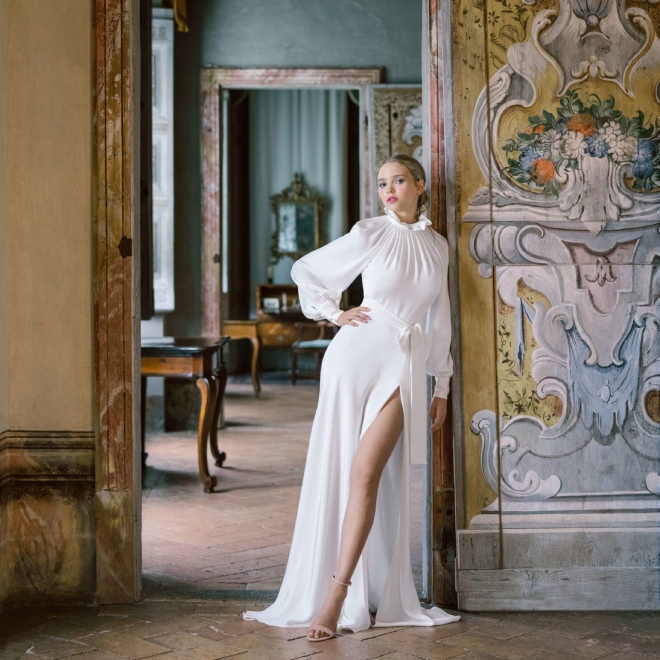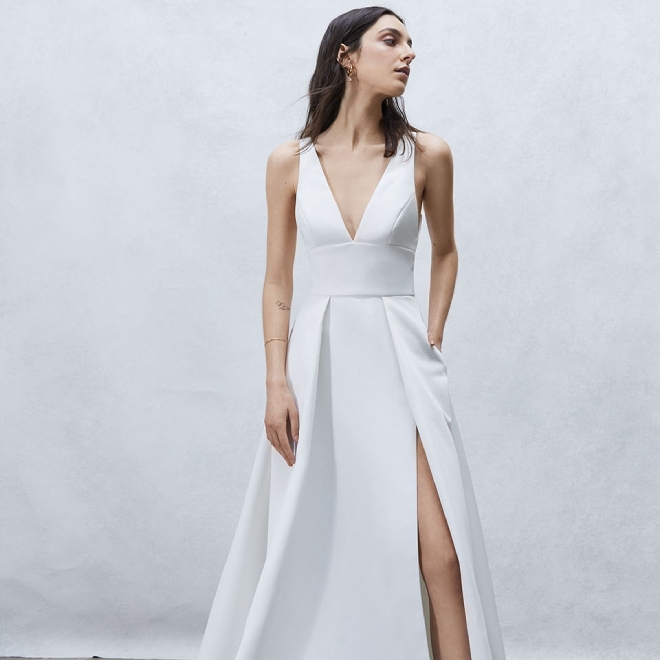 4- Create a Magnificent Silhouette: Balloon Sleeve Wedding Dresses
Brides with retro tastes will love the 2022 wedding dresses that feature puffy sleeves and shoulders, inspired by 19th-century fashion. No matter how fluffy or plain, this sleeve model looks good with any skirt.
► For whom is it suitable?
Brides-to-be who like vintage wedding dresses with romantic details and modern interpretations can choose these designs.
► Which designers offer it?
Danielle Frankel
David's Bridal
Watters
Naeem Khan
Reem Acra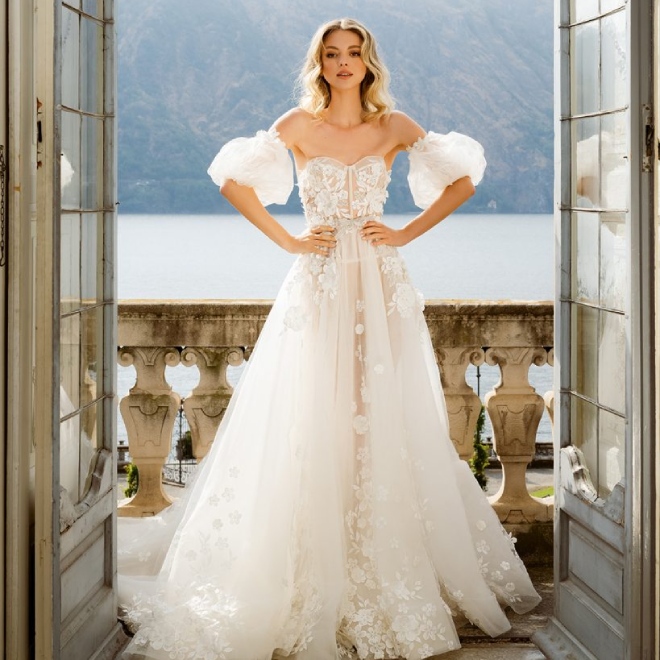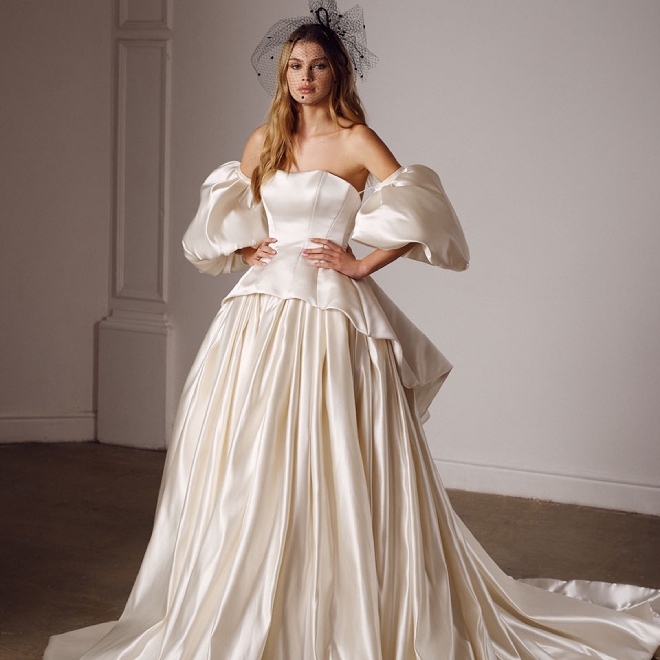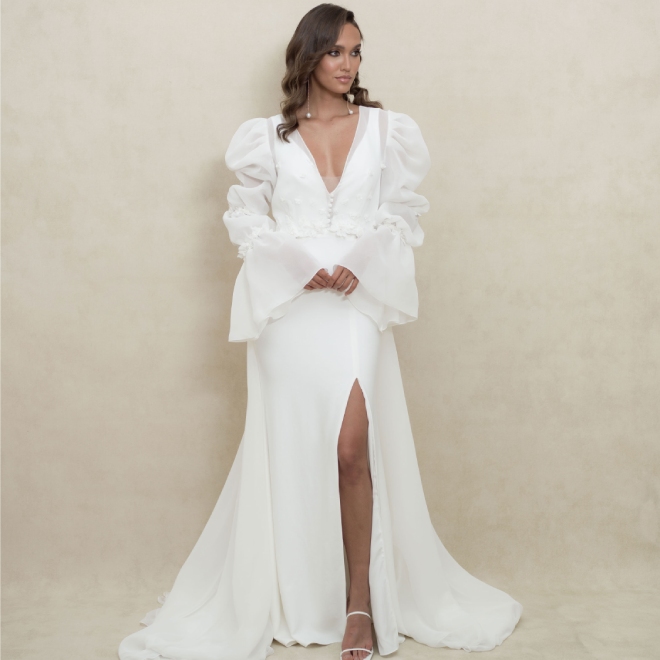 5- Liven Up Your Look: Feather Wedding Dresses
Feather details are one of the materials that world-famous designers have frequently applied to wedding dresses in recent years, whether they're used throughout the entire dress or just in one part. They can go with anything!
► For whom is it suitable?
If you're looking for feathered wedding dress models, keep in mind that feather details make the area look bigger than it really is. For instance, if your breasts are small, you should get a dress with feathers in the breast area. It's best to avoid models whose breast areas are adorned with feathers if you have big breasts.
► Which designers offer it?
Galia Lahav
Yolan Cris
Esé Azénabor
Bronx and Banco
Lela Rose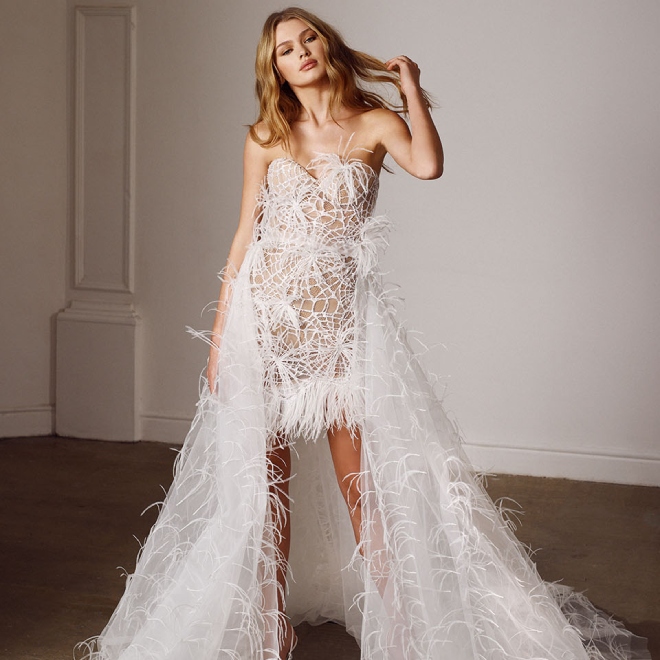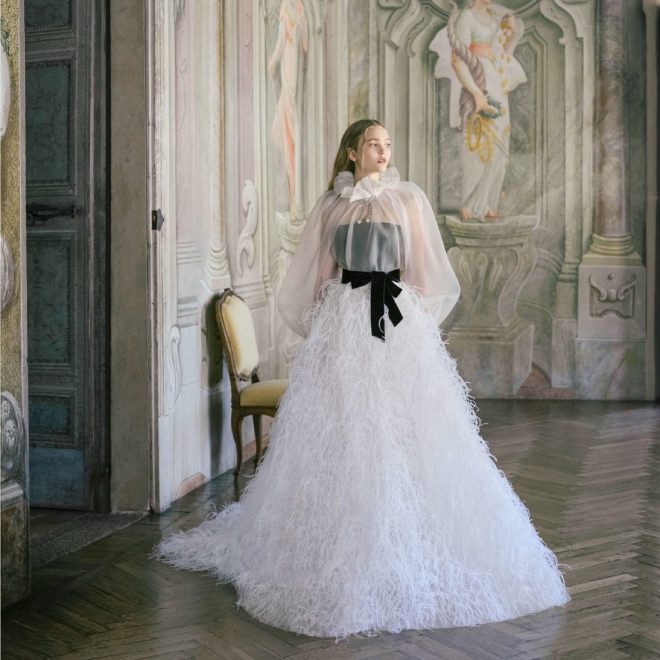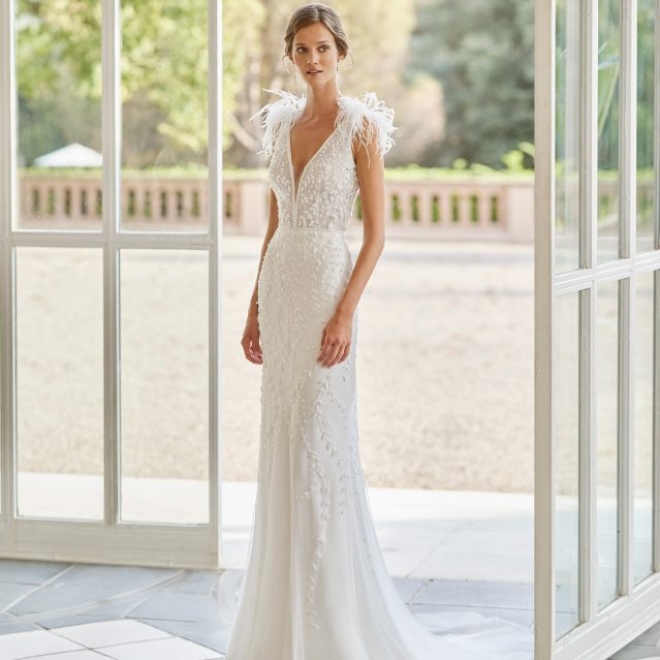 6 - Fun and Glamorous: Tassel Wedding Dresses
Let's all say welcome to the fun spirit of the 1920s! Tassel wedding dresses in the style of the "flapper girl" are a great choice for both the wedding and afterparty.
► For whom is it suitable?
Future brides with a 1920s-themed wedding should look at these vintage wedding dresses, which are some of the sexiest around. Depending on your body type, you can pick either a long or a short tassel wedding dress.
► Which designers offer it?
Valentine Avoh
Marchesa Notte
Naeem Khan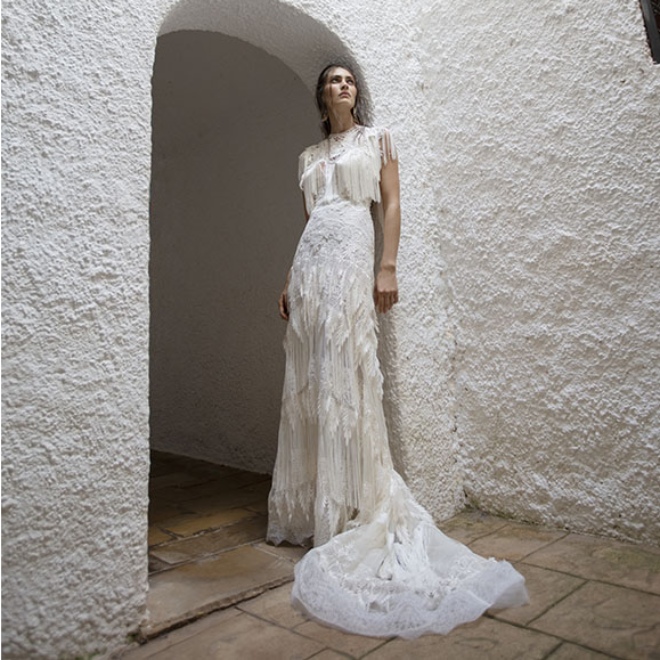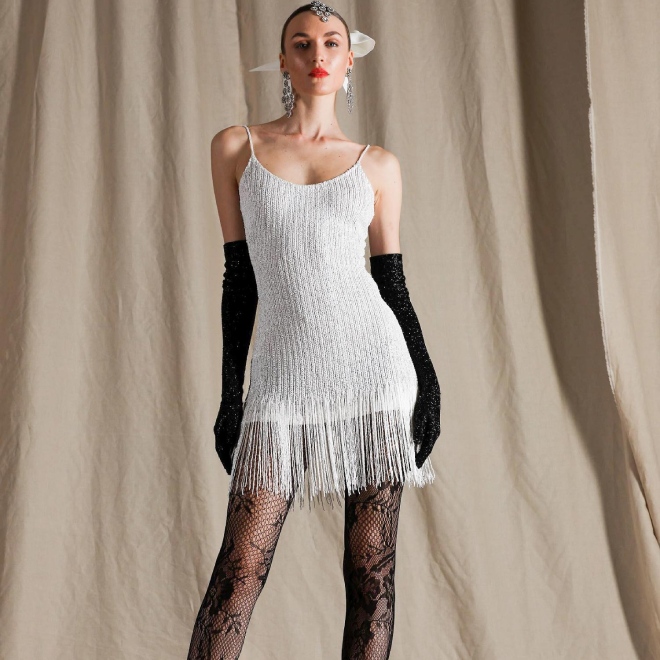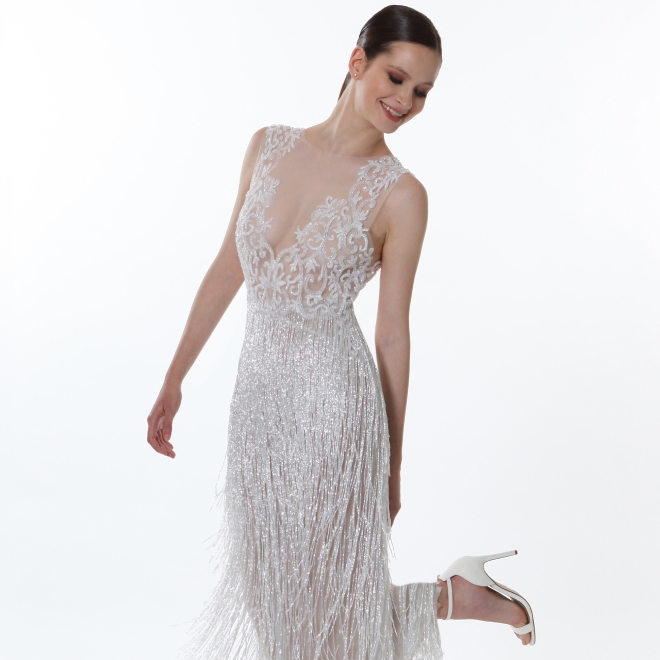 7- Elegance and Comfort Together: Short Wedding Dresses
A short wedding dress is just what you need if you're planning an elopement or just want to show off a killer pair of shoes! Pencil, babydoll, asymmetrical, mini, midi… Among the newest collections of famous designers, you can encounter wedding dresses of different lengths and models.
► For whom is it suitable?
Short dresses are perfect for elopements and courthouse weddings. You can choose a mini dress to show off your smooth, slim legs. Midi-length dresses are great for brides with thin wrists. For those who want an extraordinary look, we recommend asymmetrical wedding dresses.
► Which designers offer it?
Anne Barge
Carolina Herrera
Sachin & Babi
Oscar de la Renta
Caroline Constas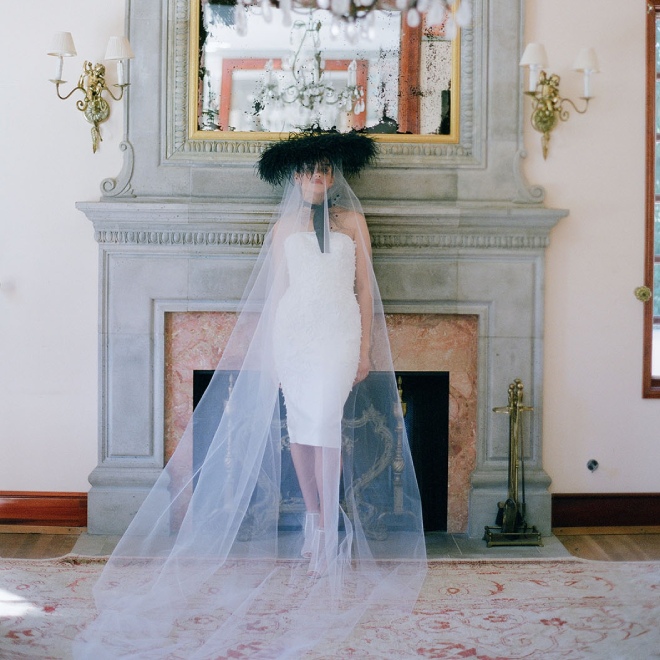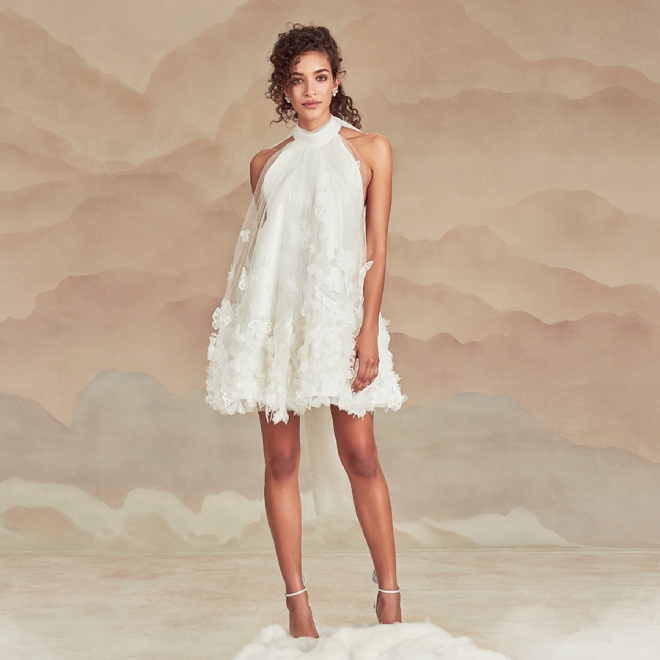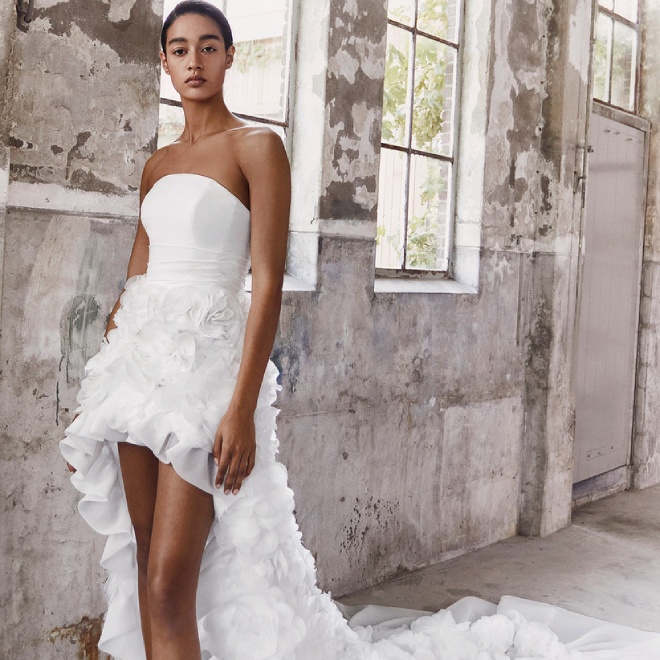 Want to plan an elopement but don't know where to start? This might help: How to Elope: Step-by-Step Guide
8- Two Looks for One Model: Wedding Dresses with Transitional Pieces
If you want two different looks on your wedding day but buying two different dresses isn't an option for you, consider wedding dresses with removable parts.
The 2022 wedding dress trends include detachable skirts, which have been big in recent years, and designs with detachable sleeves and capes.
► For whom is it suitable?
Wedding dresses with removable skirts are ideal for those who want to wear a magnificent, comfortable and simple wedding dress at the reception or the after-party.
Brides who want to make an entrance and keep the fun going with a simple model should consider wedding gowns with capes. Wedding dresses with removable sleeves are perfect for spring and fall weddings.
► Which designers offer it?
Anne Barge
Mira Zwillinger
Rebecca Schoneveld
Georges Hobeika
Savannah Miller
Rita Vinieris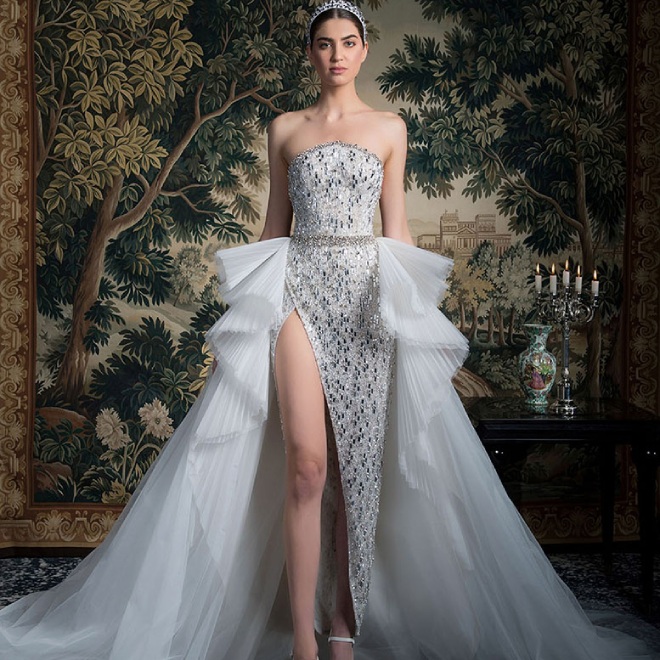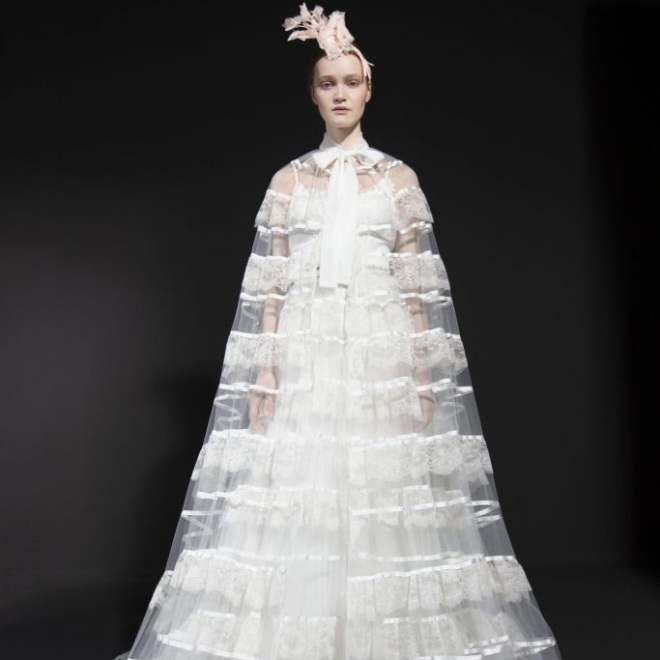 Planning a fall wedding? Take a look at these ideas: 24 Awesome Ideas To Elevate Your Fall Wedding
9- Here to Stay for More Years: Bow Detailed Wedding Dresses
Brides-to-be and designers loved this detail so much that for the last 3 years, big bows have been the go-to bridal trend list. In 2022, we will see that these romantic details adorn the shoulders, waist, neckline, skirts, and in short, every part of the wedding dress.
► For whom is it suitable?
With the bows of your wedding dress, you can draw attention to the part of your body you're most confident in. You can, for example, look for models with bow belts to highlight your curved waist.
► Which designers offer it?
Anne Barge
Zuhair Murad
Kaviar Gauche
Ines di Santo
Rime Arodaky
Vera Wang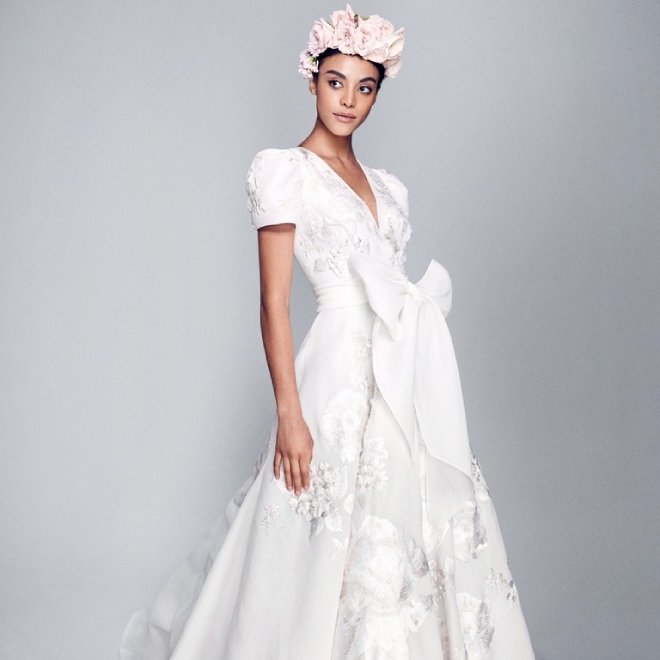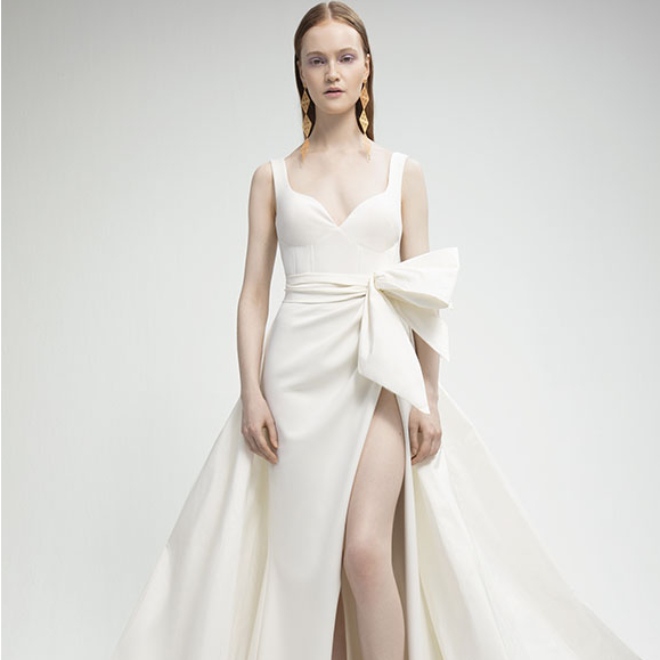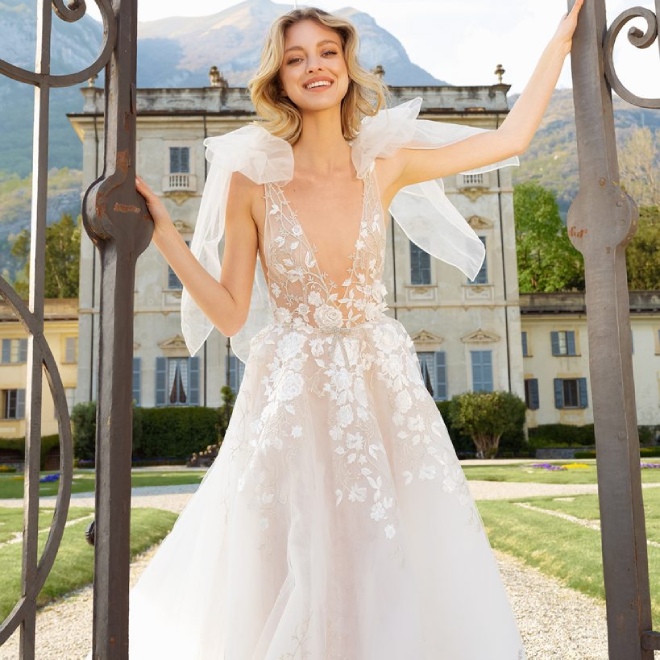 10- Most Elegant Designs: Slip Wedding Dresses
Made famous by style icons such as Kate Moss and Caroline Bessette-Kennedy in the 90s, the elegant silhouettes of the slip wedding dresses are likely to take place in bridal fashion for a long time.
Slip bridal gowns, which were among the trends last year as well, draw attention with their collar and body designs that were reinterpreted this year in addition to their classic cowl neckline design.
► For whom is it suitable?
For minimalist brides who like simple wedding dresses, these are perfect! In addition, it's perfect for a simple wedding or a wedding in a really elegant setting, like a restaurant or club.
► Which designers offer it?
Anne Barge
Costarellos
Lihi Hod
Temperley London
Rosa Clara
Grace Loves Lace
Shona Joy
Viktor & Rolf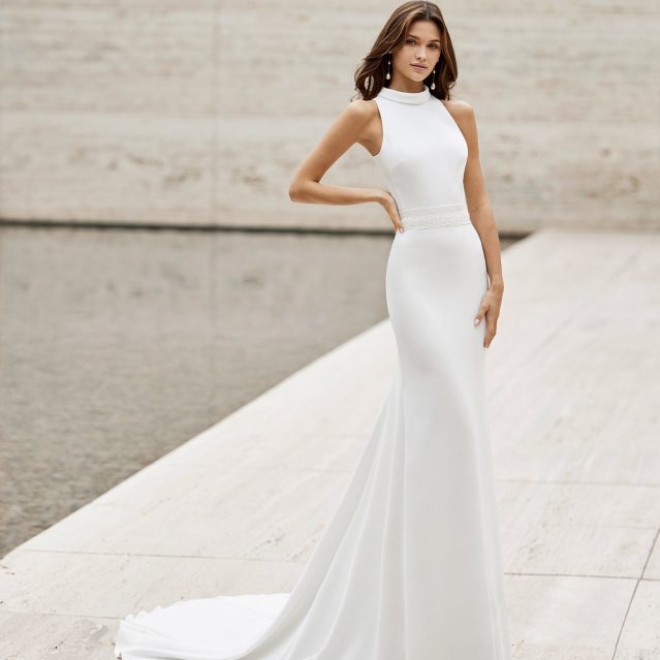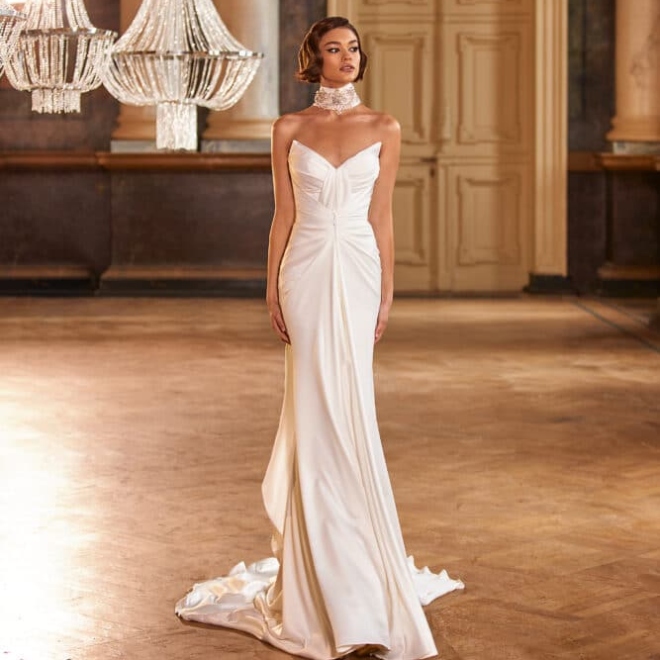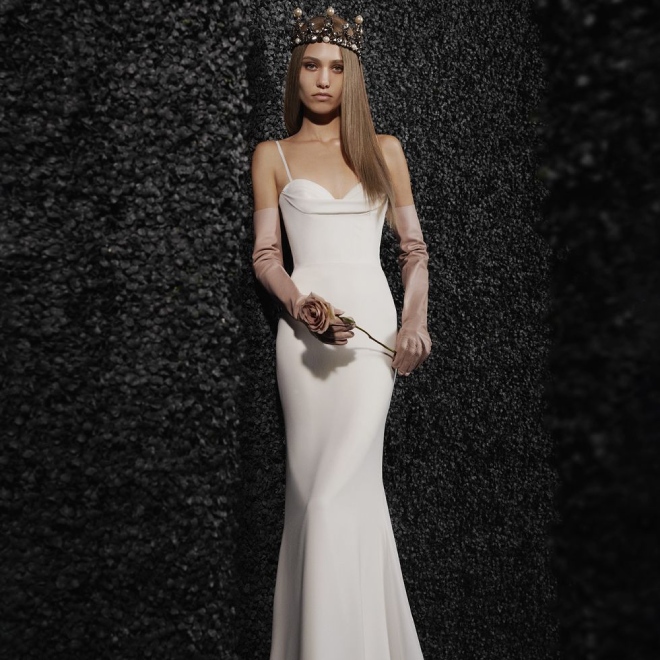 11- Puffy or Plain: Ruffle Wedding Dresses
So let's talk about the trend models for maximalist brides. Ruffles and layers will add a little glam to wedding dresses in 2022. In addition, regardless of whether it's a fish, straight cut, or princess style... Layers and ruffles add volume to fluffy models, but so do non-puffy models.
► For whom is it suitable?
Brides who want a glamorous and modern wedding dress can choose fluffy wedding dresses with layers and ruffled skirts. You can also wear simple and ruffle wedding gowns if you like bohemian designs.
► Which designers offer it?
Anne Barge
Zuhair Murad
Saiid Kobeisy
Milla Nova
Valentini Spose
Justin Alexander Signature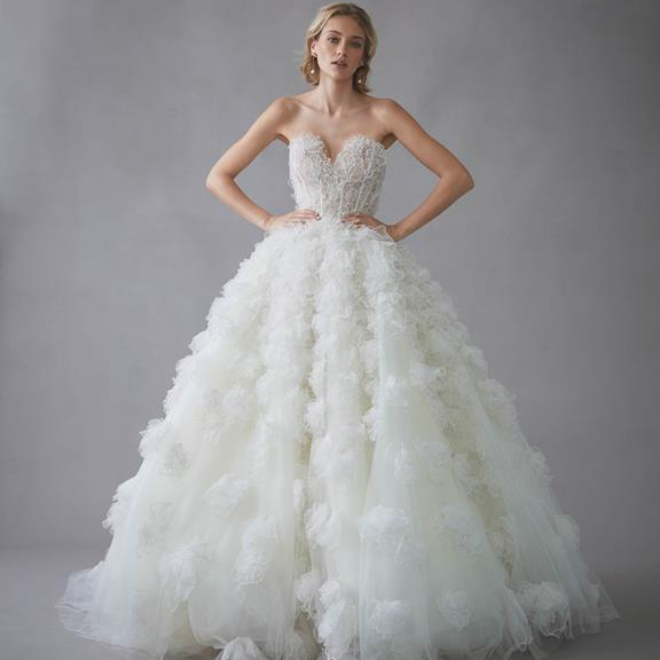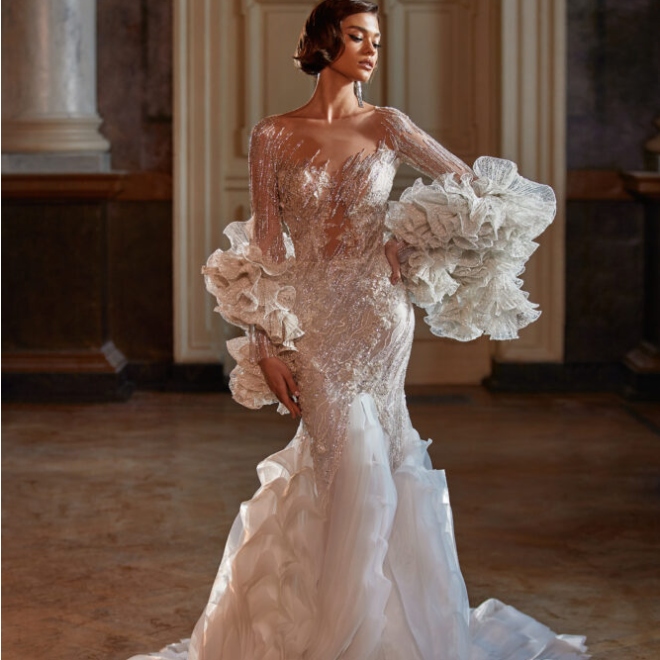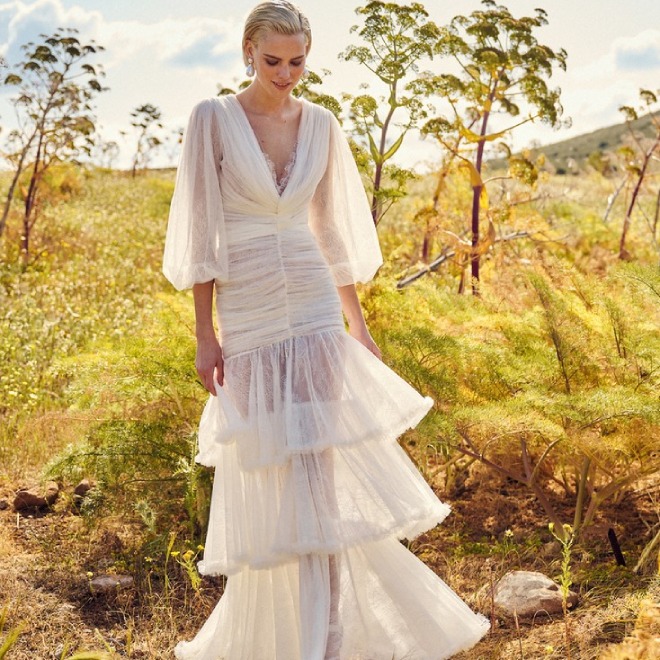 Thinking about being a boho bride? You might like this article: Boho Wedding Guide: Everything You Need To Know
12- Bright and Breezy: Colorful Floral Wedding Dresses
Despite the cliché of "bridal gown and flower," flower motifs created with colourful embroidery make floral wedding dresses stand out. Details like these, which we haven't seen for a while, are a big part of many brands' 2022 collections.
► For whom is it suitable?
Floral wedding gowns are one of the designs we recommend to romantic brides. Those who want a different bridal look can also consider flower-coloured wedding dresses.
► Which designers offer it?
Anne Barge
Reformation
Fame & Partners
Needle & Thread
Monique Lhuillier
Costarellos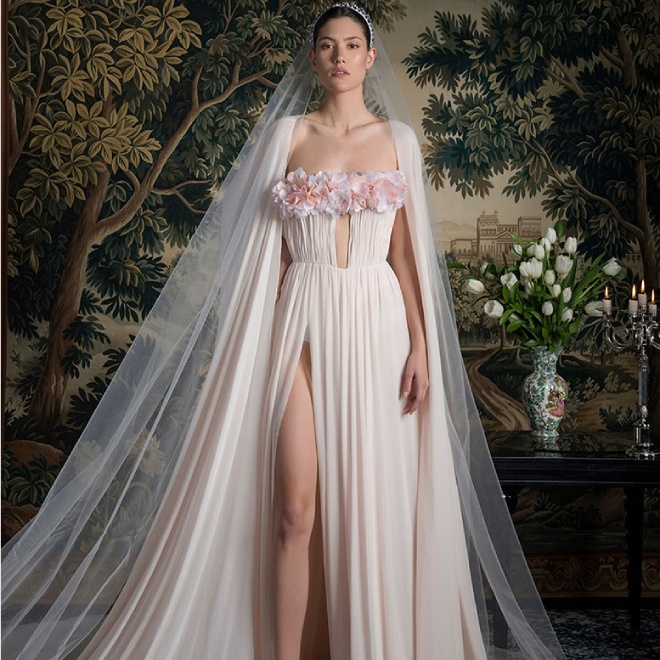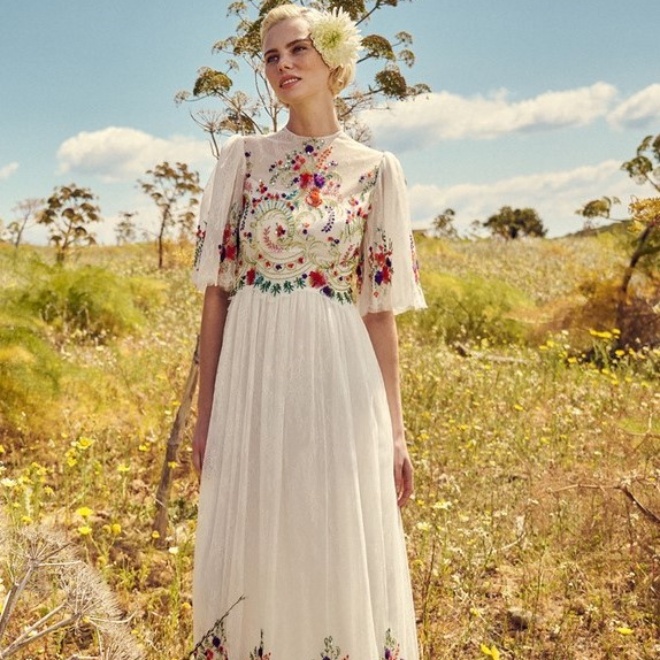 13- Comfortable, Stylish and Cool: Bridal Jumpsuits and Pants
The masculine bride look is becoming more and more common every year. Pants and jumpsuits, among the most trendy wedding dress models, are ideal for a stylish, comfortable and cool bridal look.
Although we are used to seeing jumpsuits frequently, we can say that pants combined with crop tops with flashy details are among the models that make a difference in 2022.
► For whom is it suitable?
These stylish pieces are best for elopements or courthouse weddings, where comfort and elegance are important. These pieces are also great for after-wedding parties.
► Which designers offer it?
Anne Barge
Badgley Mischka
Rime Arodaky
Roland Mouret
Lela Rose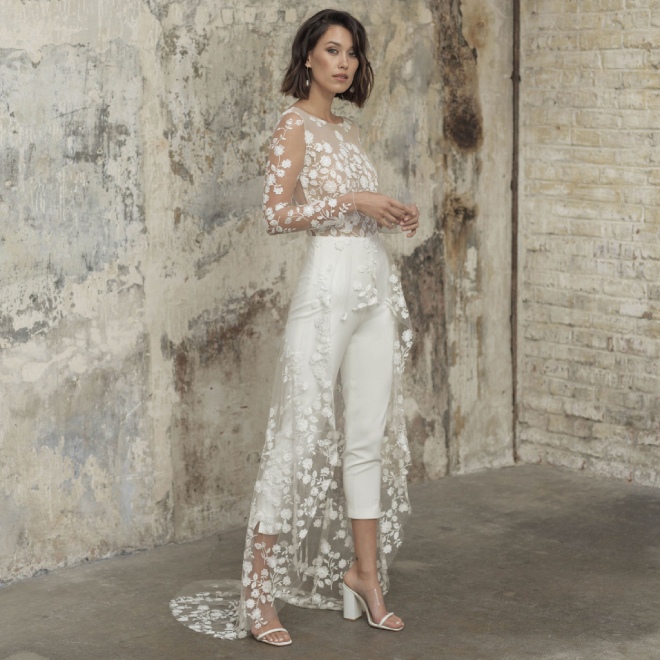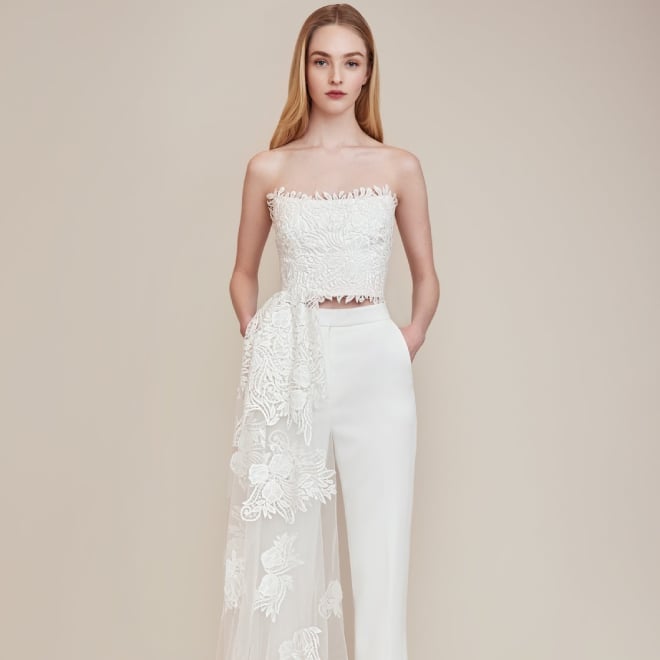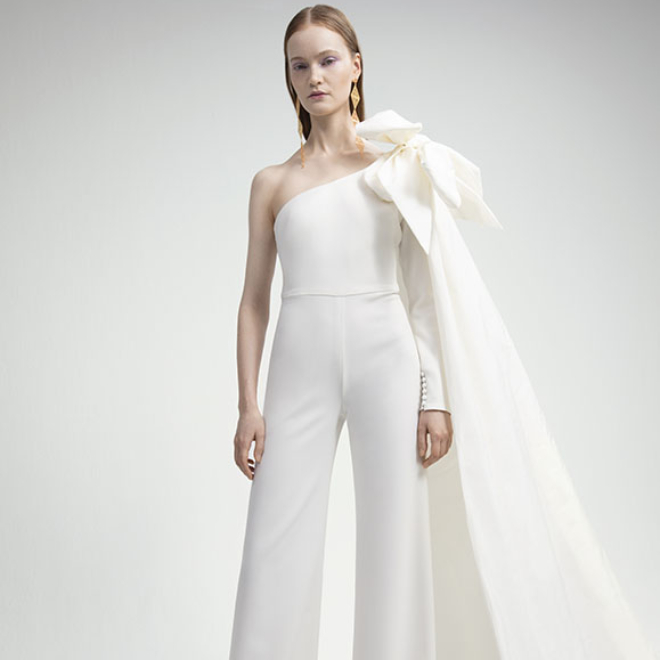 Now that you have mastered the details of the 2022 wedding dress trends, it's time to find the model that will suit you best. For a trendy look, you can start to check out stylish wedding dress models right away! Do not forget to filter the designs according to the features that suit you, and contact the companies for the models you like!