Receptions are a big deal at almost every wedding. This article tries to answer a few questions that couples planning a wedding reception might have. Topics range from wedding venues to song suggestions to dress inspiration. Ready?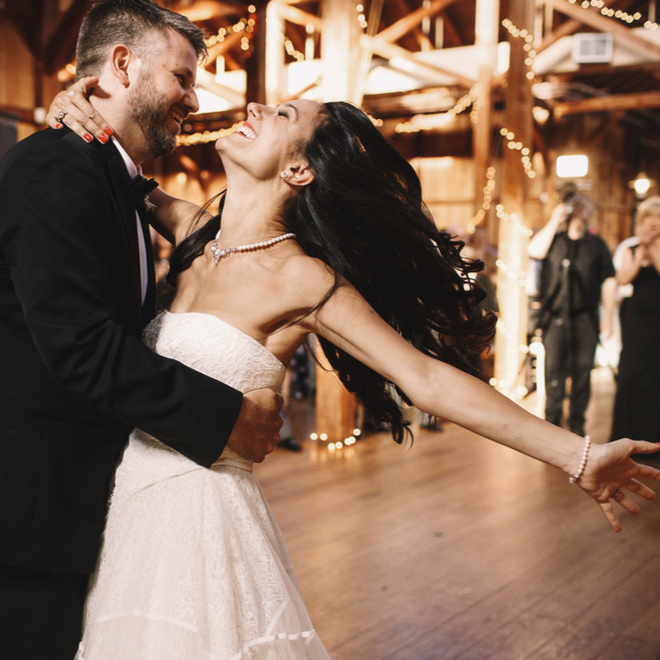 What Does a Wedding Reception Entail?
Usually after the wedding ceremony when you say your "I do's" comes the wedding reception. It's a big party where everyone congratulates you on being newlyweds.
Guests mingle, eat, drink cocktails, and dance to the upbeat reception music. The food can range from a snack buffet to a complete sit-down meal. As a couple, you also perform your first dance together in front of the entire audience.
How Long is a Typical Wedding Reception?
The first thing you need to do is figure out how long your reception will last. In our opinion, 5 hours is the perfect reception length. That's an hour for cocktails straight after the ceremony, then 4 hours for dinner and dancing.

Wedding Venues Discounts
If your ceremony and reception are in different locations, this number will vary Having them in the same spot is also a big bonus if you have a limited time.

Got questions about your wedding ceremony? Here are some answers: Everything You Need to Know About a Wedding Ceremony
Traditional Wedding Reception Timeline and Schedule Example
Each wedding reception is unique, just like a snowflake or a fingerprint. Having a timeline of what's going on is key to a great event. We put together one for your reception. Here's an order you can follow or you can create your own:
The Cocktail Hour: Couples usually leave the wedding ceremony after being declared husband and wife to take pictures with their photographer. Meanwhile, the cocktail reception will start right away if the reception venue is the same as the ceremony location. If it's not, guests go to the venue and start sipping their cocktails more than half an hour later.

Arrivals: The newlyweds, friends, and the wedding party arrive at the venue with beautiful wedding reception entrance songs. Before the arrival, the coordinator makes sure that all the guests are seated. First, the parents are introduced then it's followed by introducing the bride and groom as husband and wife for the first time. It's an important step in the wedding reception schedule since it will set the following events.

First Dance: All eyes are on you after you make your grand entrance, so it's the ideal time to jump right into your first dance as a married couple. Since it's just the two of you on the dance floor for the duration of a dance song, your first dance as a married couple can be nerve-wracking. Also, during this portion of the event, some couples invite their parents to the floor to have the mother and son dance and father-daughter dance.

Dinner Reception: At this point of the reception schedule, guests are most likely hungry. Dinner may be fine dining, an intimate family-style dinner, or a catered buffet; the choice is yours. You can choose slow and relaxing music for the wedding reception dinner to play in the background.

Toasts: It's a perfect time for wedding reception toasts while your guests are still in their seats finishing their meal. Usually, Best Man and Maid of Honor toast comes first, followed by the couple, their parents, and everyone else you've invited to toast.

Dancing: Ask your wedding party to join you on the dance floor as soon as the first reception song begins. The guests will not begin to dance until you do. The couple, bridesmaids, and groomsmen are in charge of starting the wedding party.

Bouquet and Garter Toss: Once everyone has had fun on the dance floor, you can continue with the bouquet and garter toss in your order of wedding reception if you choose to do them. They are not mandatory, so decide what is right or create your own rituals.

Cake Cutting: The cake-cutting ceremony lets your guests know that the wedding reception is almost over. While your guests eat their cake, request your DJ to play slow reception songs and start thanking your guests for coming.

Grand Exit: Now it's time to make an exit as grand as your entrance. Your guests can light sparklers, toss ross petals or blow bubbles while you leave to your car to celebrate you and your partner.
How Much Does a Typical Wedding Reception Cost?
In Canada, the typical wedding reception costs around $20,000, which is quite high. If you can save money in some areas, you might be able to keep your wedding under $15,000. These areas are lowering your guest number, choosing a less popular season, and going easy on the alcohol.

You can also choose a venue that is already beautiful and does not need too much decoration. Having a mid-week wedding instead of an ever-popular Sunday celebration can save you lots of money as well.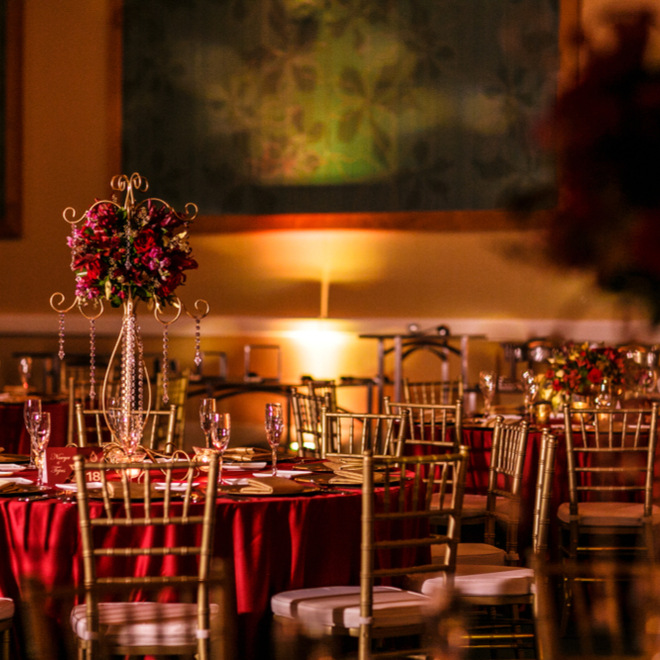 These tips will help you pick a budget-friendly wedding venue: How To Find Cheap and Unique Wedding Venues
Creative Wedding Reception Ideas
Before you start searching for a reception venue, you should have a wedding vision in mind regarding how you want your celebration to look. It's important since it will affect many elements, from your reception decor and dress to invitations and reception music. Let's take a look at the most popular wedding reception styles to find the right one for you!
Indian Wedding Reception
The newlyweds' first celebration as a married couple is the Indian wedding reception. Although the wedding ceremony is the most important and memorable of wedding-related affairs, the reception party is the one that everyone looks forward to!
It usually takes place on the 3rd day in a large venue like wedding reception halls adorned with beautiful wedding reception decorations. Guests wear bright and colourful Indian reception outfits, and wedding reception dresses for the bride are mainly sarees and lehengas.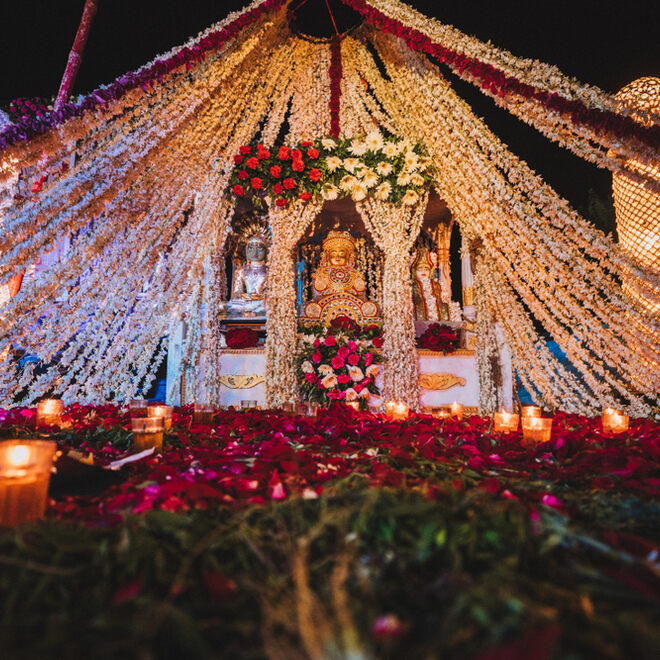 Find out more about Indian wedding receptions in this article: A Look at 41 Unique Wedding Traditions Around the World
Cocktail Wedding Reception
A cocktail party reception is a type of reception in which guests are served a selection of hors d'oeuvres rather than a formal dinner. Compared to formal seated events in traditional settings, this style can be added into nearly every wedding reception venue, from art galleries to restaurants, and it's also more affordable.
Don't forget to state in your wedding reception invitations that the dress code is "cocktail attire". If you want to have a dance party, you can create a reception playlist by yourself or hire a DJ. You can pass some of the activities in the traditional reception timeline and involve more wedding reception games for the bride and groom.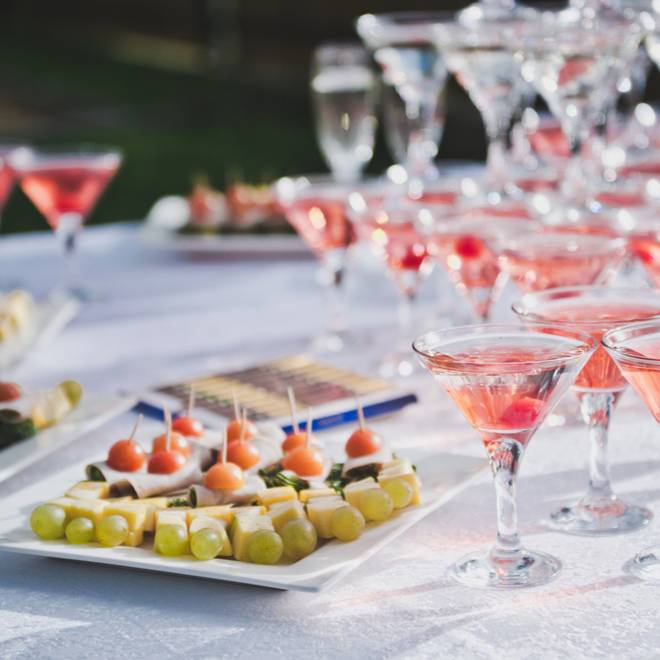 Outdoor/Backyard Wedding Reception
The backyard and outdoor wedding receptions are becoming increasingly common due to their simplicity, coziness, and relaxation and the fact that they do not require a large budget. There are endless backyard and outdoor wedding reception ideas you can incorporate into your setting, and you can get really creative!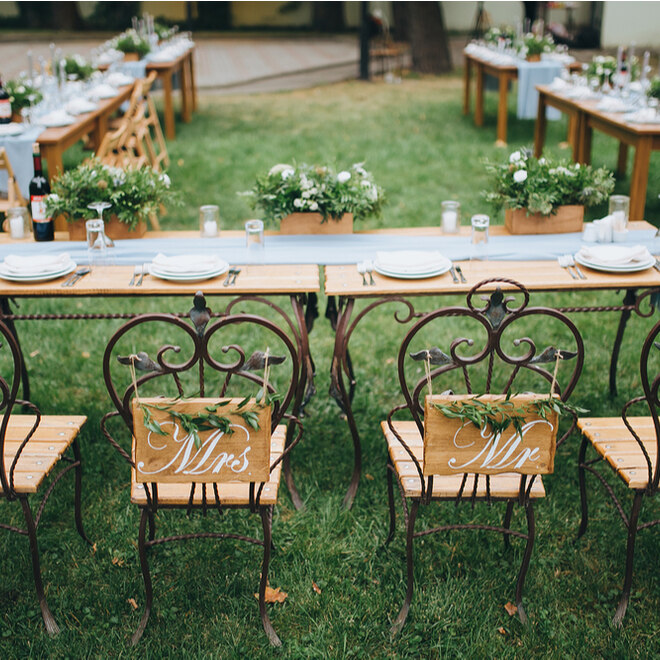 Considering having a backyard wedding? Check this out first: Backyard Weddings: Tips for a Beautiful Event
Wedding Reception Decorations
Choosing the right wedding decorations can seem like an endless mission. Your reception venue will be enhanced, and your wedding theme will be carried out with the right decor. From reception songs to the wedding backdrops, your celebration elements will be affected by your selections.
Before buying or renting decorations for a wedding reception, consult your reception venue to see if any restrictions or guidelines are in place. Many couples prefer wedding decorations for the reception, such as lights, wedding signs, and centrepieces, to set the ideal personal styles while also saving money.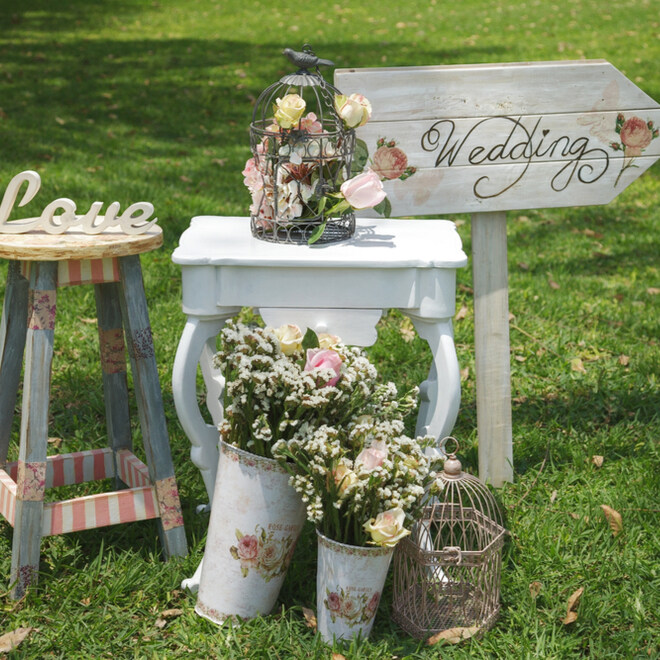 Can't decide what to do with your wedding decorations? Let's start with the theme: These 23 Wedding Themes Will Suit Any Style
Want to have a trendy celebration? Here are the latest wedding decoration trends: 8 Wedding Decoration Trends That Will Be Huge in 2022!
10 Unique Wedding Reception Decor Ideas You Can't-Miss
Arrange Your Own Wedding Reception Flowers

Include Fun Lawn Games

Create a Floral Wedding Reception Backdrop

Use Coloured Glassware on Wedding Reception Tables

Decorate Chairs for Wedding Reception with Flowers and Ribbons

Use Drapes for Wedding Reception Venue

Print Your Own Wedding Reception Menu Cards

Give Your Guests DIY Wedding Favours

Hang String Lights

Rent a Photo Booth for Some Fun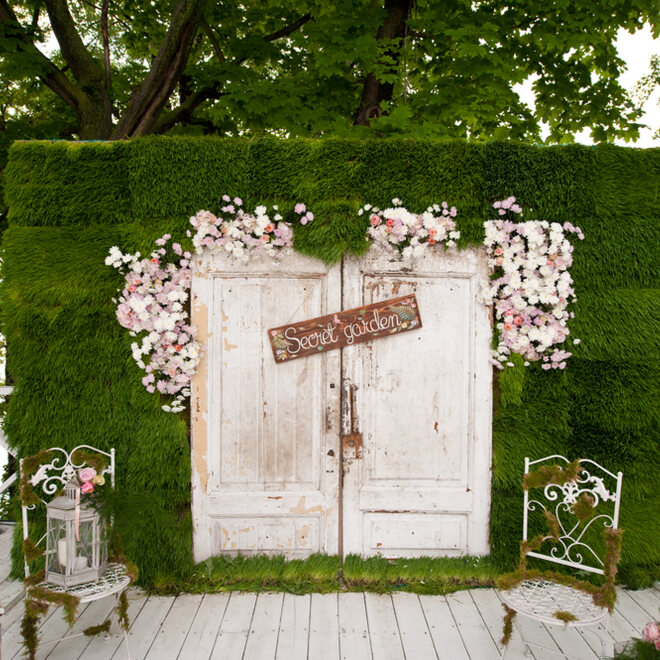 Wedding Reception Music and Song Suggestions
From cocktail receptions to wedding cake cutting and enjoying your first dance, your wedding reception will be jam-packed with activities. Your wedding reception songs should be carefully selected, given the importance of each moment.
You can book a band, or you can also create your own reception playlist. We've made a list of the most popular and top wedding reception songs for each moment of your reception timeline, starting with songs to walk into wedding reception:
Cocktail-Hour Songs:
"Stubborn Love," by The Lumineers
"I Love Paris," by Frank Sinatra
"You and I," by Ingrid Michaelson
"L-O-V-E," by Joss Stone
"Lucky," by Jason Mraz feat. Colbie Caillat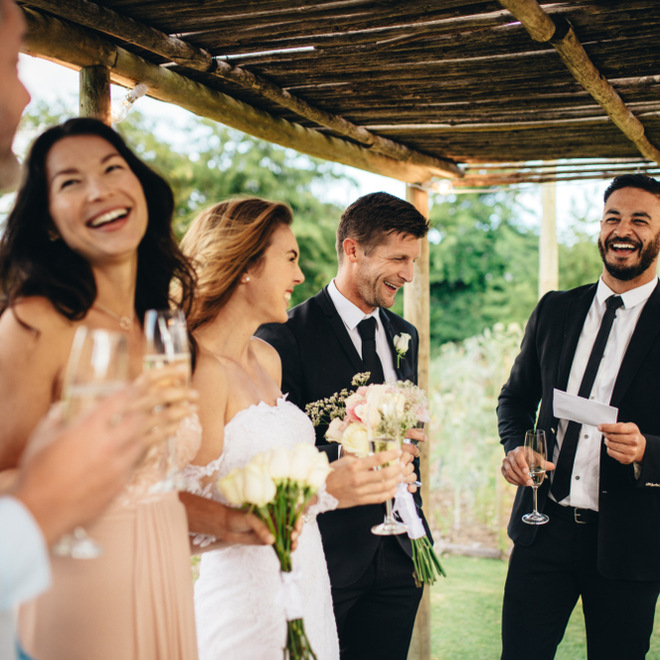 Wedding Reception Entrance Songs:
"I Wanna Dance With Somebody (Who Loves Me)" by Whitney Houston
"Marry You" by Bruno Mars
"Love Me Like You Do," by Ellie Goulding
"Crazy in Love" by Beyoncé ft. Jay-Z"
"On Top of The World," by Imagine Dragons
Wedding Reception Dance Songs:
"Dancing Queen," by ABBA
"Don't Stop Me Now," by Queen
"Gasolina," Daddy Yankee
"You Can't Touch This," MC Hammer
"Raise Your Glass," Pink
Wedding Cake Cutting Songs:
"I Can't Help Myself (Sugar Pie, Honey Bunch)" by Four Tops
"Sweet Creature" by Harry Styles
"Sugar" by Maroon 5
"Sweet Child O' Mine" by Guns N' Roses
"Sweetest Thing" by U2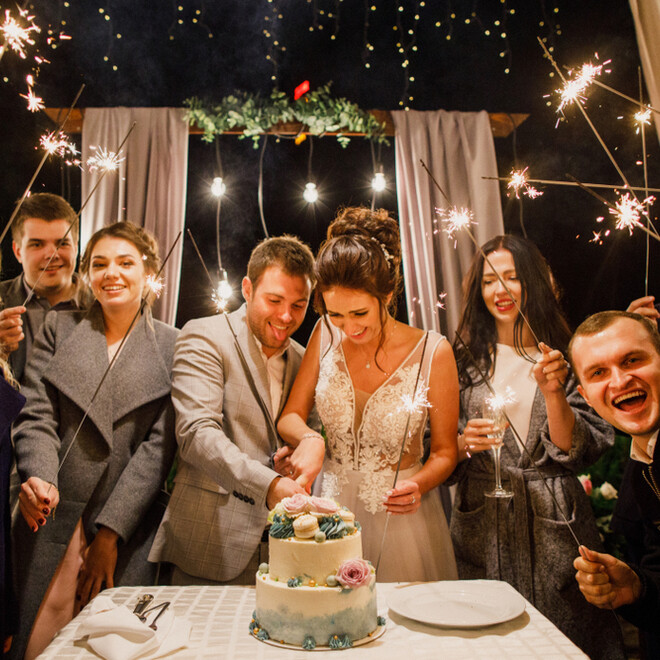 First Dance Wedding Songs:
"Perfect" by Ed Sheeran
"All of Me," by John Legend
"I Don't Want to Miss a Thing," by Aerosmith
"500 Miles," by Sleeping at Last
"At Last" by Etta James
Country Wedding Songs for Rustic Receptions:
"Butterflies" by Kacey Musgraves
"Gold Love," by Maren Morris
"Fearless," by Taylor Swift
"Making Memories of Us" by Keith Urban
"From the Ground Up" by Dan + Shay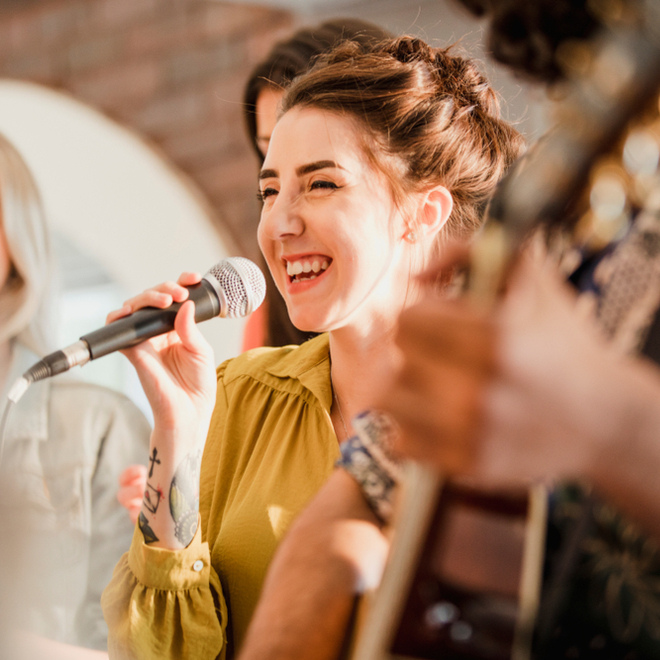 Fun Wedding Reception Games and Activities
Aside from delicious appetizers, flowing cocktails, and a fantastic wedding playlist that include killer reception songs, some couples want to get the party underway with wedding reception games, ice-breakers, and other fun wedding reception entertainment events.
They could include anything from classic lawn games to bride and groom trivia, a photo scavenger hunt, a well-stocked photo booth, and plenty of activities to keep the kids entertained too. Here are some ideas for wedding games to play at the reception!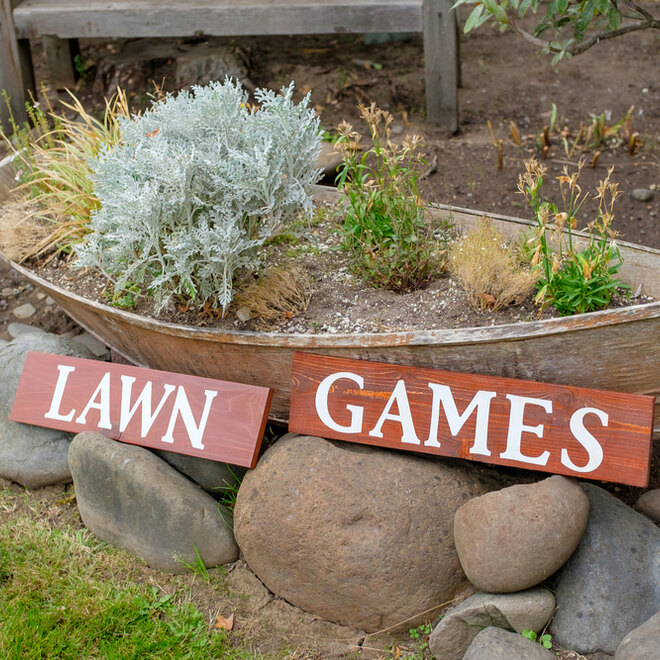 Fun Wedding Reception Games for Bride and Groom
Who Takes the Cake?: Guests contribute to your honeymoon fund by placing money in the bride's or groom's jars, and the owner of the jar with the most money receives wedding cake in the face. That's not only a fun game to play, but it's also a perfect way to raise some money for your honeymoon!
The Shoe Game: The couple takes a seat back-to-back and takes off their shoes. They each exchange a shoe, leaving them with one of each. The couple would then be asked several questions about their relationship by a designated person. Following each question, the bride and groom raise the partner's shoe, who, in their opinion, provides the best response to the question.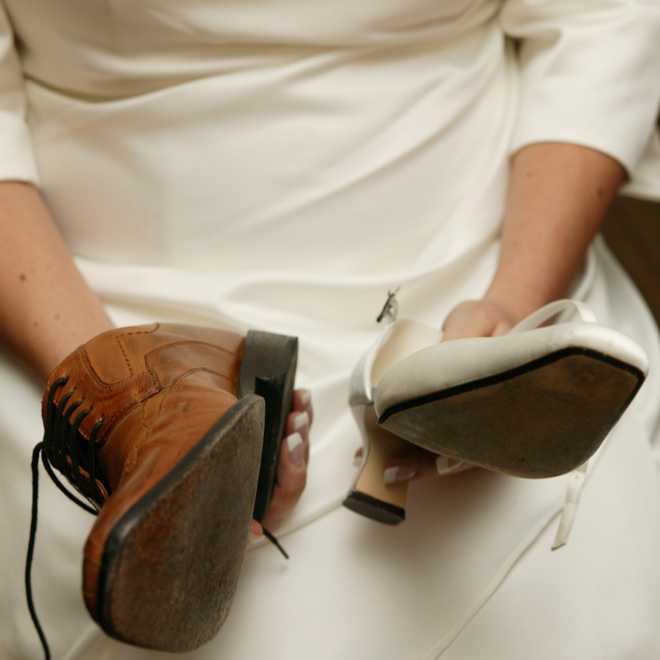 Fun Wedding Reception Games for Guests
Ring Toss: Divide into two teams and toss each ring onto the hooks of your opponent. To make it more fun, use wine bottles!
Lego Creations: Place Legos at each table and ask your guests to create unique centrepieces.
Wheel of Fun: Consider making a personalized wheel of events that can be spun during the reception to facilitate guest engagement. "Give a Speech," "Show Us Your Best Dance Moves," and the traditional "Bride & Groom Kiss" are just a few of the specifics included in this innovative choice.
Children's Interactive Placemat: A DIY interactive placemat will keep kids of all ages busy. Include puzzles, sculpture, and word games for hours of entertainment!
Freeze Dance: With this throwback, you can get reluctant dancers on the stage. The DJ suddenly stops the music, and the bride and groom serve as judges.
Jenga: The traditional tabletop edition adds a touch of whimsy and fun. You can also choose a life-size collection of blocks that your guest can build and destroy.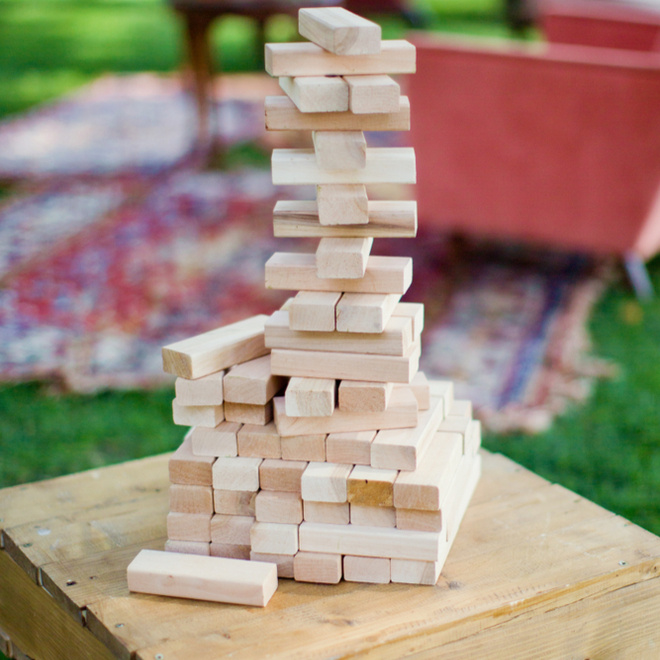 How to Select a Wedding Reception Dress
A wedding reception dress will completely change your appearance. For many brides, it's a chance to change into something that's not only fun and fashionable but also comfortable. There are reception dresses to fit any bridal type, whether you're having a laid-back backyard party or a lavish black-tie event.
A plain and elegant slip dress is perfect for the minimalist bride who values clean lines and sleek silhouettes. A quick change into a short dress made of light and airy fabrics like linen or cotton would be appreciated by a summer bride who's having an alfresco celebration in a beautiful garden or a beach reception at sandy coastlines.
Grooms can prefer ever-popular stylish suits in dark colours for black-tie receptions and air-breathing cotton suits for wedding receptions in warmer weather. Finally, wedding reception dresses for guests change according to the season and the reception style stated in the wedding invitations.
Check out what's hot for wedding dresses in 2022: These Wedding Dresses Will Be The Biggest Bridal Trends in 2022!
Wedding Reception Invitations Inspiration
Traditionally, guests participating in your ceremony also attend your reception. However, you can have your ceremony and reception on different days. You can have a small ceremony followed by a big wedding reception. In that case, you'll need wedding reception invitations as well.
First, create two separate guest lists, one for the ceremony and the other for reception. Second, when you're preparing invitations, you should indicate which one they're attending in your wedding invitation wording so that they can dress accordingly!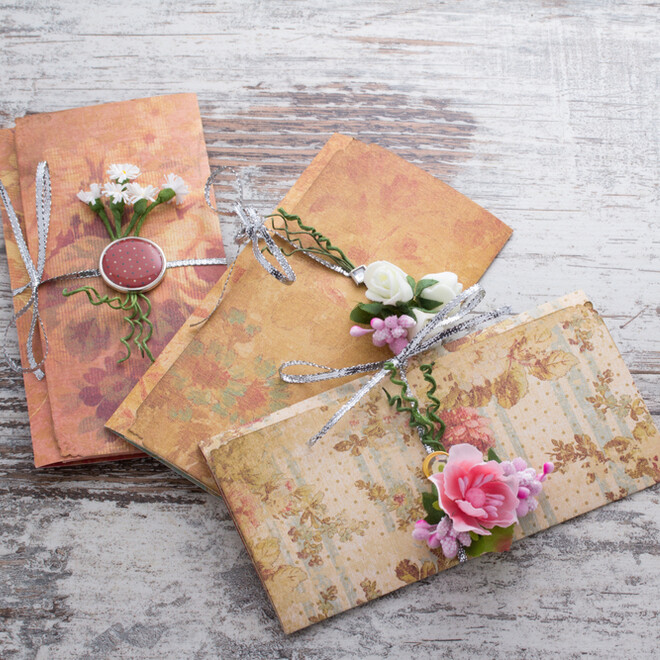 Selecting the Perfect Wedding Reception Venue
Wedding receptions can take place nearly everywhere, from wedding halls and tropical beaches to elegant restaurants and European chateaux. You just need to decide on several things to find the right one for you.
The first factor is whether you want an extravagant occasion that everyone will be talking about or an intimate celebration where you play wedding reception games and dance with your loved ones?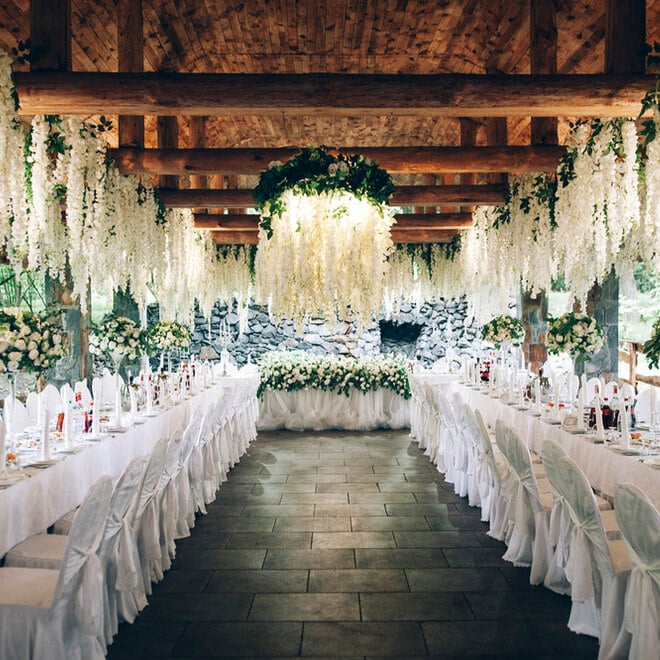 In the first case, you'll need a large venue where you can host lots of people. If you choose the second option, you can prefer small wedding reception venues to incorporate relatively cheap reception ideas.
The second option, and probably the most important factor, is the season you plan to have your event. If you're thinking about a winter celebration, going with indoor venues might be wiser since you can control the weather easily.
Most couples choose to have an outdoor wedding reception for warmer months where they can dance the night away under the stars. However, don't forget to ask your reception venue whether they have a rain back up plan in case of weather surprises. To minimize the risk, you can also have a tent wedding.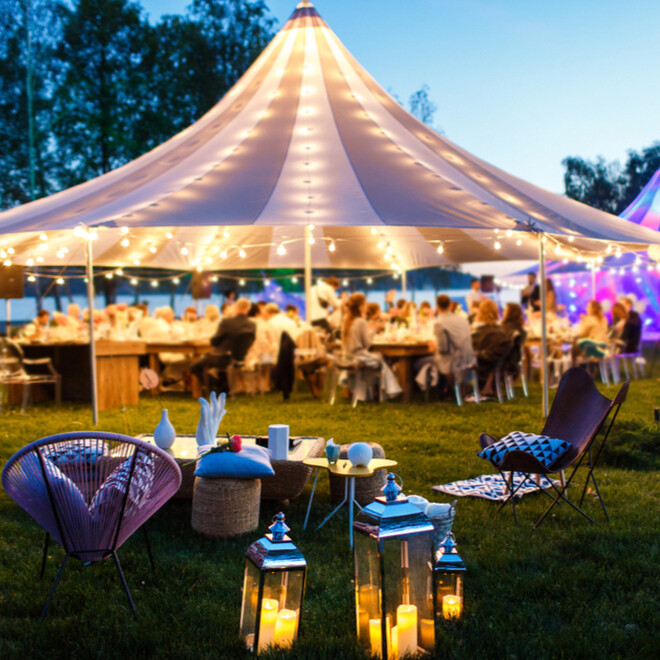 Wedding Reception Montreal
Quebec's largest city with cobblestone streets, narrow alleys, and festivals throughout the year, Montreal has a wide array of wedding reception venues. Montreal has everything you need, from fairytale castles and elegant banquet halls to rustic country barns and historic mansions. Be it a small reception venue or a grand one, you can find it here!
Wedding Reception Venues Edmonton
Alberta's capital city, with its stunning national parks, delicious, inventive dishes, and fantastic festivals, Edmonton offers wedding reception venues in every style, capacity, and budget. From affordable reception venues such as small restaurants to five-star hotels, Edmonton has it all!
Wedding Reception Toronto
With its stunning beaches, vibrant city life, and boundless art, Toronto has everything you need for a dreamy wedding reception. Stunning beachside venues, romantic gardens, luxury hotels, elegant banquet halls, and many more are waiting for you to celebrate your special day in style with your loved ones!
Wedding Reception Venues Calgary
Calgary has everything you could ever wish for in a wedding reception location with its great scenery, rich history, and vibrant art scene. From outdoor venues where you can have a cocktail reception to wedding halls for a beautiful dinner reception.
Wedding Reception Winnipeg
The heart of central Canada, Winnipeg, with its outstanding arts and cultural scene, has fantastic wedding reception venues for every couple, every budget range, and every style. Be it a lush green golf club for a cocktail reception or a cute cafe and restaurant for a brunch reception, Winnipeg has it all!
If you have any more questions about wedding receptions that come to mind, you can leave a comment; we love to hear from you! You can get professional help to assist you with bringing your ideas to life by contacting wedding venues and vendors listed on WeddingHero!