Do you want to have the backyard wedding of your dreams? You'll find everything you need to plan an unforgettable and unique backyard wedding here, from decor ideas to wedding venues!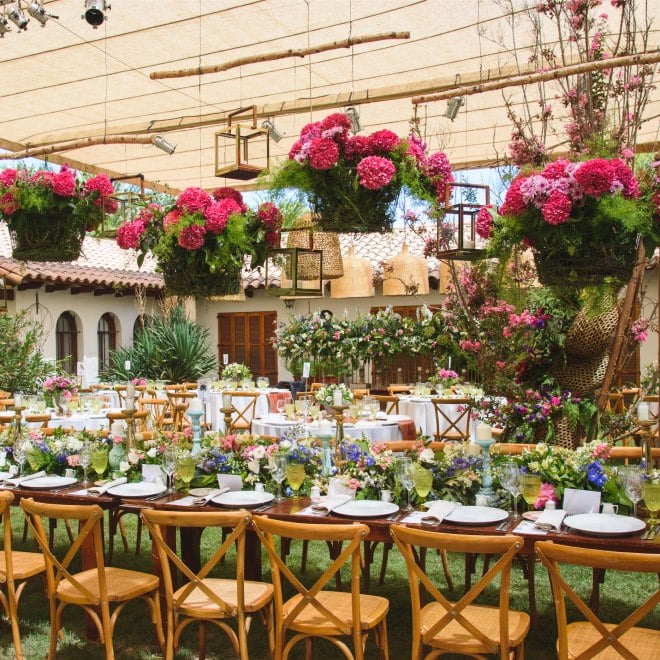 1- Come up with a guest list
When planning a backyard wedding, be sure to look at the yard and figure out how many people it can accommodate. Will there be a seated meal, buffet, or cocktail service? With the format, you will know how to arrange the tables, chairs, and dance floor in the yard, which will help you figure out your final headcount.
Plan which parts of the wedding will be held indoors if you plan to use part of the house and whether you can comfortably accommodate everyone. Be careful not to cram everyone in. Remember, this is your day, not a concert. If you fear there will not be enough room, cut down on the guest list.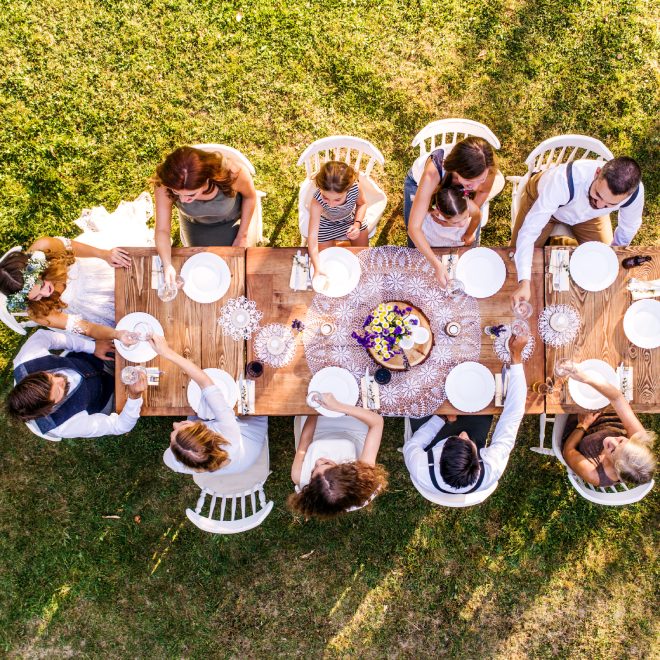 2- Get expert advice from a wedding planner
Consider speaking with a wedding consultant, even if you do not intend on hiring a full wedding planner. It will also help you with executing the event.
Having a pro guide you through the process helps you see things from a fresh perspective and ensures that the process works for you, especially if you are doing parts of the planning yourself...
Prepare a backyard wedding checklist and write down everything you envision for a complete celebration, from food to the lights. It will help you a lot in the process of planning a backyard wedding.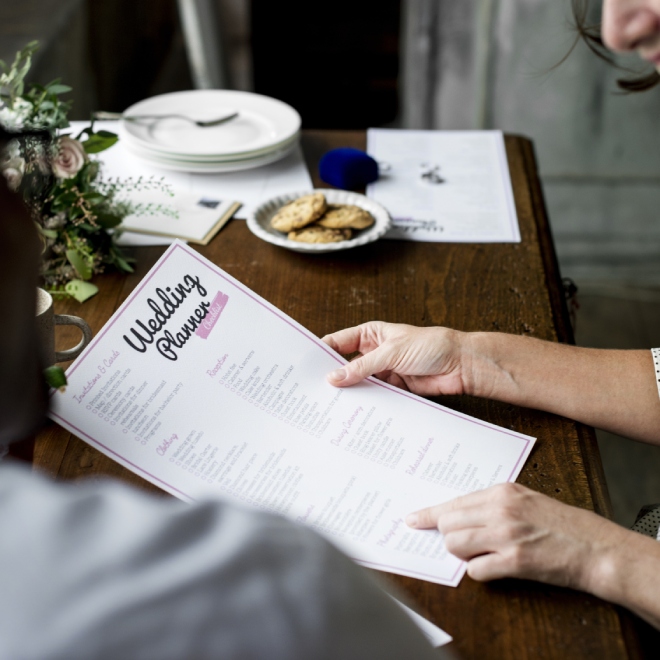 3- Look closely at the space you are working with
When planning a backyard wedding, the first thing you need to consider is the size of the outdoor area and if you can fit all of your guests there. Determine whether you can host all events in your backyard, including cocktail hour, backyard wedding ceremony, and reception. If you're planning a small backyard wedding, you can easily handle all the aspects.
It may be necessary to have flooring depending on the theme of the party. It usually comes with backyard tent wedding rentals. It's important to provide a space for your vendors to set up, like a food-prep area, in addition to the main event space. It's also wise to consider rentals.
It may be necessary to rent a generator to handle the additional electricity load you will need for your special day (lights, sound system, etc.). How comfortable are your guests? Do you have enough amenities? Check if you need portable toilets or if your guest room is close by; you can use that too.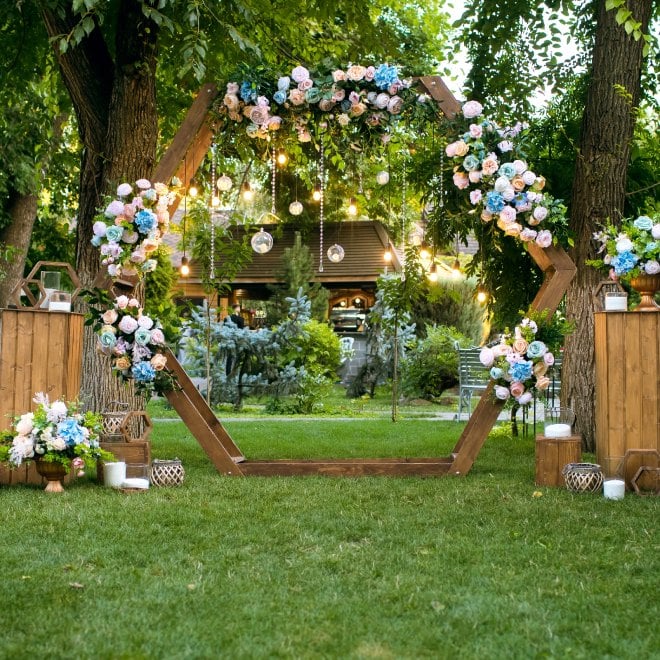 How about a small celebration with your loved ones? We've got all the info: Micro Wedding - What Is It and How to Plan Yours
4- Obtain permits
If you plan to host a backyard wedding reception at your home, you should check with your city officials to find out whether permits are required. There may be health department regulations, noise restrictions, fire codes, and zoning restrictions that you should avoid violating.
A pretty common question we get is, "do you need a liquor license for a backyard wedding?". If you're holding your event at your own home, you don't need a license since it's your private residence. However, if you plan to rent a backyard for a wedding, you may need one. Talk to the coordinators of backyard wedding venues about it.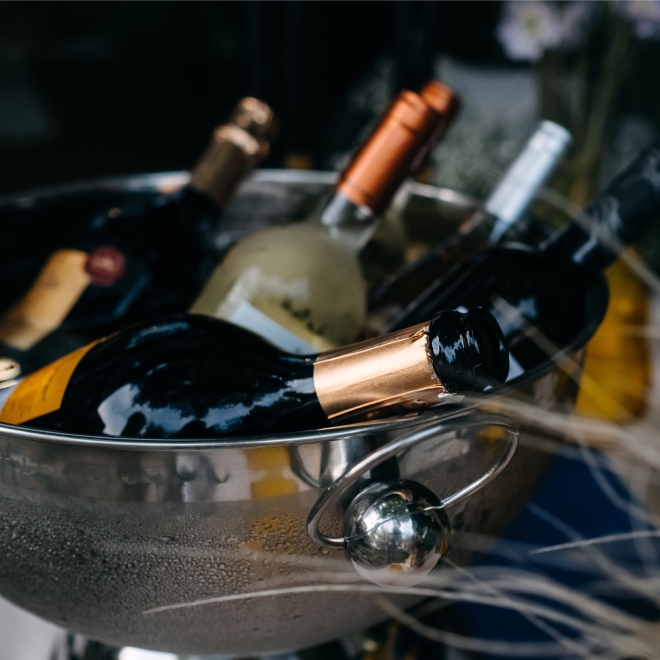 5- Look for vendors who specialize in outdoor/backyard events
Be sure to make a list of other rental items that you may need for a backyard wedding in addition to the essentials. The first step in planning a special event is finding the right caterer.
An experienced backyard wedding caterer will give you wedding menu ideas that get the most out of the space you have and is budget-friendly. They have to look at what you have and how they will prep, circulate, serve and clean up. You can consider a bbq and appetizers perfect for a low-budget small backyard wedding.
Be sure to consult your local electrician if you intend to install a plugin. Consider all the wedding vendors you will need for the plugin. For example, getting a small band that may require speakers or finding outdoor lighting that may use more power than usual.
If you wish to dance the night away to the fullest, you can also opt for a dance floor for your backyard wedding. During the night, it may be cold, so renting heaters is also a good idea.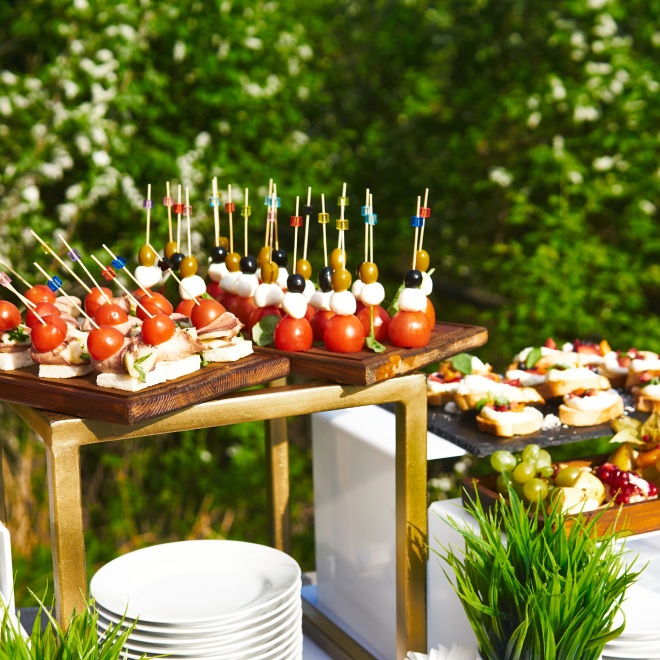 6- Shop for a beautiful backyard wedding dress and groom attire
The atmosphere of a backyard wedding is effortless and relaxed. Putting these qualities into your backyard wedding outfit creates an undeniably chic look. Regardless of your budget or bridal style, backyard wedding dresses are incredibly sophisticated. Effortless slip dresses are ideal for brides who adore sleek and minimalist silhouettes.
Bridal suits in bold floral patterns and edgy silhouettes will appeal to style-conscious brides. Layback brides will appreciate casual outfits and silhouettes crafted from easy fabrics like linen and cotton.
Now that you have your dress, it's time to talk groom attire for a backyard wedding. We like tan or blue tuxes for backyard weddings. Tuxedos of this style provide a simple, less formal element to the ensemble.
However, that's not all. Guests might be wondering what to wear to a backyard wedding. When sending out your wedding invitations, be sure to specify the dress code. Generally, backyard wedding guest dresses are made from lightweight fabrics, various prints and colours, and semi-formal accessories that complement the outdoors.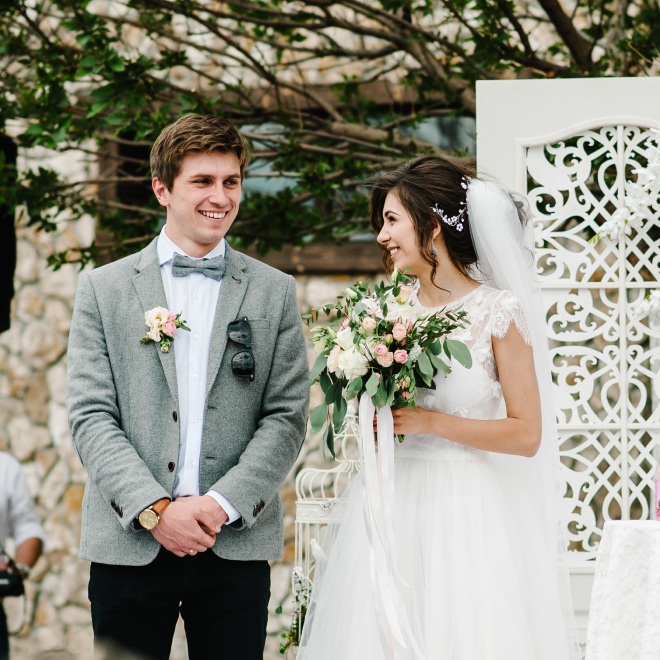 7- DIY where and when you can
Outdoor weddings add visual interest and natural elements with ease and require elegant low-budget backyard wedding decorations to embellish the space.
Backyard wedding lights play an essential role in elevating a space and setting the mood for a party. Adding lights to your outdoor space is inexpensive and easy. There are string lights, tiki torches, lanterns, tealight candles, fire pits and more.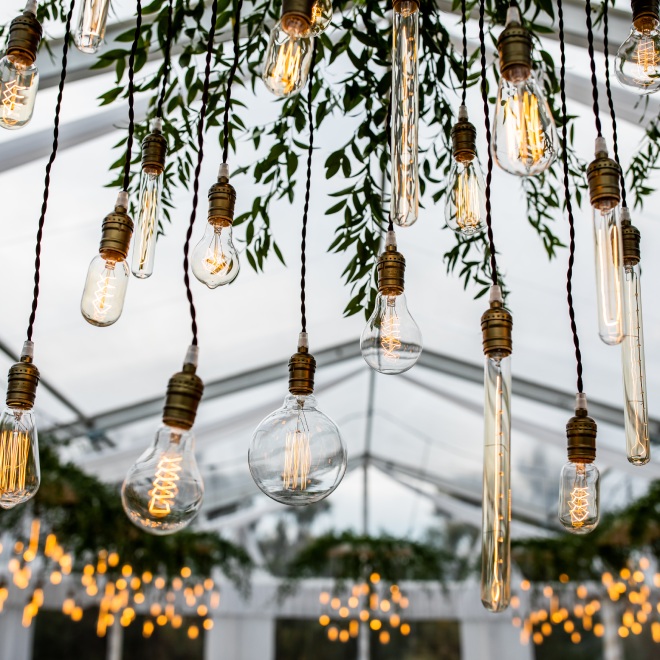 Welcome signs are essential backyard wedding decor elements since they create a welcoming atmosphere and better direct guests where to go. Also, signage can be super inexpensive. Planks of wood, chalkboards, and arrows are all great options to use as low-budget DIY backyard wedding decorations.
These are not the only backyard wedding ideas. A stylish and elegant piece of tabletop art can be a super inexpensive way to enhance your event. Consider using greenery garlands as table runners for a gorgeous rustic backyard wedding. And for a free-spirited boho wedding, use pampas grass and baby's breath as centrepieces.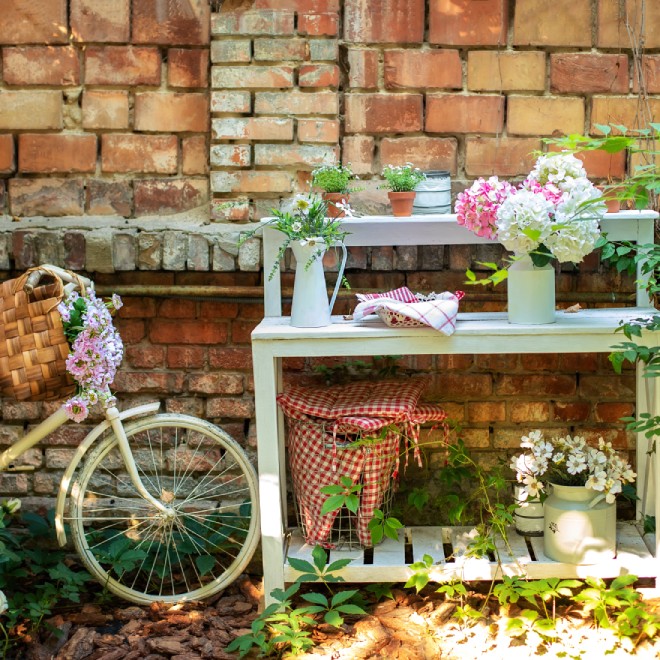 Looking for more information on rustic weddings? Check out this article: Your Guide to Hosting a Beautiful Rustic Wedding
Thinking about having a boho wedding? Here's what to do: Boho Wedding Guide: Everything You Need To Know
Still looking for the perfect theme? We've got you covered: These 23 Wedding Themes Will Suit Any Style
8- Have a backup plan
Weather is a major concern when having a backyard wedding. Always have a backup plan in case it rains or becomes extremely hot or cold on your big day.
A simple Plan B could be to have a tent ready, call for heaters, or move the celebration indoors. You should always have a plan B, no matter what you choose to do.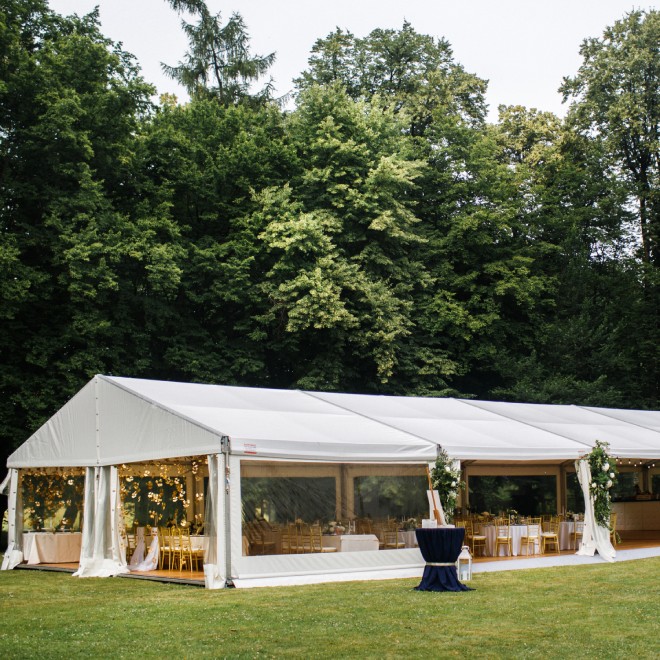 Read this article first if you plan to have a tent on hand as a plan B: The Ultimate Guide to Planning a Tent Wedding
9- Day-of-wedding timeline
A timeline for a backyard wedding should take into account a few things. First and foremost, you should plan your timeline according to the light. You should avoid having your ceremony when the light is harshest to ensure you get beautiful pictures.
Furthermore, since guests won't travel between events, there should be no downtime. Make sure that all your photos are taken before the event so you can go straight to cocktail hour. However, if you'd rather wait, then set out yard games or plan an activity to keep guests occupied until you're done.
Finally, be considerate of your neighbours. If you don't want to keep your neighbours awake until the early morning hours, you might have to shorten your party–or have everyone head out to an after-party.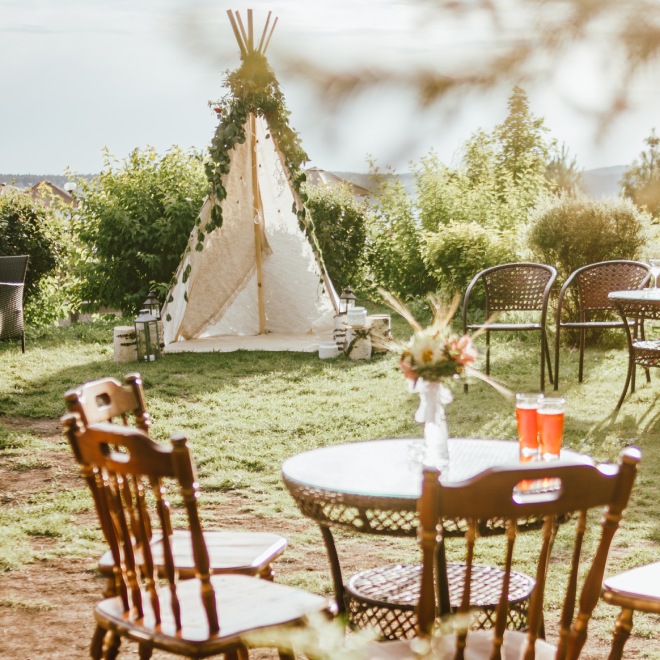 You can find more about creating a reception timeline in this article: A Complete Guide to Planning a Personalized Wedding Reception
10- Get professional backyard wedding photos
It is always a smart idea to hire a professional wedding photographer for your backyard wedding photos, even if you are DIY-ing. Photographs taken by a professional can turn any event into a million-dollar event and create amazing memories.
It is important not to undervalue the importance of a skilled photographer in preserving your wedding memories. You should definitely invest in one!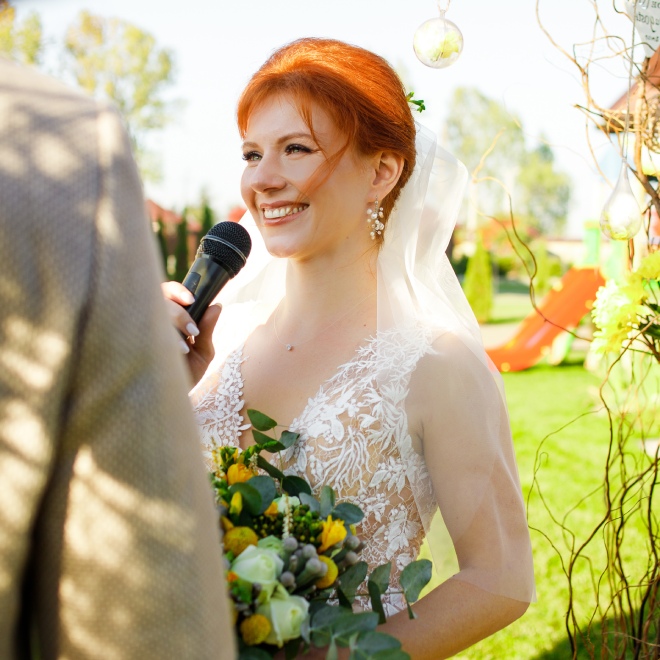 After reading all of the information and tips on planning a backyard wedding, you can get started planning your own. Check out the best wedding venues in your city, if you're thinking of renting a backyard. For more expert tips on backyard weddings, click here! Wishing you a wedding as beautiful as your love!