The Lower Mainland has lots of options for weddings from mountain-top lakes to oceanside views. Below are our 23 fave wedding venues, listed in no particular order!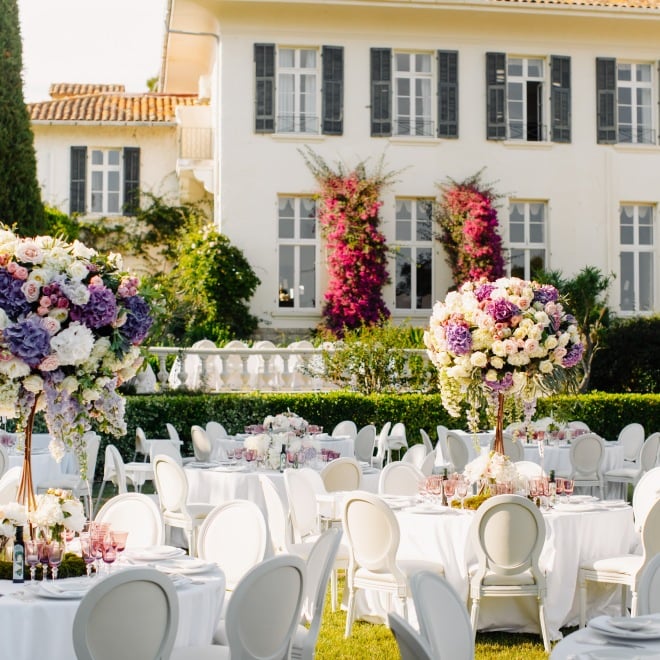 Outdoor Wedding Venues in the Lower Mainland
You've come to the right place if you envision a wedding day with breathtaking sunsets and perfect scenery! Our team of event experts has partnered with B.C.'s premier event spaces to offer you a curated list of the most beautiful outdoor wedding venues in the Lower Mainland.
Located in breathtaking settings, these destinations will leave you breathless. From the gorgeous views to the locally-sourced food to the bespoke decor, these are locations you can't miss!
1- Pacific Yacht Charters
For couples wanting more than just a banquet hall for their wedding, Pacific Yacht Charters in Vancouver is the perfect venue. An outdoor wedding on a yacht with the best views of nature is a dream wedding- and they make it happen.
Pacific Yacht Charters makes every wedding an unforgettable experience with a talented executive chef, dedicated wait staff, and professional crew. There is room for 120 guests seated and 240 guests in a cocktail setting!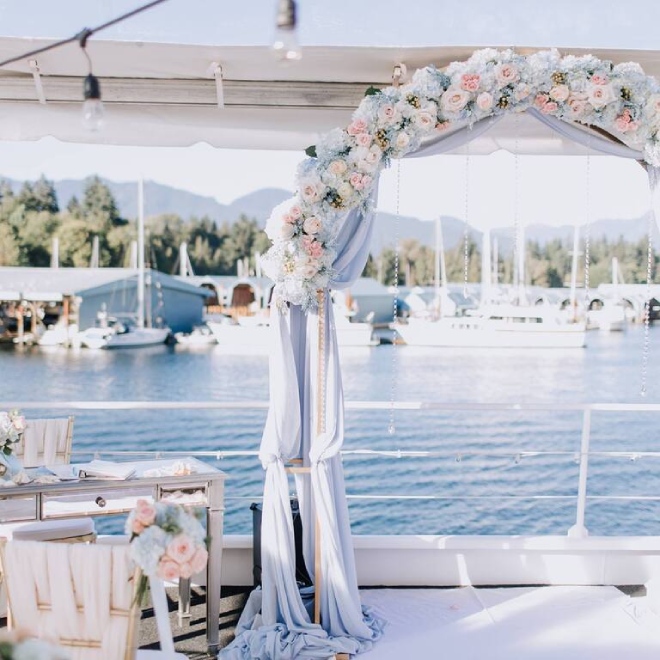 2- Nicklaus North Golf Course
The Nicklaus North Golf Course is located in Whistler. With its serene surroundings, the golf course is the perfect venue for couples who want a wedding in a luxurious and quiet setting.
No matter how big or small your wedding is, Nicklaus North Golf Course wedding venue will provide you with all the services and amenities you need. Capacity ranges from 45 to 175 people. Also available is in-house catering that allows you to customize the menu to fit your budget and preferences.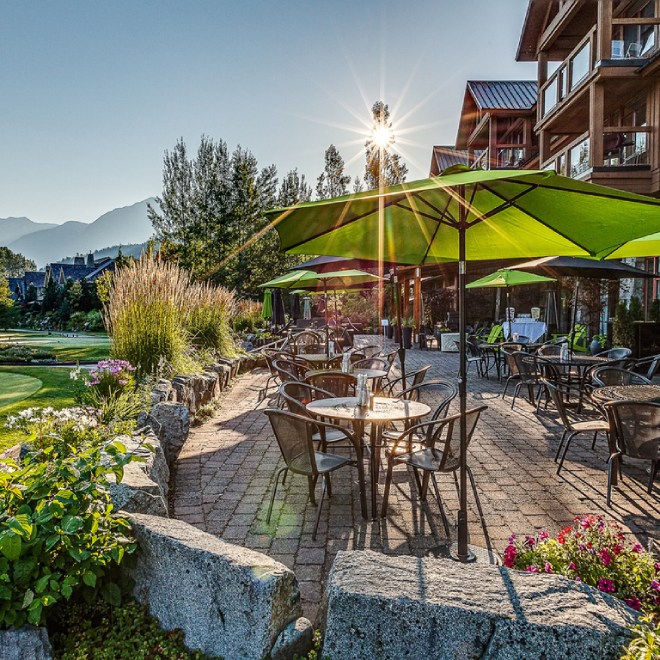 3- Chilliwack Golf Club
In the heart of Chilliwack, this stunning venue offers stunning natural scenery and is popular for hosting grand outdoor ceremonies and wedding receptions. This facility is known for its babbling creek, manicured lawns, and magnificent Douglas fir trees that line the course.
Chilliwack Golf Club provides venues for all kinds of events, from rehearsal dinners to bridal showers to engagement parties and receptions. The club can accommodate up to 300 people. Also, there is ample parking on-site, making the club easily accessible for your guests.
4- Vinoscenti Vineyards
Vinoscenti Vineyards has a serene location in Surrey surrounded by a river and greenery; celebrating a wedding here would be a memorable experience. This is a great place to host small gatherings.
Vinoscenti Vineyards can hold 50 people and has a large patio that can accommodate outdoor events. You can have a wine tasting with your wedding party against a breathtaking backdrop for an unforgettable experience. Get your free quote now!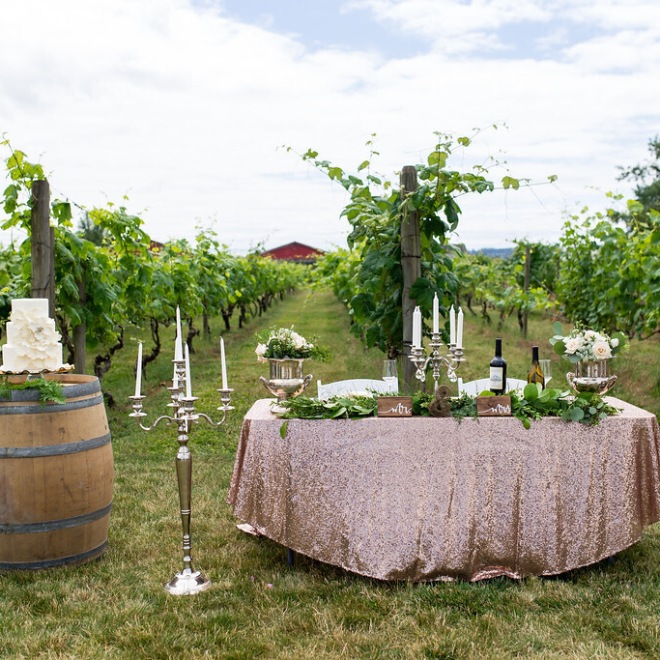 5- Carriage House Farm
Langley's Carriage House Farm is a 20-hectare farm that allows you to make your vows by the Salmon River. You will always remember your loved ones with many photoshoots and a well-preserved farmhouse. It is a great setting for a rustic wedding party.
You will find that Carriage House Farm can accommodate 150 guests and boasts many desirable features for your enjoyment. They offer outside vendors and customizable packages so you can have the wedding of your dreams!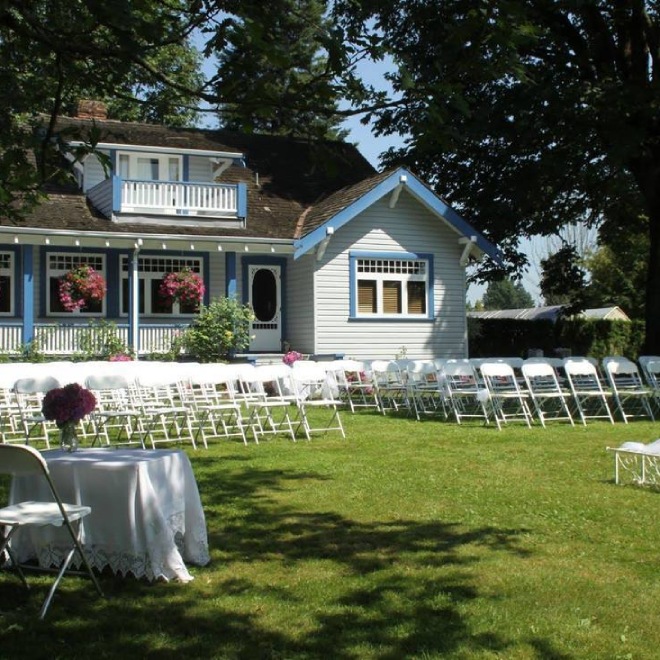 Cheap Wedding Venues in the Lower Mainland
Lower Mainland has a dazzling amalgamation of innovative restaurants, a booming art scene, friendly locals, and an abundance of evergreens covering the area. On top of it all, Lower Mainland wedding venues are not only unique and visually striking, but also surprisingly affordable.
The Lower Mainland has a range of venues to suit your needs, whether you're interested in tying the knot in a tropical garden, celebrating in a traditional ballroom, or hosting an outdoor wedding.
6- Campbell's Gold
A rustic wedding venue in Abbotsford, Campbell's Gold is a great option for couples who would like a country theme for their big day. In addition to ceremonies and receptions, this stunning venue also hosts bridal showers, engagement parties, and rehearsal dinners.
Campbell's Gold features two outdoor settings: one covered, the other uncovered. It is up to couples to decorate the space to represent their style and union on their wedding day. There is a capacity of 200 guests!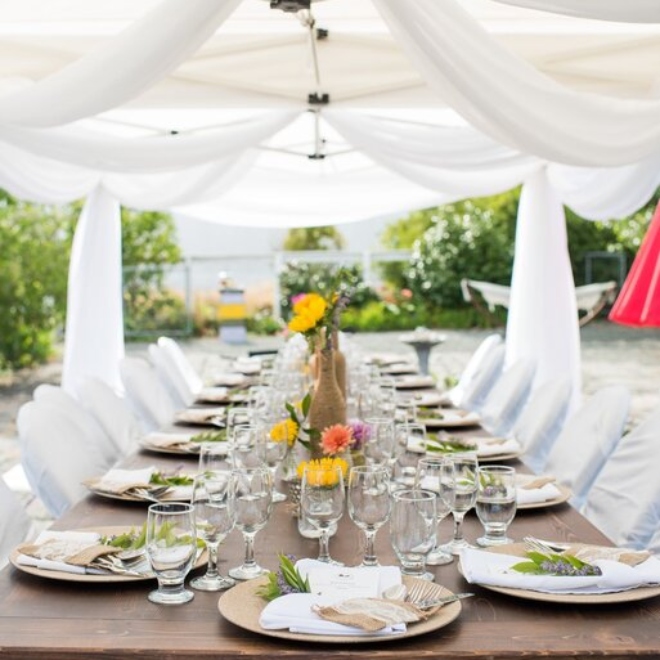 7- Riverway Clubhouse
Burnaby's Riverway Clubhouse offers a beautiful club hall and campus club that are ideal for weddings, bridal showers, rehearsal dinners, and other important events. The venue provides a view of the nearby golf course and water through its floor-to-ceiling windows and wooden beams.
The Riverway Clubhouse can accommodate 250 people. It features a rustic and modern design. The room is decorated with altars and arches, furniture, lighting, benches, tables, and more. The in-house catering is also excellent!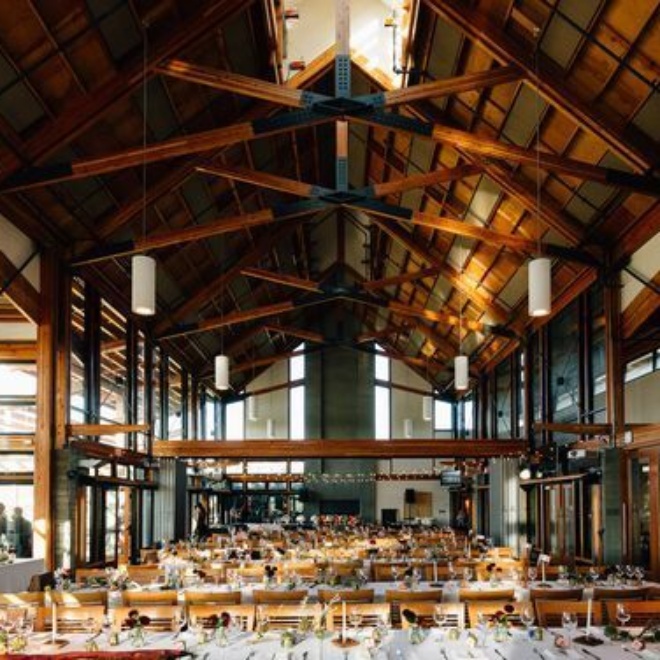 8- Howe Sound Inn Brewing Company Squamish
With its combination of a brewery and a wedding venue, Howe Sound Inn and Brewing Company Squamish is unique. The venue is located in Squamish, British Columbia. The brewery has several attractive spaces available for events such as weddings and small gatherings.
Howe Sound Inn and Brewing Company Squamish can accommodate up to 36 people. With its rustic décor, it provides a relaxed and comfortable atmosphere. Delicious, freshly-brewed beers are a given!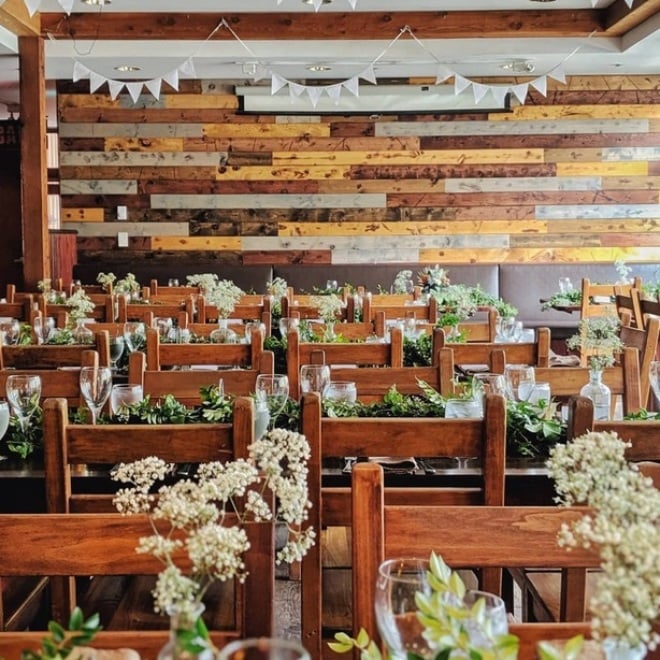 9- Bridges Restaurant
Bridges is an iconic café in the heart of Vancouver, located at Granville Island's western tip. You can't beat the view of the city skyline, the marine movement of False Creek and the mountains on the north shore!
At the Bridges Restaurant, you are able to choose from various facilities both indoors and outdoors to suit your needs and wishes. It can accommodate 200 guests. You'll also receive a rich collection of dishes at a reasonable price!
10- Whistler Sport Legacies
With breathtaking surroundings for grand and simple wedding receptions and other events in Whistler, Whistler Sport Legacies is a great choice for any special occasion. Whether you're looking for a simple romantic fairy tale setting or a more elite setting, you can design the venue based on your preferences.
Up to 640 people can be accommodated at Whistler Sport Legacies. You can dance all night at your desired sound level, as there are no sound limitations. In addition to providing tables and chairs, they also provide catering services!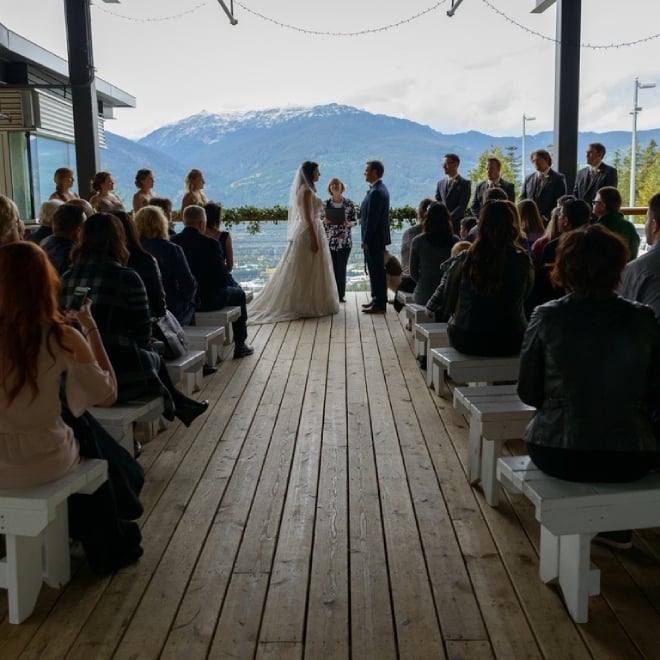 Small Wedding Venues in the Lower Mainland
You're free to keep things intimate if a lengthy guest list stresses you out. Take a look at our list of the best small wedding venues in the Lower Mainland, which are perfect for an intimate ceremony with just your nearest and dearest, a micro wedding, or even an after-party for an elopement.
There's something here to suit every type of couple, from industrial-chic lofts to modern park pavilions to chic hotel restaurants. With these spots, you won't have to deal with a lot of empty space. They have capacities of under 100 guests.
11- Hatzic Meadows
In the District of Mission in British Columbia, you can find Hatzic Meadows. This multipurpose garden-type venue can serve as a park, farm, barn, or wedding venue. It can hold up to 100 guests.
Hatzic Meadows is designed for couples who want a quaint & rustic setting to hold their wedding celebrations. The venue is suited for both ceremony and cocktail weddings and has a stunning backdrop for your big day!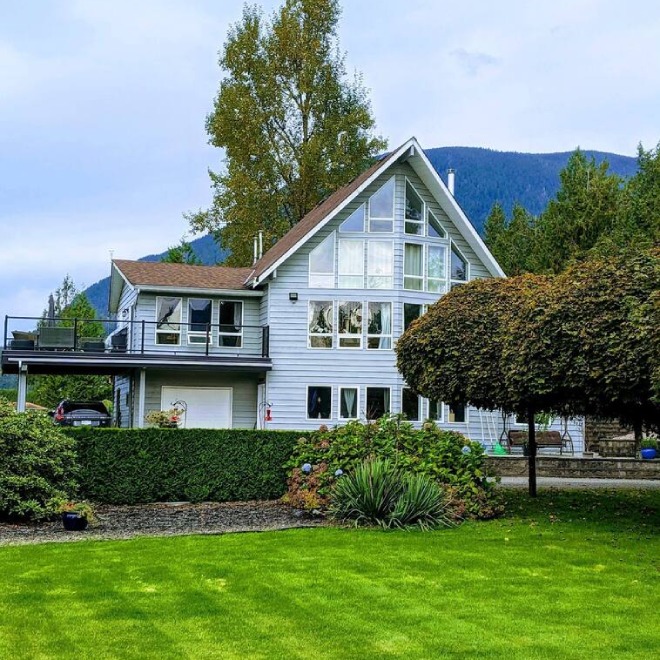 12- Executive Suites Hotel and Resort
An intimate wedding at the Executive Suites Hotel and Resort is ideal for couples who want to spend their special day with just their closest friends and family. Situated in the Squamish Mountains, it is one of the most serene and relaxing places in the area.
With upscale amenities and top-notch accommodations, the Executive Suites Hotel and Resort can host an intimate wedding of approximately 50 guests. Furthermore, the venue has experienced on-site wedding planners who will assist you in selecting the perfect décor for your special day!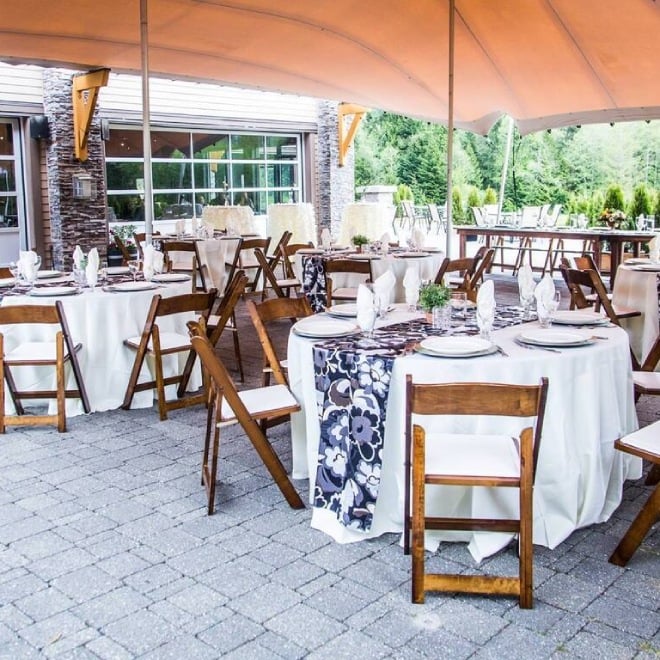 13- Beecher Place
The Beecher Place banquet hall is located in Surrey. Located right on the beach, it has breathtaking views. Your wedding ceremony, reception, bridal shower, and everything else related to a wedding can take place here! The venue is perfect for laid-back, small weddings.
Beecher Place can comfortably accommodate 80 people. It offers flexible wedding packages that you can customize. They provide customized services at a reasonable cost. This is the place for you if you have always dreamed of spending your special day in a relaxed setting!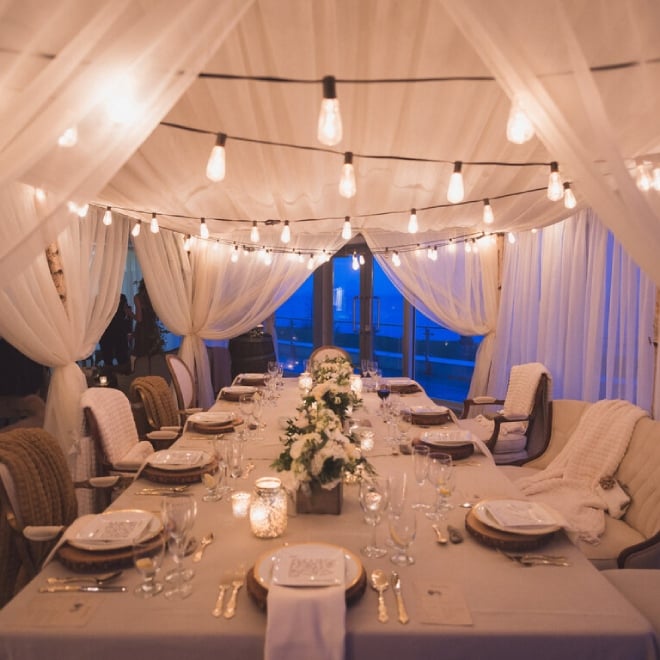 14- The Princess and The Pea B & B
Located in Langley, the Princess and the Pea B&B is a romantic inn with great reviews. This inn aims to provide guests with a friendly and relaxing environment. Vintage-style decor gives the place the feel of a fictional setting of princes and princesses. This is the perfect spot for an intimate wedding.
The Princess and the Pea B&B can hold up to 55 guests. There are several different event spaces available for you to choose from. Additionally, there is a chapel 5 minutes away. Contact this fairytale venue today to find out more!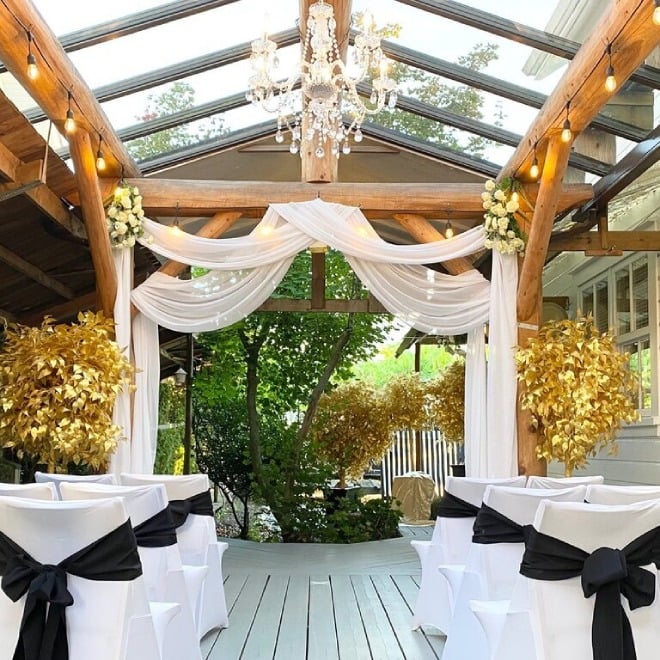 15- JOEY Burnaby
JOEY Burnaby is a popular destination for small weddings in Burnaby. This is a great venue if you want to spend your special day with loved ones in a comfortable atmosphere. Take advantage of the relaxed atmosphere while remembering an event you will undoubtedly cherish with your guests for years to come.
Up to 70 people can easily fit in JOEY Burnaby. It has a beautiful rooftop lounge offering skylight views at night, which creates a calm atmosphere for your special day. In addition, the venue offers a number of options for catering on-site and ensures you and your guests have a wonderful time.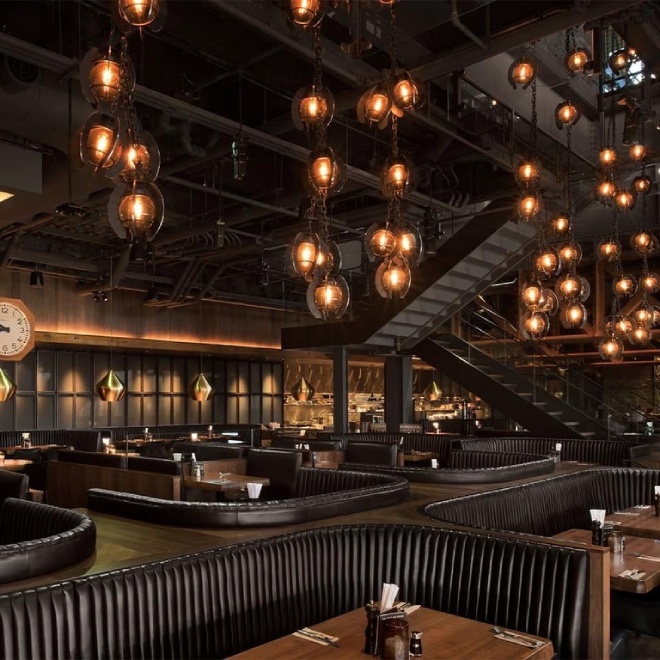 16- The Vancouver Club
This award-winning wedding venue is located right in the heart of the city. The club has received several awards, including the British Columbia Wedding Awards 2020 and Glitterati Membership of WedLuxe. The club is also one of Vancouver's most celebrated venues.
The Vancouver Club can comfortably accommodate 50 guests. You can choose from three different event spaces. A wedding coordinator, bride and groom suites and excellent in-house catering are all complimentary. Request pricing for more info about this stunning venue!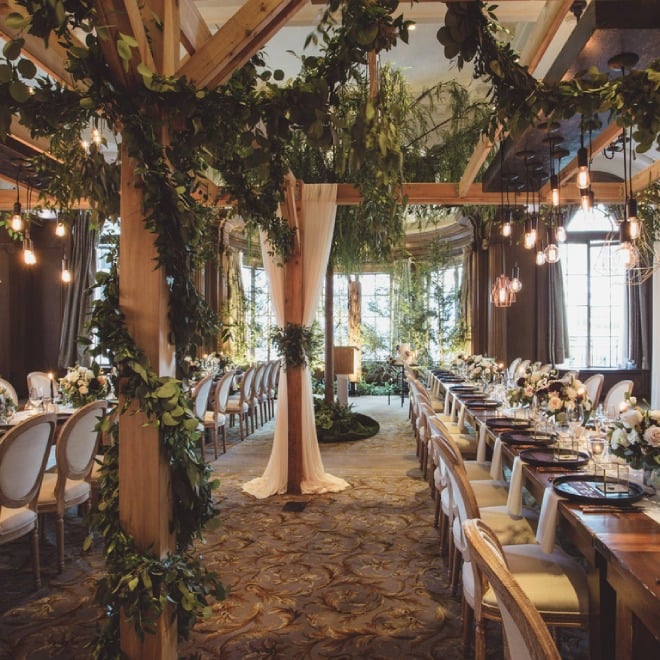 Rustic Wedding Venues in the Lower Mainland
Let's take a look at rustic wedding venues in the Lower Mainland to help you get that shabby-chic vibe for your big day. There's more to these places than casual affairs (though they're great for that, too), they can also be dressed up for a glitzy event with a rustic touch.
From naked cakes and lace dresses to venues dripping with fairy lights, this trend is all the rage. Here are some of our favourite rustic wedding venues in the Lower Mainland, so let's get started!
17- Westwood Plateau Golf and Country Club
Located at the summit of Eagle Mountain, the Westwood Plateau Golf and Country Club is one of the most popular wedding venues in Coquitlam. It is the perfect setting for wedding bridal showers, ceremonies, rehearsal dinners, receptions, and engagement parties.
Westwood Plateau Golf and Country Club has both indoor and outdoor venues, and it can accommodate 50 to 250 guests. Rustic wooden exteriors and a vintage interior lend themselves well to romantic and classical weddings. Catering options include buffets, cocktails, and plated meals!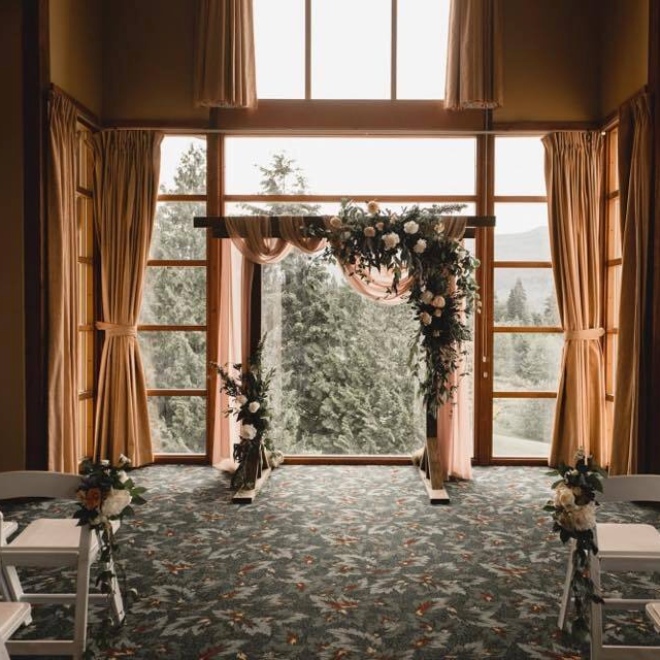 18- Mayfair Lakes Golf and Country Club
Mayfair Lakes Golf and Country Club is located in a stunning area, surrounded by downtown Vancouver, the towering Coast Mountains to the north, and the Pacific Ocean to the west. This venue offers a secluded country ambiance that is perfect for your special day.
The Mayfair offers two banquet rooms, each with its own patio. It has a capacity of 200 guests. On-site wedding planners, a bridal suite, welcome sign, podium, and cake cutting are some of the services included. In addition, the venue's executive chef can help you create a menu that is uniquely yours.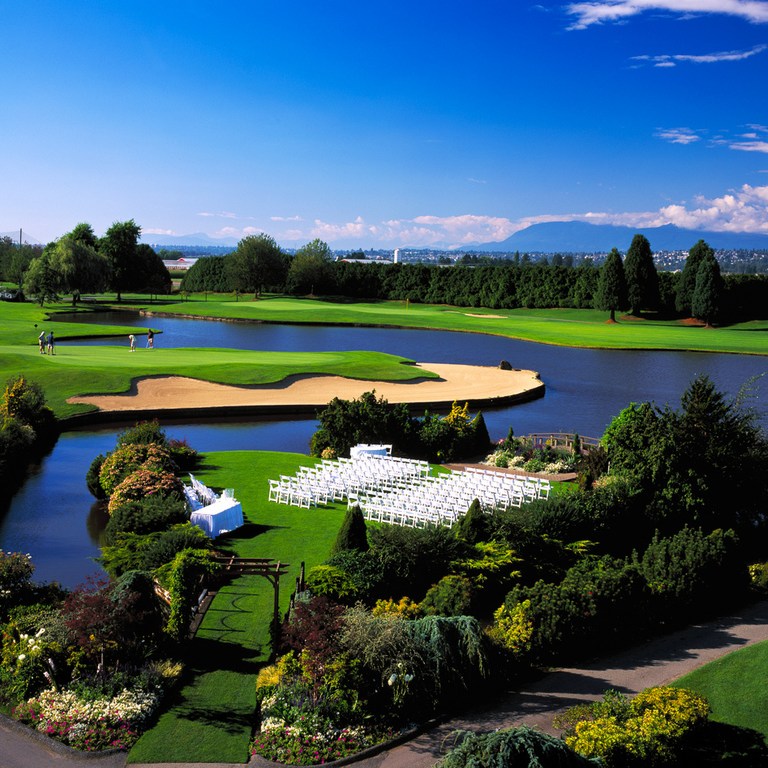 19- The Wallace Venue
Located in North Vancouver, The Wallace offers an experience that your guests will never forget. This is an open concept venue that can be customized to suit each event's theme. Couples looking for a stylish ceremony in the backdrop of a beautiful landscape could not find a better wedding destination.
The Wallace can accommodate as many as 200 guests. If you wish, you can choose between the indoor space and the outdoor patio, or you can combine the two. With many services and amenities, it is a modern, rustic, waterfront wedding venue with loft-like qualities. Request pricing now to find out more!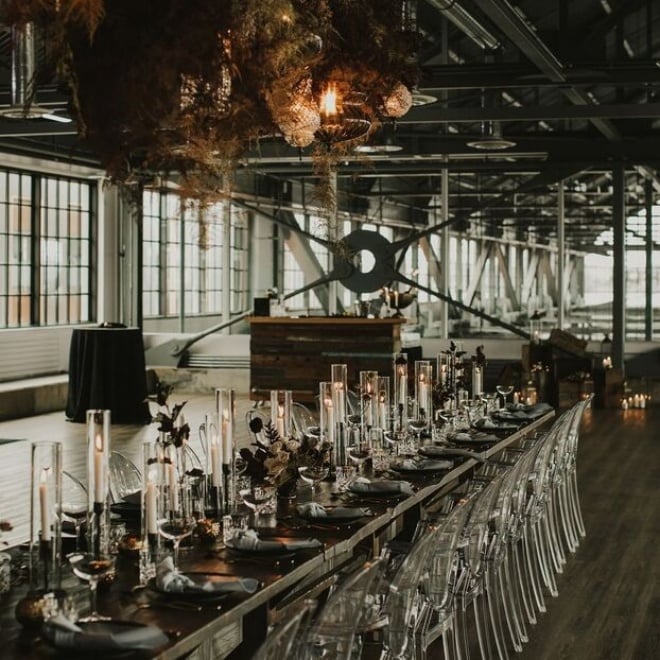 20- Hopcott Farms
Hopcott Farms is the perfect venue for a dreamy, vintage-inspired event! This farm in Pitt Meadows offers covered and uncovered outdoor settings for receptions, ceremonies, and rehearsal dinners. Additionally, it has a team of professionals who are able to help you put together your dream wedding.
Hopcott Farms can host up to 150 guests. The shade will keep you cool, even if your event takes place during the summer. Lakeside, farm-grown flowers and pastures will make for a stunning backdrop for your special day!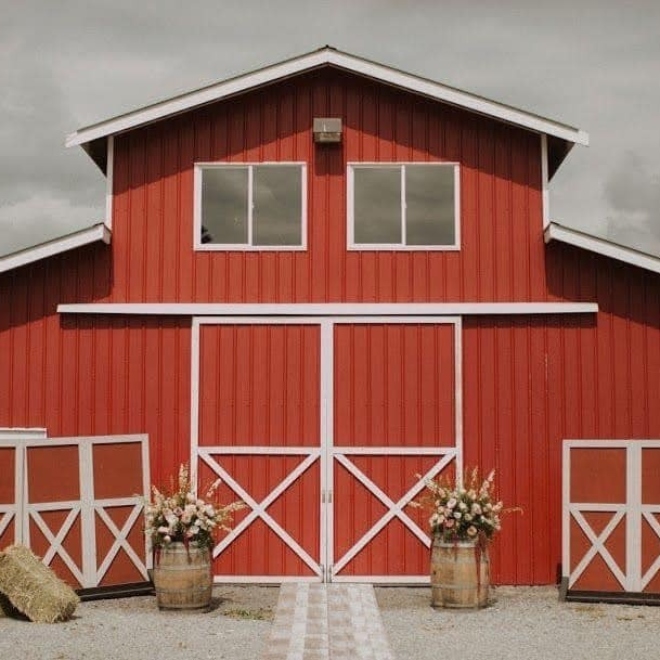 21- Cheekye Ranch
Cheekye Ranch in the Squamish Mountains is the perfect place to get married if you are dreaming of a wedding at the heights of the mountains. Couples who have dreamed of exchanging holy vows in such an idyllic setting will enjoy the beautiful rustic charm, horses on the fields, riverfronts, and serene sunsets on the hills.
There is room for up to 450 guests at Cheekye Ranch. Furthermore, as a gesture of goodwill, the resort is providing complimentary accommodations for the couple and 20 members of their families in yurts custom-made for them, along with a bridal suite for the bride-to-be. Additionally, the in-house wedding planner assists the client in decorating the entire venue.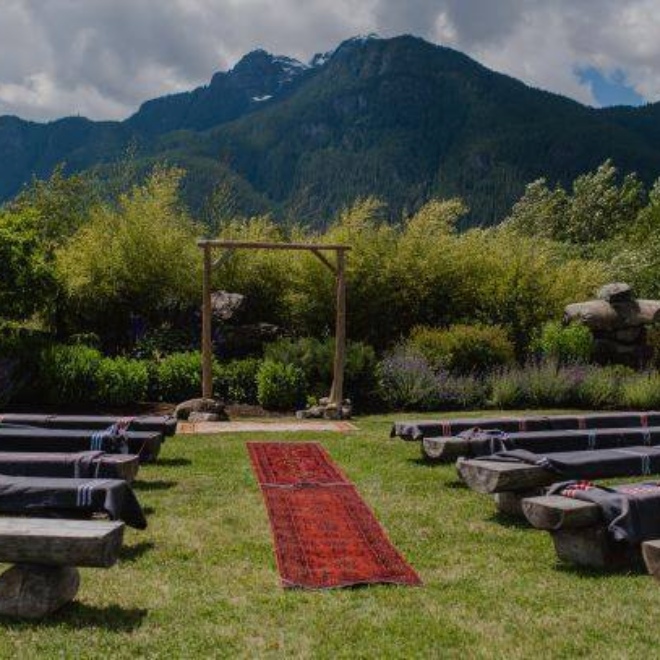 22- Big Sky Golf Club and Fescues Restaurant
One of the most famous golf courses in the region is Big Sky Golf Club and Fescues Restaurant. The venue is situated in the picturesque city of Pemberton, where its guests are treated to a heartwarming, fun experience that is hard to beat. It has a stunning view of nature and offers a wide range of fun activities for your wedding party!
There is a capacity of 120 guests at Big Sky Golf Club. Additionally, this venue features both indoor and outdoor options to choose from that combine rustic and classic décor. You can choose from the beautiful executive golf course or even the lovely outdoor deck for your wedding reception!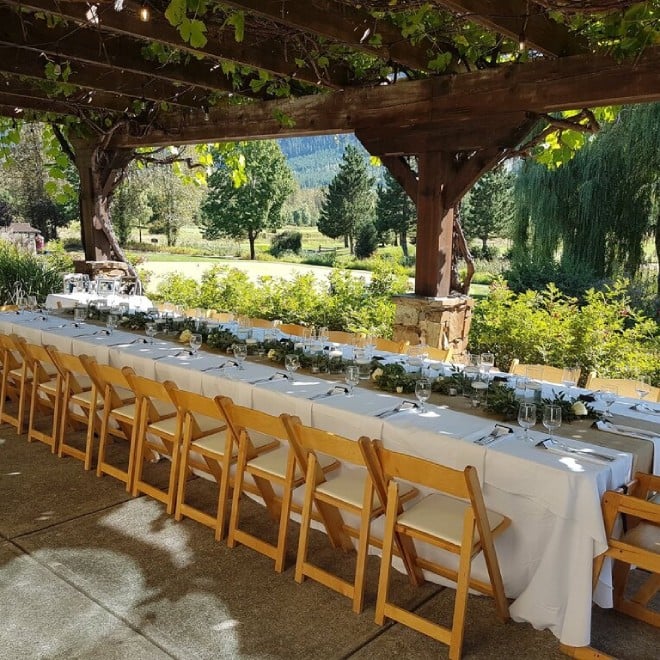 23- Brock House Restaurant
The Brock House Restaurant in Vancouver offers the best views of the Pacific Ocean and the North Shore Mountains. With its stunning views, charm, and elegance, the restaurant-style wedding venue is the perfect place to celebrate your special day.
For couples looking for a romantic wedding with the best views for their photos and exceptional service, Brock House Restaurant is the place to go. There are 280 seats available. The Chef and his team put together flexible menus that can be tailored to couples' preferences. The beverage packages are great as well!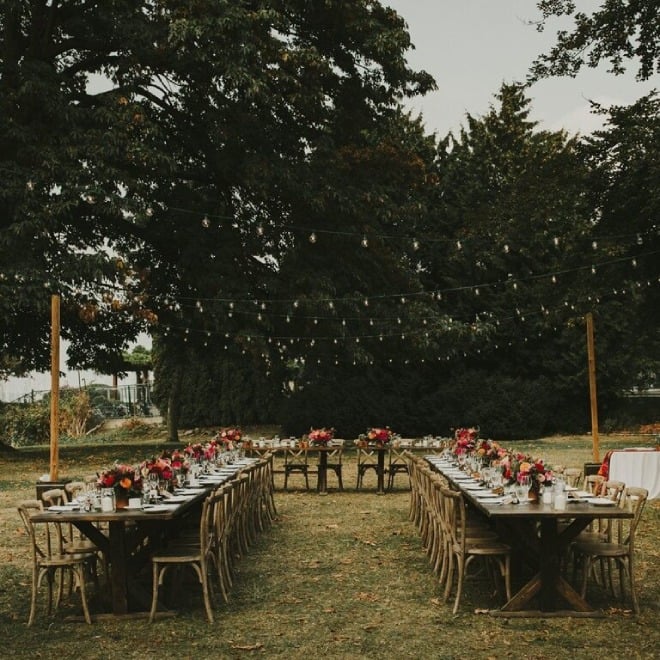 That's all from us! For more information, please visit the pages of the places you're interested in. You can also choose your venue after looking at all the wedding venues in BC. Wishing you a happy wedding!