Whether you're downsizing for budget reasons or a busy schedule, hosting a small wedding doesn't necessarily mean skipping out on the details or staying modest with your celebration. We've listed a bunch of our top tips to help you host a beautiful small wedding. Enjoy the read!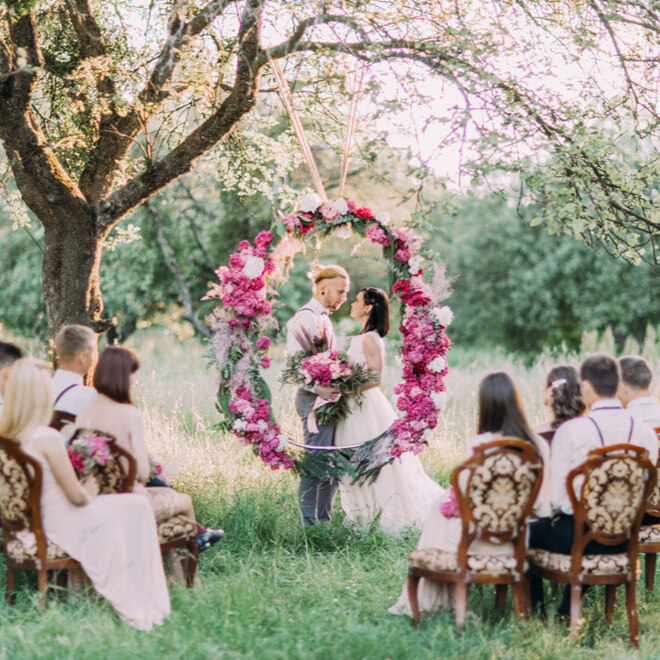 What Is Considered A Small Wedding?
A small or micro wedding is... actually small. It typically includes 50 people or under. There are also A small or micro wedding typically includes 50 people or less. There are also tiny weddings or elopements, with as little as 5 to 10 guests. The ideal size of your wedding depends on your finances and the size of your immediate family and friends.
If the number of your closest family members and friends exceeds 50 people, you should think about who you want at your wedding carefully. Take all of these into mind before starting to plan your little big day!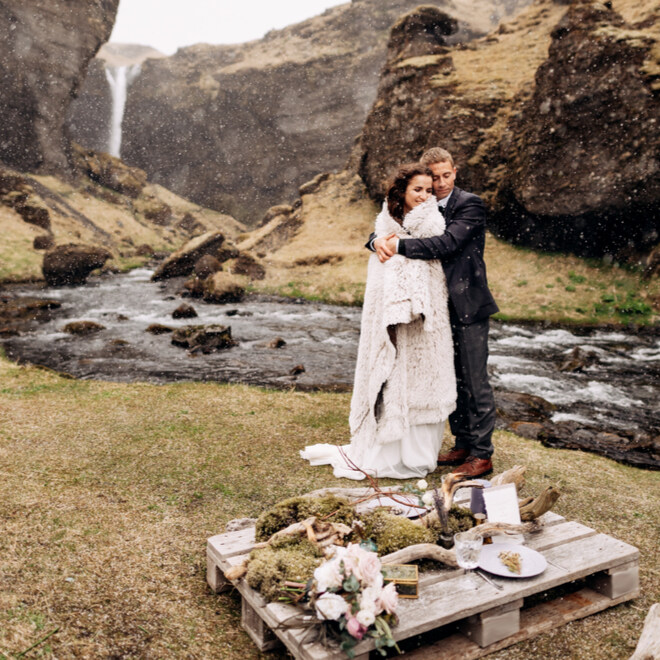 Why Choose A Small Intimate Wedding?
Aside from being budget-friendly, there a many other good reasons to have a small wedding:
Small weddings are easier to organize. As you won't have to visit lots of vendors one by one and discuss everything from A to Z, there will be more time to spend on fun pre-wedding activities like dress shopping and less drama in general.
You can create an intimate atmosphere where you can have intimate conversations with your loved ones and enjoy every moment.
The fewer guests you have, the more wedding venues you can access, including elegant restaurants or wineries. You can also plan a small wedding at home by booking various vendors.
You can easily personalize your wedding by applying what you value the most compared to big weddings that can be expensive and feel impersonal.
You can pull a destination wedding without much effort since a smaller guest list means less travel coordination you need to attain.
You'll have more money for your honeymoon and other important post-wedding expenses.
Finally, if you don't want to be the centre of attention or hate large audiences, a small wedding might be just for you.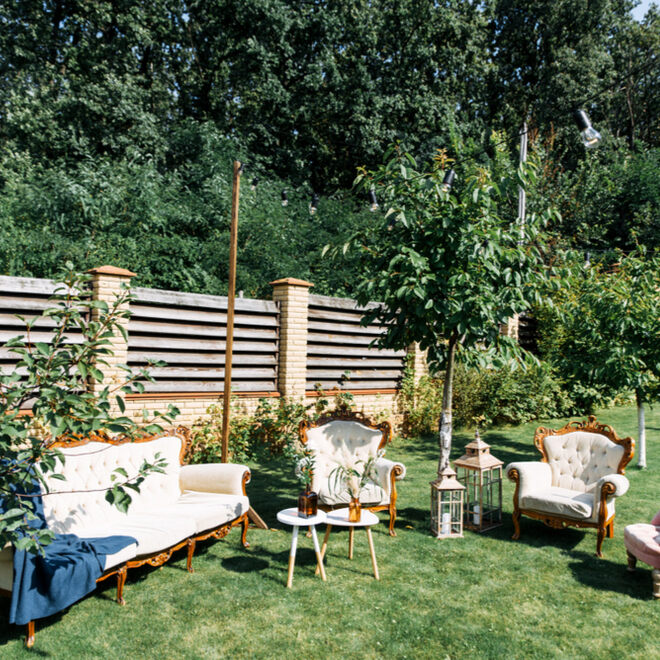 Small Wedding Ideas You Wouldn't Want To Miss
Having an exclusive guest list opens up many possibilities for attaining every little detail and creating the best experience for your loved ones. There are so many ways to personalize or elevate your wedding, and here are some of the best small wedding ideas we love:
Seating Chart for Small Wedding
Having more flexibility with your ceremony and reception seating arrangements is one of the major perks of having a small, intimate wedding. Compared to big celebrations, you can break away from spacing guests out at different tables in various corners of a venue and create a more inclusive and informal atmosphere.
You can make your small wedding ceremony more intimate by setting up chairs in a circle. Wouldn't it be amazing to feel the love from all sides when you're tying the knot? For receptions, a long banquet table seating is the most popular one. It makes your most special day truly magical with all of your close friends and family sitting together in your honour.
You can use a seating chart painted on a shabby chic door or window, frames or chalkboard. Using twine, clothespin, and cards might be a simple but elegant idea, or you can craft a handmade seating chart from wood.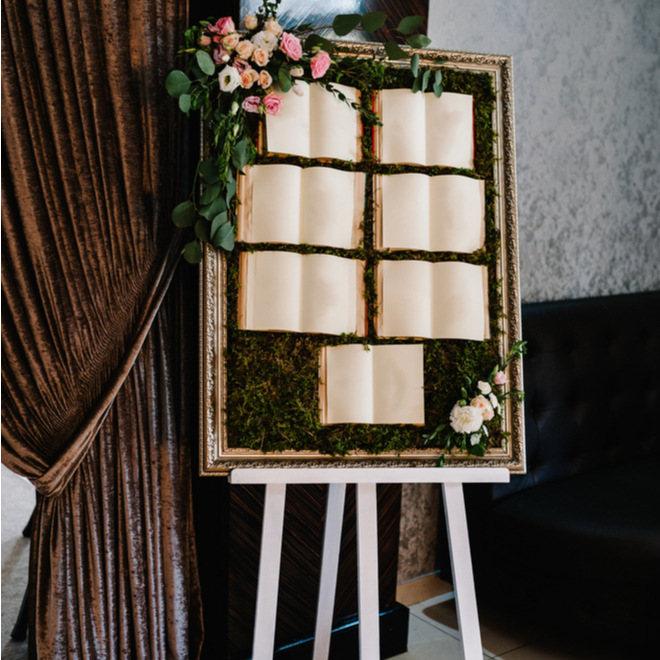 Wedding Invitations for a Small Wedding
Not having an extensive guest list comes with many advantages, and having a chance to send elaborate wedding invitations is one of them. You can design handwritten invitations with your partner by using high-end paper, wax seals, and custom watercolour designs. It would make your guests so special and full of love!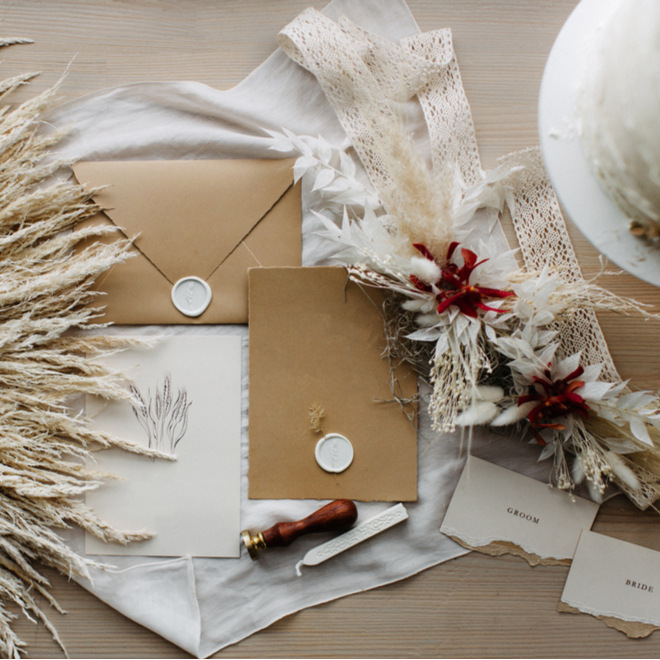 Welcome Boxes
Wedding favours are very nice and all, but they can't possibly compete with the thoughtfulness of organized welcome boxes or gift boxes. It is an especially great idea if you're having a destination wedding. You can include specific items to your wedding location and personal interest for the utmost friendly effect.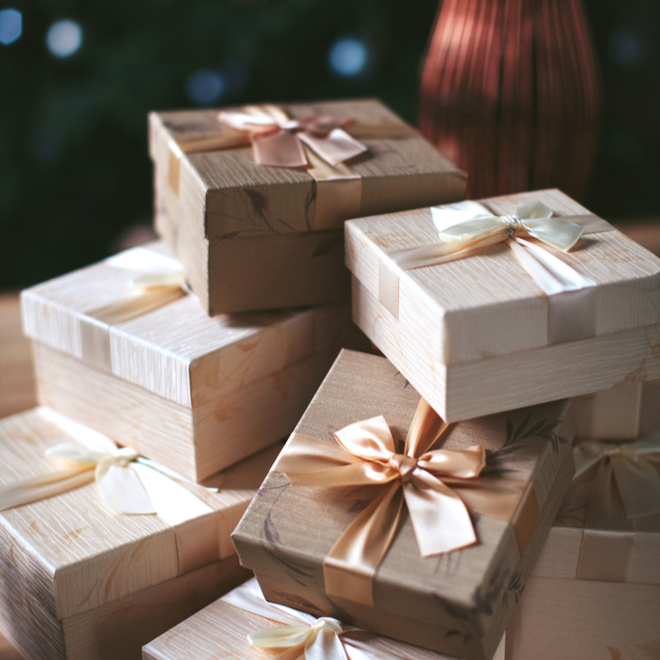 Extra-detailed Decor
Fewer guests mean more time and dedication to go above and beyond your wedding decor. You can apply many decoration items that are usually ignored in larger weddings. Personalized pieces like escort cards and place cards, handwritten thank-you notes, and individual wedding menu cards would make your guests feel so special. You can also use antique china sets and vintage stemware for small weddings.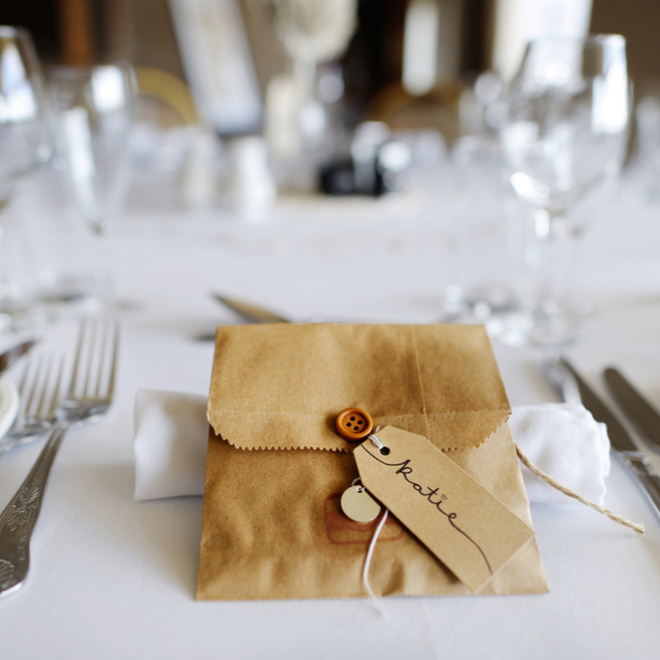 Fancy Wedding Bar
The bar tends to be the busiest gathering place at weddings, so why not make yours stand out? Throwing a small wedding provides you with a chance to create a custom wedding bar and adding flair to your celebration. You can also surprise your guests with a mobile bar. Finally, you can serve as many types of drinks as you want thanks to the small crowd!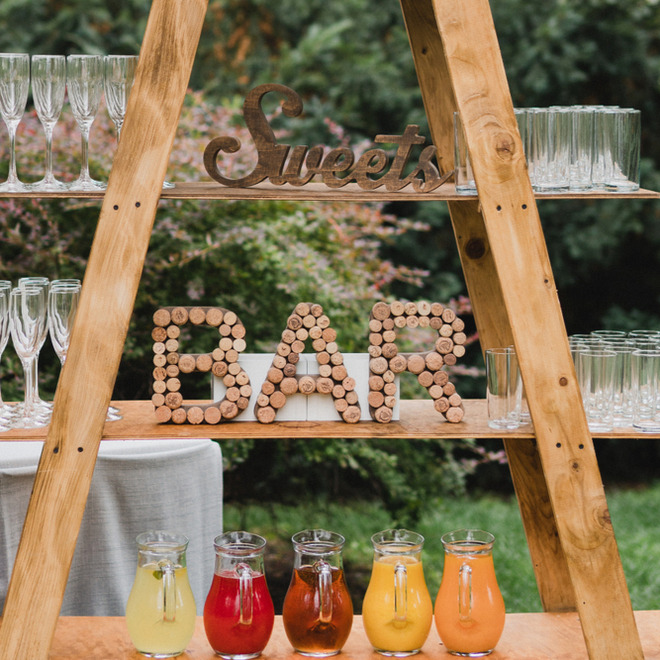 Small Wedding Cake Inspiration
Who says you need to skip the cake if you're planning an intimate celebration? A small ceremony still deserves a sweet ending, right? You can make just as big of an impression in small cakes in all forms, from small one-tiers to Bundts and single-serving minis. As a matter of fact, your guests may remember these items more than the traditional three- or four-tier wedding cake.
As small weddings are more personalized, you can also choose from many wedding cake alternatives as you can go with a single-tier cake. Cheese wedding cakes, macarons, doughnuts, cake pops, cupcakes, pies, croquembouches – the list goes on!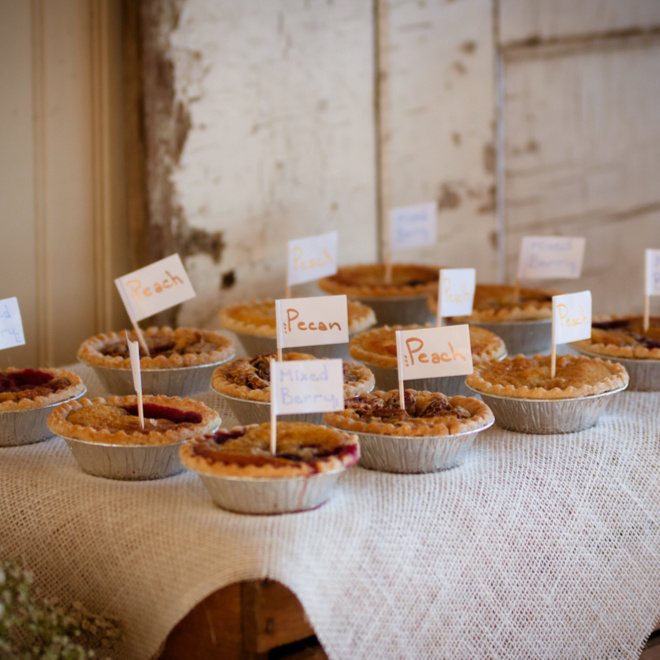 What To Wear To A Small Wedding?
Small weddings are more informal and laidback, with an effortless atmosphere and cozy ambience. When these characteristics are transferred into a wedding dress, the result is undoubtedly gorgeous.
If you're a modern bride who loves sleek and minimalist silhouettes, effortless slip dresses and semi-structured sundresses might be the right choice for you. If you plan to have a small country-style wedding, a beautiful piece in vintage lace will be just right.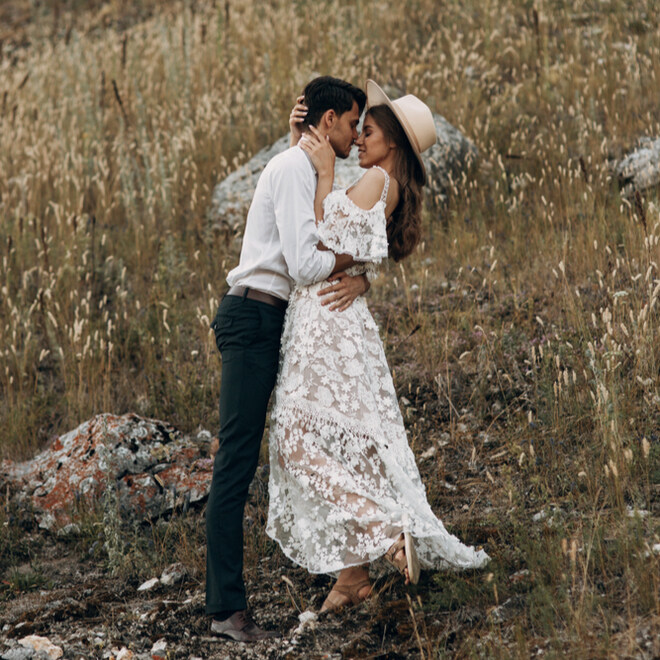 If you plan to throw a destination wedding by the beach, consider airy and breathable fabric like silk or chiffon. Besides providing extra relief from the heat, a spaghetti-strap style, strapless, or halter-neck can also make you look feminine and sexy.
For winter brides, it's important to select a dress that suits the season. You can add some warmth with long sleeves and a little bit of extra coverage in layers. You can also put on some outwear like capes and coats should the weather be extra chilly.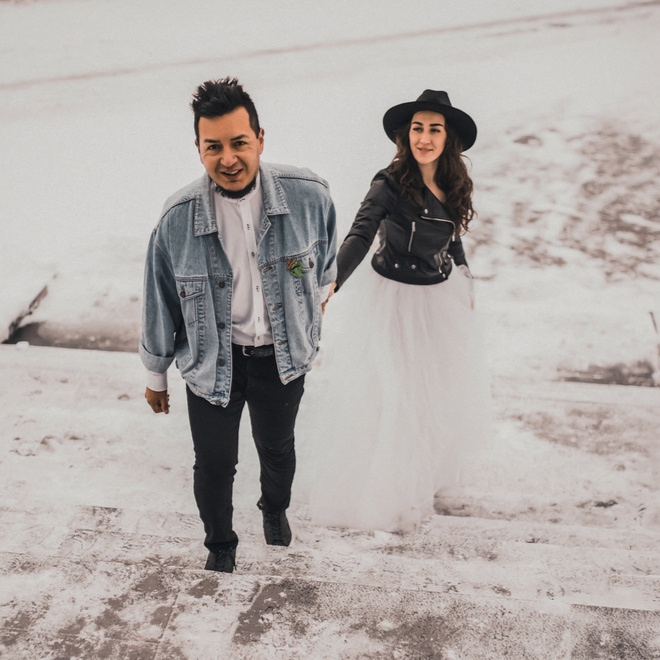 How Much Will A Small Wedding Cost?
One of the popular questions we get asked by couples is: How much does a small wedding cost? Well, it's hard to give an exact number since many factors affect the total expenses. The first is the venue. For instance, a restaurant wedding usually costs lower than a wedding in a 5-stars luxury hotel.
The second factor is the things you want to apply to your wedding. If you plan to have a wedding with out-of-town guests, it would be wise to search for small wedding venues with accommodation. If the food is the most important thing to you, you can book a top-notch catering firm. Similarly, if you want your wedding to be magical with elegant decor, you can work with a wedding decorator.
We recommend going with all-inclusive small wedding packages provided by the venues since they save you from lots of legwork and offer fantastic deals and discounts. These packages usually include everything you could possibly need, from wedding photography to decorations. They are customizable so that you can tailor them to your needs.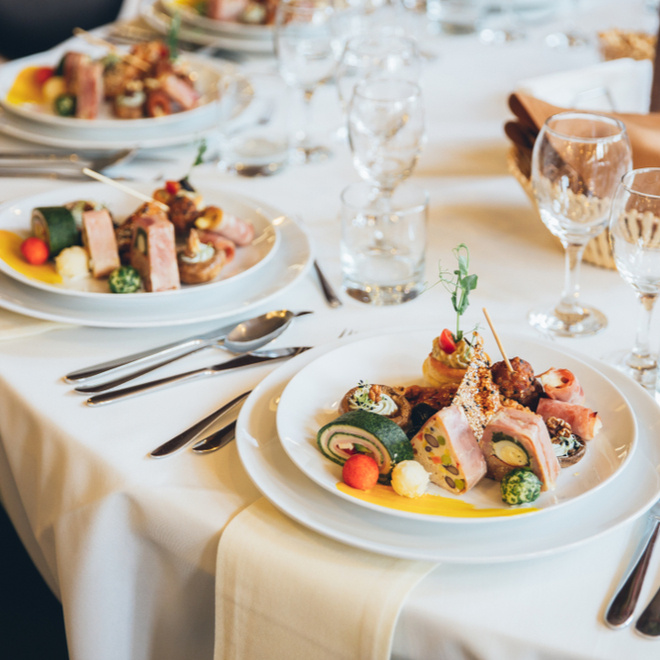 Selecting The Perfect Small Wedding Venue
With a small guest list, you can tie the know in any venue you can think of in any part of the world. As you can choose a classical venue like a rooftop bar or a banquet hall, you can also consider unexpected options that wouldn't be able to accommodate a large group of people for an unforgettable experience.
Some of the unusual places for small weddings might be public landmarks, your favourite hole-in-the-wall restaurant, scenic hilltops, or places that require special transportation. Love wine? How about a vineyard wedding? Avid campers? Why don't you set up glamping for everyone at the venue so you can stay overnight together? The world basically becomes your oyster if you plan to have a small wedding ceremony or reception!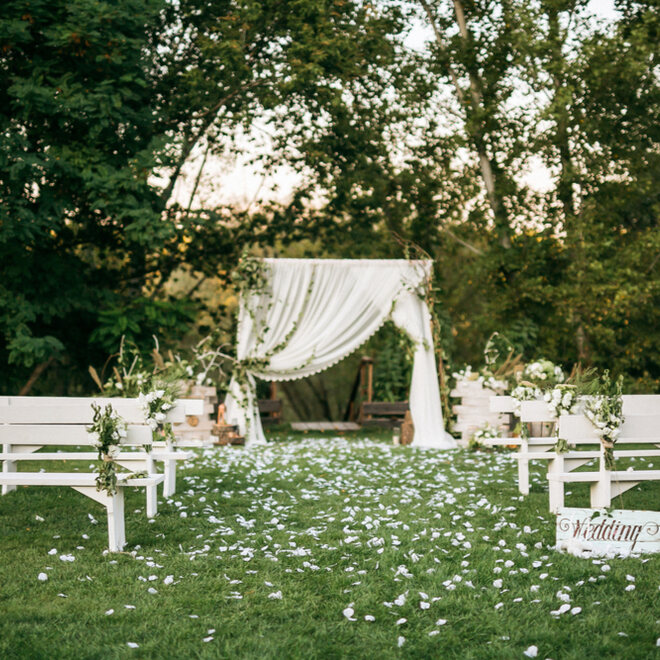 Small Wedding Venues Ontario
Encompassing vast expanses of wilderness, pristine lakes and Canada's most visited natural attractions, Ontario offers the best small wedding venues for every type of couple and budget. Restaurants, country clubs, rooftops, ballrooms, mansions – the list goes on!
Small Wedding Venues Toronto
Not surprisingly, small wedding venues in Toronto are aplenty, considering it's the largest city in Canada and the capital of Ontario. From small park and garden venues to 5-stars hotel ballrooms, you can find everything you're looking for in this metropolis!
Small Wedding Venues Calgary
Calgary offers small wedding venues out of this world with its beautiful mountain views on the horizon, various national parks, and iconic Peace Bridge. Be it a rustic winery, country farm, or spectacular outdoor restaurant, Calgary has it all!
Small Wedding Venues Edmonton
Rich art, culture, beautiful surroundings and leisure activities make Edmonton an excellent choice for a small wedding. The city won't make you disappointed with an abundance of small venues, from art galleries to zoos!
Small Wedding Venues Ottawa
With its rich cultural life, beautiful river, historic buildings and vibrant laneways, it's no wonder that Ottawa offers the best wedding weekend. From art galleries and museums to golf and country clubs, Ottawa's small wedding venues are one of a kind!
Small Wedding Venues Vancouver
Vancouver has a well-deserved reputation with its pristine beaches and mountain backdrop as one of the most gorgeous cities to celebrate your wedding. From outdoor venues with beautiful foliage throughout all four seasons to old industrial warehouses, small wedding venues in Vancouver are endless!
Small wedding Venues Montreal
The vibrant art scene, old buildings full of history, cute sidewalk cafes, and boutiques are just some of the things that make Montreal a perfect place to have an intimate romantic wedding. This city offers fantastic small wedding venues in every style and budget with amazing deals and discounts!
Small Wedding Venues Winnipeg
Very active cultural life, major attractions, spectacular rural lands surrounded by rivers are waiting for you if you plan to have a magical small wedding in Winnipeg. From rustic barns to elegant contemporary hotels, small wedding venues in this city have something for everyone! 
Now you have all the information you need to have a small intimate wedding! Start searching for your wedding venue among hundreds of options on WeddingHero right now, and get a price quote from vendors in various categories. We wish you a wedding as beautiful as your love!