We've got all the tips and tricks you need if you want to host a low-budget wedding outdoors! Take a look at these great outdoor wedding decoration ideas to save on your big day!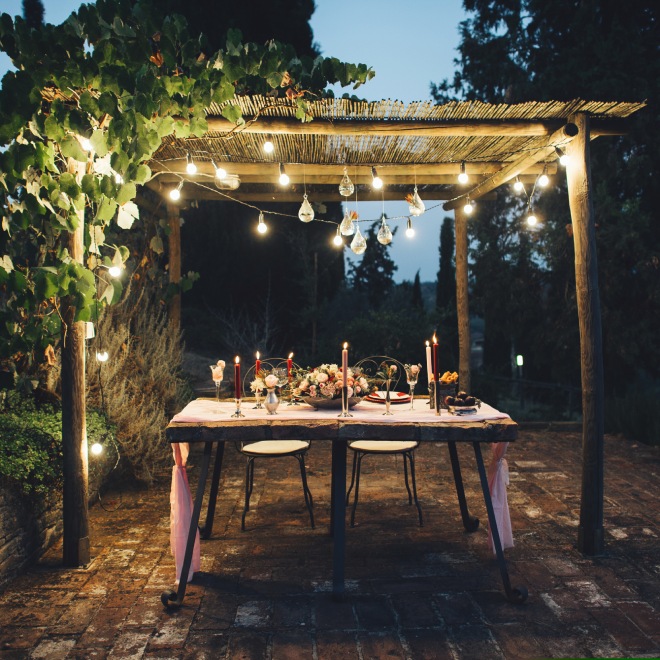 1- Wedding Signs
Shabby and simple, a hand-painted welcome on a dark wooden board is a cute way to welcome your loved ones. Use greenery and flowers that match your wedding flowers to accent the sign. Now you've got an elegant, beautiful, and affordable decoration.
A sign like this can also have anything else you like on it. Put up signs to remind guests to put their phones away during the ceremony or to show them where the food is. You'll get a more unified look this way.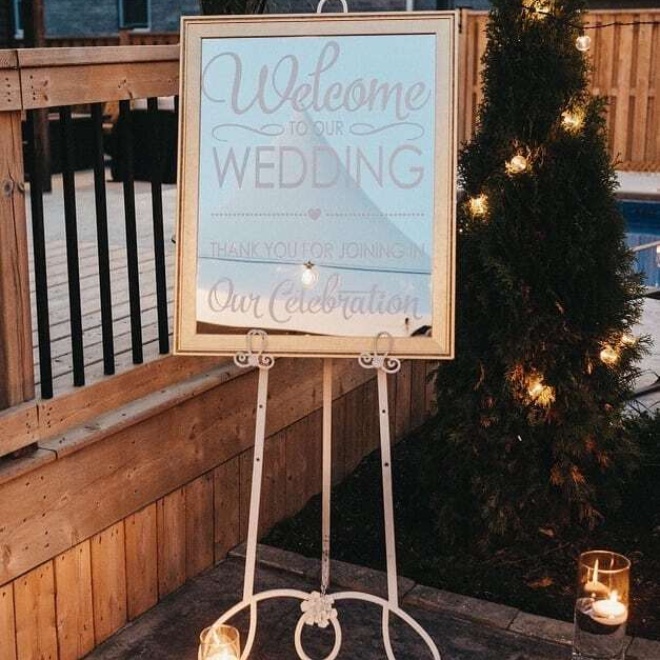 2- String Lights
Lighting doesn't have to be expensive, but setting the mood and setting the scene is important for setting the mood. Creating a welcoming display doesn't take much effort or money. Bring some light to an outdoor meal by hanging a few bistro lights overhead, or drape them over the tent beams as a way to highlight the structure.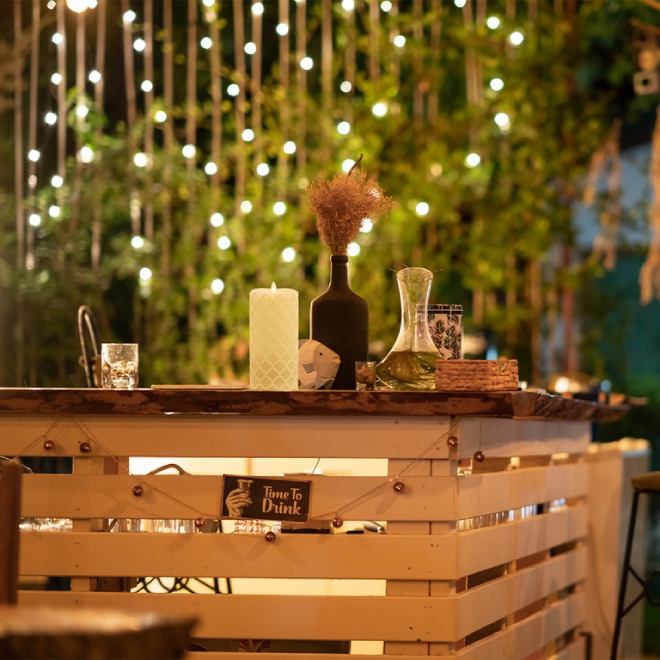 3- Old Window Pane as a Seating Chart
It's important to have a table assignment chart at your wedding, so your nearest and dearest know where they're seated at the reception. Your guests might still be able to sit at individual tables, even at an intimate backyard wedding.
Your table assignment chart might be a small thing that you need to save money for on your wedding day if you're on a budget. This is an awesome idea: take an old window and write the names of the seating chart on it.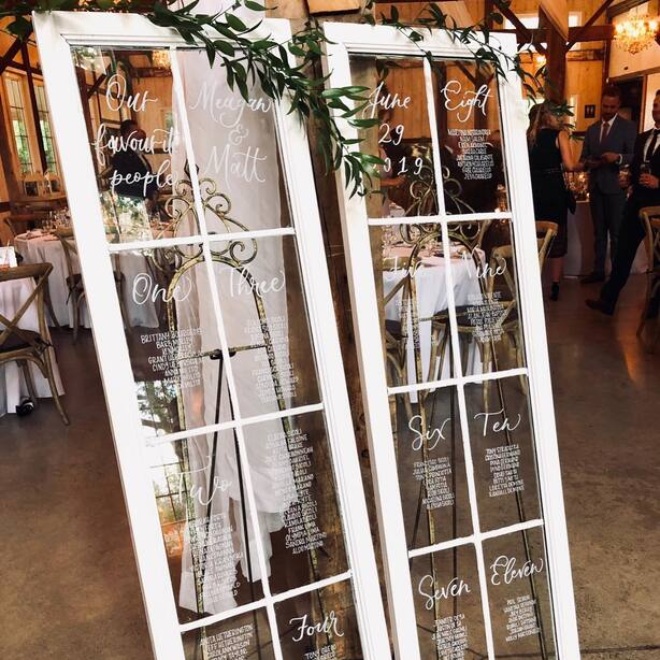 Want more unique backyard wedding ideas? Take a look at this article: Backyard Weddings: Tips for a Beautiful Event
4- Wish Tree
You can't underestimate the power of positive thinking. Think about that and ask your loved ones to make you a sweet wish.
Place a big potted tree next to a table with slips of paper. Ask your guests to write down their wishes and secure them to a leaf. Your wedding keepsake box will be full of wishes when you're done. In the same way, you can ask for wedding advice!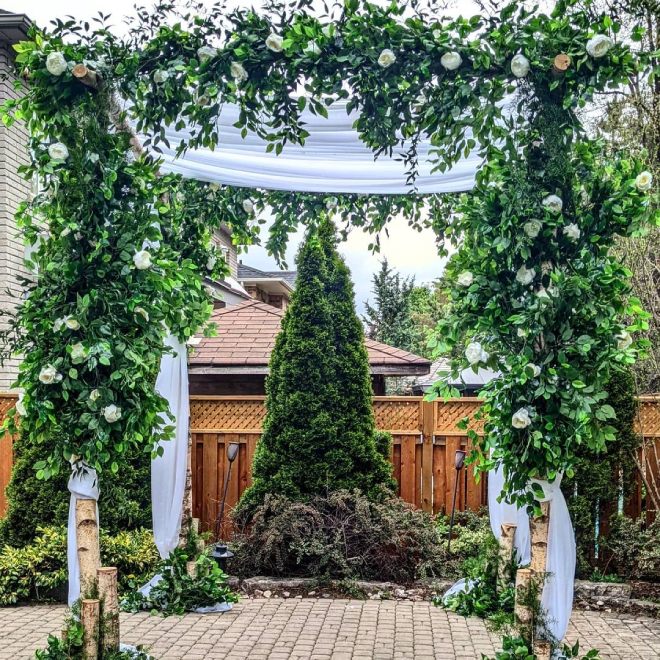 5- Potted Plants as a Centrepiece
Potted flowerless plants make amazing centrepieces that mimic the backyard shrubbery. Gather some fruit-bearing trees, herbs and plants from a nearby gardening store to make a stunning display that smells good, too. In addition, your garden can benefit from the plants instead of going to waste.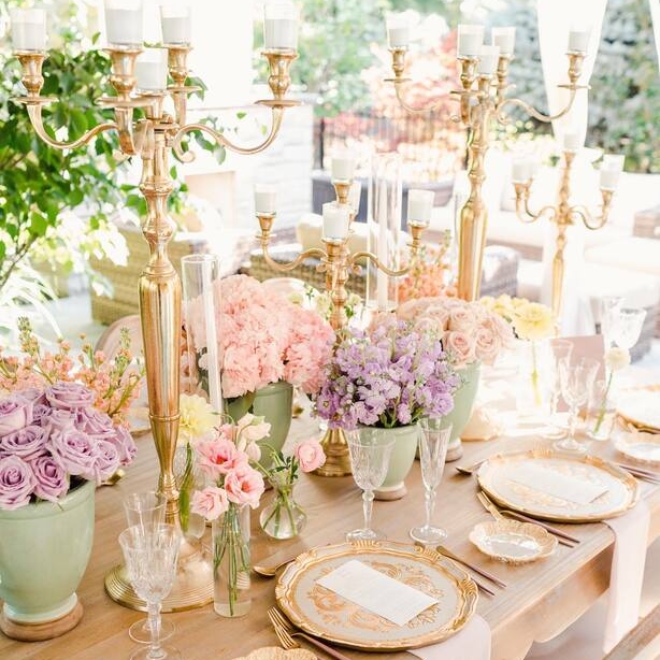 6- A Relaxing Lounge Area
Give your outdoor area a touch of elegance with woven accents, golden hues, and lots of greenery. With the help of your outdoor furniture or creative repurposing of indoor furniture, you can create the perfect lounge space to spice up any cocktail hour or reception.
If you're feeling eclectic, try putting together mismatched furniture in a variety of materials and shades.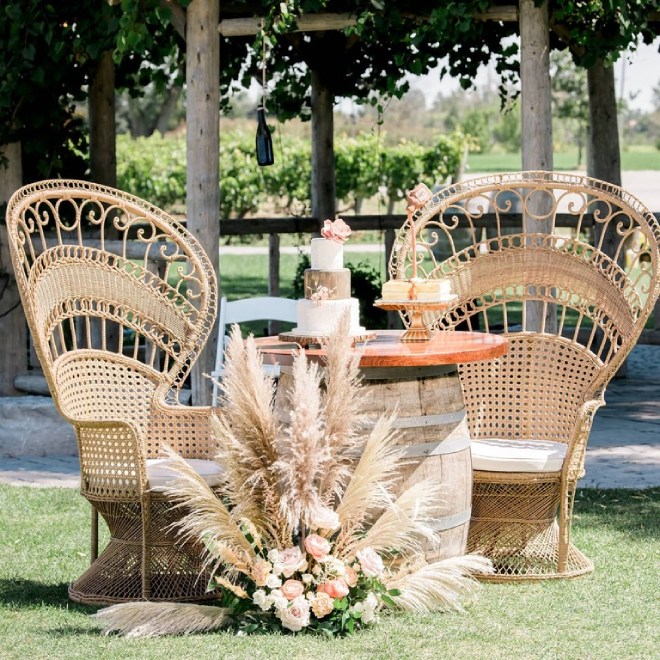 All the best wedding reception ideas are here: A Complete Guide to Planning a Personalized Wedding Reception
7- Mason Jars
Mason jars are so country. They're also incredibly inexpensive, which makes them excellent wedding centrepieces. You can paint Mason jars whatever colour you want. Whether they're white, pink, or metallic, they look amazing. On each table, place a jar on a tree stump, put in flowers, and you're done!
You've got an instant centrepiece. To make the jar look pretty, match the flowers to the colour of it. Don't forget: you can reuse them in many different ways later!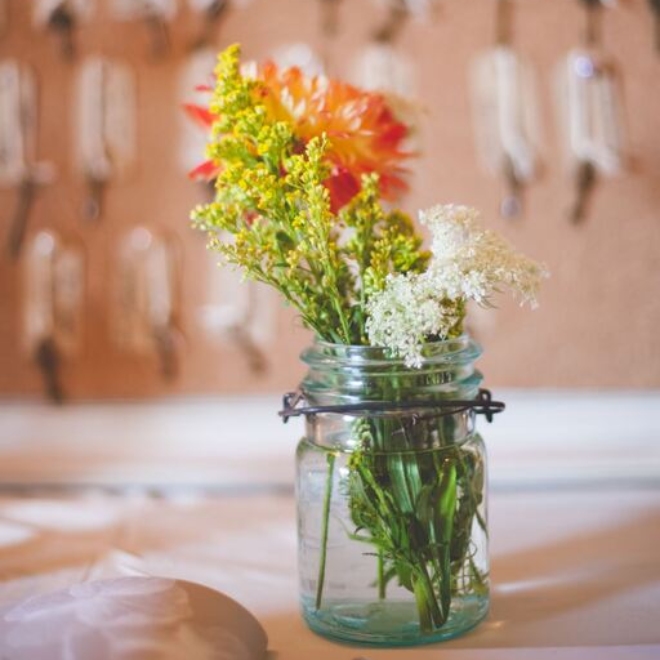 Planning a country wedding and don't know where to start? Here's something that might help: Country Wedding Ideas: 10 Must-Haves
8- Repurposed Vintage Bottles
When it comes to a rustic ceremony, skip the traditional vases. Grab a bunch of vintage bottles in different sizes and colours.
Fill each bottle with wildflowers. Put the bottles in a crate or group them together for a centrepiece. Regardless, the green and gold glass looks gorgeous when the sun shines through.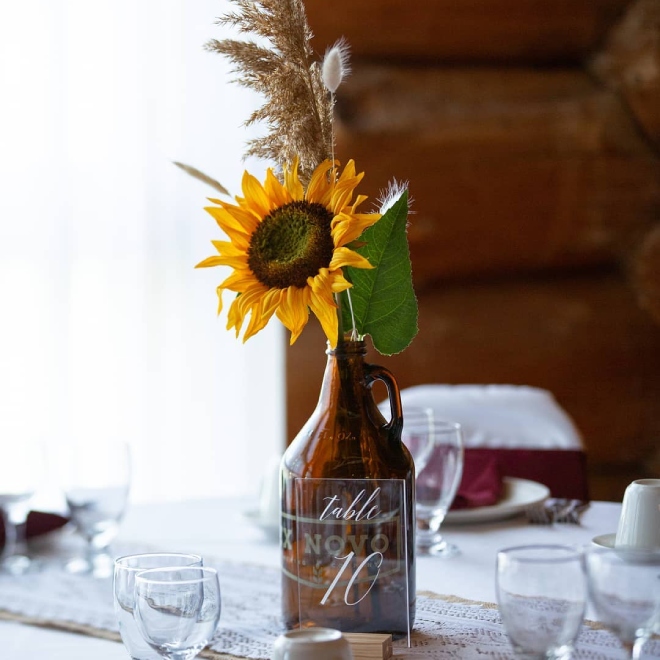 Would you like to know all about rustic weddings? Have a look at this article: Your Guide to Hosting a Beautiful Rustic Wedding
9- Fruity Drink Cart
You can't go wrong with fruity drinks at an outdoor wedding in the summer. Put them in a vintage wagon for some retro appeal. Put iced tea or lemonade in adorable mason jars for some Southern charm.
Self-serve bars with glass dispensers or mimosa bars filled with delicious toppings can also be fun.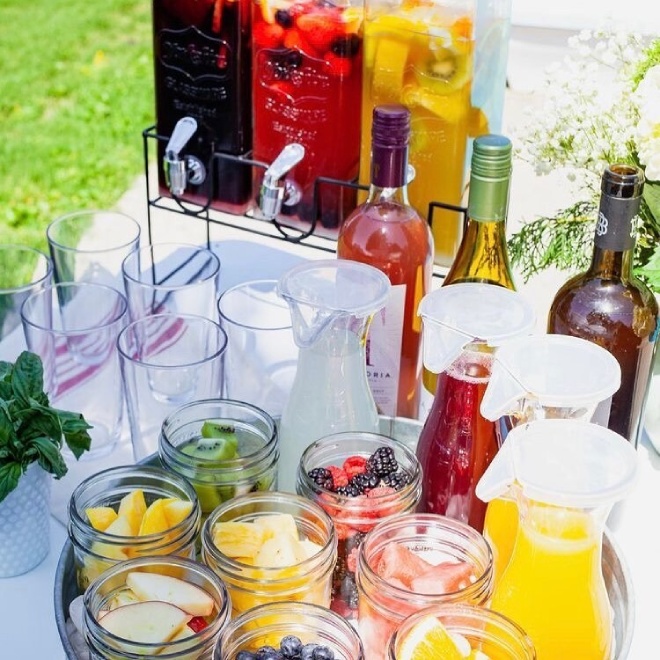 10- Shawls or Blankets
It's all about creating an intimate and comfortable atmosphere at an outdoor wedding. Provide shawls or blankets for your guests to wrap up in as the temperatures drop throughout the night. They're a must if you're going to kick back around a bonfire later.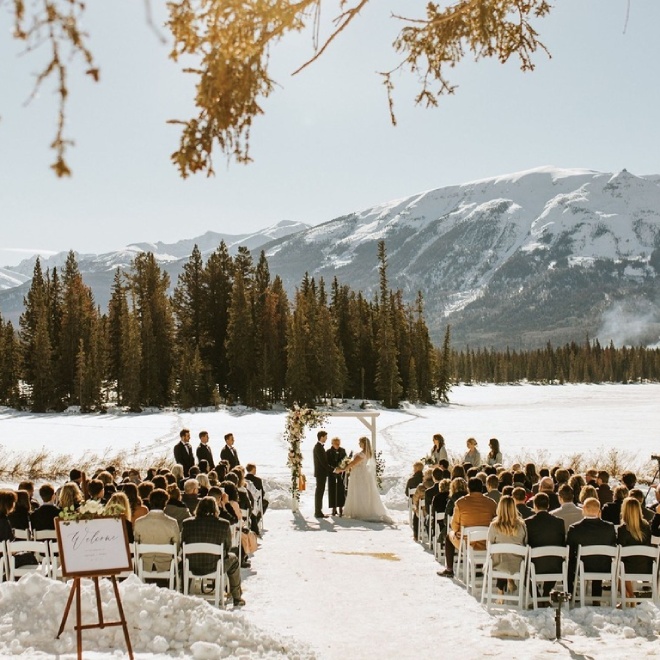 11- Photo Booth
Photo booths are always a fun way for your loved ones to take pictures at your wedding, no matter where you have your special day. Especially in the era of Instagram/social media, where everyone wants to show off how they look in a suit or dress, this is more true than ever before.
Hire a photo booth company to set one up for you. It is still quite possible to do this on your own, especially if you want to have an outdoor wedding on a budget.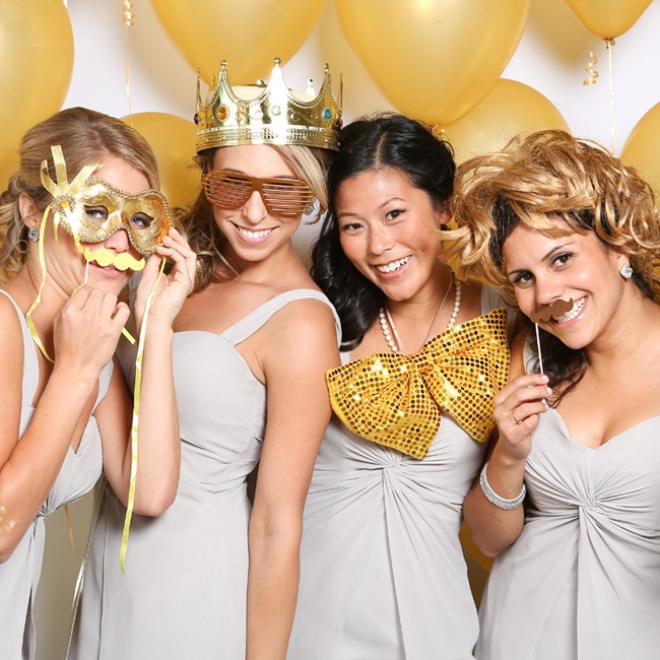 12- Hanging Tables
Putting a tabletop in a tree might be a unique outdoor wedding idea. It's kind of like a giant swing, so it'll make a great wedding centrepiece for an outdoor event.
You might want to try this if your ground is uneven. Make sure you hang it from an older, strong tree if you do this. The last thing you want is a weak branch snapping mid-ceremony!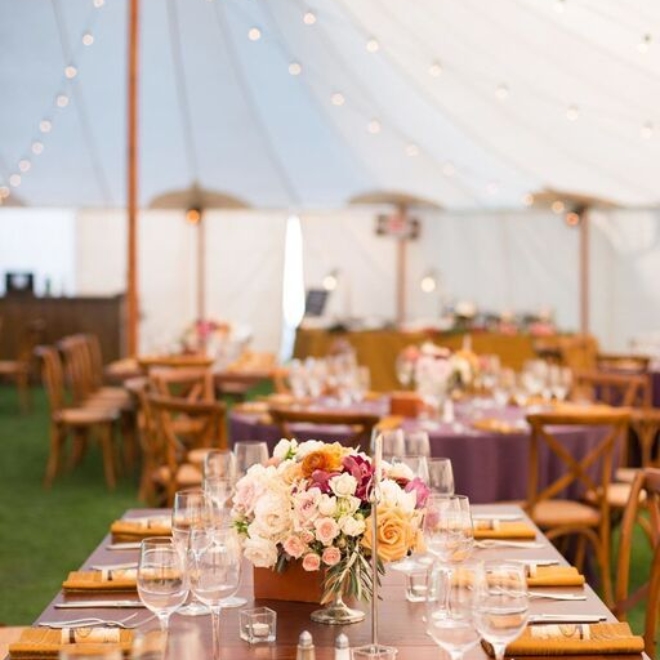 13- Fireworks
It's often said that love is like seeing fireworks or sparks flying. Make your special night sparkle by adding that sparkle. Wedding fireworks are a wonderful way to conclude the big night. Most places only let you use sparklers or something small.
In most cases, fireworks can only be set off on a large property like a farm. Houses and trees should be kept at a safe distance from these fireworks. To do this, you may also need a permit, and you should notify your neighbours and local authorities.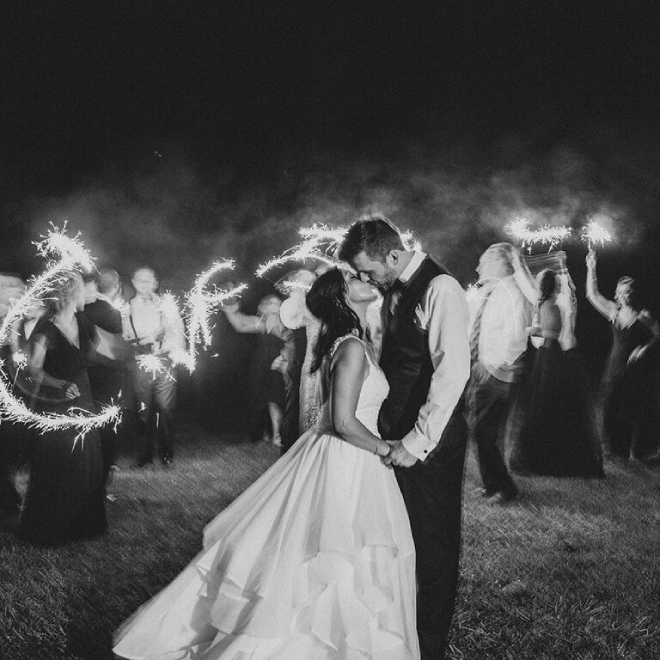 14- Tent or Canopy
Renting a tent might seem obvious to some people, but if you're having an outdoor wedding, you should probably do this. The weather is beyond our control, unfortunately.
You should always prepare for the possibility of rain on your wedding day, even if it's usually sunny. It's also important to have a place where guests can hide from the sun if it gets too hot.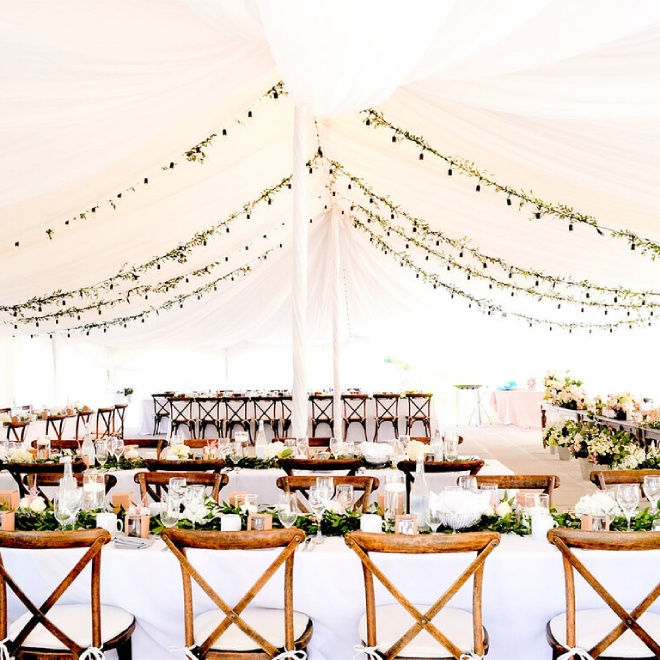 Considering a tent wedding? Want to know more? Find out how to plan a tented wedding here: The Ultimate Guide to Planning a Tent Wedding
15- Photo Display
A stacked white crate filled with photos of the couple, eucalyptus, and lanterns makes a refined and rustic decor statement. You can display wedding photos from generations ago for a sentimental touch.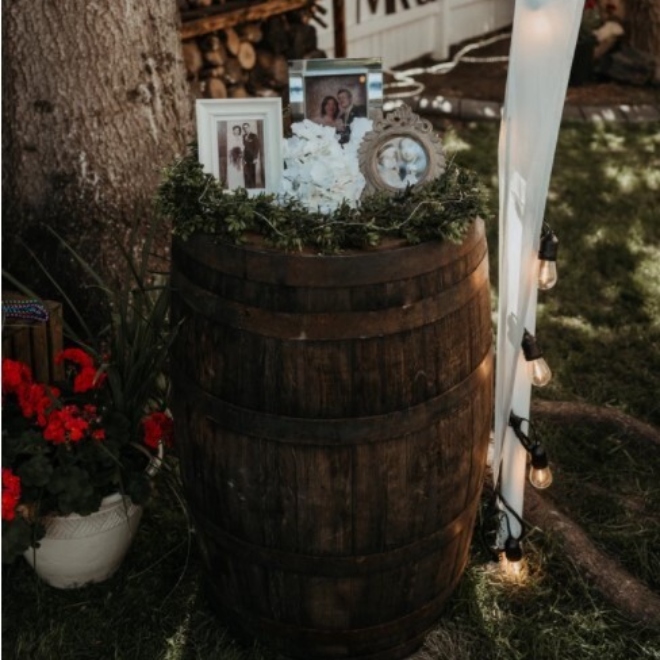 16- A Path to the Venue
Lay out a path for your guests so that they can navigate the nuptial festivities more easily. Don't forget to pay attention to the flow of guests.
You should consider where your guests will depart and how they will arrive at your reception. Make a passage by laying rugs for a bohemian trail, or light their trail with lanterns.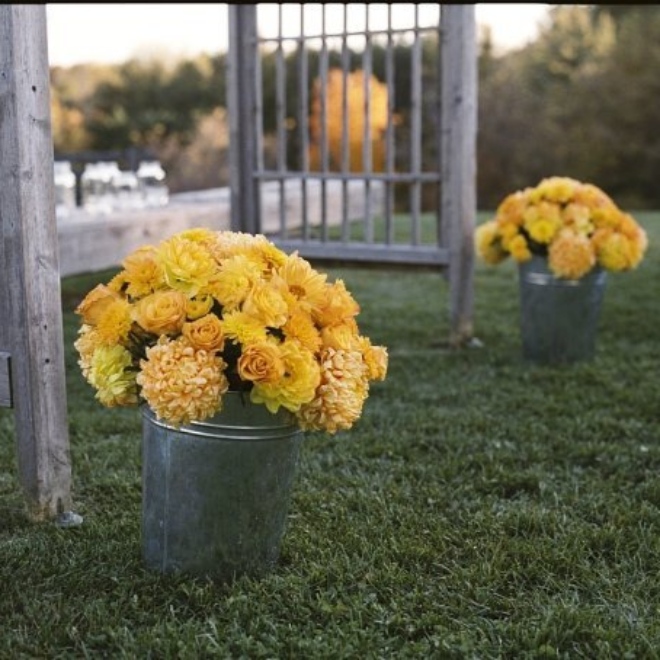 17- A Fairytale Arch
Considering you're on a budget and running out of time, don't worry about making a masterpiece with your arch. You just need a few wooden beams and a simple structure. Put some decorations on it to make it look enchanting.
Decorative garlands and artificial flowers in larger bouquets are all you need. It doesn't cost much or take much time to make a few boards look like something from your wedding dreams, and you can attach them to the sides and top.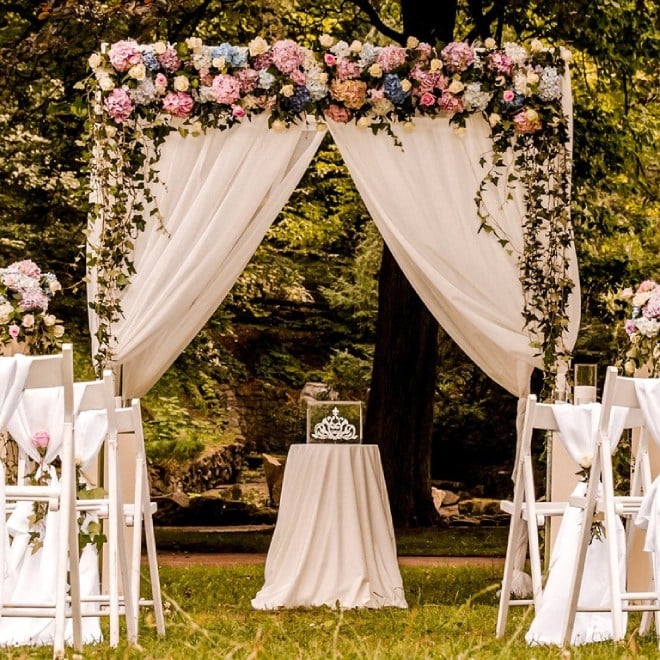 Do you plan on trying any of these outdoor wedding ideas on a budget on your big day? Affordable wedding decor companies in your city can help you have a beautiful wedding without breaking the bank!