The weather forecast says it will rain on your special day! Don't worry, we'll explain what to do if it rains on your wedding day with 13 tips and suggestions, from the wedding venue to decorations!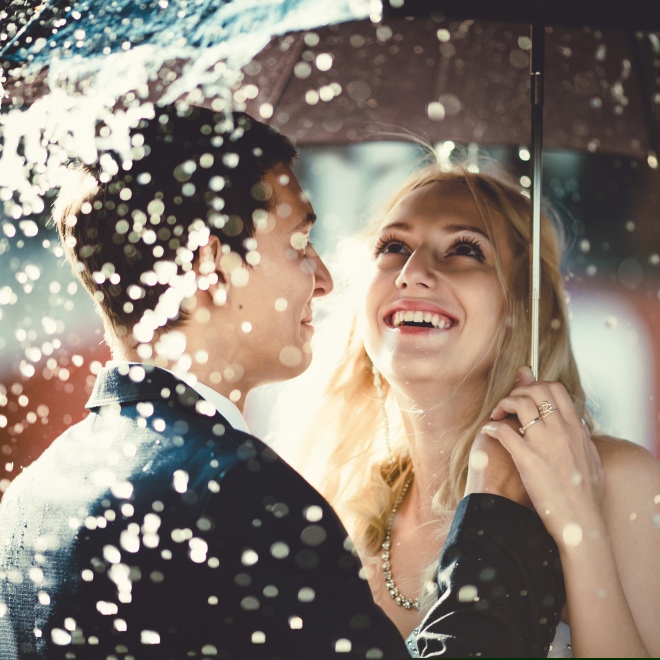 Rain on Your Wedding Day: What Does It Mean?
The answer varies depending on who you ask. Many myths and superstitions exist about the weather during weddings. It is more difficult to untie wet knots, which is why Hindus say that rain at a wedding signifies a long-lasting union.
Others think it's a chance for a fresh start for the newlyweds, cleansing them of unpleasant memories. There is also a belief that rain symbolizes good fortune, fertility, and prosperity. Regardless, one thing everyone agrees on is that rain on your big day is a sign of luck!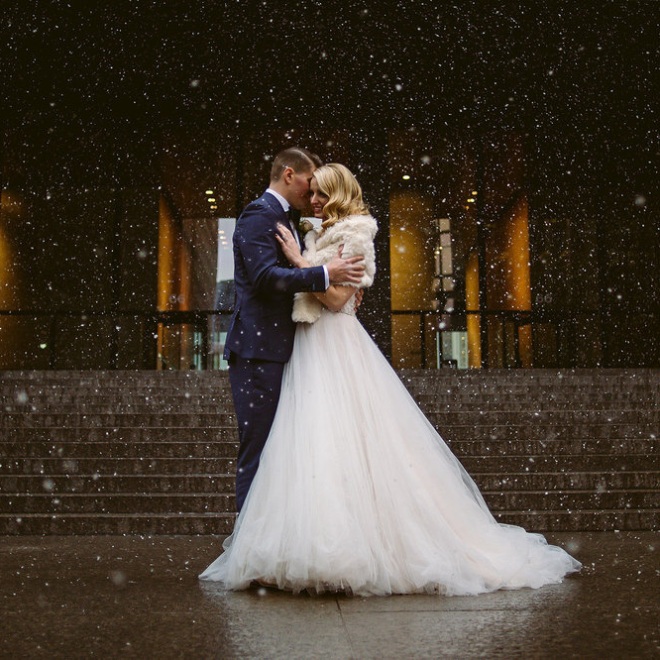 Wedding Venues Discounts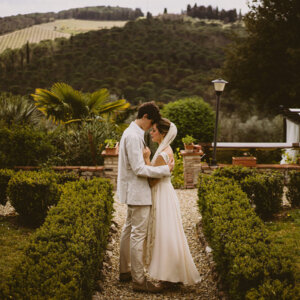 Julian and Kelly
Do you want to learn more about different wedding traditions and beliefs? Take a look at this article: A Look at 41 Unique Wedding Traditions Around the World
1. Take advantage of the weather!
Weddings aren't about the weather, they're about sharing your joy with your nearest and dearest. You can still host an unforgettable wedding regardless of the weather. Getting muddy is a sign that you enjoyed the day to the fullest. And if there's a storm, you'll have interesting stories to share with your kids!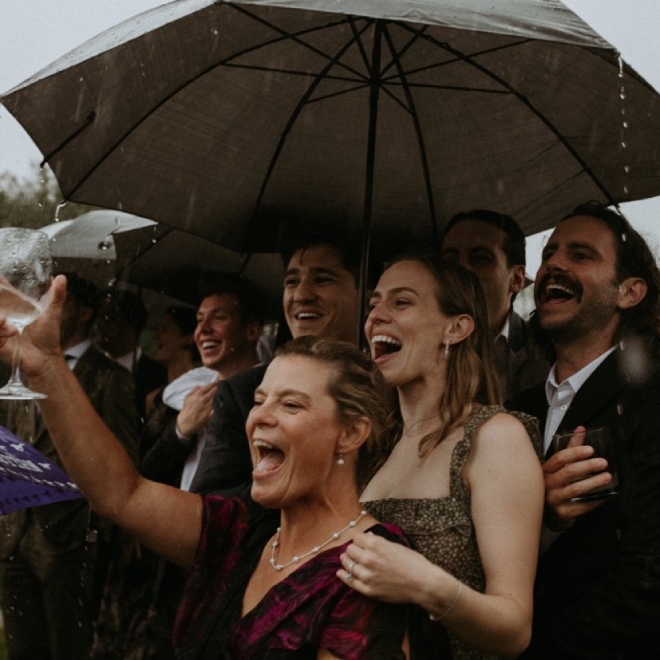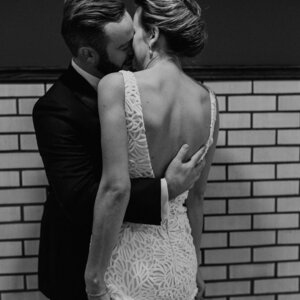 Scarlet O'Neill
2. Find out what your venue has to offer
Find out what options you have by calling your venue coordinator or wedding planner. Are there any other protected spaces on site you can move to? Would they be able to help flip an indoor space for both a ceremony and reception if you're planning an outdoor ceremony and reception?
In this case, ask them how long it will take to transform the space. It should take them about an hour to do this while you and your loved ones enjoy cocktails and appetizers elsewhere.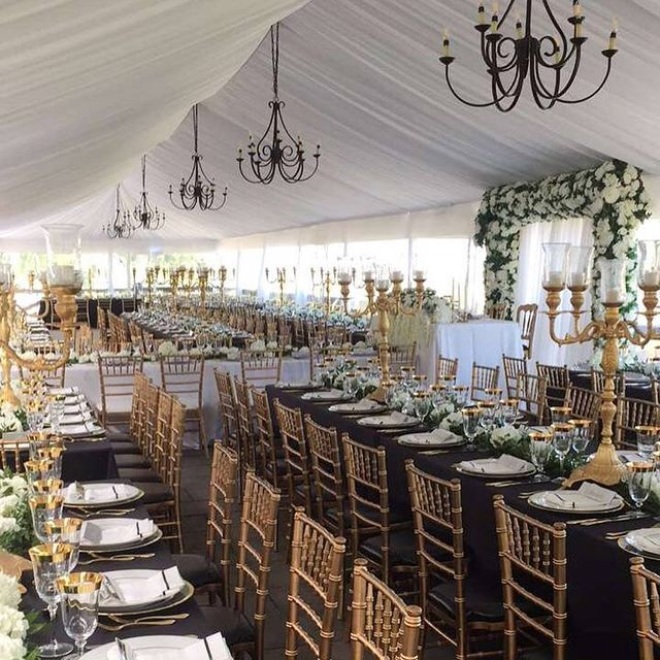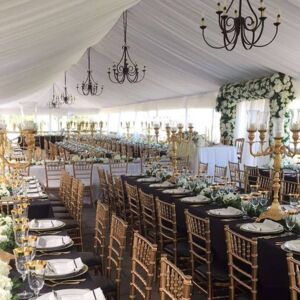 Acqua Dolce Resto Venue
3. Invest in a transparent tent
A rainy wedding doesn't have to be indoors. Quite the contrary, in fact! For a rainy open-air wedding, we love the idea of a transparent tent. The tent gives you a great view of the sky, the raindrops create some cool white noise, and the transparent roof adds some romance.
Make sure you get a tent with clear sides so you can keep your guests dry. To make sure your loved ones are comfortable on a cold day, you can rent portable heaters as well.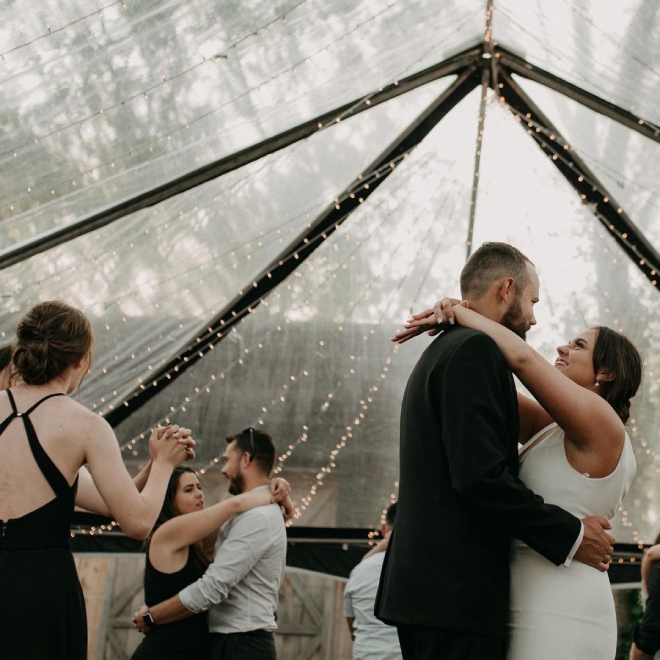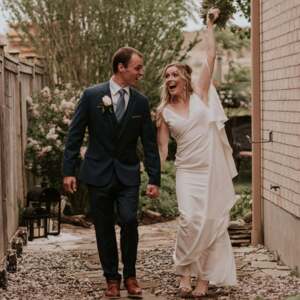 Kat Arndt Photography
Make your tent wedding awesome with this article: The Ultimate Guide to Planning a Tent Wedding
4. Freshen up your decor
Think about ways to bring the outdoors indoors. It's a magical sight when you bring the outside in. Your florist will be your best friend. Try to get floral arrangements that feature a lot of foliage, which are usually more affordable than fresh flowers.
If you're having a rustic wedding, consider hay bale seating for a cool outdoorsy look. Placing potted plants on the tables and herbs at every place setting will keep the natural vibe going.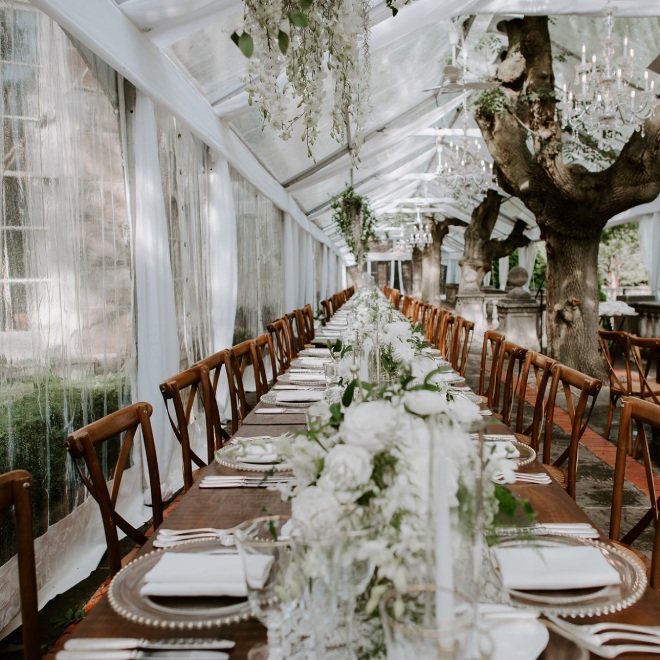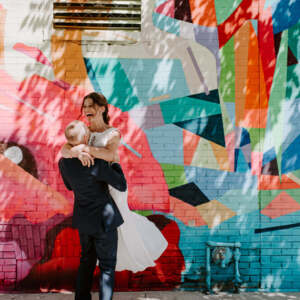 Ever After Photographers
You can find more amazing rustic wedding ideas here: Your Guide to Hosting a Beautiful Rustic Wedding
5. Check the walkways
Make sure the route to the ceremony or reception space is safe for your loved ones if they're wet. Using non-slip material for a marquee reception might protect guests from walking directly on wet grass and slipping, for example. Also, have a lot of entrance mats for guests to wipe off their wet and muddy shoes.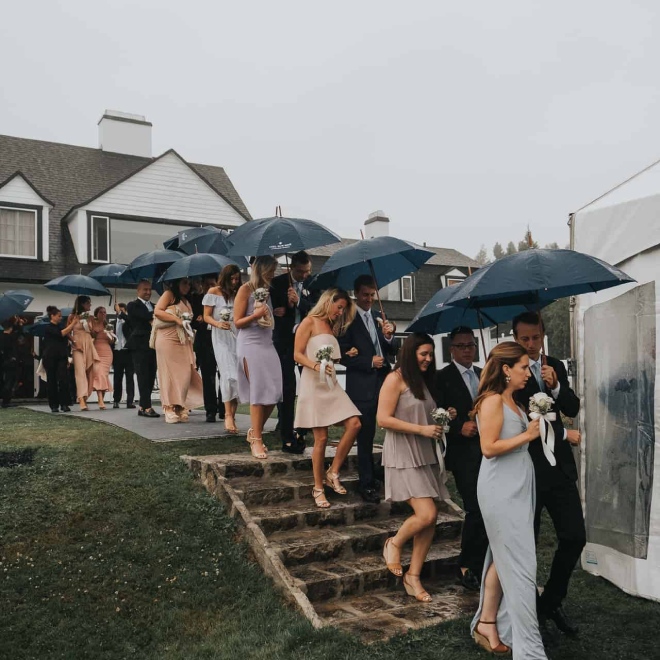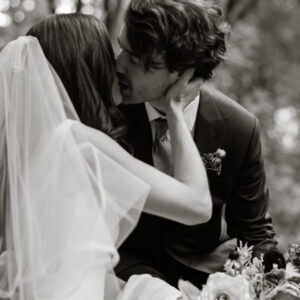 Joel and Justyna
6. Make sure you've got a few umbrellas on hand
Make the most of a rainy wedding day with an umbrella. Clear or white brollies are great because they don't add any colour to your pics. But you can totally use vibrant, fun ones too! For your loved ones who are walking to your reception venue, you should also provide umbrellas.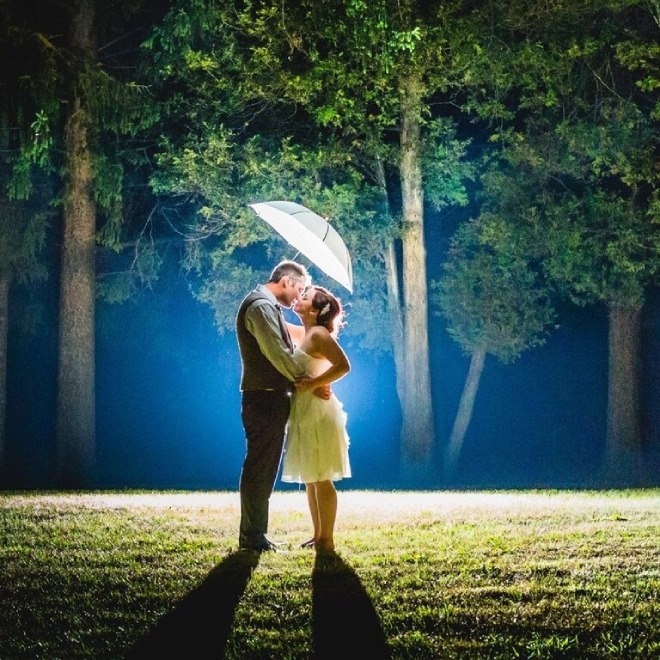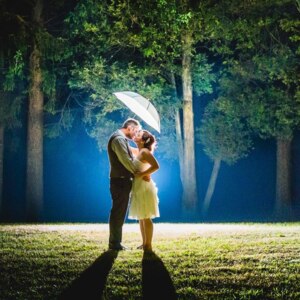 Yohan Chung Photography
7. Rain makes for awesome photo ops!
The magic of a photo taken on a rainy day is unbeatable. It's hard to match the magic rain brings. Ride that wave of mist, rolling clouds, light, and a moody atmosphere! Also, if the rain passes, maybe you'll see another spectacular sight, a rainbow!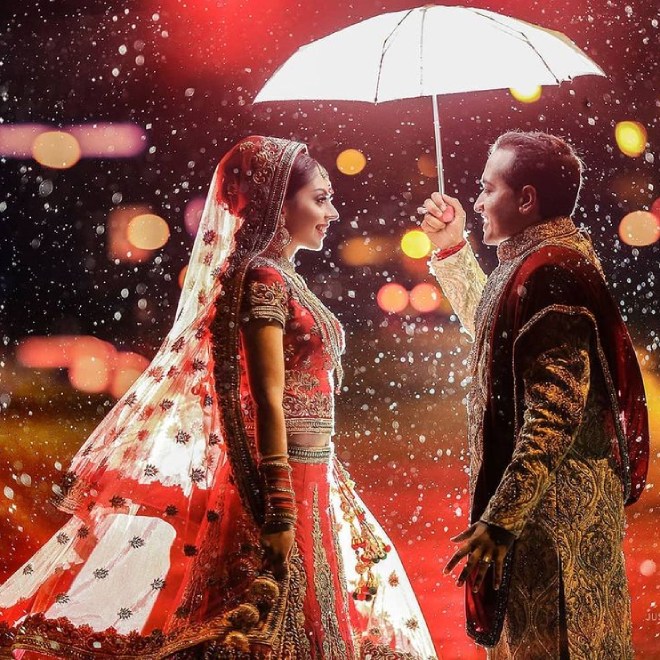 Just Married Photography
8. Make your hair and makeup rain-proof
Your hair & makeup artist can prepare to weather-proof your look if you let them know about inclement weather. Use a moisture-rich product if your hair tends to frizz at the slightest hint of rain. If you want to smooth out the frizz and add shine, you could have a keratin treatment before the wedding.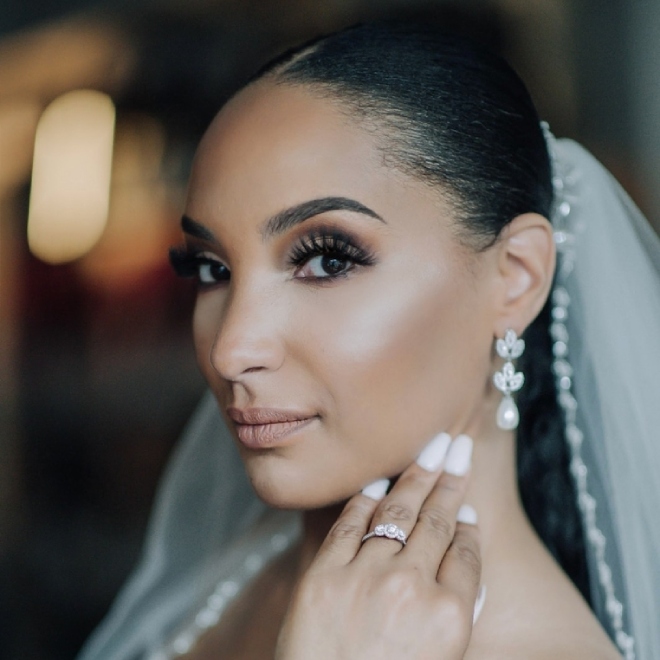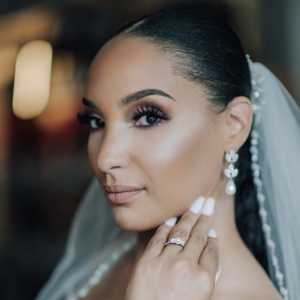 SHE's Redefined Beauty MUA
9. Put on a pair of rainproof boots
If you're having a country wedding or planning a marquee or celebration, a change of shoes will be essential! Make sure you have rain-proof boots on hand just in case. You can even colour coordinate your boots with your wedding colours.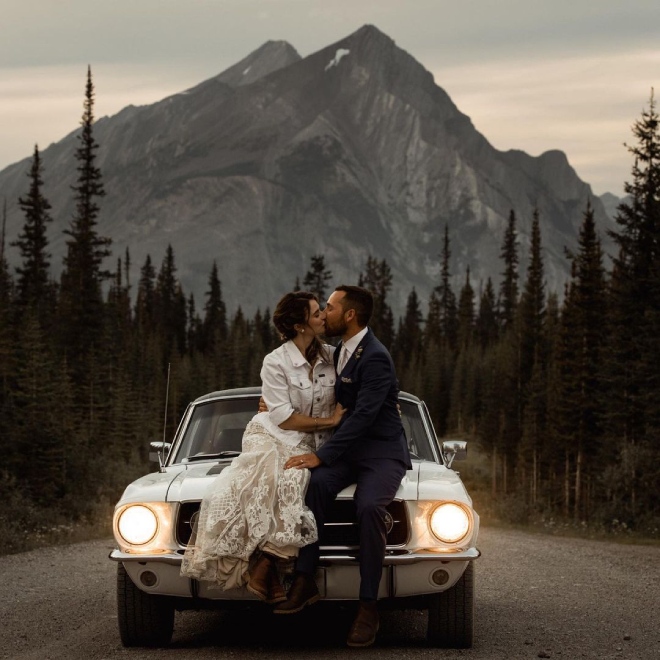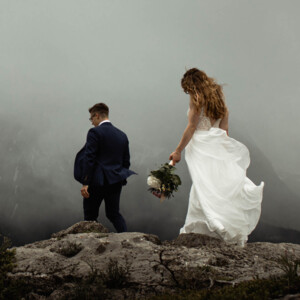 Willow and Wolf
With this guide, you can plan a gorgeous country wedding: Country Wedding Ideas: 10 Must-Haves
10. Take your photos indoors
Another option is to take your pictures indoors if it rains or is too cold. Keep in mind that your wedding photos are a reflection of your big day. You'll have some great opportunities to take couple shots and family portraits inside as your special day unfolds.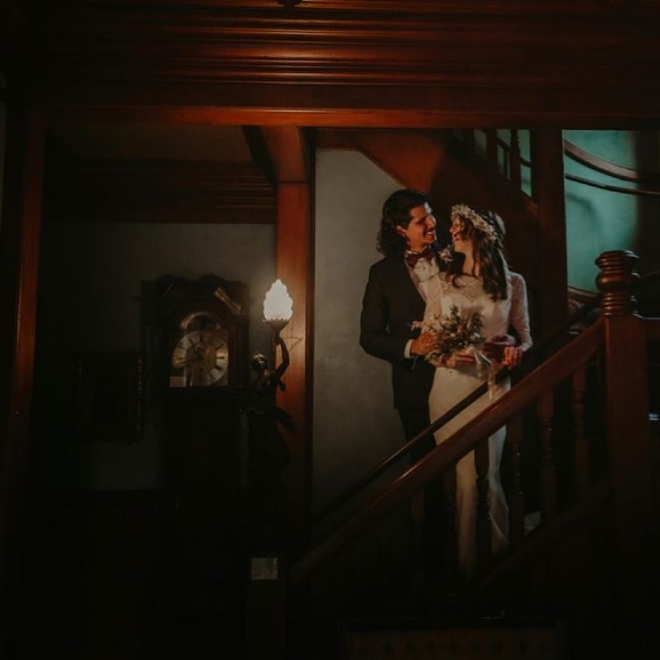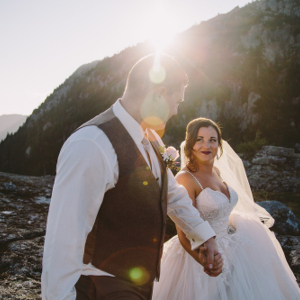 Erica Miller Photography
11. Don't forget towels & blankets
Having towels and blankets at the entrance would be a nice gesture, so your loved ones will be able to dry off and warm up in the rain quickly!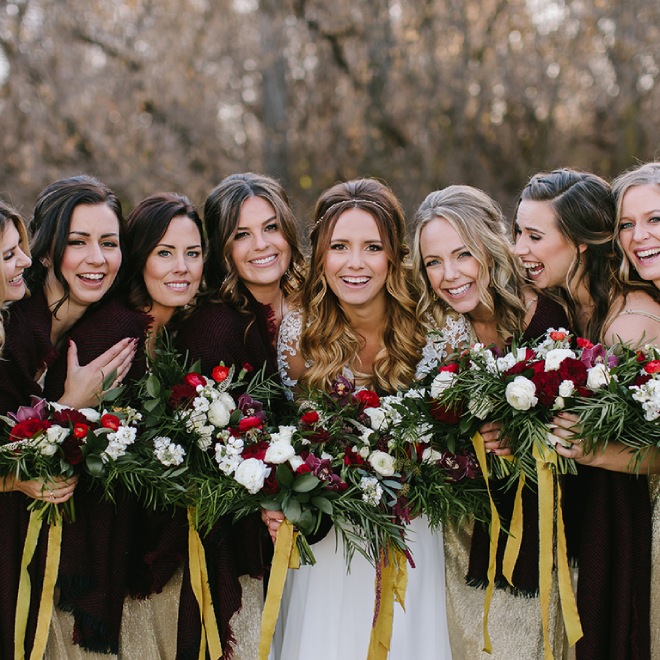 12. Set up a hot drink station
Make guests feel cozy by serving hot drinks, like a tea bar, if it's raining.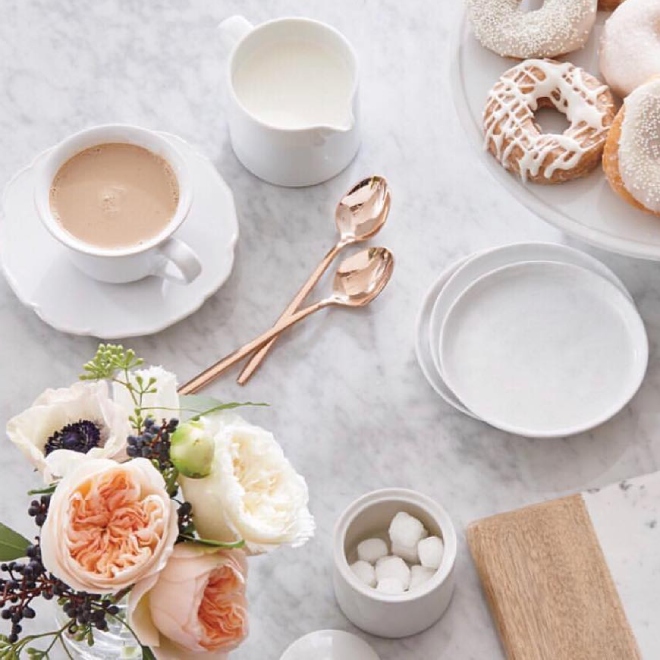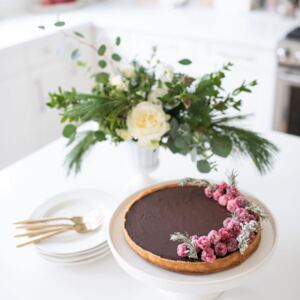 White Table Catering Co
Here's the end of our article. Hopefully, we cut down on your stress and showed you that rain on your big day could actually be awesome. Still looking for a wedding venue? Now's the time to find the best one!