From elegant wedding dresses to spectacular cakes, or amazing wedding venues, these ideas and tips can help you plan the perfect gay or lesbian wedding of your dreams. So let's get started!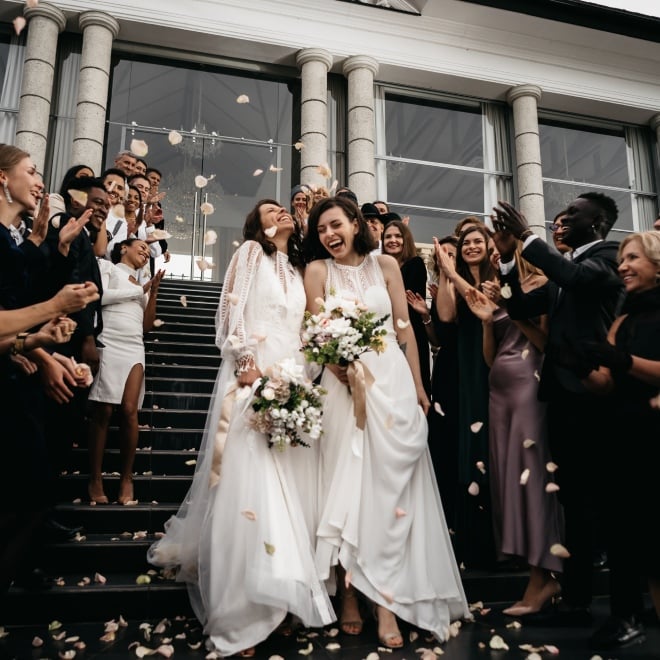 Who proposes to whom?
As we've heard from several same-sex couples, it is possible to propose at the same time! Each of you can pop the question when the time is right. It could be a memorable, funny moment if you plan on doing it. Alternatively, others might feel that they have been robbed of the chance to get something they've always wanted.
Perhaps casually mentioning how much you'd like to propose/be proposed to might be a smart move. Let it be a wonderful surprise if that's okay with you. There are other traditions you can mix up as well:
The groom usually asks the bride's father for permission to propose, but it's not necessary for a same-sex proposal. Also, on one knee? Pass.
Rings may not be that important to you. Get matching engagement tattoos, exchange watches, or plant a tree together in your garden as an engagement gift.
Make sure someone is secretly filming or taking pictures of the engagement. If you don't, you will miss out on part of your story.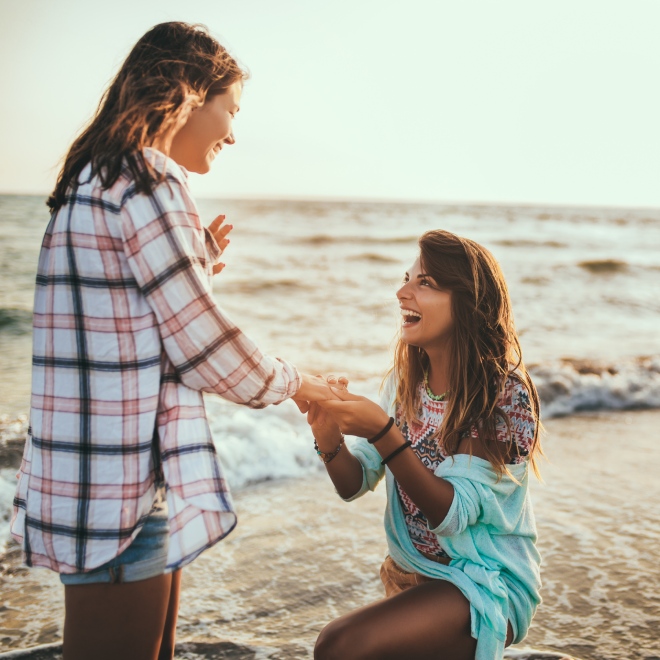 How do gays and lesbians dress for their weddings?
What about a pair of suits? Or two wedding dresses? Why not one of each? It's all up to you! There's nothing like throwing out the rulebook for your wedding outfits. Lesbian couples may wear white dresses and veils, or bridal suits.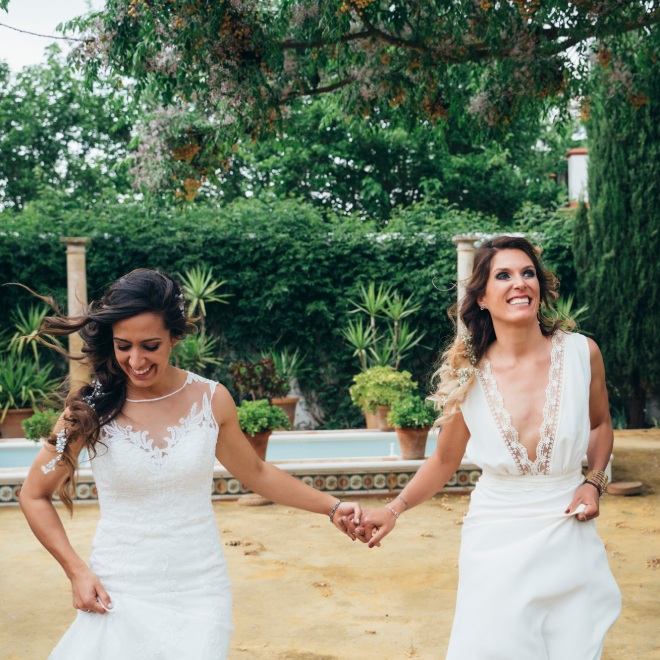 For gay couples, a sharp suit is a good option as well as formal wear, a kilt, or a tuxedo. No matter your taste, there's something for everyone! Put on what you love - and if white dresses and their purification connotations are not your style, wear something colourful!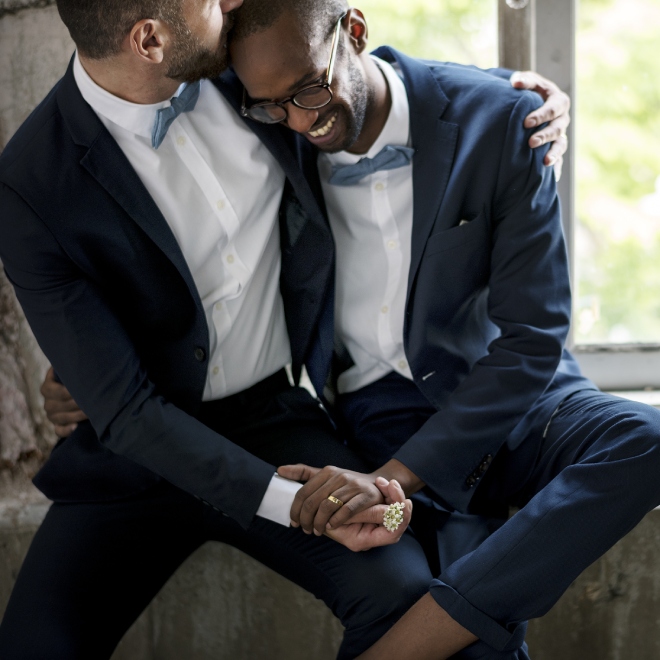 Many couples pick out their outfits together in order to avoid clashing. There is no need for a big reveal, and you can spend the night before your wedding. Getting ready photos will be fun as a result. However, if you want to do a big reveal, go ahead - it's all about making your day exactly how you want it to be!
Take a look at these trends and wow your guests: These Wedding Dresses Will Be The Biggest Bridal Trends in 2022!
Who walks down the aisle at an LGBTQ wedding?
It is traditional for the father of the bride to walk his daughter down the aisle and "give her away". There are various options available for a same-sex wedding, depending on the couple's preferences. Most couples take turns walking down the aisle, or one half waits at the top.
It is also possible to walk down the aisle arm in arm, which is a romantic and meaningful moment that deserves a photo. You can avoid the aisle if the attention on you makes you feel dizzy.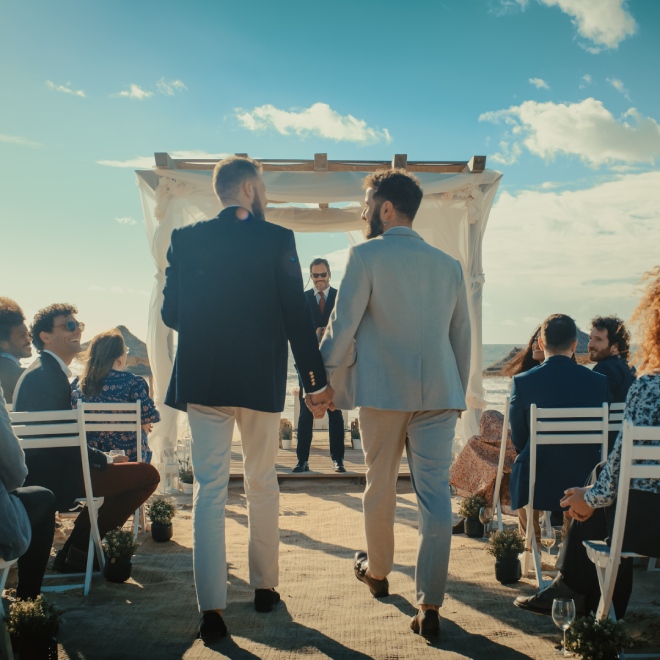 Would you like to learn more about traditional weddings? Check out this guide: Everything You Need to Know About a Wedding Ceremony
Who gives away who at a lesbian and gay wedding?
Originally, this tradition was a passing of ownership from father to husband. The symbolism behind it doesn't need to be traditional - many people see it as a way for the parents to bless the marriage along with a cute, joyful gesture.
If it's against your principles, it doesn't fit your situation, or it makes you feel uncomfortable, it's your choice. But here's how you can adopt it:
A father is still a popular choice for lesbian couples and a mother is still a popular choice for gay couples. Having your parents there is a meaningful way to include them in the big day.
An alternative would be to consider a friend or family member as support instead of someone who is giving you away. This can be a delightful act of gratitude.
Have each parent of your partner walk you down the aisle, one on each side, to show your families' union and thank them for their support.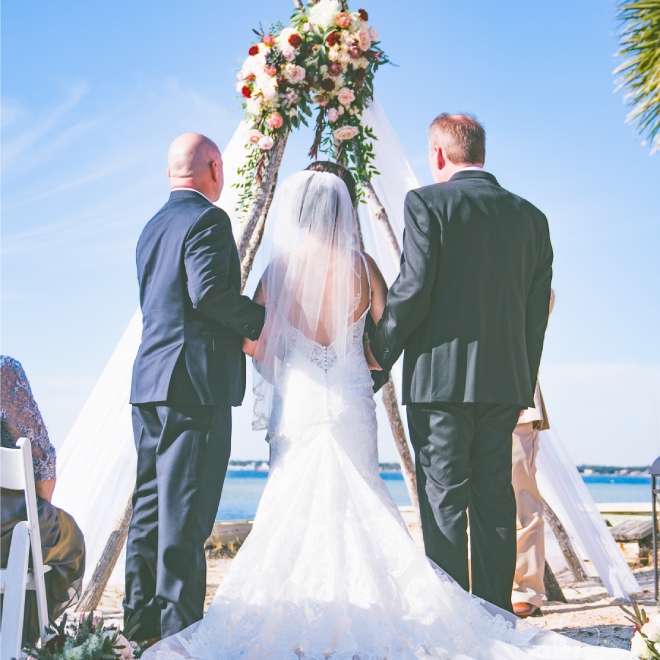 Where do same-sex couples stand at the altar?
Generally, the bride stands on the left side of the altar, and the groom on the right. Since you've ditched the male and female roles, you can be whatever side feels most comfortable to you. Next, your wedding party will sit in front of you or stand to the side. Guests can sit wherever they like.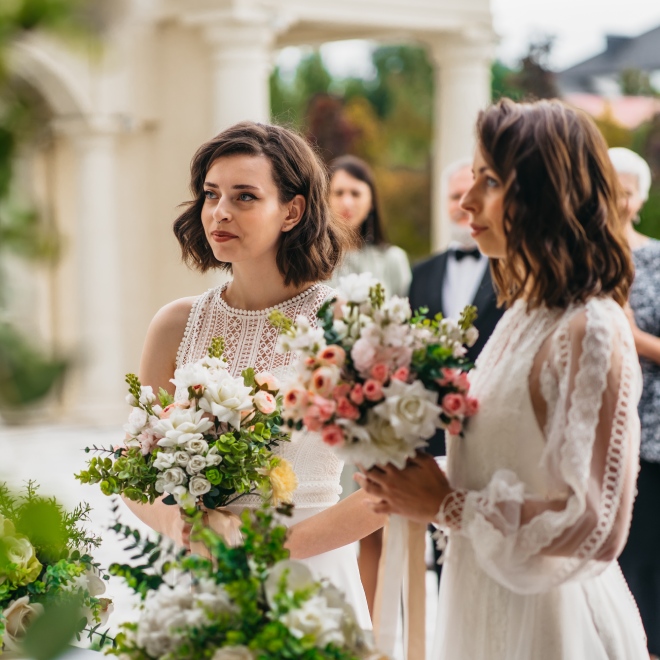 How does the wedding party work?
At a gay wedding, it is not essential to have two best men and two ushers, just like there is not a requirement for two maids of honour and bridesmaids at a lesbian wedding. Having the people you love close to you is more important than anyone's gender.
A bride can have both men and women as attendants, or the groom can have a best friend or sister serve as best man. Also, you don't have to use best man or maid of honour titles. "Wedding attendants" or "honour attendants" are common at LGBTQ weddings, but you can have as much fun as you want. Who's up for "I Do Crew"?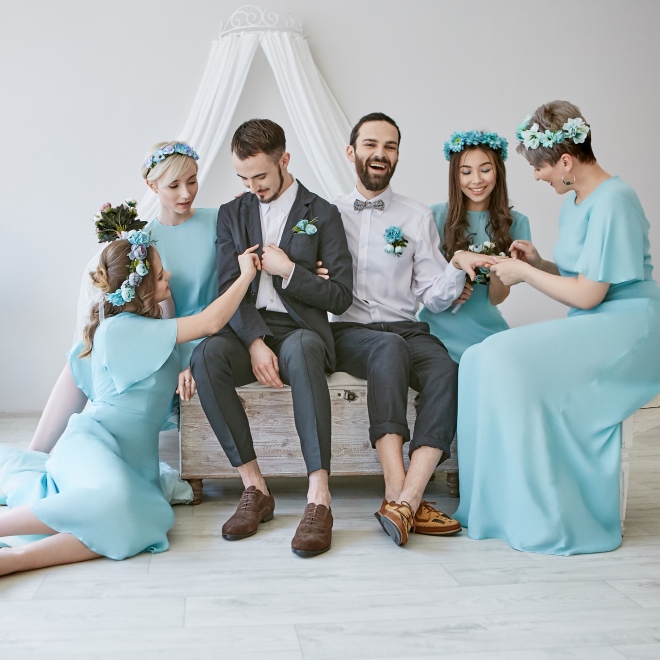 Who pays the bill?
Traditionally, the bride's parents would pay for the wedding or at least a significant portion of it. Today, couples are increasingly paying for their own weddings or asking both sets of parents to chip in.
It's a delicate subject. You should not assume who will lend you money. Furthermore, you should be aware that your parents might want a say in how the wedding turns out if they contribute financially. If you want full control, find out if you can afford that.
How about creative decor ideas for a same-sex wedding?
Planning a same-sex wedding requires you to consider which traditional wedding décor to incorporate and which customs to reinterpret. Adding your own personal touch to otherwise unfitting decorations is a great way to romantically celebrate your love.
Here are some beautiful wedding decor ideas you can use to make your special day even more memorable:
1- Wedding Ceremony Seating Signs
While some traditional weddings have two seating sections ("the bride" and "the groom"), many gay or lesbian couples choose to skip this. If you're not splitting your sides, tell your guests in a fun way that there are no seating assignments.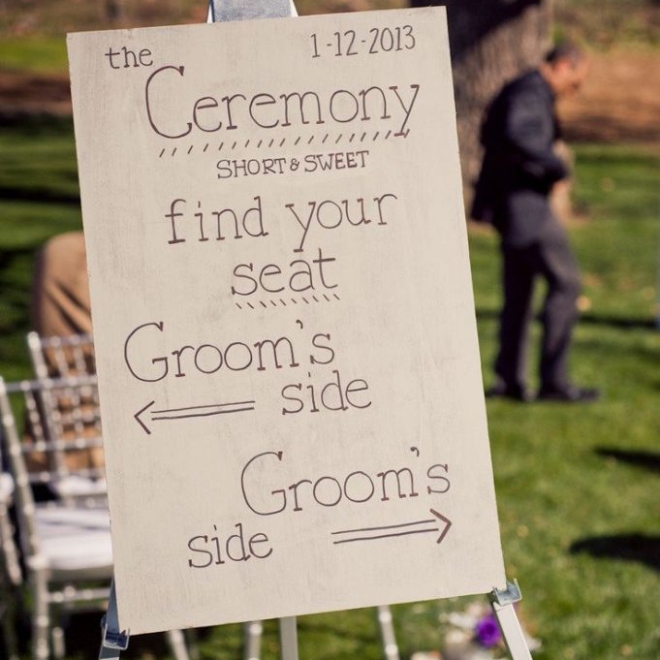 2- Wedding Chair Signs
Many couples decorate their chairs with cute and stylish signs. However, you don't need a bride and groom to decorate your chairs, do you?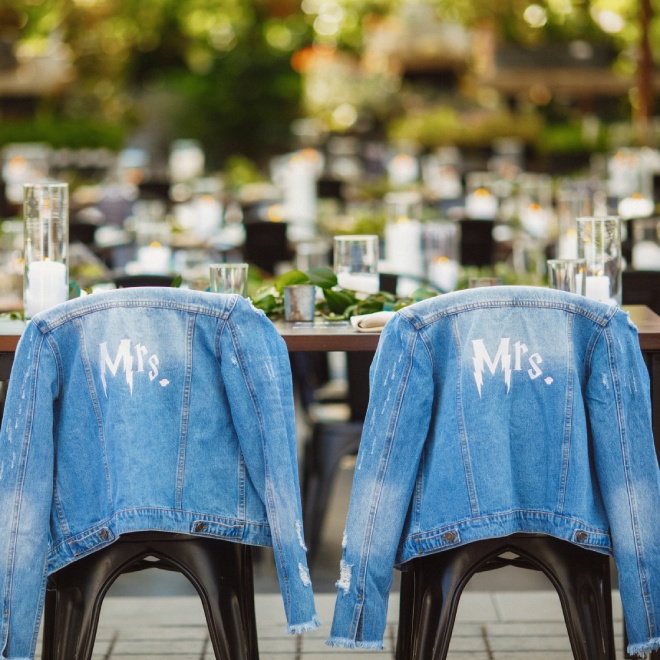 3- Wedding Cake Toppers
Choosing the right cake topper depends on your style - it could be a picture of you two animated, cake pops shaped like two birds or a silhouette. Choose something that makes you both smile on your wedding day and something you both love.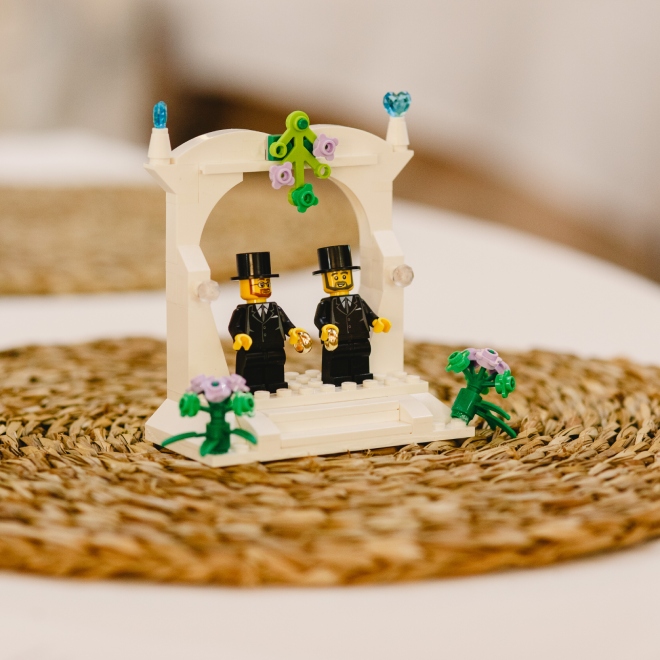 4- Infuse Your Wedding with LGBTQ Pride
The gay wedding ceremony ideas are endless when it comes to incorporating gay pride into your ceremony. Here are some:
Make your theme based on LGBTQ flag colours.
Choose flowers, runners, and bouquets that match.
Don't forget the cake. Depending on your decor, the outside could be in pride colours or just the inside.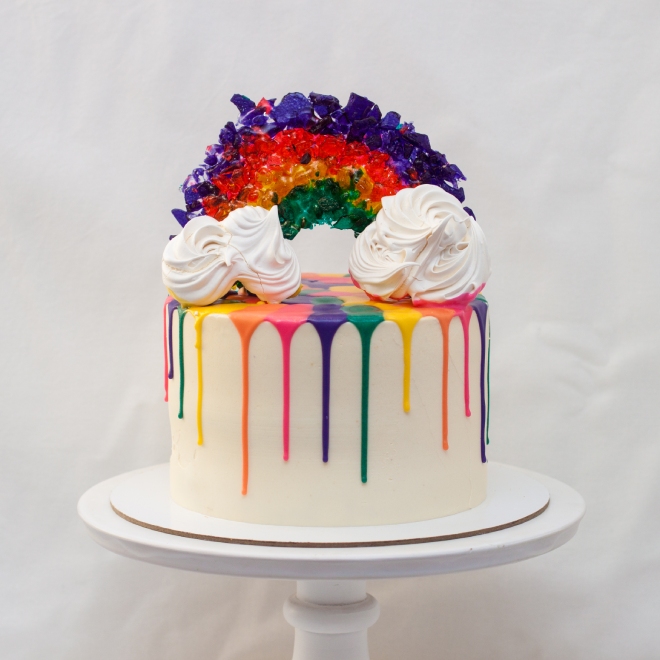 You can also pick from these other popular themes: These 23 Wedding Themes Will Suit Any Style
5- Wedding Invitations
A romantic engagement photo or an animated invitation can be a great choice. Create or add silhouettes of tuxedos, top hats, bow ties, dresses, or heels if you're into animation.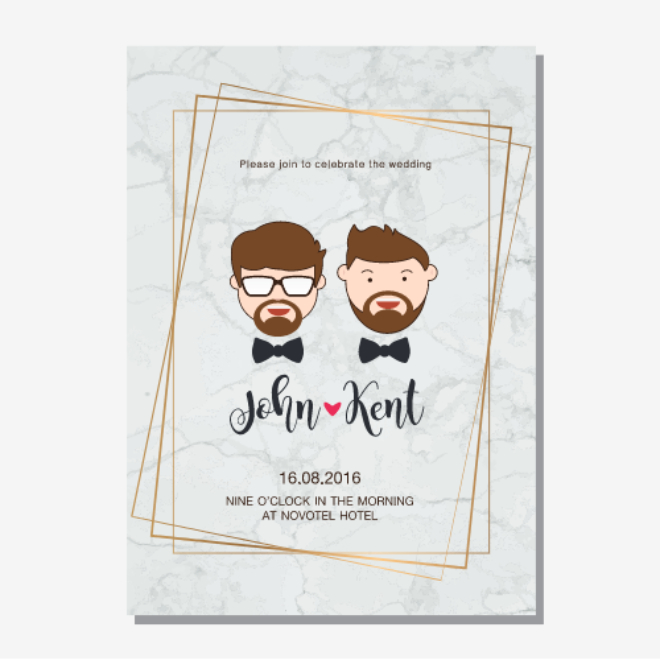 6- Adorable Cupcakes for Gay and Lesbian Weddings
Flag colours, bow patterns, Cinderella dresses, whatever you like. The cupcake is a cute idea for showcasing your personality at a same-sex wedding.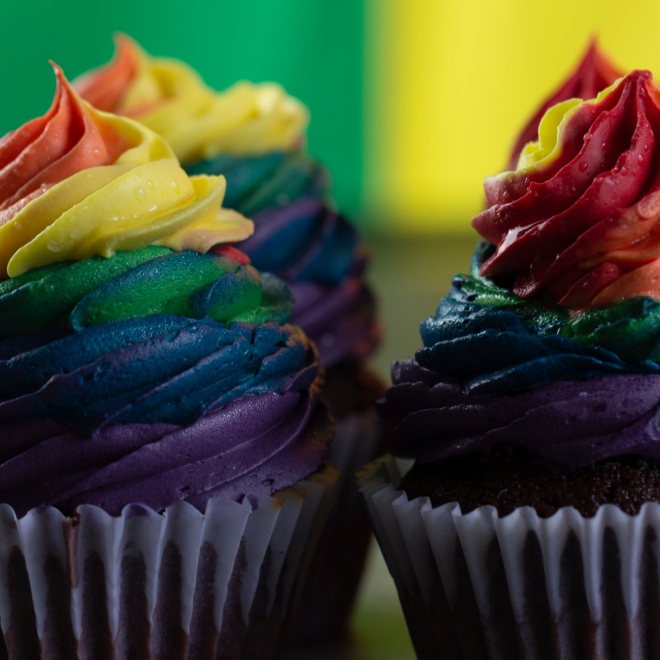 7- Cute Lesbian and Gay Wedding Photos
This is your chance to display your creativity and play with silly, classy and creative concepts. Photo booths, love banners, and kissing in the sparkling rain are all great ways to have fun.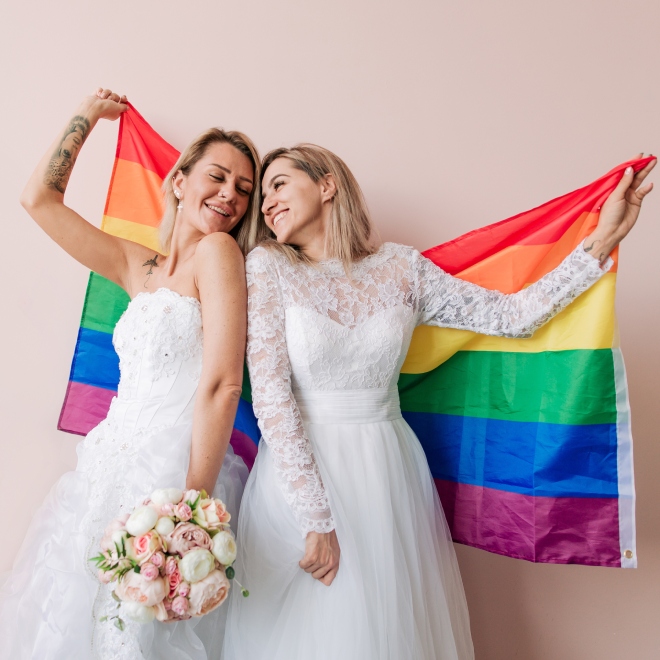 8- Same-Sex Wedding Centrepieces
There are so many things you can do with this piece of your LGBTQ wedding. It is up to you to decide whether your centrepieces will be sophisticated, quirky, original, or timeless.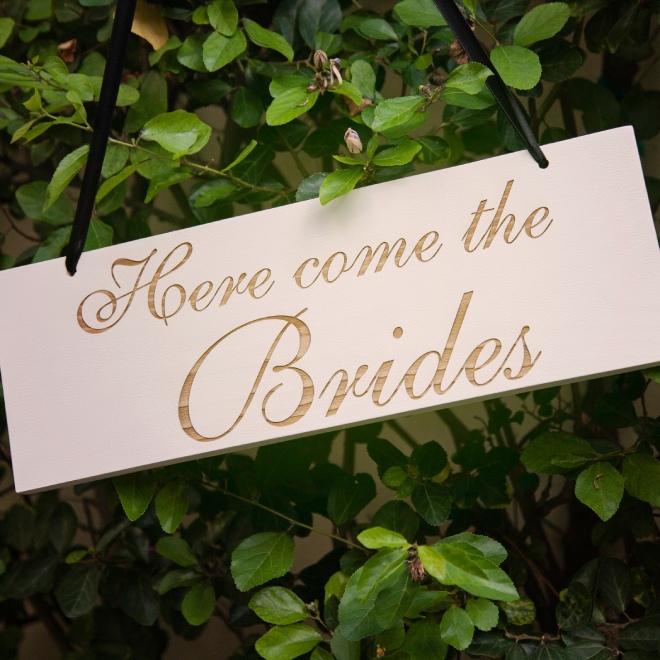 9- Engraved Flatware for Gay and Lesbian Weddings
Monogrammed flatware for Mr. and Mr. or Mrs. and Mrs. makes a lovely dessert table display. Just another great same-sex wedding idea.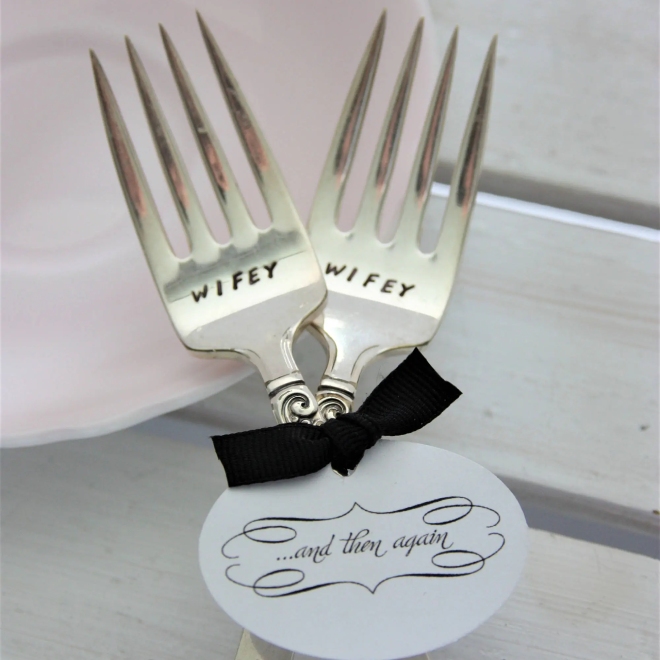 That's it for this article. Now you have everything you need for a gay or lesbian wedding - from lesbian wedding outfits to gay wedding suits to LGBTQ wedding decorations and same-sex wedding photos. It's time to find the most suitable LGBTQ-friendly wedding venue in your region. Request free quotes and get amazing deals!