Your cottage wedding dream can come true in Muskoka! From golf clubs and resorts to rustic barns and campsites, we've listed the top-rated wedding venues. Take a look at 15 of our favourite locations!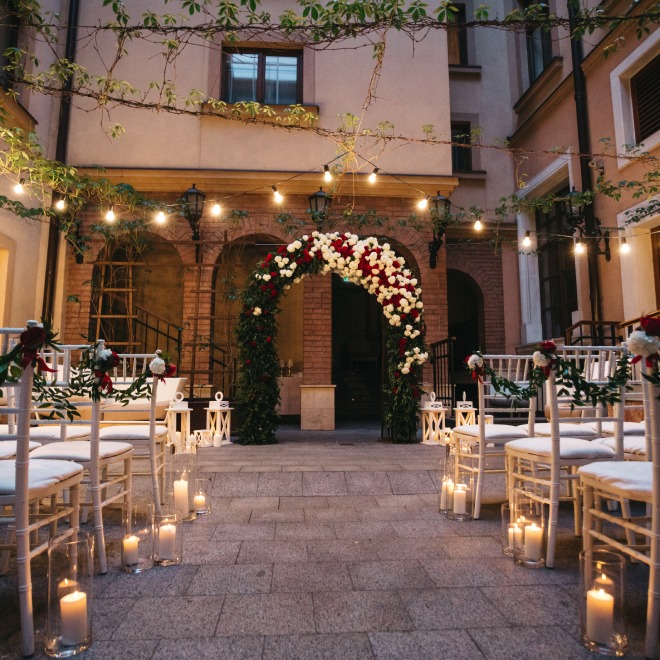 1. Muskoka Highlands Golf Links
Located in Bracebridge, the Muskoka Highlands Golf Links offers both indoor and outdoor celebration areas. 100 people can be welcomed indoors or 165 if you wish to celebrate outdoors.
The picturesque green offers plenty of open space for setting up a wedding tent, as well as an open-sided clubhouse that is rustic in style. Besides a large park spot, in-house catering, stunning linens and glassware, Muskoka Highlands Golf Links have a professional and dedicated event planning team to help you out.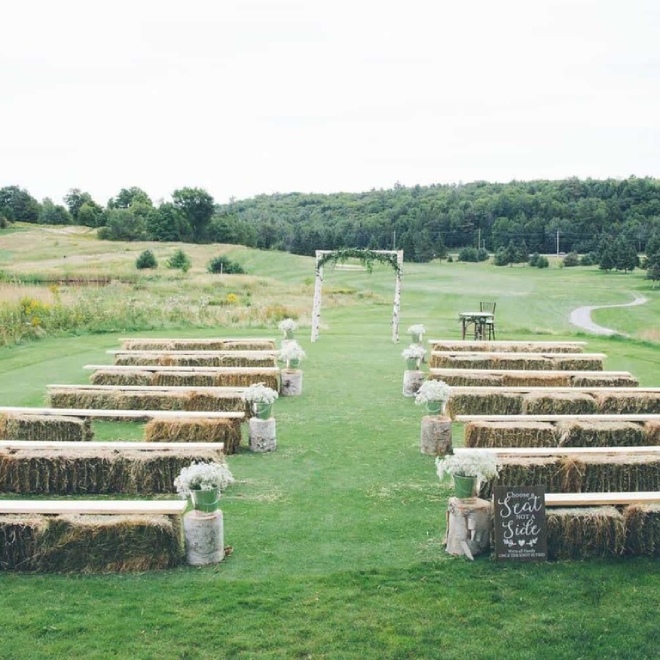 2. Camp Eden Woods
Camp Eden Woods is located in Haliburton, about 45 minutes from the Haliburton/Stanhope Municipal Airport. This venue will remind you of your childhood summer camping memories.
With over 19 buildings and structures, 70-acre Camp Eden Woods offers indoor and outdoor settings for wedding ceremonies, receptions, bridal showers, engagement parties, and rehearsal dinners. In this stunning lakefront venue, you can host up to 150 people. The packages include breakfast, lunch, and dinner.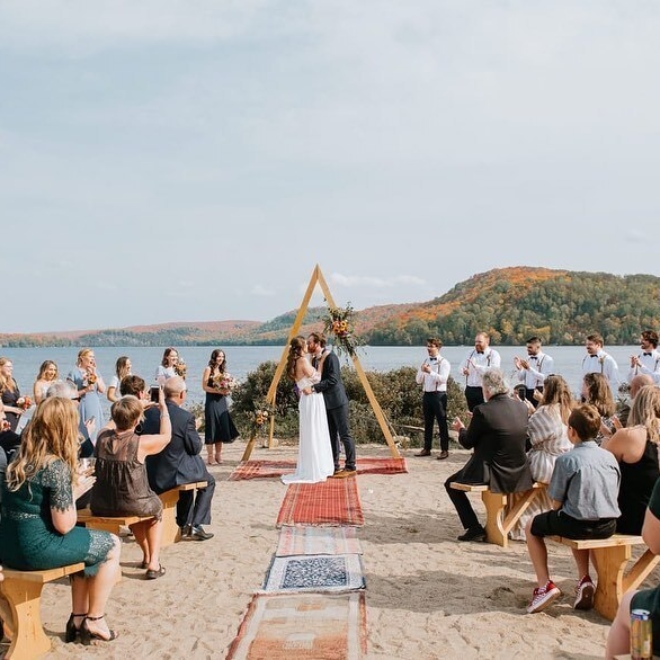 3. Patterson Kaye Resort
Patterson Kaye Resort offers a unique wedding reception in the very heart of Muskoka, Bracebridge, with remarkably competitive prices. This special venue has a rich heritage dating back to 1936.
The Patterson Kaye Resort can hold up to 126 wedding guests and has cottages that accommodate two to twelve people each. This rustic-vintage venue lets you put together your dream wedding with its numerous services, including in-house catering, a bar, lighting and sound systems, and decorations that fit your theme.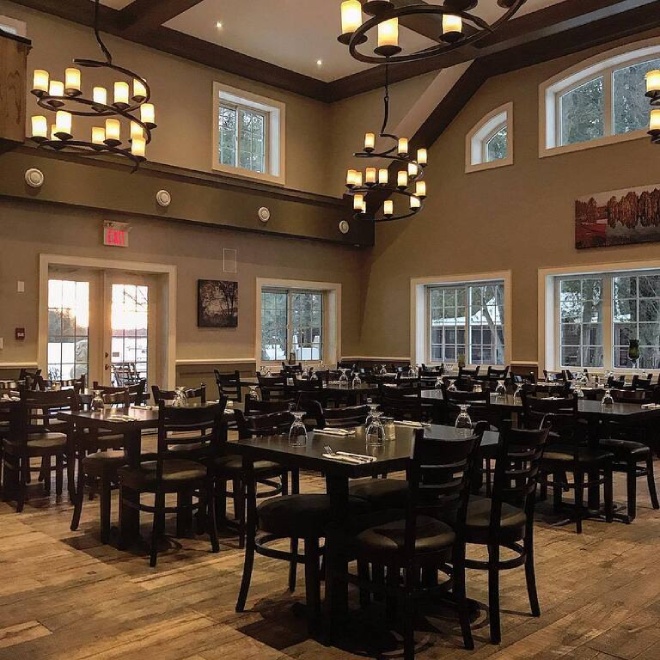 4. Taboo Muskoka Resort and Golf
One of the most picturesque and leading resorts in Muskoka, Taboo Muskoka Resort and Golf offers indoor and outdoor wedding options with a breathtaking view of Lake Muskoka. Only a few miles away from both the airport and the train station, this elegant wedding venue is conveniently located in Gravenhurst.
The venue has four rooms with capacities ranging from 40 to 200, which can be combined for larger events. By providing couples with accommodation options, event planning, decoration services, and various menu options, Taboo Muskoka Resort and Golf helps ease the burden of planning a wedding.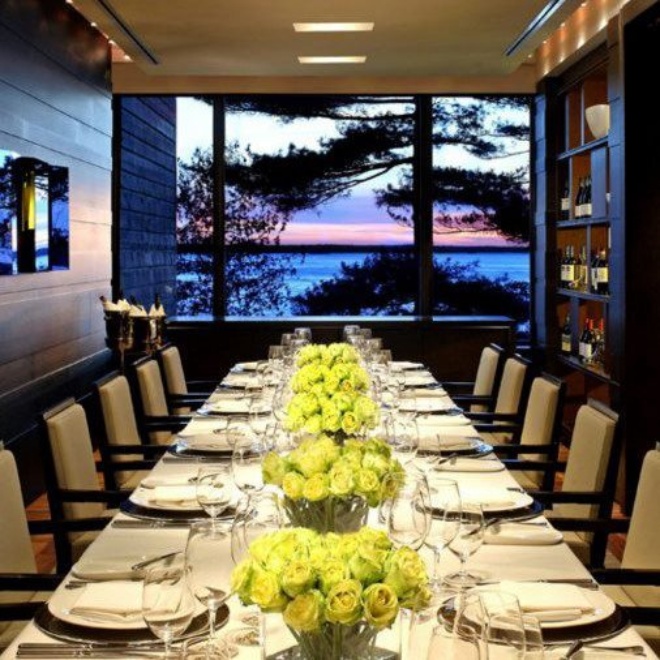 5. Touchstone Resort
Featuring rustic-yet-modern accommodations, dock cabanas, lawns and beachfront space, Touchstone Resort is the cottage venue you've always dreamed of. With a capacity of up to 80 guests, this venue is best suited to small weddings in Bracebridge. The resort also offers gorgeous villas for you and your wedding guests to stay in.
You can make and preserve unforgettable memories while enjoying the breathtaking views and the services such as professional wedding managers, in-house catering and bar, and customizable decorations at the Touchstone Resort.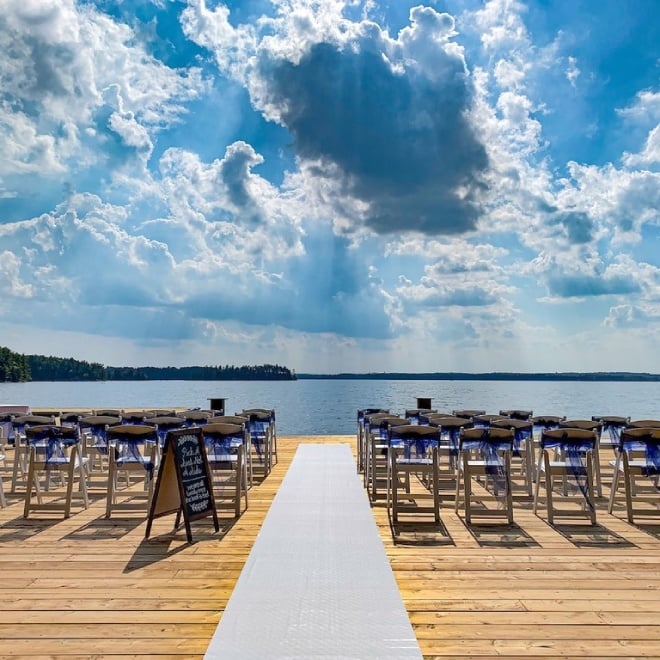 6. Deerhurst Resort
The Deerhurst Resort in Huntsville should be at the top of your list if you are looking for a Muskoka wedding venue with a bit more glitz and glamour. From sparkling chandeliers to breathtaking views, this place has it all. It can handle intimate weddings or huge events with over 1000 guests, so you've got options.
There are scenic outdoor spaces as well as elegant rooms for indoor functions at Deerhurst Resort, and each is decorated and designed differently. Their wedding packages, accommodations, and mouth-watering menus are available for every budget.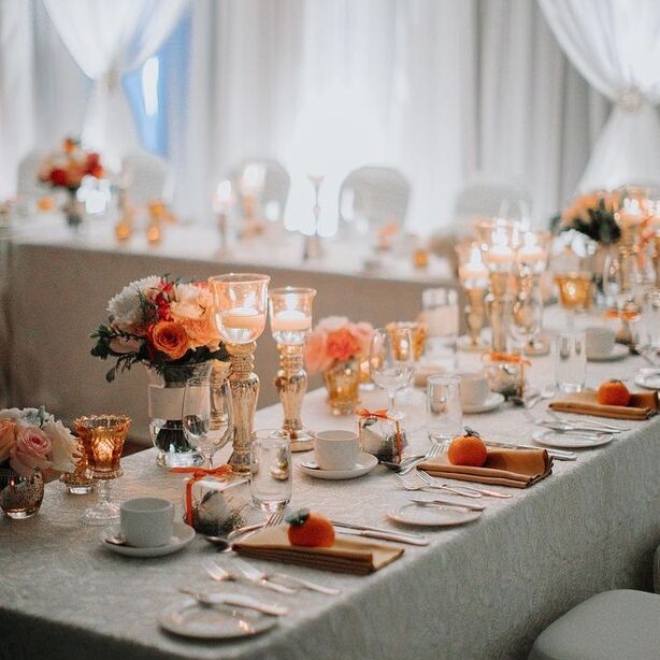 7. Brooklands Farm
Brooklands Farm has been around since 1876, and it's a gorgeous venue for your wedding with a beautifully renovated barn, a cute lodge house, and lots of greenery for your photos. With a capacity of 6 to 140 people, this venue is perfectly suited for intimate weddings as well as large receptions in Bracebridge.
Brooklands Farm offers different types of wedding packages for different budgets that can be customized to fit each couple's needs in terms of food and beverage, decorations, photography, videography, and music.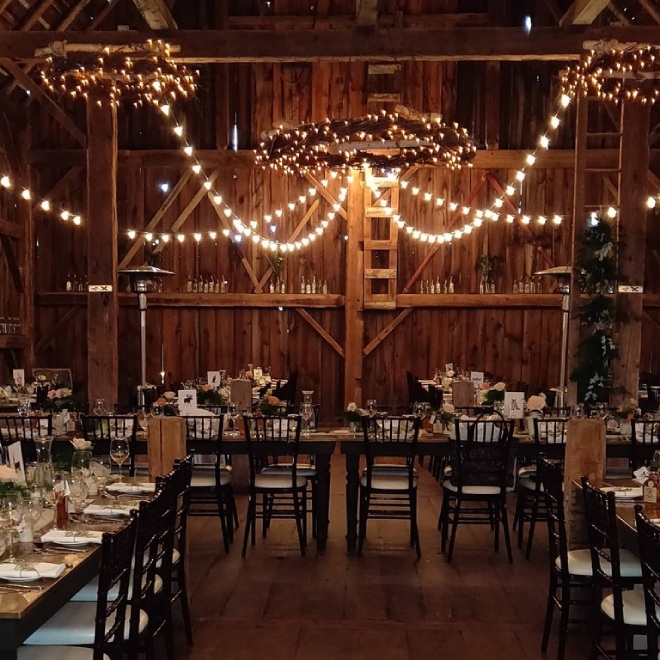 8. Mark O'Meara Grandview Golf Club
Located in Huntsville, Mark O'Meara Grandview Golf Club offers a classic, country, and garden-style wedding setting. Couples will enjoy the romantic venue, picturesque views, and friendly staff.
There is space for up to 225 guests in the ballroom and on the lush lawn at the Mark O'Meara Grandview Golf Club. The Muskoka room and grand hallway can accommodate small wedding parties of 100-160 guests. Catering, event planning, and professional sound and lighting systems are all included in all wedding packages at this classic venue with a modern twist!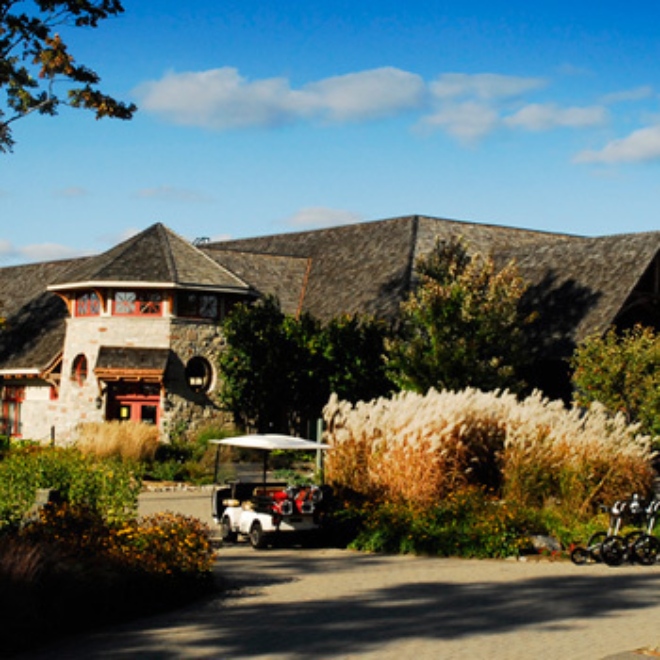 9. The Muskoka Rose Guest House and Retreat
Muskoka Rose Guest House is a small, four-room B&B in Gravenhurst. Located right next to Lake Muskoka, one of the largest in the area, this venue offers a peaceful setting.
Sand ceremonies and toasts can be arranged for the wedding couple. The number of wedding guests is only limited by the size of the tent which is built for the celebration and could be up to 100. Small gatherings can be catered in-house. Vegetarian, paleo, keto, vegan and more options are available at the Muskoka Rose Guest House and Retreat.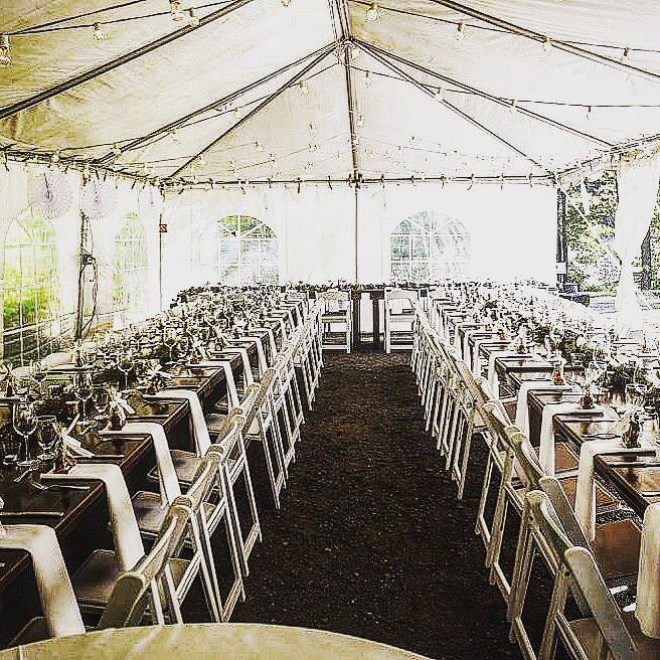 10. Sims Lake Retreat
Located in Huntsville, Sims Lake Retreat is a venue you should consider if you are looking for a peaceful setting with soothing natural scenery for your wedding day.
Providing an ideal environment and calm backdrop, Sims Lake Retreat can hold up to 140 people indoors and outdoors. The property won't be hosting two events at the same time, so newlyweds and their guests will have more privacy and won't be disturbed.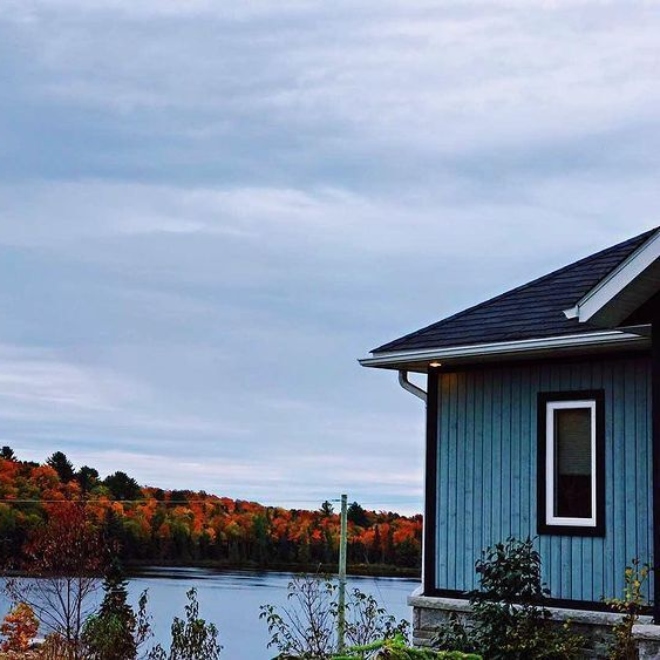 11. Muskoka Steamships and Discovery Centre
If you're looking for a non-traditional wedding, you can get married on a steamship or ashore at Muskoka Discovery Steamships and Discovery Centre. Your event will be tailored to your style thanks to a team of experienced event planners and a variety of decoration options. Additionally, you can fly a custom, personalized flag from the bow during your event.
Your wedding can take place on one of two historic ships, which can accommodate 97 and 216 guests, or in the 150-seat banquet hall. This stunning venue located in Gravenhurst offers free tours of the steamship museum, as well as catering and bar service.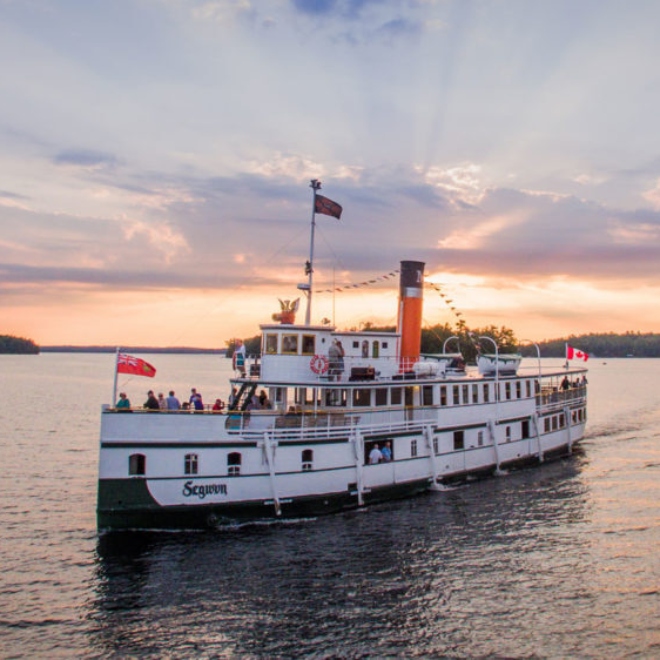 12. Bonnie View Inn
Founded in 1924, Bonnie View Inn is a family-owned landmark resort in Haliburton. They have a 120-person dining room. A tent will be set up on the lakeside if there are more than 120 guests, and two bars will be placed in the main building for faster service.
A restaurant is located on the lakeside patio, as well as a spa and golf course. Bonnie View Inn offers customized wedding packages. The venue has a selection of decorative features that can be customized to meet your needs.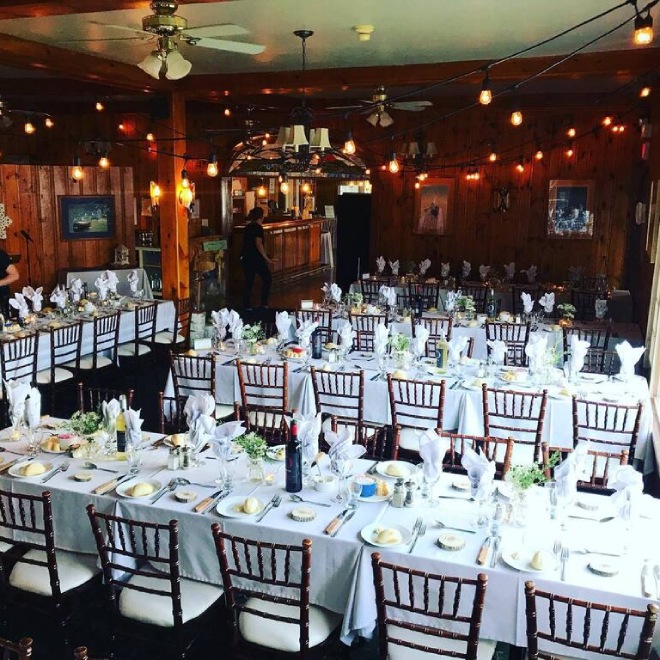 13. Muskoka Bay Resort
Muskoka Bay Resort boasts lush landscaping and expansive lawns, as well as a large patio and beautifully manicured outdoor space in Gravenhurst. With beautiful sunsets, blue skies and lush surroundings, your event will be one to remember.
Muskoka Bay Resort can accommodate up to 175 guests, making it an ideal choice for small or midsized weddings. Also, there is room for 72 guests on the terrace. Catering and bar services, lighting and sound systems and event planning are some of the services of this country golf resort.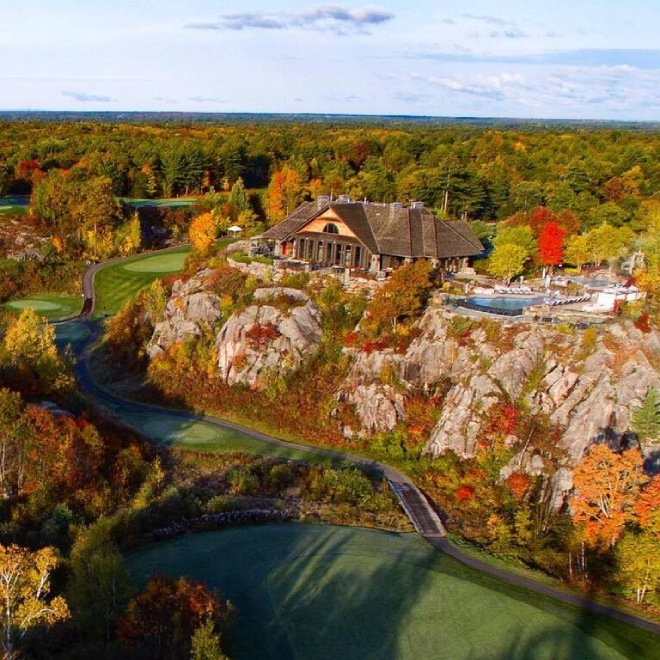 14. Pinestone Resort Conference Centre
Located in the scenic Haliburton Highlands of Ontario, Pinestone Resort Conference Centre is a country-style cottage and landscaped resort with a picturesque forest, golf course, and river. Walls and fireplaces made of wood give off a warm glow, and chandeliers offer sophistication.
Pinestone Resort Conference Centre can accommodate weddings of all sizes in its various rooms that can accommodate 24 to 100 people, or you can rent the ballroom for 350 guests. In addition to its outstanding kitchen, the venue offers couples planning, set up, and decoration services.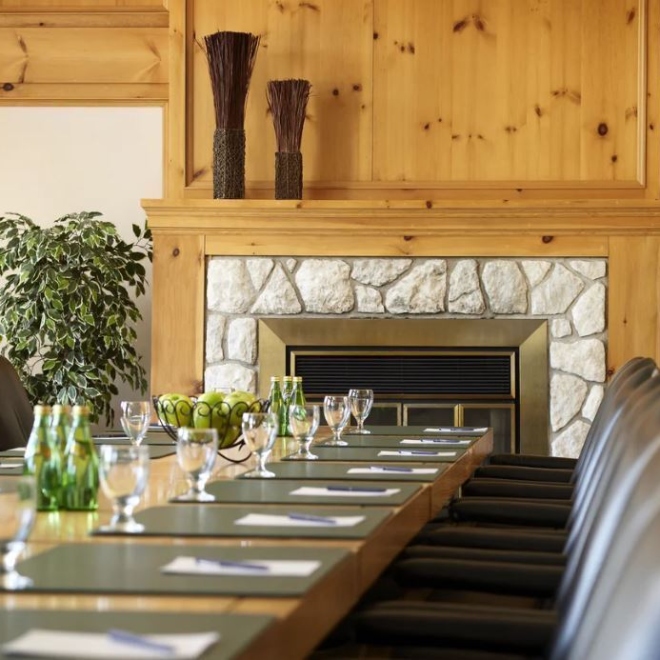 15. Camp Muskoka
Located in Bracebridge, Camp Muskoka offers three private lakes, an archery range, a volleyball court, and expansive indoor areas for you and your guests to enjoy. Between 10 and 220 people can fit in there, so you'll be able to invite a few extras.
Depending on the weather and your preferences, you can choose to have your wedding at Camp Muskoka indoors or outdoors. Besides providing a coordinator and catering, the venue lets you decorate your space however you wish.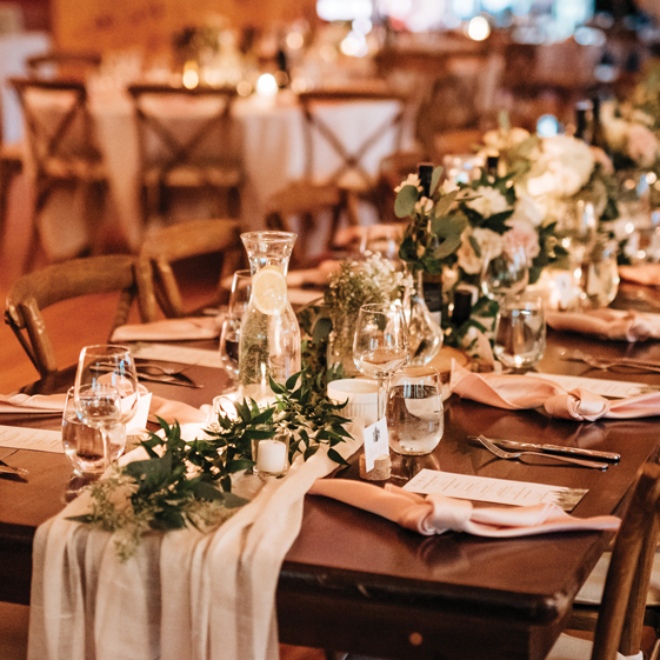 This is the end of our article about Muskoka wedding venues where you can have an unforgettable wedding. See more fantastic wedding venues in Muskoka and request free quotes from your favourites by clicking the link!